Hundreds of everyday products are made with highly toxic fluorinated chemicals called PFAS. They build up in our bodies and never break down in the environment. Very small doses of PFAS have been linked to cancer, reproductive and immune system harm, and other diseases.
For decades, chemical companies covered up evidence of PFAS' health hazards. Today nearly all Americans, including newborn babies, have PFAS in their blood, and up to 110 million people may be drinking PFAS-tainted water. What began as a "miracle of modern chemistry" is now a national crisis.
Congress is considering legislation right now that would help stop the spread of PFAS contamination and clean up legacy pollution. Add your voice and let Congress know that you want to stop the spread of PFAS contamination!
TAKE ACTION:
TELL WASHINGTON TO STOP THE SPREAD OF PFAS CONTAMINATION!
ACT NOW
Mapping the PFAS Contamination Crisis

What Are 'Forever Chemicals'?
In 1946, DuPont introduced nonstick cookware coated with Teflon. Today the family of fluorinated chemicals that sprang from Teflon includes thousands of nonstick, stain-repellent and waterproof compounds called PFAS, short for per- and poly-fluoroalkyl substances.
PFAS are used in a staggering array of consumer products and commercial applications. Decades of heavy use have resulted in contamination of water, soil and the blood of people and animals in the farthest corners of the world. PFAS are incredibly persistent, never breaking down in the environment and remaining in our bodies for years.
Learn More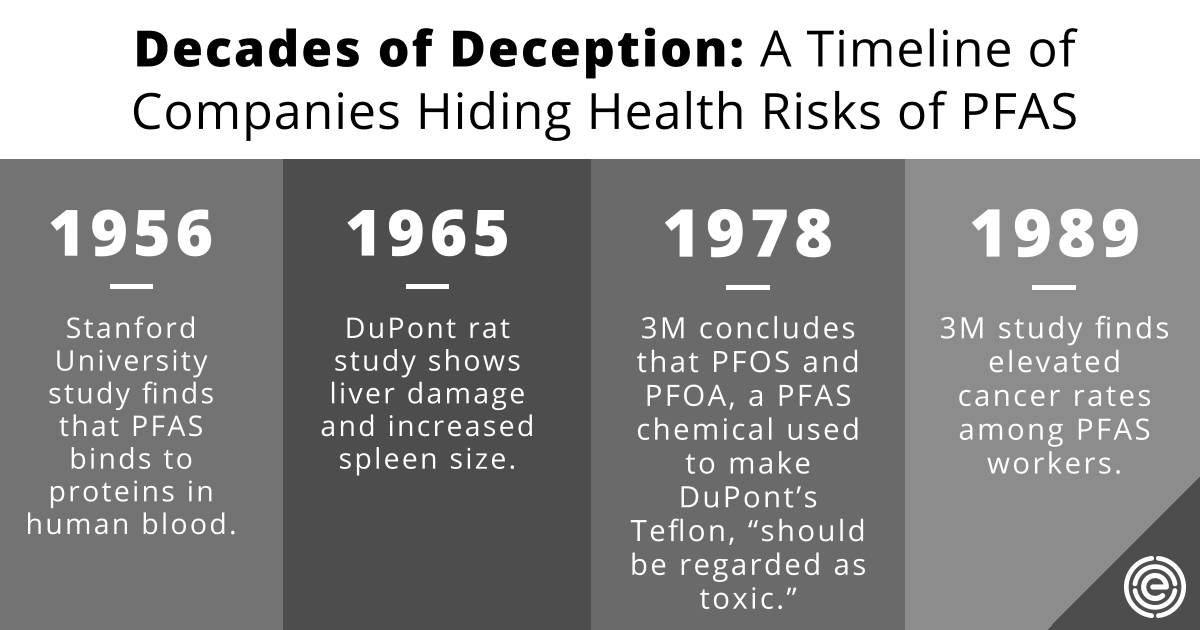 For Decades, The Department of Defense Knew Fire Fighting Foams With PFAS Chemicals Were Dangerous But Continued Their Use
For 20-Plus Years, EPA Has Failed To Regulate 'Forever Chemicals'
For Decades, Polluters Knew PFAS Chemicals Were Dangerous But Hid Risks From Public
Protect Yourself Against PFAS
Tougher laws and regulations are essential, but you can also take steps to protect yourself and your family today. Learn how to reduce your exposure to PFAS chemicals in drinking water and consumer products.
Read More
DOWNLOAD EWG's GUIDE TO AVOIDING PFAS CHEMICALS
Learn how to protect your family from PFAS chemicals with EWG's easy-to-follow guide.