---
---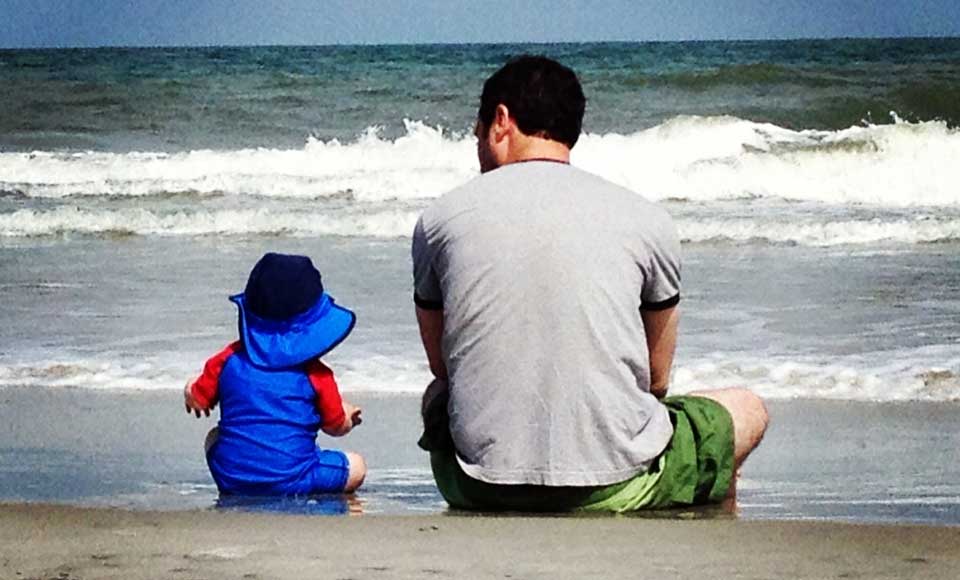 Out all day? Wear a loud shirt
Over the past two decades, clothing claiming an ultraviolet protection factor - UPF for short - has enjoyed a soaring growth curve. A recent search of the Amazon website for sun protective clothing returned nearly 25,000 products.
UPF clothing is distinguished from regular clothes by lab tests that show it shields the body from UV rays by a factor of 15 or greater. For everyday use, most clothing without a UPF label can provide adequate sun protection. A white cotton shirt's UPF may hover around 10. A colored shirt's UPF is higher. Denim jeans can have a UPF value of 1700 (Geis 2012). The reason: tighter weaves, dark or bright colors and thicker fabrics block more UV rays. If the fabric is wet, stretched out or too tight, it will block fewer UV rays. Some chemical additives like titanium dioxide, zinc oxide and Tinosorb FD are infused into fabric to improve UV filtering, but we don't advise buying clothes with chemicals.
The Food and Drug Administration approved the first sun protective clothing in 1992 as a medical device, but today, the Federal Trade Commission regulates these wares by policing marketing claims.
The UPF number is based on reduction of UVB rays that cause sunburns (Fisher 2006). It is a measure of how much ultraviolet light passes through fabric in a laboratory. Like SPF, the higher the number, the less UV radiation that passes through. A fabric rated UPF 15 allows 7 percent of UVB rays that burn to pass through. UPF 50 allows 2 percent of UVB rays to pass.
The UPF number does not convey the effectiveness of UVA protection. This is usually not a problem because protection offered by clothing is naturally well balanced between UVA and UVB. A shirt that blocks most UVB rays will also block most UVA rays (Diffey 2012). In contrast, a high SPF sunscreen may filter UVB rays well, but that's no guarantee of good UVA protection.
Sunscreen SPF and clothing UPF ratings are comparable in laboratory settings, but reality is more complicated. In the real world, clothing tends to offer greater protection than the UPF label might imply, and sunscreen generally offers less protection than the SPF number. There's no way to apply clothing wrong: the shirt is either on or it's off.
But for a sunscreen to live up to its advertised SPF value, users must apply and reapply it correctly and often. Research has shown that few users apply an adequate coating of sunscreen with uniform thickness to sun exposed skin for the duration of sun exposure (Diffey 2009). Numerous research studies show that users typically apply just a third to half of the quantity of sunscreen used to establish the SPF (Autier 2003, Azurdia 2001, Reich 2009). An SPF 30 product applied thinly may act like SPF 5 or 10. Underuse may explain why a survey conducted by the Centers for Disease Control and Prevention found that people who relied on sunscreens were more likely to get sunburns than those who wore protective clothing and sought shade (Linos 2011).
Studies have shown that UPF ratings for clothing are often underestimated because clothing is tested assuming direct sunlight, but in the real world, the angle of the sun is altered by the clothing and shifts over the course of the day. (Grifoni 2009, Hoffman 2000, Ravishankar 2011).
Two major international UPF standards are those of ASTM International and Standards Australia/New Zealand. Both use a common rating scale, on which 15-24 means "good," 25-39 means "very good" and 40 and higher means "excellent" (Fan and Hunter 2009).
No garment can be labeled "sun protective" if its UPF is less than 15. The Skin Cancer Foundation recommends clothing with a UPF of 30+ (Skin Cancer Foundation 2014). The Federal Trade Commission has said that garments with UPF above 50 can be labeled UPF 50+, but they may not offer much more protection than UPF 50.
How much protection is enough? If a person exposed the same part of the body to direct sunlight for an entire day in the tropics, a protection factor of 30 to 40 would be adequate (Bernhard 1997, Osterwalder 2000). Brian Diffey, Emeritus Professor of Photobiology at Newcastle University in Great Britain, estimated that for people on vacation, a protection factor of 10 in Europe and 15 in the tropics "should be more than adequate to protect against sunburn even for all day exposure"(Diffey 2009).
What does this mean for you? When you plan to be out in the sun, take a good shirt - and hat and pants. Clothing should be your first choice for reducing UV exposure. A colored shirt will often provide more protection than a white shirt, as will tighter weaves and thicker fabrics. Most clothing with UPF is made to be lightweight and comfortable, and it carries the assurance of strong UV protection. For swimmers, sailors, surfers and skiers, sun-protective rash guards are a great choice, especially for children.
Don't buy UPF clothing imbedded with chemical sunscreens, and don't add sunscreen chemicals to your wash. You can protect yourself and your family without these chemical additives.
References
Amazon. 2014. Amazon.com search for "UPF" Available: http://www.amazon.com/s/ref=nb_sb_noss_2?url=search-alias%3Daps&field-keywords=UPF. Accessed: 4/10/2014.
Autier P, Boniol M, Severi G, Dore J-F. 2003. Quantity of sunscreen used by European students. British Journal of Dermatology 144(2): 288-291.
Azurdia, Pagliaro, Diffey, Rhodes. 2001. Sunscreen application by photosensitive patients is inadequate for protection. British Journal of Dermatology 140(2): 255-258.
Diffey B, Brown M. 2012. The Ideal Spectral Profile of Topical Sunscreens. Photochemistry and Photobiology. 2012 May-Jun;88(3):744-7.
Fan J, Hunter L. 2009. Engineering Apparel Fabrics and Garments. CRC Press LLC.
FTC (Federal Trade Commission). 2001. FTC Consumer Alert: Sunscreens and Sun-Protective Clothing. Available http://www.bbb.org/us/article/ftc-sunscreens-and-sun-protective-clothing-4444.
Grifoni D, Bacci L, Zipoli G, Carreras G, Baronti S, Sabatini F. 2009. Laboratory and Outdoor Assessment of UV Protection Offered by Flax and Hemp Fabrics Dyed with Natural Dyes. Photochemistry and Photobiology, 2009, 85: 313–320.
Geis P, Mclennan A. 2012. Ready to Wear Sun Protection Clothing Fits the Bill. Skin Cancer Foundation Journal Vol. 102. pp70-72. 2012.
Hoffmann K, Kaspar K, Gambichler T, Altmeyer P. 2000. In vitro and in vivo determination of the UV protection factor for lightweight cotton and viscose summer fabrics:A preliminary study. Journal of the American Academy of Dermatology. Dec 2010.
Linos E, Keiser E, Fu T, Colditz G, Chen S, Tang JY. 2011. Hat, shade, long sleeves, or sunscreen? Rethinking US sun protection messages based on their relative effectiveness. Cancer Causes Control 22: 1067–1071.
Ravishankar J, Diffey B. 2011. Laboratory testing of UV transmission through fabrics may underestimate protection. Photodermatology, Photoimmunology & Photomedicine. 13(5-6):202-203. 1997.
Reich A, Harupa M, Bury M, Chrzaszcz J, Starczewska A. 2009. Application of sunscreen preparations: a need to change the regulations. Photodermatology, Photoimmunology & Photomedicine 25(5): 242-244.
Skin Cancer Foundation. 2014. Clothing our first line of defense. Available: http://www.skincancer.org/prevention/sun-protection/clothing/clothing-our-first-line-of-defense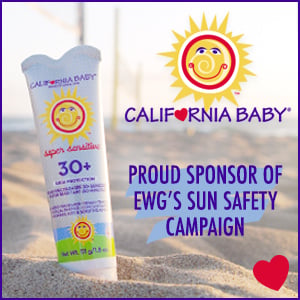 />
---

---
Check out Sun-Safe Products
---
EWG's Sunscreen Database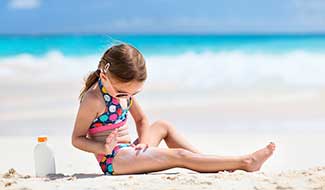 Want to see how your favorite sunscreen rates in EWG's Sunscreen Database? The EWG Sunscreen Database update is coming in late May.