Fooling Ourselves
Voluntary Programs Fail to Clean Up Dirty Water
Fooling Ourselves: Conservation comes and goes - pollution remains
EWG went looking for answers by examining eight Iowa watersheds designated in 2013 as priorities in the Iowa Nutrient Reduction Strategy. We used aerial imagery from USDA's National Agricultural Imagery Program to track what happened in these watersheds between 2011 and 2014 with two simple, conventional practices to curb polluted farm runoff – riparian buffers and grassed waterways.
What we found is that a major reason we haven't seen more improvement is that conservation practices come and go. Landowners who voluntarily adopt conservation practices can stop at any time. For all the money spent to encourage stream protection practices, there's almost nothing gained or even some protection lost.
Protected Stream Banks
We investigated the loss and gain of acres planted to riparian buffers within 75, 50 and 25 feet of 1,020 miles of stream banks. From 2011 to 2014, the total gain was wiped out by losses of pre-existing buffer acres, regardless of the distance from the stream bank (Figure 1).
Within 75 feet of the bank there was a net loss of 74 acres: 45 acres gained, 119 acres lost.
Within 50 feet there was a net loss of 27 acres: 28 acres gained, 55 acres lost.
Within 25 feet there was a net loss of three acres: 7 acres gained, 10 acres lost.
Figure 1: Losses Wiped Out Gains In Protected Stream Banks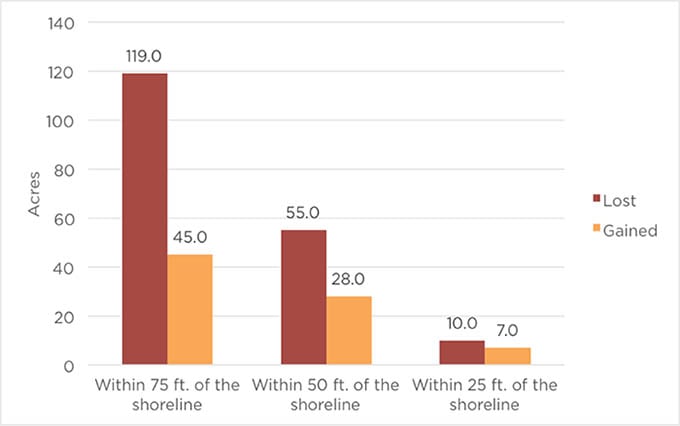 Source: Environmental Working Group.
Only the Prairie Creek and the Floyd River watersheds eked out small net gains. The Turkey River, South Skunk River, Miller Creek and Eagle Creek watersheds suffered net losses in protected stream banks. In the Roberts Creek and Crooked Creek watersheds, there was no change in stream buffers between 2011 and 2014.
Adding insult to injury, of the buffer acres within 50 feet of streams that were lost in the period investigated, more than 80 percent were enrolled in the USDA's Conservation Reserve Program in 2008. Along with the stream protection that was lost, at least 10 years of investments by taxpayers – rental payments in exchange for adoption of conservation practices – were squandered.
Protected Flow Lines
We also checked more than 5,900 miles of flow lines – the low-lying places where temporary gullies form when too much water runs off farm fields – on 25,000 acres classified as agricultural land in the eight watersheds to determine if those vulnerable areas were protected by grass cover. We considered flow lines protected if they were covered by a grassed waterway on cultivated land or if they flowed across agricultural land planted in pasture or hay. Between 2011 and 2014 the eight watersheds gained 26 miles of newly protected flow lines, but lost 21 previously protected miles – a net gain of just five miles (Figure 2).
Figure 2: Small Net Gain in Protected Flow Lines

Source: Environmental Working Group.
Five watersheds – Floyd River, Miller Creek, Prairie Creek, Roberts Creek and the South Skunk River – eked out a small net gain in protected flow lines. Crooked Creek, Eagle Creek and the Turkey River watersheds suffered a small net loss.