Many counties where federal crop insurance subsidies rose between 2008 and 2012 also had an increase in poverty over that period, a finding that undermines the oft-repeated arguments that farm subsidies help reduce rural poverty, an Environmental Working Group analysis shows.
The counties that saw the largest increases in crop insurance subsidies – as well as high rates of poverty – are in districts represented by three leaders of the House-Senate conference negotiating a final farm bill: Reps. Frank Lucas (R-Okla.), Michael Conaway (R-Texas) and Randy Neugebauer (R-Texas). Another district that had a large subsidy increase along with a high poverty rate is represented by House Majority Whip Kevin McCarthy (R-Calif.).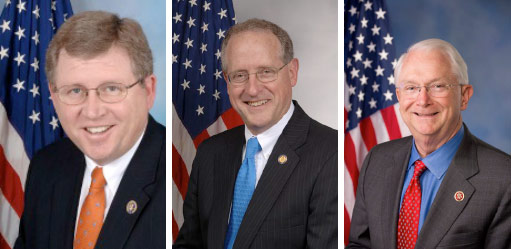 Left to right: Reps. Lucas, Conaway, Neugebauer
All three farm bill conferees voted to cut $39 billion from the Supplemental Nutrition Assistance Program (SNAP), formerly known as food stamps, and to defeat proposals to reduce and reform crop insurance subsidies. 
While poverty rates and SNAP participation have risen nationwide, large farm businesses are enjoying record income, according to the U.S. Department of Agriculture. Nevertheless, taxpayer-funded crop insurance premium subsidies grew from $5.7 billion in 2008 to more than $7 billion in 2012. Billions more went directly to insurance companies to subsidize their operating expenses and payouts for crop losses – totaling more than $14 billion last year alone. During the 2008-2012 span, net farm income increased from $83.7 billion to $113.8 billion. 
Nationwide, three of every four counties benefited from an increase in premium subsidy support between 2008 and 2012. What's more, nearly all the counties that received the largest increases had poverty rates higher than the national average.
This interactive map shows the growth in crop insurance premium subsidies over the past four years and the change in poverty rates from 2003 to 2011 for every U.S. county. Click on a county to see the local trends.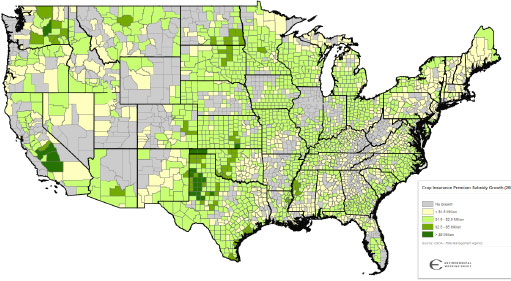 https://a.tiles.mapbox.com/v3/ewg.wqwr8uxr/page.html?secure=1#5/40.847/-97.6904
Many of the counties that enjoyed the largest increases in crop insurance subsidies are in western Texas and are represented by Reps. Neugebauer and Conaway. From 2008 to 2012, the subsidies rose by $118 million in Neugebauer's district, and by $40 million in Conaway's. The poverty rate also rose in both districts and consistently exceeded the national average in most areas.
In the counties represented by Chairman Lucas, farmers received a $64 million increase in premium subsidies over the same 2008-2012 period. The subsidies rose in every county in his district – in two of them by more than $5 million. Meanwhile, poverty increased in two-thirds of the counties Lucas represents. 
Click below to expand the chart and see how all 32 House members of the farm bill conference committee voted on increasing subsidies, reforming crop insurance and cutting SNAP funding, along with the trend in premium subsidies and the number of SNAP beneficiaries in that district. 
House Farm Bill Conferees

Vote on increasing farm subsidies (passed 

216 - 208)

Vote on reforming crop insurance  (failed 

208 - 217)

Net increase in crop insurance premium subsidies in district

2008-2012

Vote on cutting SNAP by $39 billion (passed 

217 - 210)

Number of SNAP participants in district

Rep. Dave Camp 

(R-Mich.)

Yea

Nay

Y

Yea

138,000

Rep. Michael Conaway

(R-Texas)

Yea

Nay

Y

Yea

93,000

Rep. Jim Costa

(D-Calif.)

Nay

Nay

Y

Nay

82,000

Rep. Rick Crawford

(R-Ark.)

Yea

Nay

Y

Yea

163,000

Rep. Rodney Davis

(R-Ill.)

Yea

Nay

Yea

178,000

Rep. Suzan DelBene

(D-Wash.)

Nay

Nay

Y

Nay

111,000

Rep. Jeff Denham

(R-Calif.)

Yea

Nay

Y

Nay

200,000

Rep. Eliot Engel 

(D-N.Y.)

Nay

Yea

Y

NV

118,000

Rep. Marcia Fudge

(D-Ohio)

Nay

Yea

Nay

344,000

Rep. Sam Johnson 

(R-Texas)

Yea

Yea

Y

Yea

44,000

Rep. Steve King

(R-Iowa)

Yea

Nay

Yea

91,000

Rep. Sandy Levin 

(D-Mich.)

Nay

Yea

Y

Nay

254,000

Rep. Frank Lucas

(R-Okla.)

Yea

Nay

Y

Yea

124,000

Rep. Tom Marino 

(R-Pa.)

Yea

Nay

Yea

144,000

Rep. Jim McGovern

(D-Mass.)

Nay

Yea

Nay

99,000

Rep. Mike McIntyre

(D-N.C.)

Nay

Nay

Y

Nay

99,000

Rep. Gloria Negrete McLeod

(D-Calif.) 

NV

Nay

Y

Nay

367,000

Rep. Randy Neugebauer

(R-Texas)

Yea

Nay

Y

Yea

110,000

Rep. Kristi Noem

(R-S.D.)

Yea

Nay

Y

Yea

105,000

Rep. Collin Peterson

(D-Minn.)

Nay

Nay

Y

Nay

70,000

Rep. Martha Roby

(R-Ala.)

Yea

Nay

Y

Yea

156,000

Rep. Mike Rogers

(R-Ala.)

Yea

Nay

Y

Yea

179,000

Rep. Ed Royce 

(R-Calif.)

Yea

Yea

Yea

100,000

Rep. Kurt Schrader

(D-Ore.)

Nay

Yea

Y

Nay

164,000

Rep. Austin Scott

(R-Ga.)

Yea

Nay

Y

Yea

207,000

Rep. Steve Southerland

(R-Fla.)

Yea

Nay

Y

Yea

137,000

Rep. Glenn Thompson

(R-Pa.)

Yea

Nay

Y

Yea

74,000

Rep. Filemon Vela

(D-Texas)

Nay

Nay

Y

Nay

446,000

Rep. Tim Walz

(D-Minn.)

Nay

Nay

Y

Nay

70,000
Show extended chart
Sources: Library of Congress; USDA