Toxic Algae Photos
Algae blooms occur when blue-green algae – which are actually microscopic organisms called cyanobacteria – feed on the chemicals in fertilizer and animal manure that have run off farm fields into water and mixed with sunlight and heat. In some cases, algae blooms are just unsightly and smelly. But in many other instances, they produce toxins that harm animal and human health, devastating aquatic ecosystems and hurting local economies.
This page shows some of the algae blooms that have appeared across the U.S. between 2015 and today. On the left is a photo of a water body under normal circumstances, and on the right is one or more photos of the water body when affected by an algae bloom. Not all of the algae blooms in the photos were toxic – it is impossible to know from photos alone – but some may have been.
EWG's algae news story map contains far more stories about toxic algae blooms than there are images of algae here, because there simply aren't images for all blooms.
To learn more about the health and environmental impacts of toxic algae blooms, see EWG's Toxic Algae page.
Jump to state
California
Big Bear Lake
| | |
| --- | --- |
| 4/24/2019 - Sentinel 2 | 8/27/2019 - Sentinel 2 |
Black Butte Lake
| | |
| --- | --- |
| 4/25/2019 - Sentinel 2 | 5/30/2018 - Sentinel 2 |
Clear Lake
| | |
| --- | --- |
| 4/20/2017 - Sentinel 2 | 7/9/2017 - Sentinel 2 |
| | |
| --- | --- |
| 7/14/2018 - Sentinel 2 | 7/19/2019 - Sentinel 2 |
Diamond Valley Lake
| | |
| --- | --- |
| 4/26/2018 - Sentinel 2 | 6/10/2018 - Sentinel 2 |
Isabella Lake
| | |
| --- | --- |
| 3/30/2018 - Sentinel 2 | 6/13/2018 - Sentinel 2 |
7/8/2019 - Sentinel 2
Lake Elsinore
| | |
| --- | --- |
| 10/31/18 - Sentinel 2 | 1/9/18 - Sentinel 2 |
Lake Oroville
| | |
| --- | --- |
| 6/24/2016 - Sentinel 2 | 8/23/2016 - Sentinel 2 |
Lake San Antonio
| | |
| --- | --- |
| 3/28/2017 - Sentinel 2 | 6/19/2016 - Sentinel 2 |
New Hogan Lake
| | |
| --- | --- |
| 2/11/19 - Sentinel 2 | 3/31/19 - Sentinel 2 |
Salton Sea
| | |
| --- | --- |
| 4/11/18 - Sentinel 2 | 9/23/18 - Sentinel 2 |
San Luis Reservoir
| | |
| --- | --- |
| 12/29/16 - Landsat 8 | 8/26/17 - Sentinel 2 |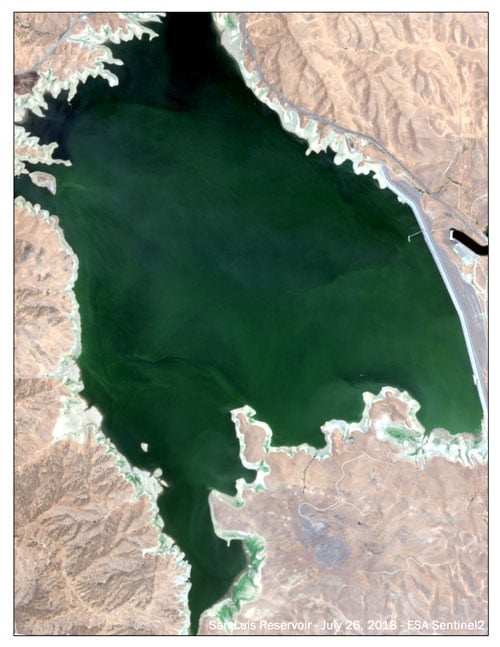 7/26/18 - Sentinel 2
Colorado
Boyd Lake
| | |
| --- | --- |
| 5/24/2019 - Sentinel 2 | 8/5/2019 - Sentinel 2 |
Florida
Lake Okeechobee
| | |
| --- | --- |
| 3/22/18 - Sentinel 2 | 7/8/18 - Sentinel 2 |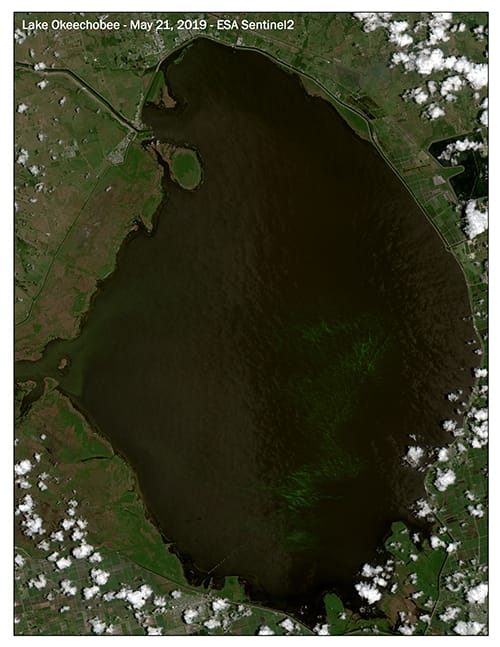 5/21/19 - Sentinel 2
Idaho
Lake Cascade
| | |
| --- | --- |
| 8/17/19 - Sentinel 2 | 9/4/19 - Sentinel 2 |
Lake Lowell
| | |
| --- | --- |
| 2/6/18 - Sentinel 2 | 9/8/18 - Sentinel 2 |
Mormon Reservoir
| | |
| --- | --- |
| 5/4/17 - Sentinel 2 | 8/27/17- Sentinel 2 |
Kansas
Webster Reservoir
| | |
| --- | --- |
| 2/15/17 - Sentinel 2 | 8/14/17 - Sentinel 2 |
Louisiana
Lake Pontchartrain
| | |
| --- | --- |
| 11/4/17 - Sentinel 2 | 5/13/18 - Sentinel 2 |
6/2/19 - Sentinel 2
Minnesota
Big Stone Lake
| | |
| --- | --- |
| 5/13/17 - Sentinel 2 | 8/11/17 - Sentinel 2 |
Lake of the Woods
| | |
| --- | --- |
| 9/20/15 - Sentinel 2 | 10/22/15 - Sentinel 2 |
Montana
Canyon Ferry Reservoir
| | |
| --- | --- |
| 4/28/18 - Sentinel 2 | 8/9/18 - Sentinel 2 |
Nebraska
Harlan County Lake
| | |
| --- | --- |
| 12/14/2018 - Sentinel 2 | 7/17/2019 - Sentinel 2 |
New Mexico
Elephant Butte Reservoir
| | |
| --- | --- |
| 2/14/16 - Sentinel 2 | 4/21/17 - Sentinel 2 |
New York
Allegheny Reservoir
| | |
| --- | --- |
| 4/27/17 - Sentinel 2 | 9/24/17 - Sentinel 2 |
Cayuga Lake
| | |
| --- | --- |
| 3/25/18 - Sentinel 2 | 9/16/18 - Sentinel 2 |
Chautauqua Lake
| | |
| --- | --- |
| 6/23/19 - Sentinel 2 | 7/26/19 - Sentinel 2 |
Oneida Lake
| | |
| --- | --- |
| 4/21/18 - Sentinel 2 | 6/30/18 - Sentinel 2 |
7/25/2019 - Sentinel 2
North Carolina
Chowan River
| | |
| --- | --- |
| 5/1/2019 - Sentinel 2 | 8/4/2018 - Sentinel 2 |
Lake Mattamuskeet
| | |
| --- | --- |
| 5/24/18 - Sentinel 2 | 11/17/18 - Sentinel 2 |
North Dakota
Bowman-Haley Reservoir
| | |
| --- | --- |
| 6/3/2019 - Sentinel 2 | 7/18/2019 - Sentinel 2 |
| | |
| --- | --- |
| 5/14/2019 - Sentinel 2 | 7/15/2018 - Sentinel 2 |
Ohio
Buckeye Lake
| | |
| --- | --- |
| 4/12/17 - Sentinel 2 | 10/2/17 - Sentinel 2 |
Grand Lake St. Marys
| | |
| --- | --- |
| 3/11/18 - Sentinel 2 | 8/23/18 - Sentinel 2 |
Lake Erie
| | |
| --- | --- |
| 3/16/18 - Sentinel 2 | 8/23/18 - Sentinel 2 |
7/14/19 - USGS Landsat8
Maumee Bay
| | |
| --- | --- |
| 2/4/17 - Sentinel 2 | 9/26/17 - Sentinel 2 |
Maumee River
| | |
| --- | --- |
| 11/8/15 - Sentinel 2 | 9/26/17 - Sentinel 2 |
Sandusky Bay
| | |
| --- | --- |
| 4/20/18 - Sentinel 2 | 8/23/18 - Sentinel 2 |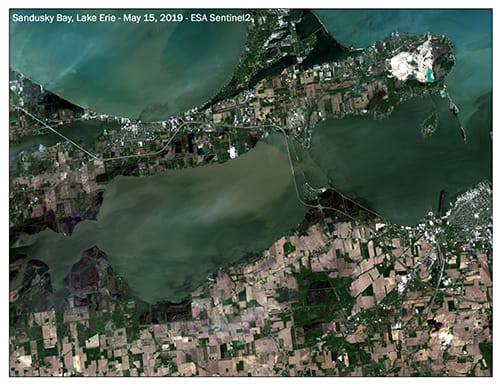 5/15/19 - Sentinel 2
Oregon
Odell Lake
| | |
| --- | --- |
| 1/13/18 - Sentinel 2 | 6/22/18 - Sentinel 2 |
8/1/2019 - Sentinel 2
Upper Klamath Lake
| | |
| --- | --- |
| 5/10/17 - Landsat 8 | 9/9/17 - Sentinel 2 |
| | |
| --- | --- |
| 7/22/18 - Sentinel 2 | 7/4/19 - Sentinel 2 |
South Dakota
Pelican Lake
| | |
| --- | --- |
| 5/13/19 - Sentinel 2 | 7/27/19 - Sentinel 2 |
Texas
Lake Arlington
| | |
| --- | --- |
| 12/1/16 - Sentinel 2 | 2/16/17 - Sentinel 2 |
Utah
Utah Lake
| | |
| --- | --- |
| 8/31/16 - Sentinel 2 | 8/21/17 - Sentinel 2 |
| | |
| --- | --- |
| 8/16/18 - Sentinel 2 | 7/22/19 - Sentinel 2 |
Vermont
Lake Carmi
| | |
| --- | --- |
| 11/14/16 - Sentinel 2 | 9/13/17 - Sentinel 2 |
Washington
Moses Lake
| | |
| --- | --- |
| 7/14/2019 - Sentinel 2 | 7/14/2019 - Sentinel 2 |
Wisconsin
Big Eau Pleine Reservoir
| | |
| --- | --- |
| 4/22/17 - Landsat 8 | 9/13/17 - Landsat 8 |
Castle Rock Lake
| | |
| --- | --- |
| 4/29/18 - Sentinel 2 | 9/11/18 - Sentinel 2 |
Lake Koshkonong
| | |
| --- | --- |
| 5/26/18 - Sentinel 2 | 6/10/18 - Sentinel 2 |
Lake Mendota
| | |
| --- | --- |
| 5/4/18 - Sentinel 2 | 9/11/18 - Sentinel 2 |
Lake Winnebago
| | |
| --- | --- |
| 9/23/17 - Sentinel 2 | 9/23/17 - Sentinel 2 |
8/4/2019 - Sentinel 2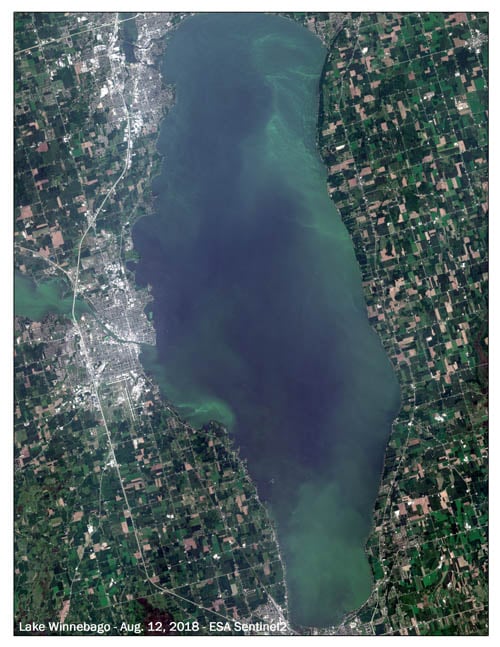 8/12/18 - Sentinel 2
Petenwell Lake
| | |
| --- | --- |
| 6/8/16 - Sentinel 2 | 7/22/16 - Sentinel 2 |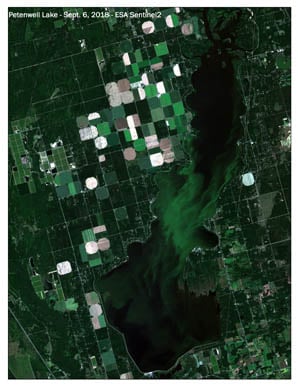 9/6/18 - Sentinel 2
Wyoming
Boysen Reservoir
| | |
| --- | --- |
| 12/11/17 - Sentinel 2 | 9/10/18 - Sentinel 2 |
Fontenelle Reservoir
| | |
| --- | --- |
| 4/25/19 - Sentinel 2 | 8/28/19 - Sentinel 2 |
Ocean Lake
| | |
| --- | --- |
| 4/25/19 - Sentinel 2 | 8/28/19 - Sentinel 2 |
Pathfinder Reservoir
| | |
| --- | --- |
| 5/15/18 - Sentinel 2 | 9/7/18 - Sentinel 2 |