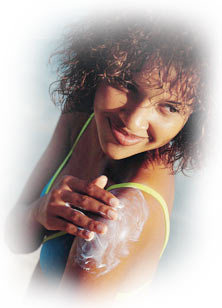 Theoretically, applying SPF 100 sunscreen allows beach goers to bare their skin to sunshine a hundred times longer before causing the skin to burn. Someone who would normally redden in 30 minutes could remain in the sun for 50 hours before a burn would appear.But for high-SPF sunscreens, theory and reality are two different things. Studies have found that users of high-SPF sunscreens have similar or even higher exposures to harmful ultraviolet (UV) rays than people relying on lower SPF products. The reason: People trust the product too much, go too long before reapplying it and stay out in the sun too long (Autier 2009).
In 2011, the FDA announced that it was considering regulations that would prohibit companies from labeling sunscreens with an SPF (sun protection factor) rating higher than "SPF 50+." This proposal was based on the agency's long-held view that higher values are "inherently misleading."
"There is no assurance that the specific values themselves are in fact truthful," the agency said in 2007. (FDA 2007).
The FDA has been flooded with data from sunscreen makers seeking to win agency approval for high-SPF products, and store shelves have been increasingly packed with high-SPF products that the agency has yet to validate. Johnson & Johnson (makers of Neutrogena and Aveeno sunscreens) submitted data in August 2008 to support SPF 70 and SPF 85 claims (J&J 2008). Playtex (Banana Boat) sent data supporting high SPF claims in 2007. A Coppertone spokeswoman said, "Many manufacturers, including Coppertone, have submitted new data [on high-SPF products] for review and are awaiting FDA's response" (Boyles 2009).
Other industry representatives argue that high SPF products are necessary because consumers apply too little sunscreen (Ou-Yang 2012). But FDA's 2011 announcement confirms the agency's view that high SPF values are misleading because:
Consumers think they offer more sun protection than they actually do.
These products have increased potential for skin irritation or allergy.
The FDA lacks proof that SPF values greater than 50 offer any additional benefit (Branna 2011).
High-SPF sunscreens are popular. Sales have been on the rise for at least a decade, so it's no wonder that sunscreen makers are fighting to keep them legal. In a letter to FDA 12 years ago, Neutrogena cited consumer demand for high-SPF products, calling them "one of the fastest growing segments" of the market (Neutrogena 2000). Despite concerns voiced by the FDA, in 2012 American sunscreen makers have continued their high-SPF offerings. About 1 in 7 products now lists SPF values higher than 50, compared to 1 in 8 three years ago.
---
Here's what's wrong with high-SPF sunscreens:
Extended sun exposure, same number of sunburns
Users of high-SPF sunscreens stay in the sun longer with a single application and get burned when the product's chemicals break down, wash off or rub off on clothes and towels. Armed with a false sense of security, they extend their time in the sun well past the point when users of low-SPF products head indoors. As a result, high-SPF users get the same number of sunburns as unprotected sunbathers and absorb more damaging UVA radiation, which many high-SPF products do not effectively block.
People seeking "intentional sun exposure" are most at risk from high-SPF products. In contrast to landscapers, gardeners, baseball players and others who spend defined times outdoors for specific jobs ("non-intentional sun exposure"), people in the intentional exposure category intend to tan or otherwise expose large areas of bare skin to the sun for prolonged periods (Autier 2009).
Studies of volunteers on summer vacation in France, Switzerland and Belgium found that those using high-SPF products extended their sunbathing time by 19-to-25 percent, used the same amount of sunscreen as those using low-SPF products, were likelier to start sunbathing at noon instead of during the later hours chosen by low-SPF users and got the same number of sunburns. From these studies it appears that by delaying sunburn, high-SPF products take away a key warning of UV overexposure. Sunbathers stay out longer and soak up more radiation, especially in the UVA range where sunscreens are relatively ineffective (Autier 2009).
Philippe Autier, a scientist at the International Agency for Research on Cancer, concluded that high-SPF products spur "profound changes in sun behavior" that may account for the increased melanoma risk found in some studies. He advises that people seeking sun exposure "should be advised not to use sunscreen but rather to let their skin adapt and set strict limits on the time they spend in the sun" (Autier 2009). Though his conclusion has not been adopted wholesale by public health agencies, it is grounded in a growing body of evidence that raises basic questions about the efficacy of sunscreen for sunbathers and others intentionally seeking sun exposure.
High SPF offers inferior sun protection
You might assume you get twice as much protection from an SPF 100 sunscreen as from an SPF 50. But the extra protection is negligible. Properly applied SPF 50 sunscreen blocks 98 percent of sunburn rays;  SPF 100 blocks 99 percent. However, the UVA protection from high SPF products is much weaker than it should be, maxing out at about 20 in products made for the U.S. market. Because of a mismatch between UVA and UVB protection, high SPF products suppress sunburn but not other types of sun damage.
In the real world, people get far less protection than the labels advertise. Numerous studies show that people apply just 20-to-50 percent of the recommended amount of sunscreen.  That  amount determines the functional SPF value and leads to a drastic reduction in skin protection. For example, someone who applies only 25 percent of the ideal amount  gets  an SPF of 2.3 from a product labeled SPF 30. In these cases, even an SPF of 100 can provide a functional SPF as low as 3.2.
Increased exposure to potentially hazardous ingredients
High-SPF products contain greater amounts of sun-blocking chemicals than low-SPF sunscreens. These ingredients may pose health risks when they penetrate the skin, where they have been linked to tissue damage and potential hormone disruption. If studies supported a reduction in skin damage and skin cancer risk from high-SPF products, the additional exposure might be justified. But they don't, so choosing sunscreens with lower amounts of active ingredients – SPF 30 instead of SPF 70, for example – is prudent.