EWG's 15th Annual Guide to Sunscreens
Inferior UVA protection and potentially unsafe ingredients remain common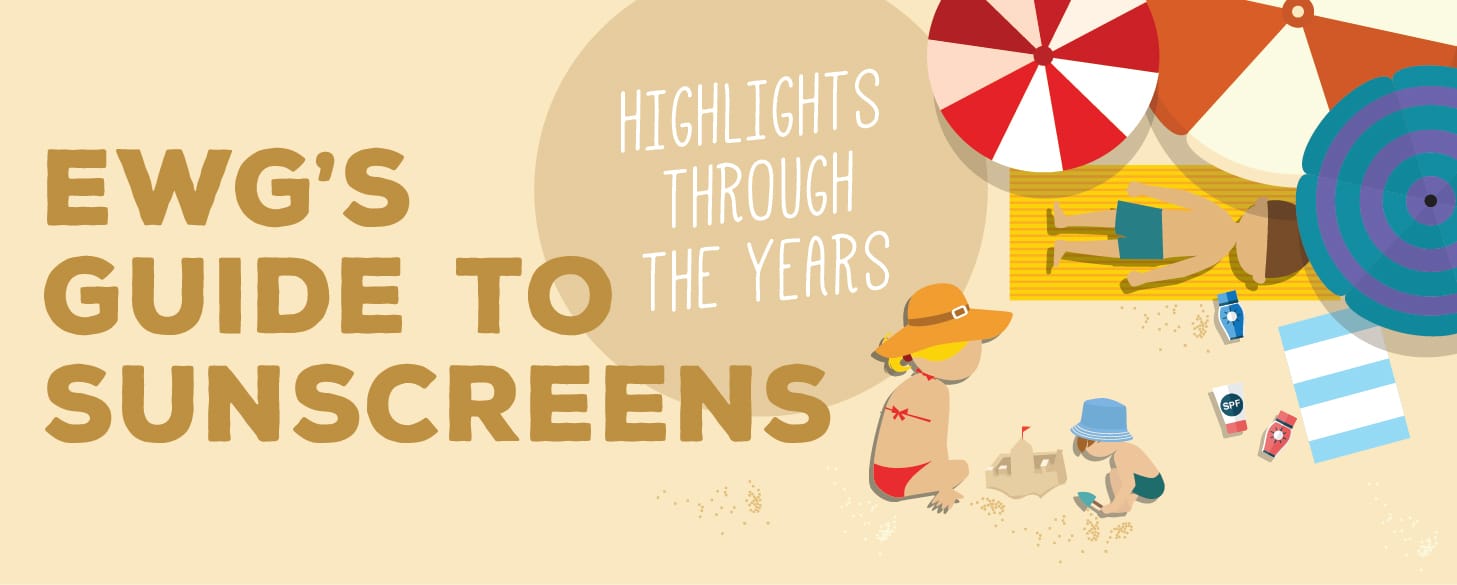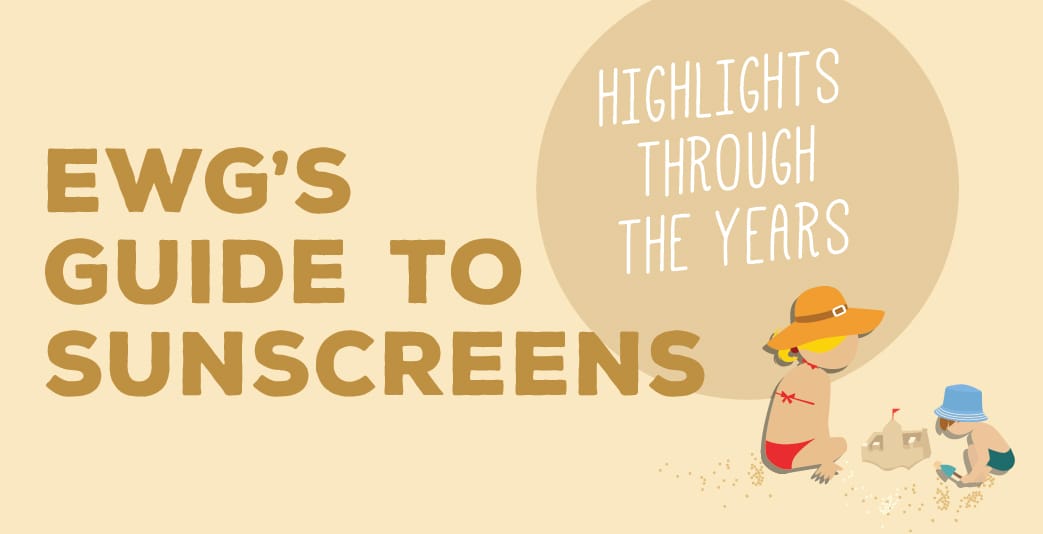 Like many Americans, we at EWG have been eagerly awaiting the return of summer, which brings with it warmer weather, relaxation and a respite from what has been an incredibly challenging year.
Although much has changed over the past year, a few things remain the same: the sun's harmful rays can increase our risk of developing skin cancer, and proper sun-safe behaviors – like wearing hats, clothing and sunglasses, avoiding the sun when it's at its peak and choosing a safe and effective sunscreen – are our best defense for protection. Before heading out into the sun, read our sun safety tips and bring along a recommended sunscreen.
This year, as in years past, because of inadequate regulations governing the safety and efficacy of sunscreens and the lack of safety testing needed to approve new, more effective ingredients for use in sunscreen formulations, store shelves will be filled with sunscreen products that either offer inadequate production or use potentially hazardous ingredients, or both. This lack of progress toward safer sunscreens flies in the face of mounting scientific evidence linking sunscreen ingredients to negative health impacts and increased understanding about the significant harms associated with exposure to ultraviolet A, or UVA, radiation. Numerous new studies have linked common ingredients to hormone disruption, and over the winter, the European Commission, which reviews ingredient safety in Europe, published a preliminary finding that both oxybenzone and homosalate are unsafe for use at current levels.
SPF values on product labels continue to be problematic, with a continuous stream of news reports showing that independent testing finds actual SPF values are significantly lower than what is on the label. While not a new concern, consumers should be wary of SPF value claims, especially SPF numbers over 50+, and should not use sunscreen to prolong their time in the sun.
Just about three quarters of the more than 1,800 products we evaluated for this year's guide did not provide adequate sun protection or included ingredients linked to harm.
The number of sunscreen products with marketing claims aimed toward people of color has increased in recent years. Given the decreased skin cancer risk for people of color and the frequent use of ingredients of concern in sunscreens, this development raises the question: What is the best public health recommendation for people of color regarding sunscreen use?
EWG is evaluating the available scientific evidence pertaining to skin color and sun damage and the potential benefit of sun exposure to generate vitamin D, and we are reviewing the regulations that stipulate sunscreens testing requirements. What we have already noticed is a general lack of nuance in the current recommendations and a less comprehensive body of scientific research.
If your skin turns red after extended sun exposure, it is a clear sign of damage. A higher density of melanin, a protective pigment in the skin, reduces the risk of sunburn and UV-induced skin cancers. It is the density of melanin in one's skin and not race that appears to be a critical factor in skin cancer risk. Skin with more melanin and a thicker dermal layer tends to show clinical manifestations of aging, such as wrinkles and skin pigmentation, 10 to 20 years later than populations of the same age with less skin melanin. But higher levels of melanin have been associated with lower levels of vitamin D, a necessary vitamin that prevents rickets and is important for the immune system.
This is a complex issue where better guidance is needed. Look for our comprehensive report later this year.
What's new in this year's guide?
For 15 years, EWG's Annual Sunscreen Guide has provided consumers with a guide to the sunscreen aisle, both in stores and online. Our research reports, comments submitted to the FDA and dialogue with sunscreen companies have helped shift the market toward safer and more effective products. Yet too many products still fail to meet our standards.
EWG's guide continues the tradition of providing a one-stop location for finding safer, more effective products. Our annual sunscreen guide includes more than 1,800 products with SPF, including more than 900 recreational sunscreens. We have found that only about a quarter of them offer adequate protection, without concerning ingredients, such as oxybenzone, a potentially hormone-disrupting chemical that is readily absorbed by the body.
Sunscreens in 2021
Sunscreen regulations have not been updated since 2011. In 2019, the FDA released a draft monograph, with a goal of updating sunscreen regulations that year. However, due to changes in the way over-the-counter-drugs are regulated, the proposal was withdrawn in the first coronavirus relief bill. The FDA is due to propose new sunscreen regulations this fall.
The FDA's previous proposal recognized just two ingredients as safe and effective, zinc oxide and titanium dioxide. EWG has always recommended that consumers choose sunscreen products made with these ingredients, which meet our standards for effectiveness and safety.
In 2019, the FDA proposed that 12 other active ingredients commonly found in sunscreens, including oxybenzone, need additional data from safety and efficacy tests.[1] Those ingredients are used in about 60 percent of the sunscreens assessed in this year's guide. The FDA requested the same data for these ingredients that the agency requires for ingredients used elsewhere in the world that companies want to use in U.S. sunscreens.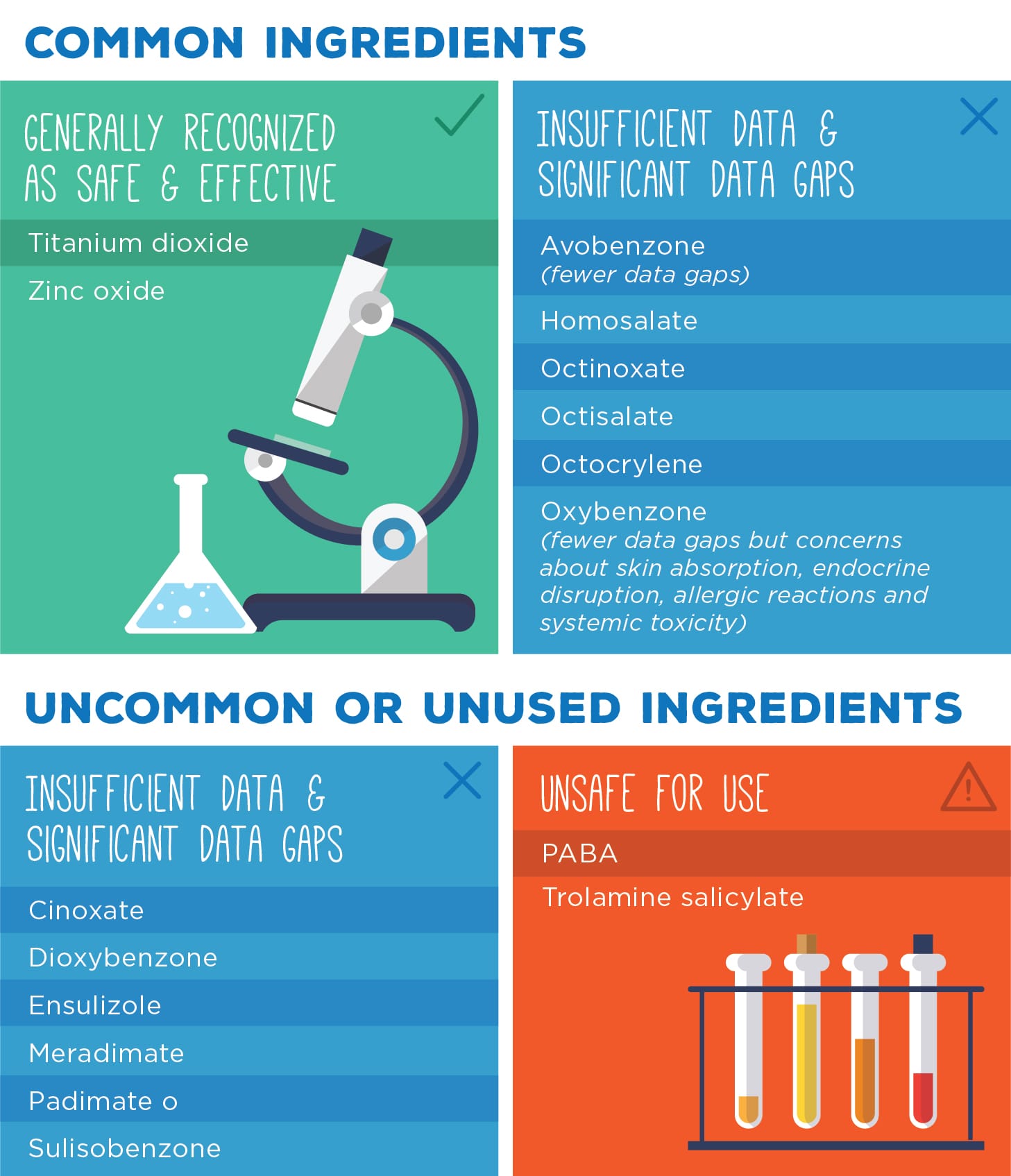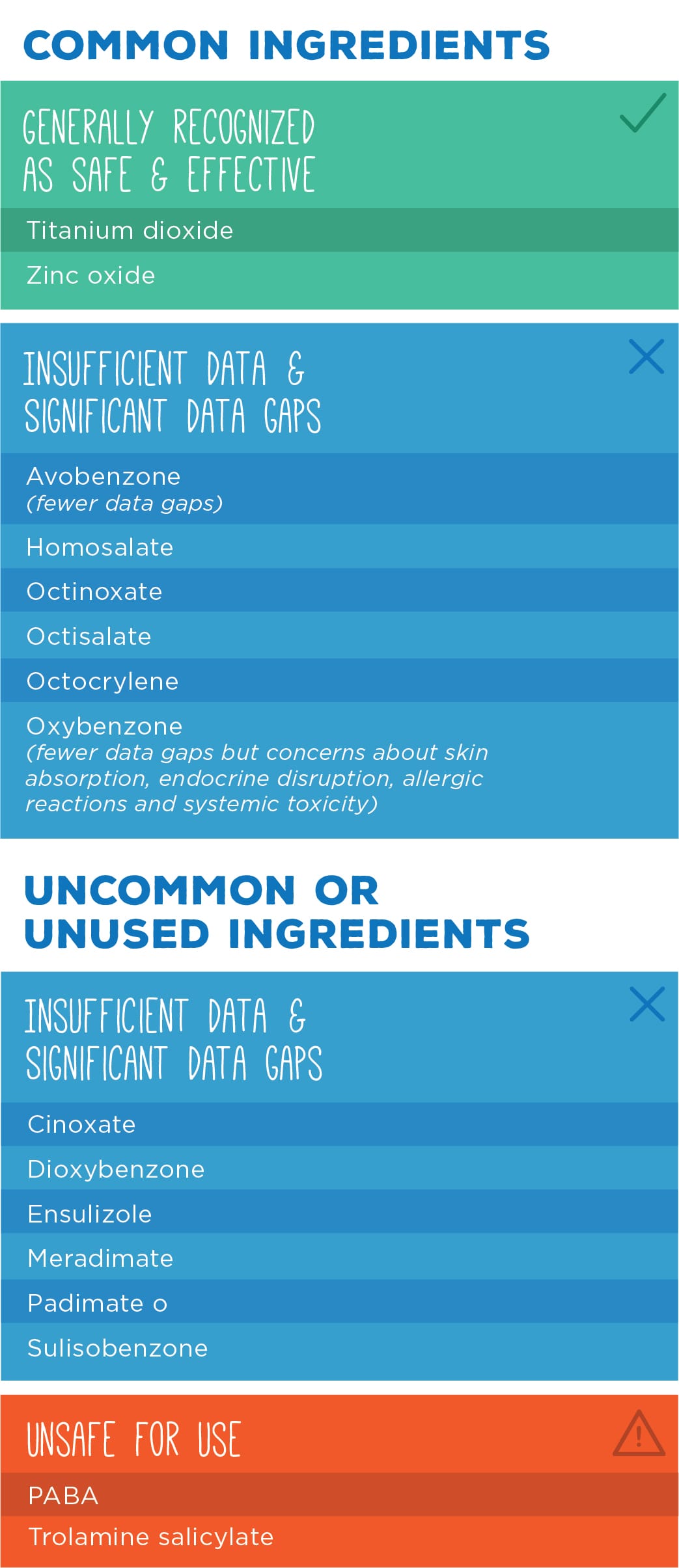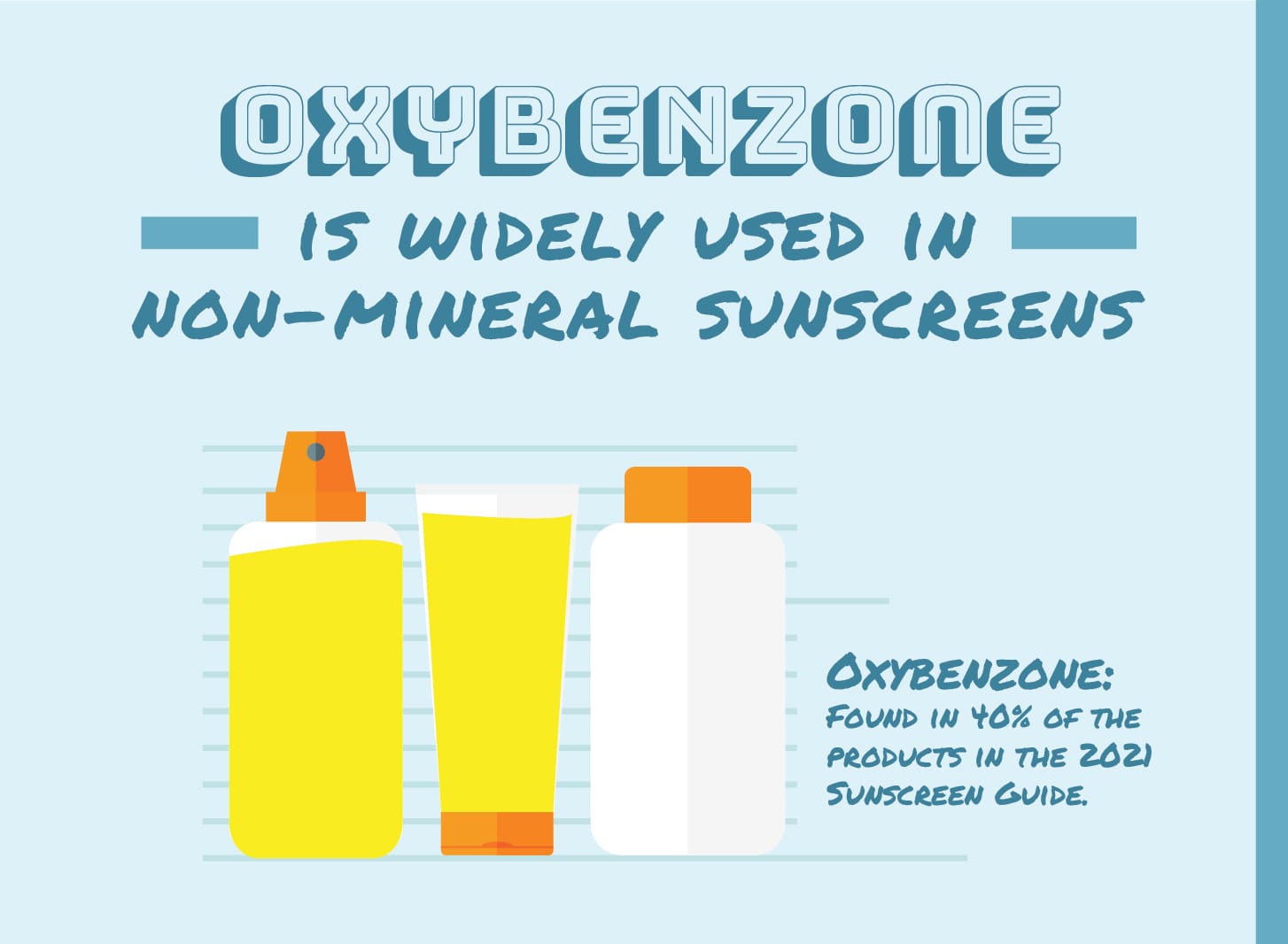 Particular concern about oxybenzone – especially for kids
Oxybenzone is a commonly used active ingredient in sunscreen, found in about 20 percent of the products assessed this year, including 40 percent of the non-mineral options. In 2008, EWG first called on the FDA to investigate the safety of oxybenzone in sunscreen, because of mounting evidence that the chemical readily penetrates the skin and could potentially disrupt the hormone system.
In 2019 FDA proposed that oxybenzone could not be classified as safe and effective based on the current data. The FDA stated that although oxybenzone is one of the more thoroughly tested sunscreen ingredients, additional data is needed, because existing tests raise health concerns. Of particular concern to the FDA were test results showing:
Oxybenzone is allergenic.
It is absorbed through the skin in large amounts.
It has been detected in human breast milk, amniotic fluid, urine and blood.
It is a potential endocrine disruptor.
Children may be more vulnerable than adults to harm from oxybenzone "because of the potential for higher absorption and bioaccumulation."
The agency requested studies of oxybenzone that measure skin absorption and potential impacts on the hormone levels, reproduction and development.
Four studies published in 2020, after the FDA proposal, support previous findings that oxybenzone can act as an endocrine disruptor and may increase the risk of breast cancer and endometriosis.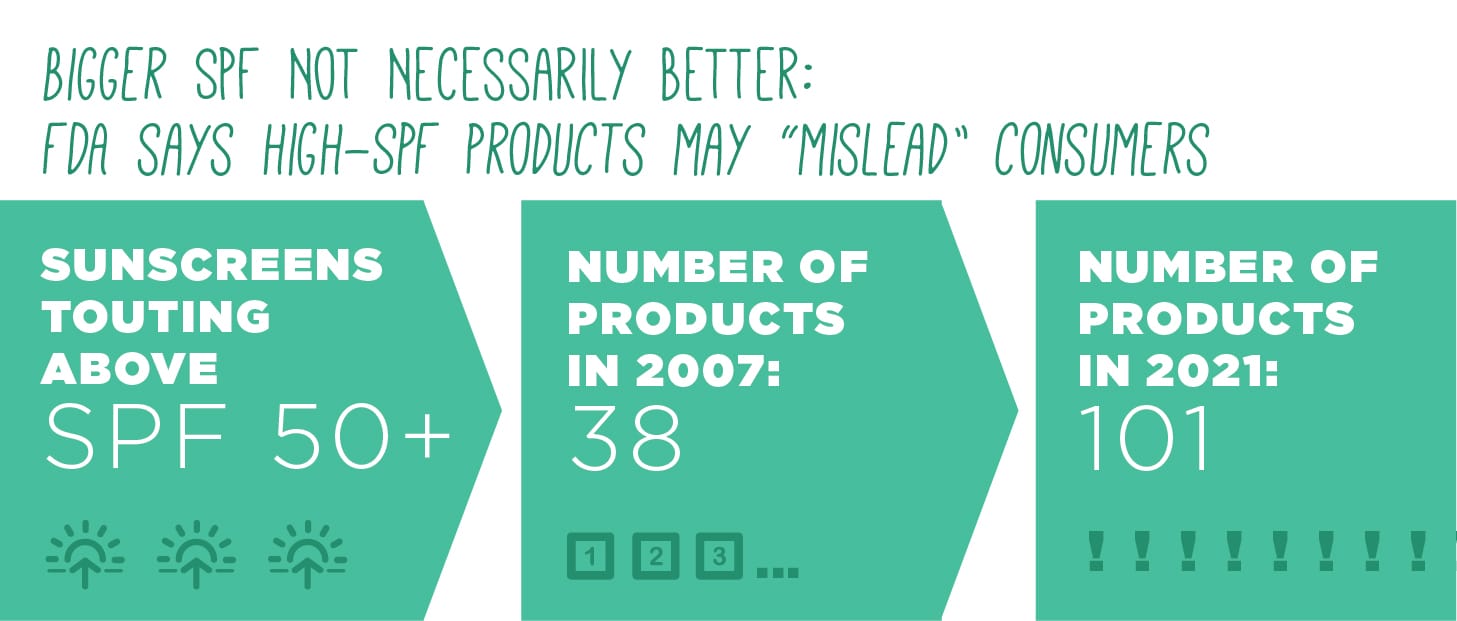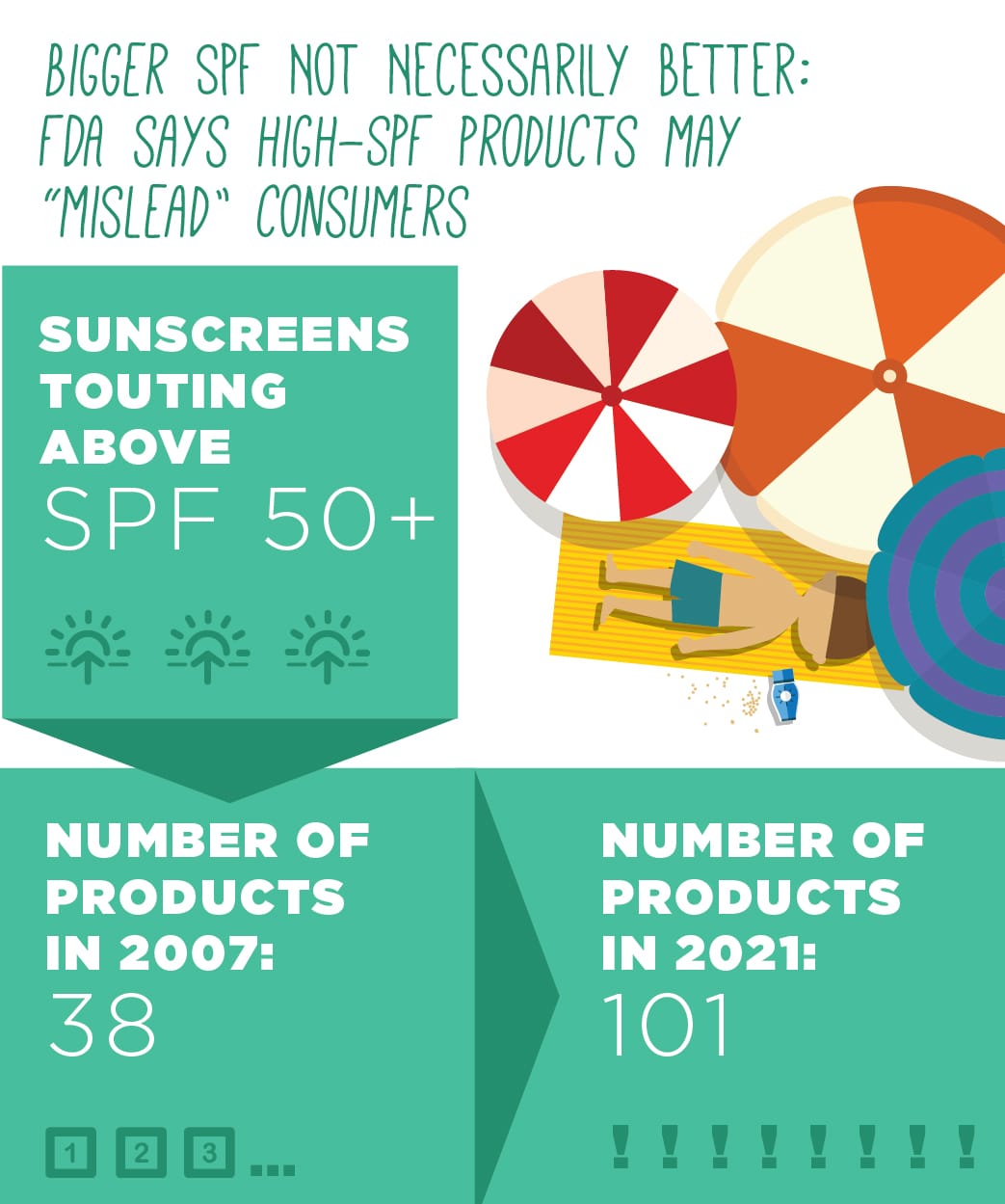 The FDA wants to ban the highest SPF claims, limiting SPF values to 60+
According to the FDA's 2019 proposal, higher SPF values have not been shown to provide additional clinical benefit and may provide users with a false sense of security. To guard against this misconception, the agency proposes limiting products' SPF claims to 60+.[2]
The FDA proposal highlighted concerns that claims of excessively high SPF values give users a false sense of protection, leading to overexposure to UVA rays that increase the risk of long-term skin damage and cancer. The FDA emphasized that the SPF cap, along with proposed changes to the broad spectrum test, are needed to ensure that sunscreens provide more UVA protection.
In 2011, the FDA published a recommendation for an SPF cap of 50+, but that proposal was never finalized. We see the latest proposal, recommending a cap of 60+, as a step backward. To justify this change, the FDA only cites studies of sunscreens with active ingredients that are not allowed for use in the U.S. Therefore, it remains unclear whether this change will be feasible or beneficial to the U.S. market.
More than one in ten of the sunscreens we reviewed claim on the label to having an SPF greater than 50+. EWG recommends consumers avoid products that claim an SPF higher than 50+.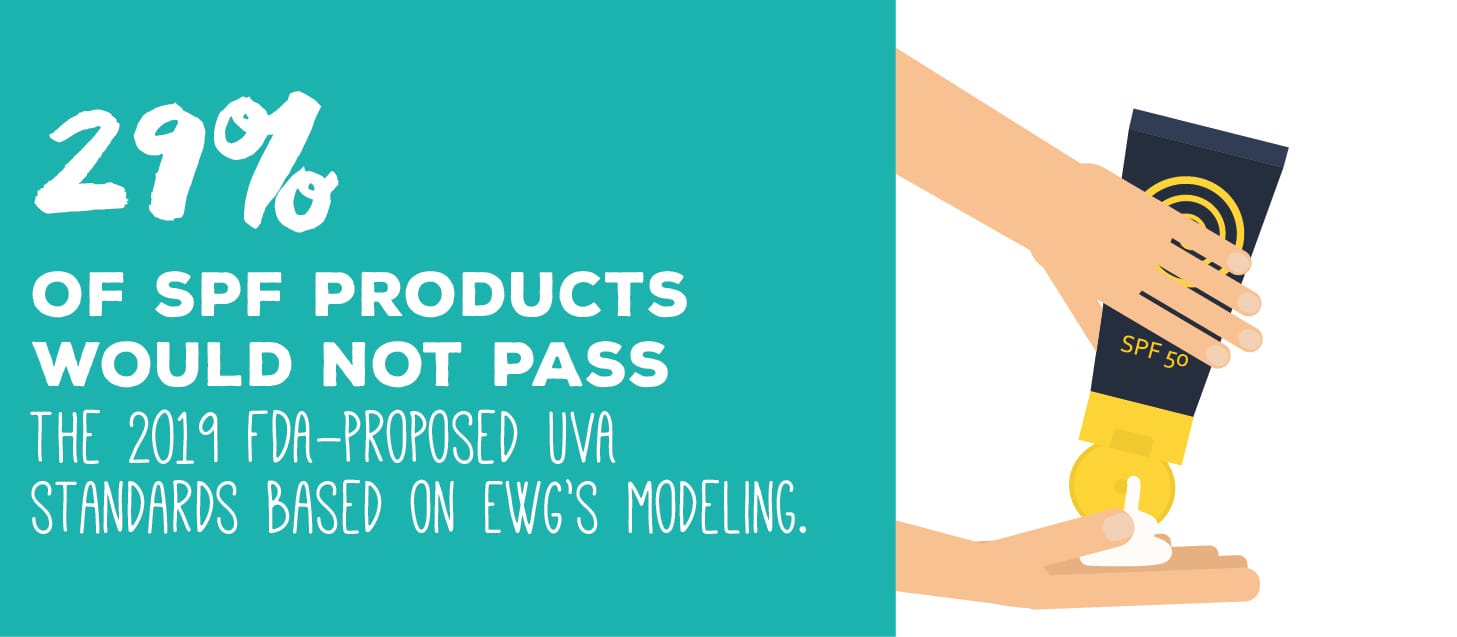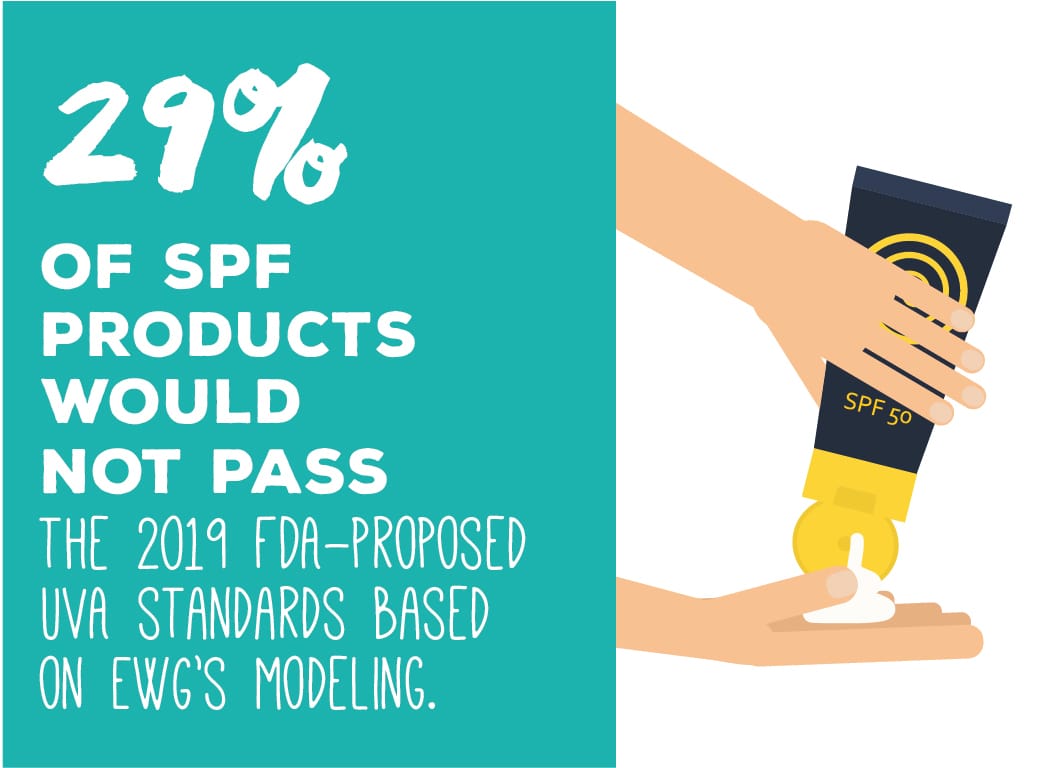 FDA proposes raising the standard for UVA protection
The FDA proposal recommends changes to the method companies must use to evaluate sunscreens' broad-spectrum UVA protection. The agency proposes a test it initially put forward in 2007 to ensure greater UVA protection. At the time, sunscreen manufacturers fought this change and the agency relented, enabling substandard and potentially harmful products to remain on the market for a decade more. A study by FDA scientists in 2020 confirmed that current products on the U.S. market with similar SPF may provide vastly different UVA protection, raising concerns about long-term health harm.
The EWG UVA protection standard is stronger than what the FDA proposed in 2019 and even goes beyond what is required in Europe.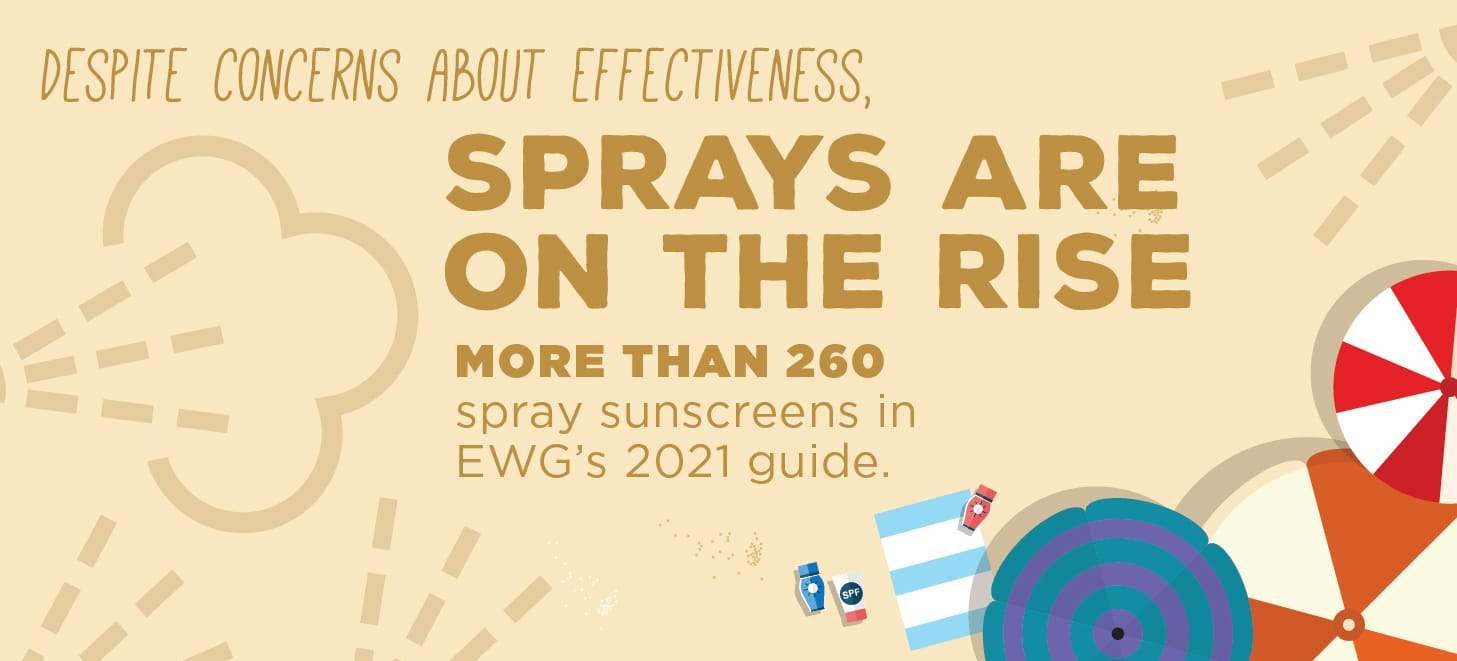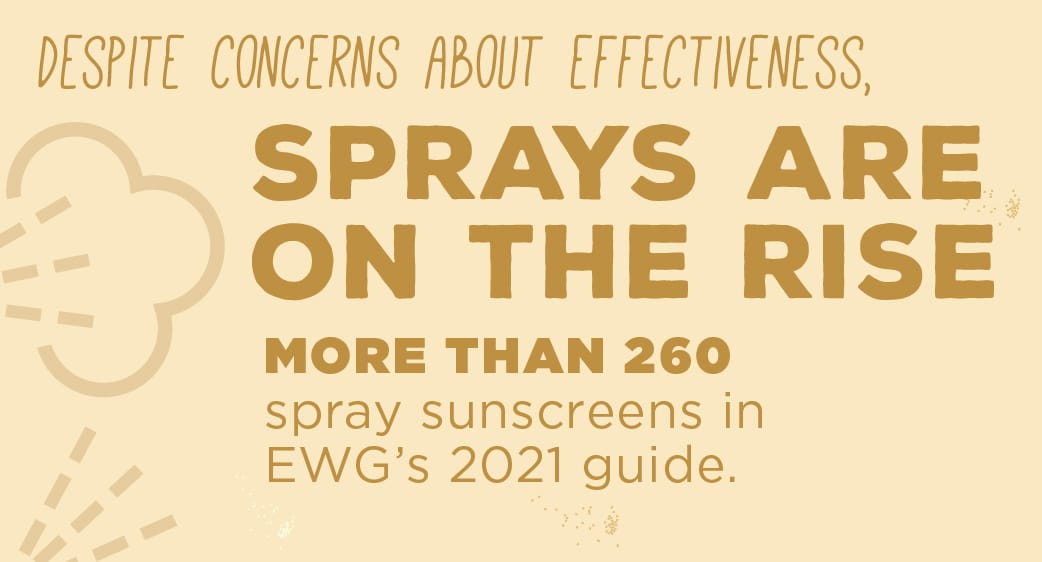 FDA proposes that all spray products undergo additional safety testing
Sunscreen sprays pose an inhalation risk and may not coat the skin enough to ensure proper protection. The number of sunscreen sprays on the U.S. market has been increasing, and more than a quarter of the sunscreens in this year's guide are in spray form.
The FDA proposed that all spray and powdered sunscreens be tested to ensure they cannot be inhaled deep into the lungs, where they could do irreversible damage. In pilot testing, the agency found that three of 14 sprays would not meet its proposed standard but did not say which products consumers should avoid. EWG recommends that consumers avoid all spray and powder sunscreen products.
The agency has also proposed numerous other changes to the sunscreen regulations that should better protect consumers, including:
Banning sunscreens and bug repellent combination products.
Improving product labeling.
Ensuring that all products with an SPF over 15 provide UVA protection.
The changes proposed by the FDA focus on effectiveness and the safety of active ingredients. They do not address concerns EWG has raised about the use of other worrisome ingredients, such as retinyl palmitate, a form of vitamin A. Vitamin A-based ingredients are unstable in the sun and it is not certain they are safe in products intended to be worn in the sun.
Consumers should make sun safety a daily habit and not wait for new FDA sunscreen rules – whenever they may happen. Sun safety involves covering up with clothing, seeking shade, planning around the sun, and using sunscreen when needed.
Enjoy the summer and don't get burned.
[1] Besides oxybenzone, they are avobenzone, homosalate, octinoxate, octisalate, octocrylene, cinoxate, dioxybenzone, ensulizole, meradimate, padimate O and sulisobenzone.
[2] A cap of 60+ means that although companies may consider their product's formulation to have a higher SPF value than 60, they can't label it with a higher number.