Introduction
Months before temperatures rise in the summer, EWG's scientists have been hard at work researching sunscreens – and whether they provide the protection they claim.
Our 2023 Guide to Sunscreens profiles more than 1,700 products, and finds that just one in four meets our strict standards for sun protection and avoids harmful ingredients. And this year, for the first time, we're featuring EWG VERIFIED® sunscreens that achieve both goals.
As the days get warmer and more people step outside to enjoy the sun, it's vital that they protect themselves and their families from harmful ultraviolet A, or UVA, rays. Too much sun exposure can cause a range of health harms like sunburn, premature aging and skin cancer.
Store shelves are lined with many different sunscreens, some with eye-catching claims about how their extreme sun protection factors, or SPFs, will protect consumers. It can be overwhelming to know which brands to believe and how to pick a healthy sunscreen.
That's why EWG steps up to help each year with our annual Guide to Sunscreens.
As well as helping people choose a safe and effective sunscreen, EWG recommends a comprehensive approach to sun safety, which also includes sun-safe behaviors like wearing hats, clothing and sunglasses and avoiding the sun during its peak.
What's new this year: EWG VERIFIED® Sunscreen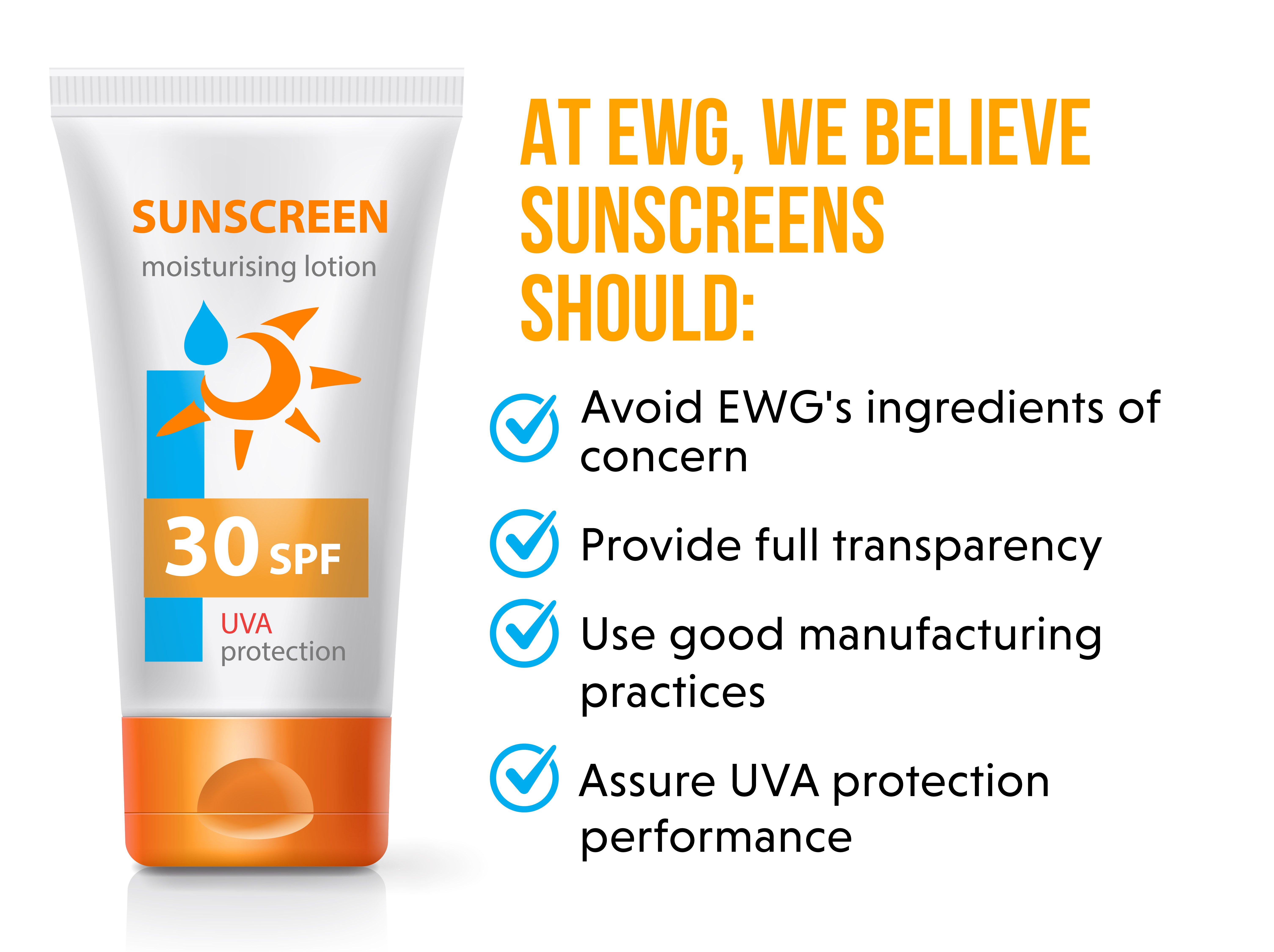 New this year, the EWG VERIFIED mark for sunscreens is a shortcut to identifying a top-performing product with confidence that it's safe and healthy to use.
EWG VERIFIED sunscreens meet our exacting standards for ingredient safety, transparency and efficacy. Looking for this mark is a quick and easy way to identify the most protective products from the hundreds that are featured in our Guide to Sunscreens.
To get approved for the EWG VERIFIED mark, products must first be formulated to achieve our criteria for ingredient safety, the same requirement that thousands of EWG VERIFIED cosmetics have to meet. Sunscreens must also meet performance criteria to ensure strong UVA protection. EWG VERIFIED frees consumers from the same limited sunscreen options every year.
EWG VERIFIED products must also fully disclose all of their ingredients on product labels and avoid any on EWG's list of unacceptable ingredients, which may pose health, ecotoxicity or contamination concerns, or a combination of all three. EWG VERIFIED products can't be made with any chemicals from our list of restricted ingredients unless they meet restrictions established by authoritative bodies and industry institutions.
For recreational sunscreens, EWG VERIFIED also addresses the significant uncertainty about how these products perform. Products that earn our mark must meet higher UVA protection standards that exceed the requirements imposed in the U.S. and Europe.
The science behind EWG VERIFIED
In 2021, EWG scientists conducted tests that found sunscreens sold in the U.S. offered inadequate UVA protection, despite what the listed SPF suggests. This gives sunscreen users a false sense of safety, risking overexposure to UVA rays.
Our sunscreen ranking system and EWG VERIFIED performance criteria incorporate insights gleaned from these tests. The mark is firmly grounded in science – it draws on research and expertise developed through 17 years of evaluating sunscreen products for health and safety.
In lieu of robust regulatory oversight of the American sunscreen market, EWG plays a crucial role providing consumers peace of mind about how well their sunscreen protects them.
The FDA's outdated standards
Sunscreens are more heavily regulated than other cosmetic products, because they are classified as over-the-counter drugs. No new sunscreen ingredients have been approved for use since the 1990s, and there's been little change to sunscreen regulation, despite the continued rise of skin cancer rates and the growing importance of strong UVA protection.
Sunscreens only have to meet outdated safety standards from 2011, when the Food and Drug Administration gave all ingredients a passing grade. The FDA proposed rule changes in 2019 and 2021 that show promise for transforming the market, but they're still not finalized. These regulatory updates would, if implemented, require companies to:
Provide more safety data about their ingredients.
Improve UVA protection.
Limit SPF values to 60+.
Stop selling products that combine sunscreen and bug repellent.
Improve labeling.
Conduct additional tests for aerosol products.
One of the most important changes is the FDA's recognition that there is adequate safety and effectiveness evidence for just two ingredients – zinc oxide and titanium dioxide.
The FDA requires more safety and efficacy tests before any decisions can be made about the other 12 other common sunscreen active ingredients, including oxybenzone. Although we don't know enough about these ingredients, they're used in more than half of the products in this year's Guide to Sunscreens – that's 50 percent of the U.S. market.
If the FDA finalizes its proposals, these products would not be generally recognized as safe and effective, because their safety has not been tested enough.
Seeking safe ingredients
Under the current review process, sunscreen manufacturers have few ingredients to choose from to make safe and effective products. The FDA requests complete safety testing data and carefully reviews new ingredients before approving them – an approach that's designed to protect public health but leaves consumers for limited sunscreen choices.
DSM, a sunscreen manufacturer, made news in 2022 for its efforts to secure FDA approval for a new sunscreen ingredient, bemotrizinol, or BEMT. It has been approved for use in Europe since 2000, where it is marketed under brand names like Parsol Shield, Tinosorb S or Escalol S. Boasting exceptional UVA protection, it also does not penetrate skin.
But the FDA has not given final approval to use BEMT in sunscreens made in the U.S. If DSM can satisfy the FDA's request for safety data, it could secure approval for the first new sunscreen ingredient for use in the U.S. since 1996.
Oxybenzone on the way out
One troublesome sunscreen ingredient, oxybenzone, is now being used much less.
The rapid decline in use of oxybenzone is due to concerns about skin absorption and its potential to harm to health. But it's still permitted for use in U.S. sunscreens, so consumers should remain vigilant – it's in just 6 percent of all products and 13 percent of the non-mineral recreational sunscreens in our Guide to Sunscreens. This represents a steep drop by more than half compared to how much the ingredient was used in 2022.
As early as 2008, EWG called on the FDA to study the safety of oxybenzone, citing substantial evidence it easily penetrates the skin and may disrupt the hormone system. In 2020, four studies supported the FDA's finding that oxybenzone can act as an endocrine disruptor and increase the risk of breast cancer and endometriosis.
Oxybenzone has been found in human breast milk, amniotic fluid, urine and blood. Children may be more susceptible than adults to harm from this ingredient "because of the potential for higher absorption and bioaccumulation," according to the FDA.
In 2019 and again in 2021, the FDA proposed classifying oxybenzone as not generally recognized as safe and effective because of a lack of long-term safety tests. The FDA has not yet finalized this action, but the market is already taking action.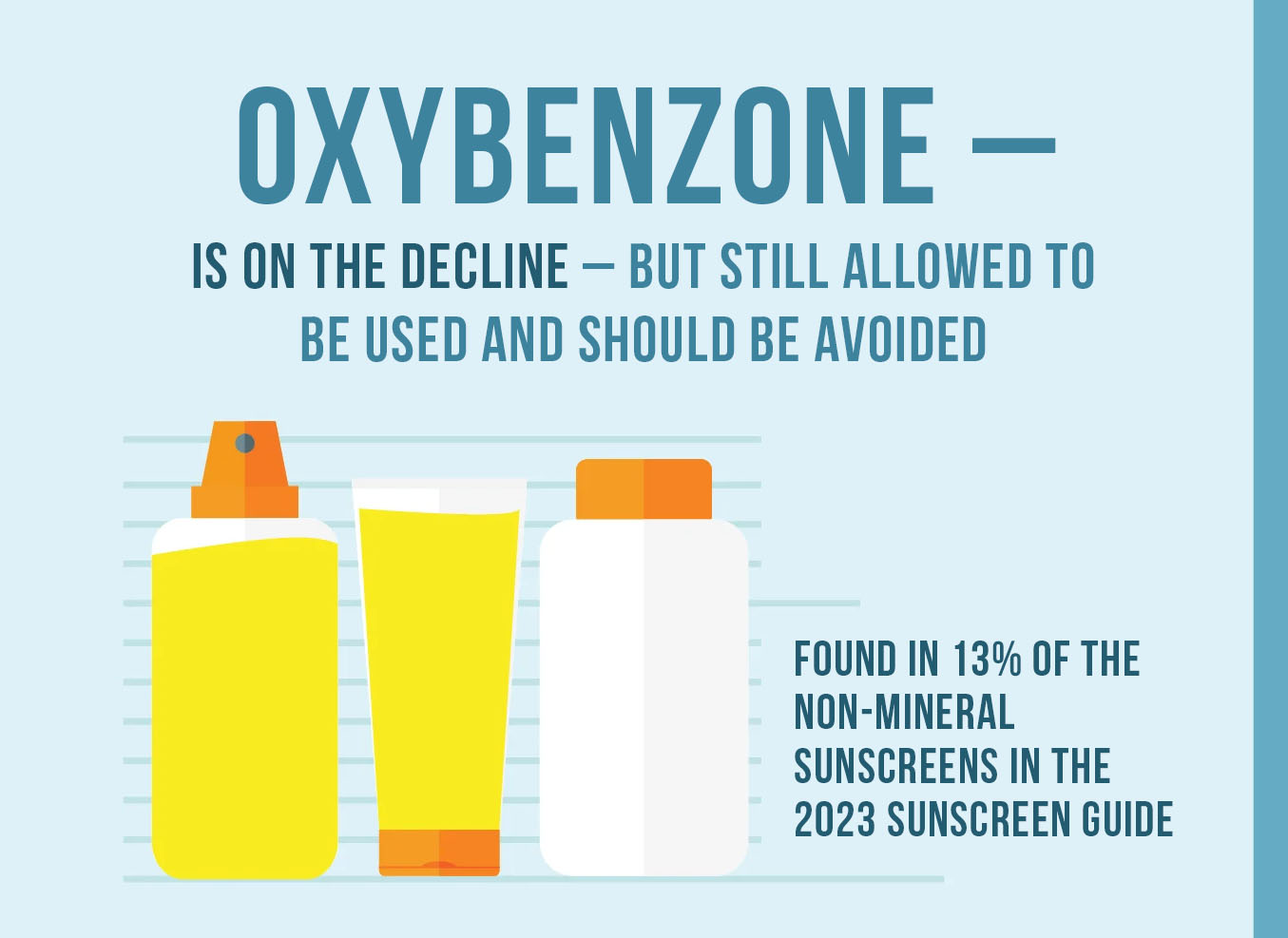 Steer clear of high SPF sunscreens
Products with high SPF values are popular and widely available, but these don't always offer superior sun protection. Scientific studies show that these products provide limited benefits compared to sunscreens with lower SPF values. The false sense of safety users get from products with high SPF can lead them to spend more time in the sun.
To address this issue, the FDA has recommended companies limit SPF claims to 60+. But more than 80 sunscreens we reviewed for our guide claim an SPF above 50+. EWG recommends consumers avoid products withSPF numbers higher than 50.
Skip the spray sunscreens
EWG also suggests consumers avoid spray sunscreens.
These products are difficult to apply properly and include potential ingredient toxicity, contamination concerns and inhalation hazards. One of the most alarming issues is the detection in spray sunscreens of benzene, which is known to cause cancer. The contamination led to recalls of many aerosolized products in 2021, 2022 and 2023.
Applying too thin a layer of sunscreen is one reason it may not be effective. This is especially a problem for aerosols. Even in a light breeze, the amount that's actually applied to skin can drop significantly, as researchers from Australia's Griffith University found. In some cases, applying as much as an entire container of spray sunscreen failed to provide adequate sun protection. The Australian government now recommends consumers avoid aerosol sunscreens completely.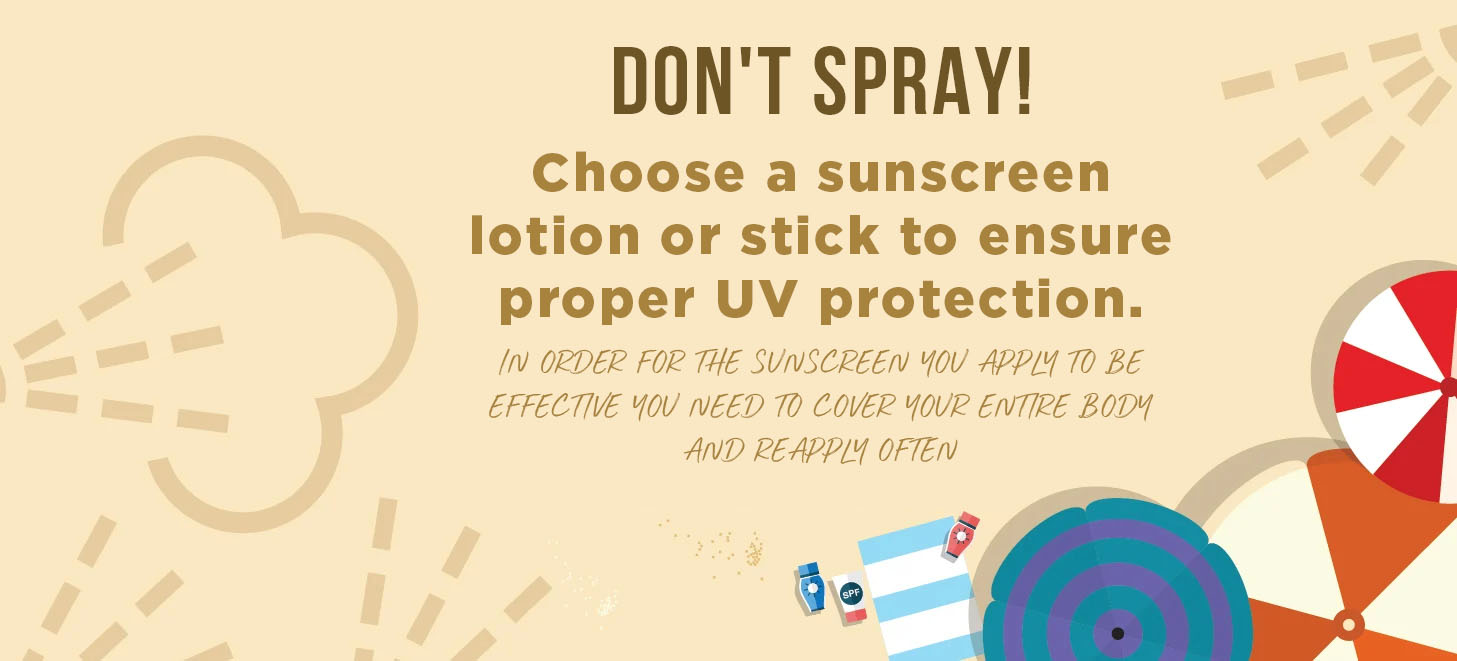 Inhalation is yet another problem with aerosol sunscreens. FDA testing found some aerosol products released particles that could be absorbed deep into the lung, where they could cause irreversible damage. The agency proposed that tests of sprays be required, but it has yet to finalize this action. The FDA should make these tests a priority so it can assess the potential for inhalation and for contamination by harmful chemicals like benzene.
The disparity between U.S. sunscreens on store shelves and those available in the rest of the world will not be resolved until manufacturers have access to better UVA filters and are held to stricter regulations that ensure the safety and efficacy of all products.