Taxpayers, Crop Insurance, and the Drought of 2012  |  Press Release
Preface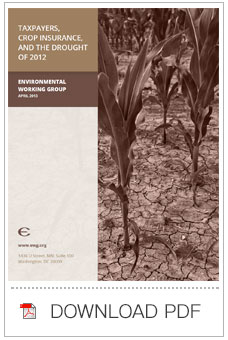 There were two reasons that Environmental Working Group (EWG) commissioned agricultural economist Bruce Babcock of Iowa State University to analyze how the heavily subsidized federal crop insurance program performed during the Corn Belt drought of 2012.
First, the 2012 drought drastically cut crop yields across several states – just the kind of event that many economists agree justifies a role for taxpayers in providing farmers with a safety net. Second, Congress is about to take up the farm bill again under serious pressure to cut spending. The taxpayer cost of crop insurance has grown steadily since 2000 and now is the most expensive government program supporting farm income. EWG thought the 2012 drought would be the perfect case to test whether it's possible to save federal tax dollars while still providing an effective safety net for farmers facing potentially crippling losses. 
Dr. Babcock's conclusions should be a wake-up call for taxpayers and the senators and representatives in Congress charged with creating a more fiscally responsible safety net. His key findings:
Over-generous subsidies have turned crop insurance into more of a farm income support program than a risk-management program.
Taxpayers could provide farmers with a secure floor under their finances for less than half of what the current program costs.
Although avoiding ad hoc disaster relief expenses has been one of the most-often cited justifications for subsidized crop insurance, the current insurance program cost taxpayers far more in 2012 than traditional disaster relief would have.
Taxpayers will bear the burden of almost 75 percent of the 2012 insurance payouts; and since 2001, insurance companies have enjoyed $10.3 billion in underwriting gains – while taxpayers have lost $276 million.
This latest report from Bruce Babcock adds to the growing evidence that common sense reforms to crop insurance would save billions of dollars while still providing a solid safety net, cutting the deficit and investing in programs that improve human health and the environment. So far, however, the subsidy lobby has managed to push Congress in the opposite direction. If either the failed Senate or House Agriculture Committee farm bill proposals from last year were to become law, taxpayers would be asked to pay even more for crop insurance while funding for conservation and nutrition programs went under the budget knife.
Congress should and could do far better as it takes up the farm bill again this year.