Taking from the Taxpayers
How the Bush Administration Gave Subsidy-Rich California Farmers a $17 Million Christmas Bonus
Taking from the Taxpayers: Reselling Subsidized Water
Once the home of a vibrant fishery, today the watershed of the Sacramento and San Joaquin rivers is one of the most artificially controlled hydrological systems in the world: Both rivers have been dammed, as have all but one of their major tributaries. [36] The water from these vast river drainages eventually flows into the West Coast's largest estuarine ecosystem — the San Francisco Bay-Delta Estuary, which has also been extensively altered by human activity.
In the Delta, two massive pumping facilities extract water and funnel it into the largest federally-run water delivery system in the country and the largest state-run delivery system: the federal Central Valley Project (CVP) and the State Water Project (SWP), respectively. At certain times of the year when the SWP and the CVP are exporting high levels of water from the Delta, the San Joaquin River actually reverses its flow between its confluence with the Sacramento River and the pumps. The river actually flows upstream. As if these extreme disruptions of the natural fish and wildlife habitat weren't enough, the pumps themselves kill millions of fish each year. [36]
By the early 1980s, federal scientists realized that fish populations in the Delta and throughout the watershed were crashing — in large part because of the export of millions of acre-feet of water to the SWP and CVP. From 1987 to 1992, a severer drought exacerbated this already dire situation and ultimately forced the California Department of Water Resources to limit its agricultural water deliveries. It was also clear that a much more ambitious plan was needed to restore ecosystem health in the Bay and Delta. A joint state-federal agency known as CALFED was created to develop and implement this plan, which included a controversial program known as the Environmental Water Account (EWA).
The EWA, which has been in operation since 2000, is like a virtual water district where the customers are fish. EWA buys water from willing sellers within the CVP and SWP at market rates to use for environmental purposes, such as improving water quality in a particular section of river or helping to restore threatened fish species such as salmon and smelt. The idea was to provide a mechanism to protect fish without affecting agricultural water supplies. It was also hoped that the prospect of reselling their unused water would encourage conservation by farmers. The success of the EWA in accomplishing this goal is debatable: The program has been hampered by a limited budget and inadequate water supply. [37] One thing is clear: The EWA is a highly effective mechanism for water districts that get cheap irrigation water to make a bundle off of taxpayers.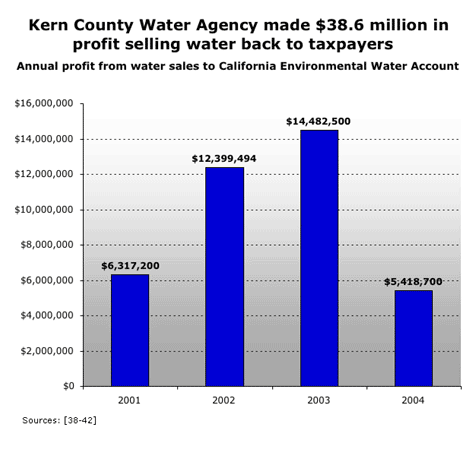 As the EWA is a publicly funded entity, the government is essentially selling SWP and CVP water to farmers at very low prices, then buying it back later at much higher rates to replace water that never left the river in the first place. Since the EWA has been in operation, it has purchased water from 16 different water agencies. But one has profited far more than any other: the Kern County Water Agency. KCWA is the largest agricultural water contractor in the SWP. It serves 14 different water districts †1 within the San Joaquin Valley and receives, on average, 84 percent of the irrigation water delivered by the SWP each year. [38]
Between 2001 and 2004, KCWA paid an average of $63.40 per acre-foot †2 (af) for its SWP water. [38-42] This amounts to a subsidy of at least $100 an acre-foot, given that the California Department of Water Resources and the Federal Bureau of Reclamation recently estimated that if a new dam were built on the upper San Joaquin River, the irrigation water it would deliver would cost a minimum of $170.42 per af †3. [43] But the KCWA is getting an even better deal: It is allowed to sell part of its water back to the taxpayers via the EWA at rates as much as 7 times higher than what it paid.
From 2001-2004, KCWA sold 277,400 af of water to the EWA at an average price of $198 per af, for a total of $54.9 million. The Agency's profit was $38.6 million — an average of $9.6 million per year. [38-42] Overall, KCWA has received more than one-third of the total expenditures by the EWA, and by far more money of any other individual water agency. [38] KCWA has perfected a scam in which taxpayers subsidize its below-market purchase of a public resource (water), then must pay much more to buy the water back in an attempt to restore another public resource (fish). Perhaps the most outrageous part of the scheme is that the Bay-Delta needs restoration largely because of the diversion of subsidized agricultural water and the runoff of pesticides and other toxic agricultural chemicals.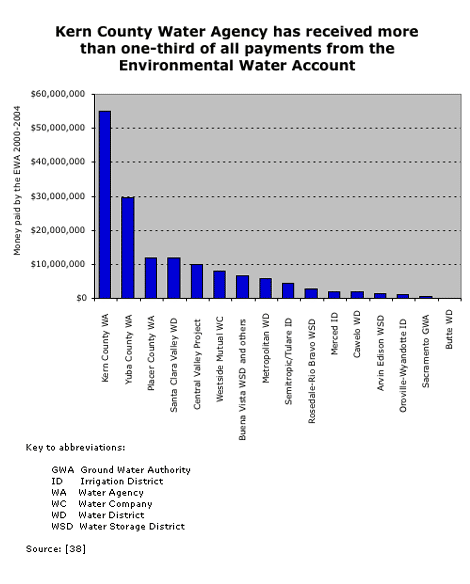 Besides resales to the EWA, from 1995 to 2004 the Kern County Water Agency sold another 456,092 acre-feet of water to other water districts, and the Tulare Lake Basin district sold 76,941 acre-feet to other districts. Prices and profits for those sales are details hidden from the public by state law, so it is impossible to know how much profit these water agencies made on such transactions. [44] In 2002, The Sacramento Bee estimated that just three water districts that are part of KCWA in recent years had made more than $128 million from sales to municipalities. [45]
But in Kern County there is potentially even more profit to be made from reselling subsidized water — even if that water exists only on paper.
According to a 2003 investigation by the taxpayer watchdog group Public Citizen, the KCWA and three of the water districts it serves own 42 percent of the Kern Water Bank, a huge underground storage facility that can store about 1 million acre-feet of water. [46] The state spent $74 million to develop the water bank, then in 1994 turned it over to the KCWA after secret meetings produced the so-called Monterey Agreement. This was a pact between the state, big farmers and developers based on the hope that someday, by building new dams and reservoirs, the State Water Project will be able to deliver all of the 4.2 million acre-feet specified in its contracts. As noted previously, half of the amount contracted for currently exists only on paper.
Another 48 percent of the water bank is owned by the Westside Mutual Water Co., a paper entity owned, operated and housed in the Bakersfield offices of its only customer, Paramount Farming Co. According to the California Farm Bureau, Paramount Farming and its corporate siblings, Paramount Citrus and Paramount Farming, Inc., comprise the largest farm company in the United States. [46] From 1995 to 2003, Paramount received $576,000 in USDA crop subsidies.
Paramount is part of Roll International Corp., a holding company privately owned by Stewart Resnick of Beverly Hills, one of the richest people in Los Angeles with an estimated net worth of $740 million. [47] Through Roll International, Resnick also owns the Franklin Mint, mail-order marketers of kitschy commemorative memorabilia, and Teleflora, a national floral delivery service.
Public Citizen documented that Westside MWC was created by Paramount Farming in hopes of reselling some of its non-existent SWP allocation to the Los Angeles Department of Water and Power. (Fans of the film Chinatown need no reminder of the LA water department's dark history of water grabs.) However, the labyrinthian connections of corporate interests with ties to the Kern County Water Bank point to other potential customers: Developers who want to turn former and current farmland between Bakersfield and Los Angeles into sprawling new towns called Tejon Ranch and Newhall Ranch.
Dennis Mullins, vice president and general counsel of Tejon Ranch, is on the board of directors both of the Kern County Water Bank and two of the water districts that own it — districts that will share in the Tulare Lake settlement. Another of the water districts that will receive part of the settlement and is a part-owner of the water bank already delivers water to Newhall Land & Farming, developers of Newhall Ranch. And Public Citizen uncovered a water sales contract between Newhall and a company owned by Paramount's corporate parent, Roll International. It doesn't take a conspiracy theorist to guess that an ultimate goal of the water districts that control the water bank is to turn paper water from the SWP into real water they can sell to developers at a profit.
Until then, they have their share of $16.7 million to see them through.
Footnotes
†1 — Berrenda Mesa Water District, Lost Hills Water District, Belridge Water Storage District, Semitropic Water Storage District, Cawelo Water District, Kern County Water Improvement District #4, Rosedale-Rio Bravo Water Storage District, Buena Vista Water Storage District, Kern Delta Water District, Henry Miller Water District, West Kern Water District, Wheeler Ridge-Maricopa Water Storage District, Tehachapi-Cummings County Water District, and Tejon-Castaic Water District.
†2 — An acre-foot is the amount of water needed to cover an acre of land one foot deep, or 325,851 gallons.
†3 — This is a highly conservative cost estimate because it does not include the costs for road construction, relocations of existing facilities, environmental mitigation, land acquisition, reservoir cleaning, or interest.