A Slow Death in Texas
Asbestos Mortality on the rise in the Lone Star State
Monday, February 14, 2005
Asbestos Mortality on the rise in the Lone Star State
Hundreds of Texans Die from Asbestos Each Year
As the Texas legislature begins consideration of controversial asbestos legislation that would restrict the legal rights of people injured by asbestos, hundreds of Texans continue to die of asbestos diseases each year.
At least 259 Texans died in 2002 from just two forms of asbestos disease, according to the most recent data from the National Centers for Health Statistics of the Centers for Disease Control, obtained by the Washington, DC based EWG Action Fund. Mortality is divided roughly evenly between the two diseases, with 132 reported deaths from asbestosis and 127 reported mesothelioma fatalities. More than one third of the deaths in 2002 (103) were in just three metropolitan areas, Houston with 44, Beaumont with 34, and Dallas with 25 (NCHS 2005).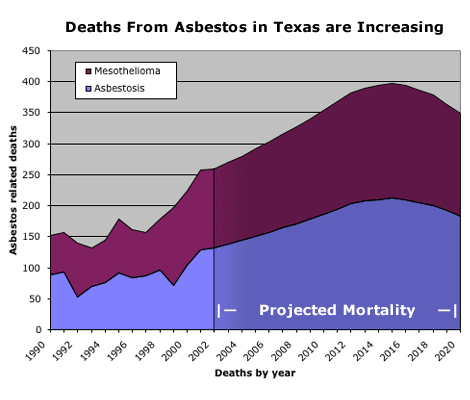 Source: EWG, compiled from National Center for Health Statistics, 2005
From 1979 through 2002, there were 2,910 reported deaths from asbestosis and mesothelioma in Texas. The majority of these casualties are older men. Hundreds more died from mesothelioma during this period, but are not reflected in federal statistics due to reporting oversights described below.
Deaths from these two signature asbestos diseases are increasing in Texas, where combined annual mortality has more than tripled since 1989. From 1979 through 2002, the rate of mesothelioma mortality in Texas increased at about 3.5 percent per year; for asbestosis the increase was roughly 4.4 percent annually.
"EWG Action Fund estimates peak asbestos mortality in Texas at about 1,000 people annually between 2015 and 2020."
Asbestos Fatalities Affect Communities Across Texas, 1979-2002
| Metropolitan area | Mesothelioma deaths | Asbestosis Deaths | Total Asbestos related deaths |
| --- | --- | --- | --- |
| Houston, TX PMSA | 264 | 260 | 524 |
| Beaumont-Port Arthur, TX MSA | 91 | 360 | 451 |
| Dallas, TX PMSA | 187 | 83 | 270 |
| San Antonio, TX MSA | 93 | 43 | 136 |
| Galveston-Texas City, TX PMSA | 48 | 62 | 110 |
| Fort Worth-Arlington, TX PMSA | 77 | 29 | 106 |
| Austin-San Marcos, TX MSA | 55 | 31 | 86 |
| El Paso, TX MSA | 49 | 16 | 65 |
| Corpus Christi, TX MSA | 29 | 34 | 63 |
| Longview-Marshall, TX MSA | 25 | 32 | 57 |
| Waco, TX MSA | 25 | 25 | 50 |
| Brazoria, TX PMSA | 20 | 29 | 49 |
| Tyler, TX MSA | 14 | 26 | 40 |
| Victoria, TX MSA | 15 | 17 | 32 |
| Amarillo, TX MSA | 21 | 10 | 31 |
| McAllen-Edinburg-Mission, TX MSA | 21 | 5 | 26 |
| Killeen-Temple, TX MSA | 17 | 7 | 24 |
| Brownsville-Harlingen-San Benito, TX MSA | 18 | 5 | 23 |
| Odessa-Midland, TX MSA | 16 | 6 | 22 |
| Wichita Falls, TX MSA | 15 | 2 | 17 |
| Sherman-Denison, TX MSA | 15 | 1 | 16 |
| Abilene, TX MSA | 9 | 7 | 16 |
| Lubbock, TX MSA | 10 | 5 | 15 |
| Bryan-College Station, TX MSA | 5 | 8 | 13 |
| Texarkana, TX-Texarkana, AR MSA | 7 | 4 | 11 |
| San Angelo, TX MSA | 8 | 1 | 9 |
| Laredo, TX MSA | 8 | 0 | 8 |
In March 2004, EWG Action Fund projected an increase in asbestos mortality for at least the next decade, based on epidemiology studies in England and Australia, where asbestos use and regulation followed a similar pattern as in the United States (Treasure 2004, Leigh 2003). At that time, spokespersons for the Agency for Toxic Substances and Disease Registry (ATSDR), and the National Institutes for Occupational Safety and Health (NIOSH), confirmed the EWG Action Fund annual mortality and trend estimates (Rogers 2004, Gardner 2004). This past year, the CDC released a report (link) that also confirmed an increasing trend in asbestos mortality.
The number of deaths from asbestos exposure in Texas is expected to continue a slow but steady increase for at least the next decade, as workers and family members exposed to asbestos during peak use years in the 1970's begin to suffer the effects of fatal or debilitating asbestos diseases. EWG Action Fund estimates that asbestos mortality in the state will peak sometime between 2015 and 2020, at around 400 people per year from mesothelioma and asbestosis alone.
Deaths from mesothelioma and asbestosis represent just a portion of mortality from asbestos in Texas each year. On the national level roughly 60 percent of the 10,000 people who die each year from asbestos exposure die from other cancer or causes not reflected in mesothelioma or asbestosis mortality statistics. EWG Action Fund estimates that the same trend will hold true for Texas, producing peak asbestos mortality in Texas of about 1,000 people annually between 2015 and 2020.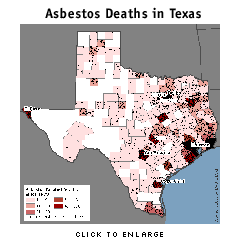 Texas ranks fifth in the nation for total reported asbestos mortality from these two signature diseases, with 2,910 deaths reported between 1979 and 2002. This total, however, is a substantial underestimate of total asbestos mortality in the state because it only accounts for two forms of asbestos disease, mesothelioma and asbestosis, and because mesothelioma fatalities were dramatically undercounted during most of the reporting period.
The federal government did not officially recognize mesothelioma as a cause of death until 1999. Prior to that time, federal mortality statistics for mesothelioma were based exclusively on estimates of proximate cancers, such as cancer of the pleura, or the lining of the chest cavity. When mesothelioma became an officially reported cancer in 1999, the number of mesothelioma fatalities reported in federal mortality statistics more than doubled.
During the 24-year period analyzed, federal data show 1,434 deaths in Texas from asbestosis, and 1,476 from mesothelioma. EWG Action Fund estimates that roughly an additional 1,000 mesothelioma deaths occured during that time that were not reported to federal health officials. The top Texas metropolitan areas for reported asbestos mortality from 1979 through 2002 are Houston, Beaumont, and Dallas, with 1,245 deaths reported between 1979 and 2002 — 524, 451, and 270 respectively.
W.R. Grace Indictment
As Texas considers sweeping limits on a citizen's right to sue asbestos companies, federal prosecutors in Montana are taking the opposite approach, seeking and obtaining criminal indictments against notorious asbestos manufacturer W.R. Grace.
On February 7, 2005, a federal grand jury for the first time ever handed down a multi-count criminal indictment against officials at an asbestos company, in this case W.R. Grace, charging them with withholding numerous studies spelling out the dangers that asbestos posed to its customers, employees and Libby residents. The indictment charges W.R. Grace and seven of its executives with criminal conspiracy, fraud and knowing endangerment in connection with its operation of an asbestos-contaminated mine in Libby, Montana. According to the indictment, W.R. Grace's operation of the mine has endangered the health of the 8,000 Libby residents and cost taxpayers over $55 million in environmental clean-up costs.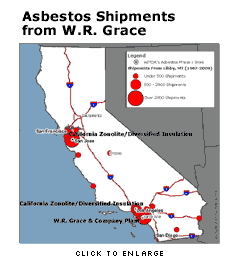 The indictment specifically alleges that the company was aware of several studies documenting the dangers of asbestos exposure, but concealed this knowledge from EPA officials. These studies include a 1976 study which revealed a high incidence of asbestos-related lung problems in Libby employees, an animal study finding cancer in hamsters exposed to the asbestos fibers present at the mine, a 1981 health study of employees showing a high rate of asbestos-related lung problems, a 1982 mortality study showing a high incidence of respiratory cancers in Libby employees, and several specific case studies of employees with lung diseases.
The impact of W.R. Grace's alleged criminal behavior extends well into Texas. At least 7,208 shipments amounting to more than 675,000 tons of vermiculite, were sent from the Grace mine in Libby, Montana to 24 locations in Texas between 1963 and 1992. More than 327,000 tons were shipped to Dallas, more than 193,000 tons to Houston, and 103,000 tons to San Antonio. The vermiculite shipped was contaminated with the most deadly form of asbestos, tremolite, which is a long, thin, spear-shaped mineral fiber that the body is completely unable to dissolve. Once it enters the lungs it penetrates deeper and deeper, often breaching the chest lining, where it can lead to the fatal asbestos cancer, mesothelioma.
"The impact of W.R. Grace's alleged criminal behavior extends well into Texas... 675,000 tons of vermiculite were sent from the Grace mine in Libby, Montana..."
Federal health and environmental officials have evaluated the risks to vermiculite plant workers and people who live near 11 of the largest 28 facilities nationwide that processed Libby vermiculite into insulation and other products. Their conclusion in every case was that workers at the plants, members of their families, and those living nearby had "most likely" been exposed to dangerous levels of asbestos and should be examined by doctors for asbestos diseases. No such evaluations have been conducted in Texas, but it is unlikely that the conclusions there will be any different when they are.
Asbestos Shipments to Texas from the W.R. Grace Mine
At least 7,208 shipments of vermiculite went from Libby, MT to 24 locations in Texas
City
Number of Shipments
Tons Shipped*
Dallas, TX
• 2651 Manila Road
3,399
327,411
Houston, TX (5 sites)
• C/O Maragua lines
• S.W. Greer Spur (3 separate companies invoiced)
• unknown address
2,024
193,819
San Antonio, TX
• 354 Blue Star Street
1,094
103,889
Bonham, TX
• Highway 82 West
509
47,284
Sweetwater, TX
49
2,532
Laredo, TX
36
2,089
Hamlin, TX
26
1,348
Fort Worth, TX (3 sites)
• 1628 Rogers Road
• 2818 North Nicholas Street
• 909 No. Main Street
19
121
Irving, TX
• County Line & Rock Island Roads
14
678
Acme, TX (2 sites)
• address in Acme, TX
• address in Quanah,TX
12
624
Galena Park, TX
• 1201 Mayo Shell Road
11
563
Celotex, TX
7
362
Rotan, TX
5
136
Liggett, TX
3
154
Brownwood, TX
• Count Bowie Ind. Park
2
38
Laporte, TX
• 3300 Barbours, Cut Boulevard
1
40
Ambler, TX
3
unknown
Source: EWG Action Fund analysis of shipment invoices from Libby, MT. * Numerous shipment invoices from Libby that were tallied by U.S. EPA did not include a specific street address for the destination, the tons shipped, or dates of shipment; some invoices lacked all this information, based on the EPA database in which the tabulations are recorded. As a result, the 'tons shipped' data presented here likely underestimate the actual amount of asbestos shipped to specific destinations, states, or for the United States as a whole.
Lying to workers and withholding critical health information from customers, communities, and federal health officials was not limited to W.R. Grace, it was standard asbestos industry practice. Indeed, it took similar behavior at Exxon, Dow (Union Carbide), DuPont, Bendix (now Honeywell), The Travelers, Metropolitan Life, Dresser Industries (now Halliburton), National Gypsum, Owens-Corning, General Electric, Ford, and General Motors, just to name a few, to produce the ten thousand Americans currently dying each year of asbestos diseases. The list of companies that knowingly exposed their workers to deadly amounts of asbestos is a roll call of major American corporations.
No company, not a single one, acted responsibly and informed workers of the deadly hazards of asbestos at any time. Not when the first information became available beginning in the 1930's, tying asbestos to fatal and debilitating lung disease. Not in the 1940's and 50's when asbestos exposure was unambiguously linked with lung cancer, and the signature asbestos cancer of the chest lining, mesothelioma. And not in the 60's, 70's, or 80's when thousands of workers a year began to die of asbestos-caused diseases.
This deliberate concealment of critical information led to the debacle we face today, where 10,000 people a year die from asbestos disease, and thousands more are seriously disabled. This pattern of outrageous corporate misconduct is at the core of whatever success people injured by asbestos have had in the courtroom to date.
Conclusions and Recommendations
If there is an asbestos crisis in Texas, certainly its most important facet is the hundreds of people who die each year from asbestos-caused cancers and disease. In 2002, there were 259 reported deaths from just two forms of asbestos disease, mesothelioma and asbestosis. EWG Action Fund estimates that up to 1,000 Texans a year will die from all asbestos diseases at the peak of asbestos mortality between 2015 and 2020.
Any legislative effort to address the asbestos issue in Texas must focus first on the public health dimension of the problem. Some policy decisions are more appropriate at the federal level, such as a much needed ban on asbestos, 30 million pounds of which is still used in products sold in the United States each year. But much could be done in Texas and other states to help those innocent people who, simply by reporting to work each day, now suffer from painful, debilitating, and often fatal asbestos disease.
Any legislative package passed in Texas or elsewhere must:
Ensure that every individual injured or killed by asbestos receives a fair and prompt measure of assistance, and that this help is not delayed, denied, or in any way diminished by any action taken by the legislature.
Protect the right of every person injured by asbestos to seek compensation through the courts. A national or state level trust fund could be part of a solution, but participation in such a fund must be optional as with the fund set up to help the families of the World Trade Center disaster.
Ensure that asbestos remediation efforts are policed aggressively. Recent convictions of shady remediation companies reveal a far too pervasive lack of oversight of this industry.
Map: Texas Death Rates from Asbestos
Mortality rates from asbestos during the time period analyzed were higher than reflected by the maps. The map is based on deaths from just two forms of asbestos disease, mesothelioma, the fatal asbestos-caused cancer of the chest lining, and asbestosis, a non-cancer disease of the lungs. The map does not reflect asbestos caused deaths from other cancers including lung cancer and gastrointestinal tract cancers. Together these additional asbestos caused cancers account for at least as many asbestos fatalities as reported here. Further, mesothelioma mortality, which is reflected in the maps, was grossly underreported until 1999. In that year, the federal government for the first time listed mesothelioma as a reported cause of death. Deaths attributable to mesothelioma more than double that year, and have increased since that time.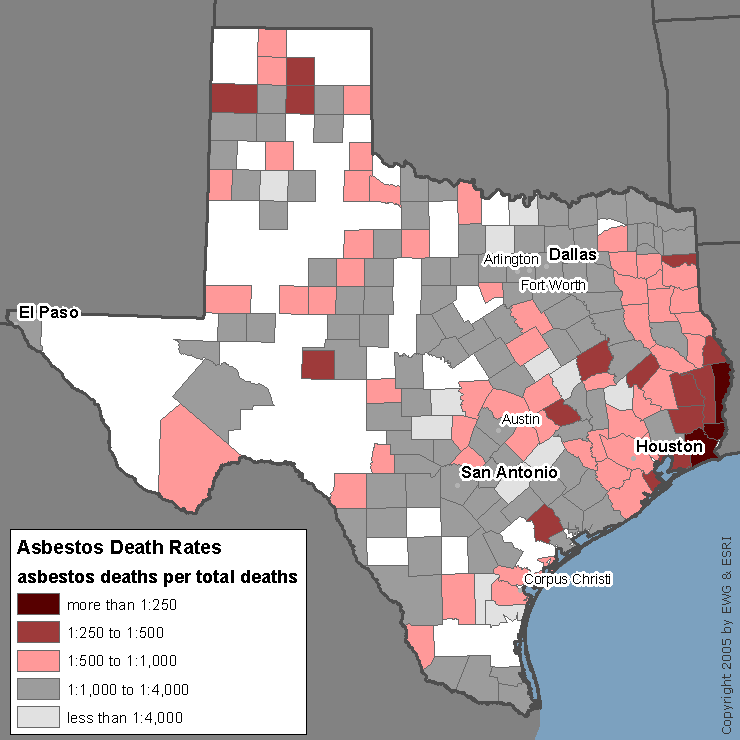 Map: Deaths Since 1979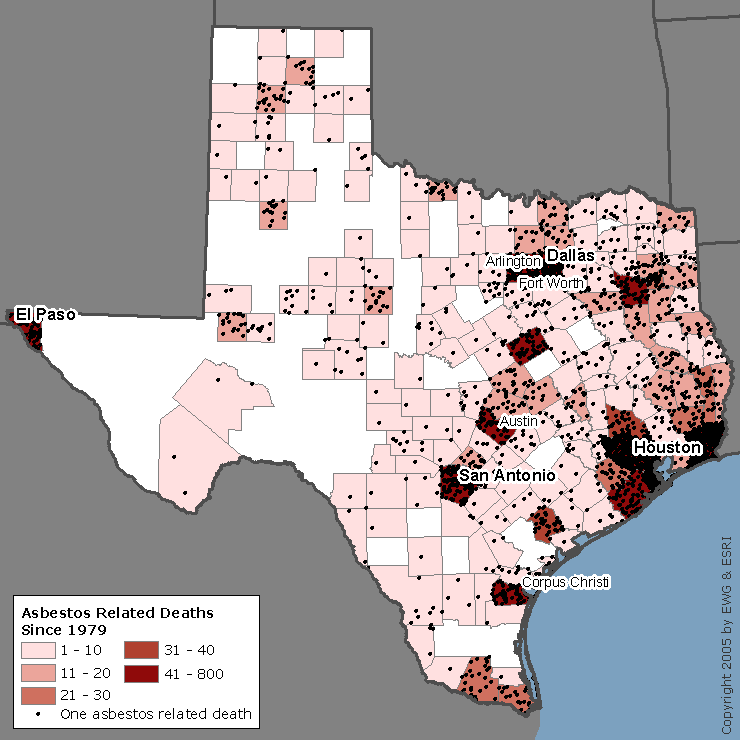 Map: Contaminated Places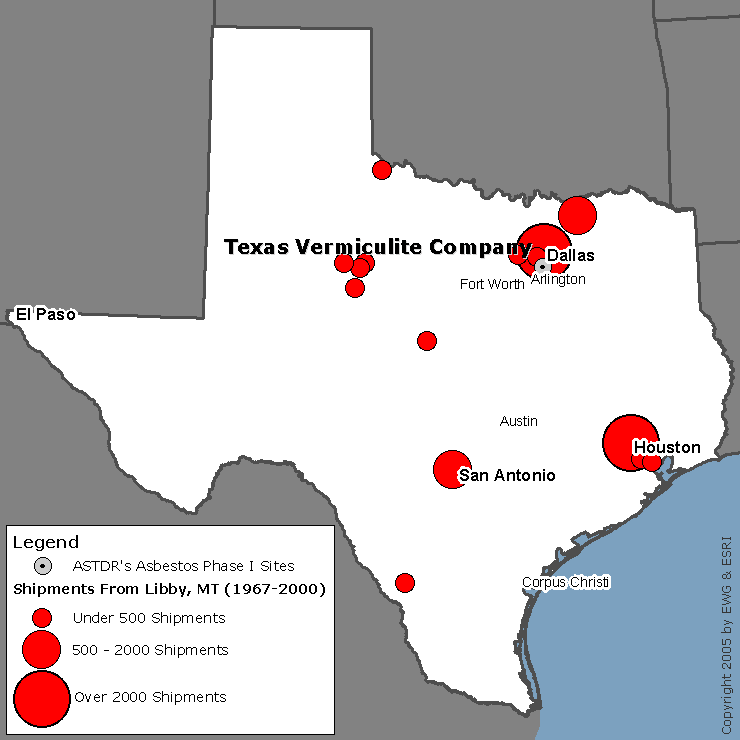 Texas's ATSDR Phase I Site
TEXAS VERMICULITE COMPANY
2651 Manila Road
Dallas, TX 75212
Population within one-half mile (the red circle): 890
Average wind speed: 9.6 MPH (Source: NOAA)
ATSDR's site on Texas Vermiculite Company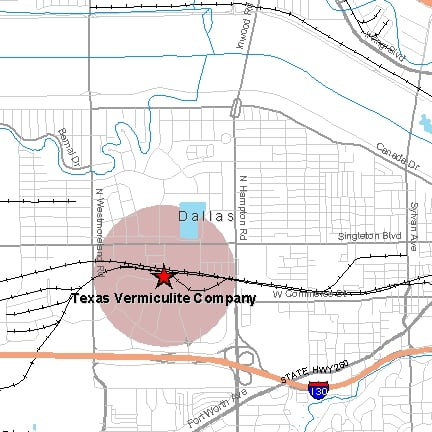 Source: EWG Action Fund. Compiled from ATSDR Phase I Vermiculite Sites, National Asbestos Exposure Review. Map data copyright 2004 by GDT.
About This Report
"A Slow Death in Texas" has its origins in literally dozens of EWG investigations and projects on toxic substance exposure, control and regulation, a central topic of our organization for the past ten years. EWG is a 501(c)(3) organization related to EWG Action Fund. EWG's focus on asbestos originated six years ago in an EWG examination of data obtained under the Freedom of Information Act from the Occupational Safety and Health Administration on the major environmental exposure risks affecting American workers. Asbestos exposure and risk topped the list that emerged from that research, which was funded by The Joyce Foundation and formed the cornerstone of the analyses EWG Action Fund presents in this report on the ongoing epidemic, mainly among older, male workers, of asbestos-caused diseases. Research on the nature of those diseases, and their link to a 'body burden' of asbestos fibers, was supported by a number of foundations, principally The Beldon Fund, the Mitchell Kapor Foundation, the Jennifer Altman Fund, and the Rockefeller Family Foundation. Several of those foundations, along with The Winslow Foundation, supported the development of EWG's Chemical Industry Archives project, which enabled us to analyze and post online the damning internal documents from the asbestos industry and its insurers, and to examine the numerous flaws of the Toxic Substances Control Act (TSCA).
None of those flaws is more disconcerting than the failed EPA effort to ban asbestos in the late 1980s. Of the dozens of case histories of industrial pollution that EWG has developed through the Archives over the past five years, none shocked or angered us more than the story of cold, calculating indifference to human life that emerges from the memos, correspondence and studies of the asbestos industries and their insurance companies.
"A Slow Death in Texas" would not have been possible without the financial, intellectual and material support of the Association of Trial Lawyers of America (ATLA). The present analyses was made possible in part by a grant from the Texas Trial Lawyers Association. While this support is modest in the context of investments in EWG toxics work made by other funders over more than a decade, it enabled us to put the most accurate numbers yet on the scope of the asbestos public health problem, nationally, and in Texas. While we might disagree with ATLA and TTLA and some of its members on some aspects of public policy as it pertains to America's asbestos tragedy, we are deeply appreciative of this support.
References:
National Center for Health Statistics (NCHS) (2005). "Multiple Cause of Death files, 1979-2003."
Treasure, T., D. Waller, et al. (2004). "Radical Surgery for Mesothelioma: The epidemic is still to peak and we need more research to manage it." British Medical Journal 328: 237-8
Leigh, J. and T. Driscoll (2003). "Malignant mesothelioma in Australia, 1945-2002." Int J Occup Environ Health 9(3): 206-17.
Gardner, Amanda. "Asbestos Remains Key Public Health Threat." HealthDay, March 5, 2004
Rogers, Paul. "Warning issued for plants' neighbors." San Jose Mercury News, March 5, 2004