Asbestos: Think Again: Maps
Government Data on Asbestos Mortality
At Least 43,073 People Have Been Killed By Asbestos Since 1979
The map below displays asbestos deaths from mesothelioma or asbestosis as reported to the federal government via death certificate records from 1979 through 2001. It likely represents less than 20 percent of total asbestos mortality during that time.
See a table ranking the states | Top 100 counties for asbestos mortalities | Return to map index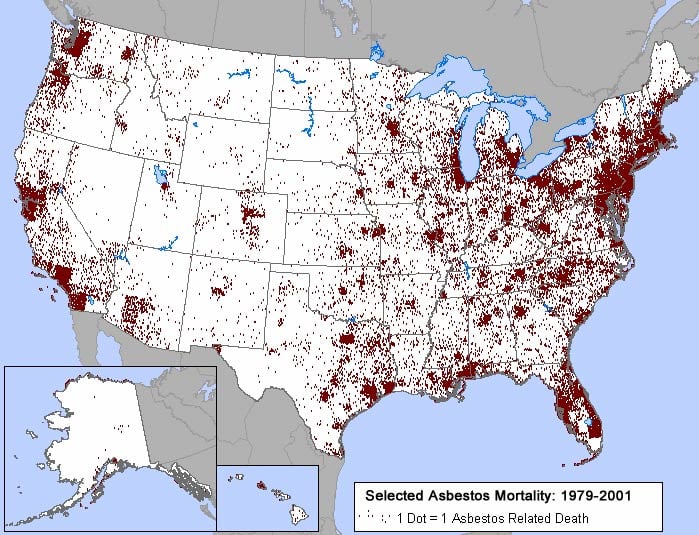 Source: EWG Action Fund analysis of Government Death Data.
The dots on this map represent individuals who have died from two signature asbestos diseases, mesothelioma and asbestosis, as confirmed by death certificate records. To protect the identity of the victims, the dots on the map have been randomly placed within the county where the death was recorded.
The map includes just a small portion of all asbestos-related mortality that occurred during the time period analyzed. It does not include a single lung cancer death caused by asbestos, although national estimates of lung cancer mortality from asbestos range from 5,000 to 10,000 per year during that time. The data also grossly underestimate mesothelioma mortality, the signature asbestos-caused cancer. This is in part due to under-diagnosis of the disease, but in greater measure because mesothelioma was not tracked by the federal government as a cause of death until 1999. Prior to that, scientists estimated mesothelioma mortality by assuming cancers of certain sites (for example, the pleura) were mesothelioma. This resulted in dramatic underestimates of the true mortality rates. When the government began tracking mesothelioma as a cause of death, mortality more than doubled, from 935 in 1998, to 2343 in 1999.
The map also does not include asbestos mortality from gastrointestinal (GI) cancer. The link between asbestos and GI cancer is contested by industry and its insurance companies, but OSHA and the World Health Organization International Agency for Research on Cancer all have concluded that asbestos does cause some types of GI cancer (OSHA 1994, WHO 1989). The best national estimates are about 1,200 asbestos-caused gastrointestinal cancers per year.
If the data presented above are corrected to include lung and gastrointestinal cancer and more accurate estimates of mesothelioma incidence, nationwide, the total mortality from asbestos from 1979 through 2001 would be about 230,000 people.
People Seeking Justice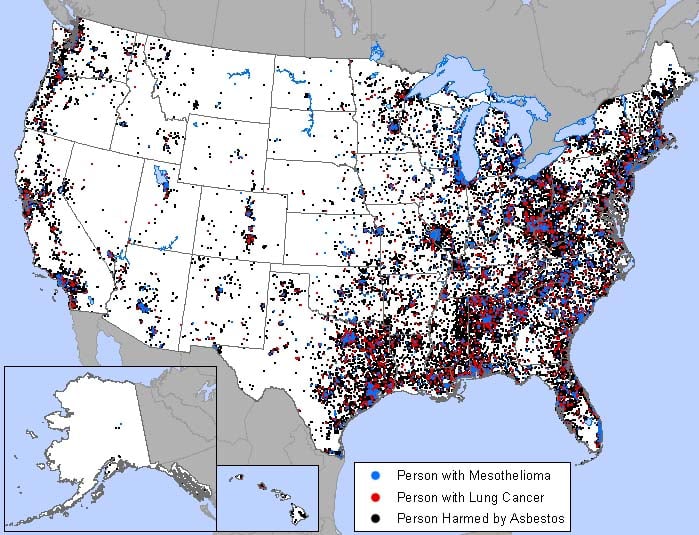 Source: EWG Action Fund analysis of data provided by attorneys representing people harmed by asbestos.
Government Listed Asbestos Contamination Sites
"It's like a ticking time bomb inside your chest"
— ATSDR official in The Washington Post, Oct. 3, 2003
This map presents 28 former asbestos manufacturing sites identified by federal health officials as priority locations for community-wide evaluations of asbestos disease. These sites received approximately 80 percent of the asbestos mined at the W. R. Grace vermiculite mine in Libby, Montana from 1964 through 1990.
See a table of all the sites | Return to map index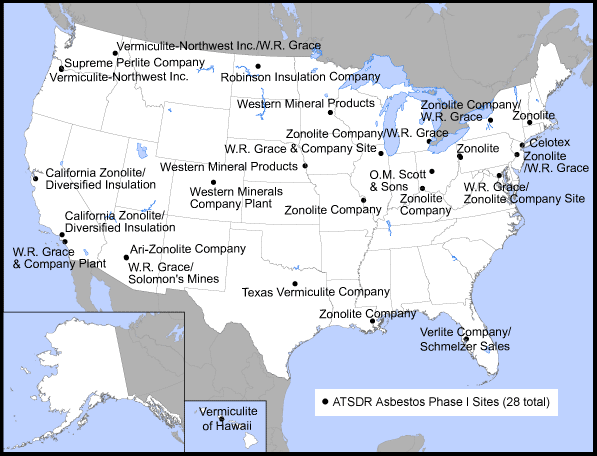 Source: EWG Action Fund.
Compiled from ATSDR Phase I Vermiculite Sites, National Asbestos Exposure Review.
For these 28 sites:
The U.S. Environmental Protection Agency (EPA) mandated further action at the site on the basis of current contamination; OR
The site was an exfoliation facility that processed roughly 100,000 tons or more of vermiculite from the Libby mine. Exfoliation is a process in which vermiculite ore is heated at high temperatures to expand or "pop" it. These facilities are of particular concern because exfoliation causes higher amounts of asbestos to be released than other processing methods.
Places That Handled Asbestos Shipments
At least 63,073 shipments were sent from Libby, MT between 1948 and 1993
See a table ranking the states | View the 236 Known Addresses | Return to map index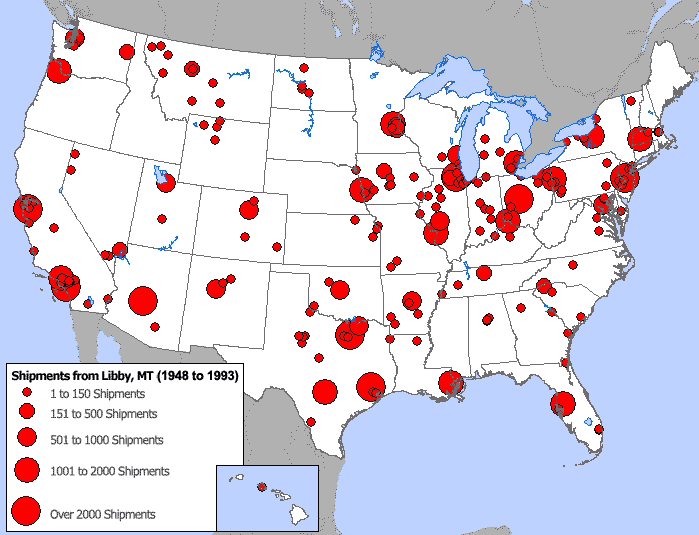 Source: EWG Action Fund analysis of shipment invoices from Libby, MT.