Iowa's Low Hanging Fruit
Stream Buffer Rule = Cleaner Water, Little Cost
Source: Esri, DigitalGlobe, GeoEye, i-cubed, USDA, USGS, AEX, Getmapping, Aerogrid, IGN, IGP, swisstopo, and the GIS User Community
Iowa's Low Hanging Fruit: Executive Summary
A study of five representative Iowa counties shows that requiring simple buffer zones between crop fields and streams could get two-thirds of the way to the state's goal for reducing phosphorus pollution and one-fifth of the way to the nitrogen pollution target, while affecting only a tiny proportion of landowners and a vanishingly small percentage of row-crop acreage.
The 2013 Iowa Nutrient Reduction Strategy committed the state to an ambitious goal of reducing phosphorus pollution from so-called nonpoint sources – mostly farm operations – by 29 percent, and nitrogen pollution by 41 percent. The science assessment that accompanied the strategy concluded that the simple step of putting 35-foot-wide grass strips between waterways and adjacent cropland could cut phosphorus runoff by 18 percent and nitrogen pollution by 7 percent.
Environmental Working Group used high-resolution aerial photography to assess the impact on Iowa's farms of implementing streamside buffer standards of varying widths – 35 feet, 50 feet or 75 feet. EWG picked five counties – Allamakee, Hamilton, Linn, Plymouth and Union – that represent Iowa's major landscape regions and reflect the wide county-to-county range in how much land is devoted to row crops.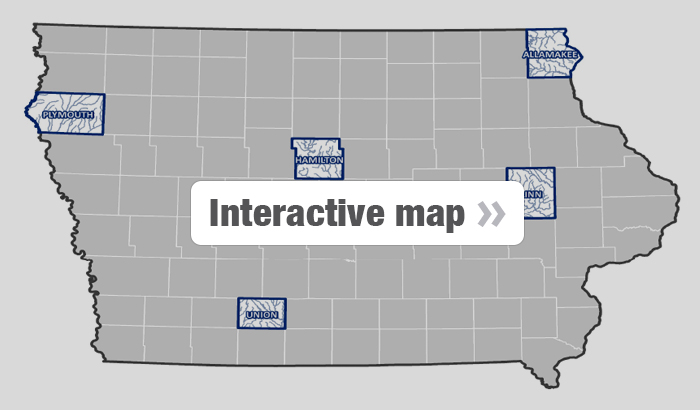 The analysis showed that requiring a 50-foot buffer would affect only 11 percent of the landowners in those five counties – ranging from 8 percent in Linn County to 15 percent in Plymouth County. Moreover, only 0.12 percent of the corn and soybean row crop acreage would have to be replaced by permanent vegetation to meet a 50-foot requirement. Fully 71 percent of the affected landowners would only have to convert an acre or less to meet that standard.
To EWG, that sounds like very low hanging fruit. Planting narrow strips of grass between cropland and waterways – without compensation – doesn't seem too much to ask of landowners, given the substantial public support they receive. Neighboring Minnesota already has a progressive zoning ordinance requiring 50-foot streamside buffers between crop fields and public waterways.
Can't Iowa do as well?
The prospect of enacting a streamside buffer standard raises the most important policy issue facing Iowans tired of dirty water: What's fair to expect landowners to do at their own cost as part of the responsibilities that come with the rights of ownership?
Landowners are expected to be good citizens – to fence their cattle out of their neighbors' land, control noxious weeds before they spread to others' fields and make sure that their herbicide sprays don't damage nearby crops. Why shouldn't there be a similar standard of care to protect those who live downstream? It is unfair and bad policy to expect taxpayers to foot the bill for everything that farm operations need to do to clean up Iowa's streams and rivers.
It is time to define a basic standard of care that agricultural landowners should be expected to meet. It should focus on those activities, such as planting crops too close to waterways, that cause a disproportionate share of the region's water pollution and for which simple and effective solutions are readily available.
A streamside buffer standard fits those criteria perfectly. If Iowa is serious about cleaning up its waterways, a streamside buffer standard of at least 50 feet would be an excellent way to start. Counties could take the initiative even in the absence of state action.