Cuts Won't "Devastate" Crop Insurance
The congressional budget deal signed by President Obama in early November includes a cost-saving measure that trims the profits taxpayers guarantee the crop insurance industry. The guaranteed rate of return of these companies would drop from 14.5 percent to 8.9 percent, saving $3 billion over the next 10 years.
As usual, the crop insurance industry responded with dire warnings. In a joint statement, several crop insurance organizations said: "Make no mistake – the budget deal's proposed cuts to crop insurance would be devastating. . . . This proposal would cripple that [public-private] partnership and with it, the rural economy."
Really?
The $3 billion cut amounts to $300 million a year split between the 17 companies chosen by the government to sell heavily subsidized crop insurance policies. The government will still guarantee them a return at 8.9 percent – a rate that will be the envy of life, health and liability insurance companies, whose average rate of return is estimated at 3 percent.
The government-guaranteed profits are flowing to some of the largest and most profitable companies on the planet.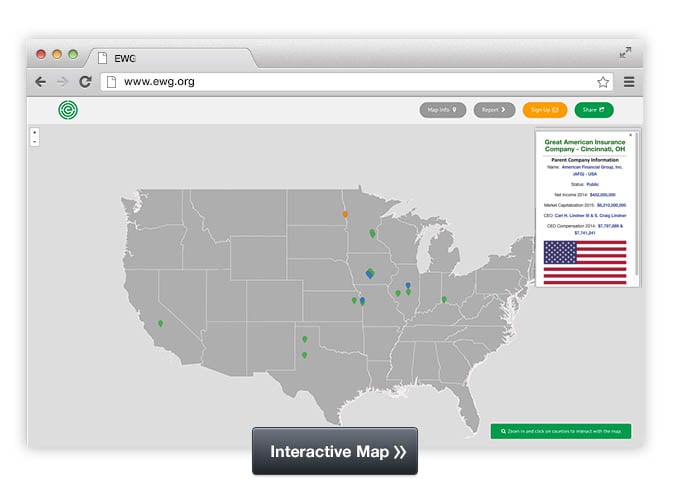 *Interactive map updated on 1/22/16 to accommodate industry changes.
Twelve of the 17 crop insurance companies are owned by publicly traded companies with net worth ranging from $4.4 billion to $281.1 billion and 2014 net income ranging from $348.5 million to $23.1 billion. Annual compensation to their CEOs ranges from $468,000 to $22.1 million. Seven of these parent companies are headquartered outside the U.S., in Australia, Bermuda, Canada, Ireland, Japan and Switzerland.
Two crop insurance companies are not owned by a parent company: Farmers Mutual Hail Insurance Company of Iowa and International Ag Insurance Solutions. However, International Ag is managing general agent for Starr Companies, and Starr Companies is headed by Hank Greenberg, the former head of AIG who stepped down in 2005 in the midst of many inquiries of the company and its associated accounting practices. Two other crop insurance companies are owned by private companies. Because these companies are not publicly traded, we know little about them other than their names.
Finally, American Farm Bureau Insurance Services, Inc. is owned by the American Farm Bureau Federation, one the most relentless lobbyists for the public subsidies that guarantee the profitability of crop insurance companies.  
It's ludicrous to claim that a $300 million annual drop in profits spread across these 17 companies would cripple the federal crop insurance program and end the rural economy.
The truth is these companies will be guaranteed a little less profit and the commissions they pay to insurance agents might be a bit less. But the federal crop insurance program will be fine and farmers won't pay a penny more for their insurance policies.
Bringing the profits of crop insurance and their parent companies more in line with rates of return in the private insurance market is a good but very small step toward the far-reaching reform needed to reshape crop insurance into a safety net that works for farmers, taxpayers and the environment.
Lawmakers should resist attempts by the crop insurance industry and its patrons to shift the $3 billion cut to other programs. They had the right idea when they fashioned the budget deal in the first place.