Children's Cereals
Sugar by the Pound
EWG.org
Children's Cereals: Sugar In Children's Cereals: Limited Progress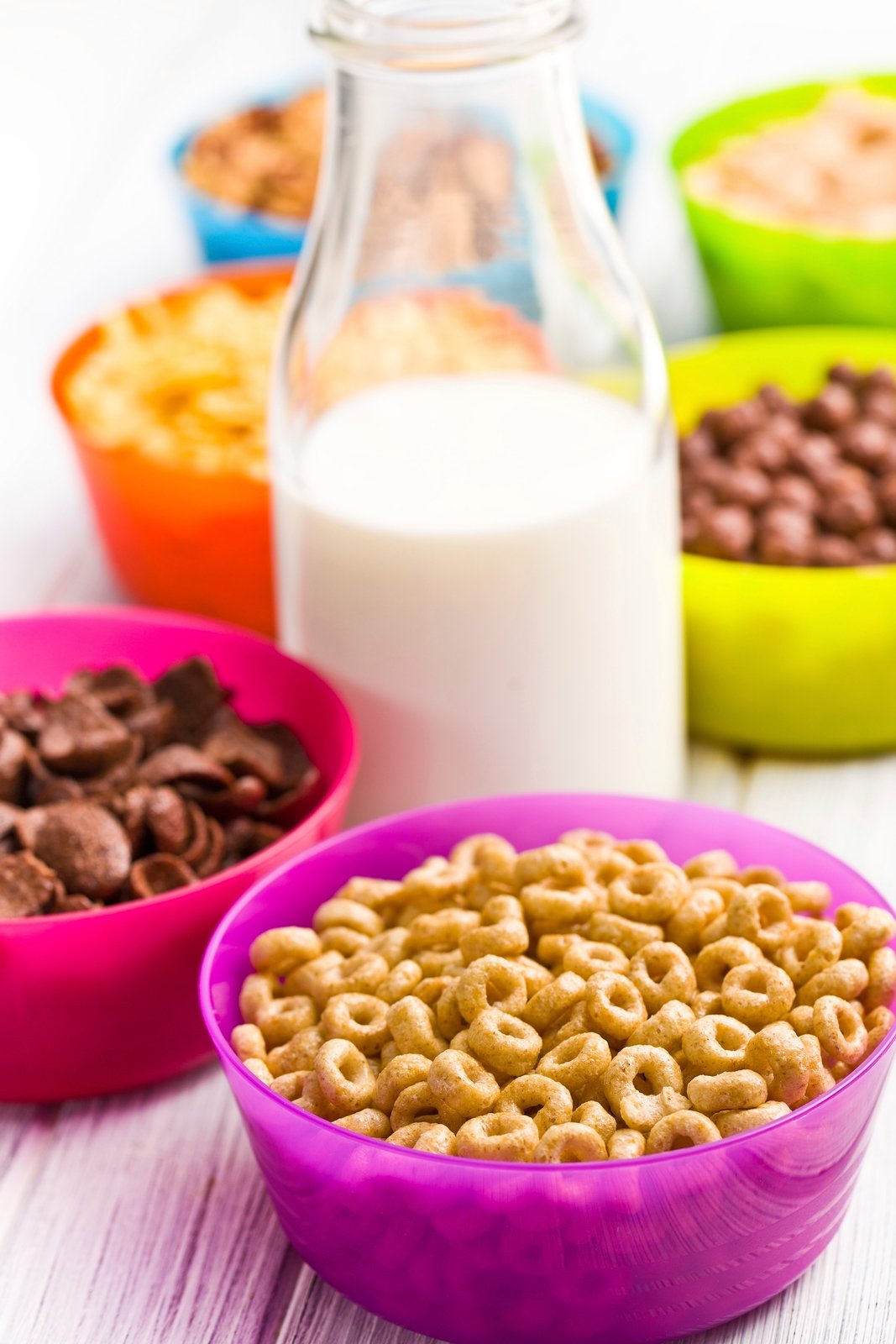 A uniquely American invention, ready-to-eat cereals first appeared during the Civil War as wholegrain products with no added sugar. People who wanted a sweeter breakfast would add sugar or honey themselves. These original cereals did not sell very well, however, until the industry figured out that making cereals sweet would make them more appealing to children and boost sales. Once sweetened cereals reached the market and cartoon characters were added to the packaging, they became the food that American children eat for breakfast (Gitlin and Ellis 2012).
They also became the focus of controversy over sugar content, nutritional quality and marketing, prompting calls for lower sugar content in cereals marketed to children. In response, some cereals were reformulated. In 2012, a study by the Yale University Rudd Center for Food Policy and Obesity found that from 2009 to 2012, the average sugar content in children's cereals had decreased from 36 percent to 33 percent (Harris 2012). "Overall sodium and sugar reductions were statistically significant," wrote the authors of the study, titled "Cereal FACTS 2012: Limited progress in the nutrition quality and marketing of children's cereals."
EWG considers any decrease in the added sugars in children's cereals a step in the right direction, but in the context of the World Health Organization recommendation of no more than 10 percent of calories added sugar, the improvement has been slight.
In 2006, food and beverage companies established the Children's Food and Beverage Advertising Initiative, promoting it as a "part of the solution to the complex problem of childhood obesity by using advertising to help promote healthier dietary choices and lifestyles for children" (CFBAI 2010). For the first seven years, the program called for voluntary selfregulation without establishing uniform nutrition criteria, allowing participating companies to set their own nutrition standards for products they wanted to advertise to children. The Initiative began enforcing uniform nutrition criteria only at the very end of 2013.
Four cereal manufacturers and 24 cereal products participate in the industry Initiative, even though these companies have more than 127 cereals designed for children and families on the market. Of the 24 cereals that meet the uniform nutrition criteria, 15 contain more than 30 percent sugar by weight. Only 4 cereals in the Initiative meet the sugar guideline of less than 21 percent sugar used by the government's supplemental nutrition program for Women, Infants and Children (USDA 2014).
Under these criteria, companies are free to market to children, through packaging, TV and other means, any cereal containing 2½ teaspoons (10 grams) or less sugar per serving (CFBAI 2011). Since many of the cereals enrolled in the industry's Initiative have small serving sizes of 27 grams, the industry considers it appropriate to advertise to children cereals that are up to 37 percent sugar by weight, a target that is difficult to reconcile with the Initiative's stated goal to be "part of the solution" for childhood obesity and to "promote healthier dietary choices."
TABLE 6: NO CEREAL ON EWG'S 2011 TEN WORST LIST REDUCED SUGAR CONTENT
| Cereal | Sugar (g) per serving, 2011 | Sugar (g) per serving, 2014 |
| --- | --- | --- |
| Kellogg's Honey Smacks | 15 | SAME |
| Post Golden Crisp | 14 | SAME |
| Kellogg's Froot Loops Marshmallow | 14 | SAME |
| Quaker Oats Cap'n Crunch's OOPS! All Berries | 15 | SAME |
| Quaker Oats Cap'n Crunch Original | 12 | SAME |
| Quaker Oats Oh!s | 12 | SAME |
| Kellogg's Smorz | 13 | SAME |
| Kellogg's Apple Jacks | 12 | SAME |
| Quaker Oats Cap'n Crunch's Crunch Berries | 11 | SAME |
| Kellogg's Froot Loops Original | 12 | SAME |
In 2011, EWG analyzed 84 children's cereals on store shelves. The new analysis of 181 children's cereals is based on a comprehensive database that was not available to EWG in 2011. As part of the project, EWG researchers re-reviewed the 84 products in the 2011 report and found that overall, they remain grossly over-sugared. In 2011, the average children's cereal was 29 percent sugar, and even though some of those products have been reformulated, the average today is still 29 percent. Not a single cereal on EWG's 10 Worst Children's Cereals from 2011 has lowered its sugar content (Table 6).
Of the 77 cereals analyzed in 2011 that EWG found were still on the market in 2013, the sugar content remained the same or increased in 66 cereals. Of the 11 that were reformulated to contain less sugar per serving, 10 lowered the content by just one gram – a quarter of a teaspoon (Appendix 2).
FIGURE 1: CHANGES IN SUGAR CONTENT: 2011 VS. 2014 ANALYSIS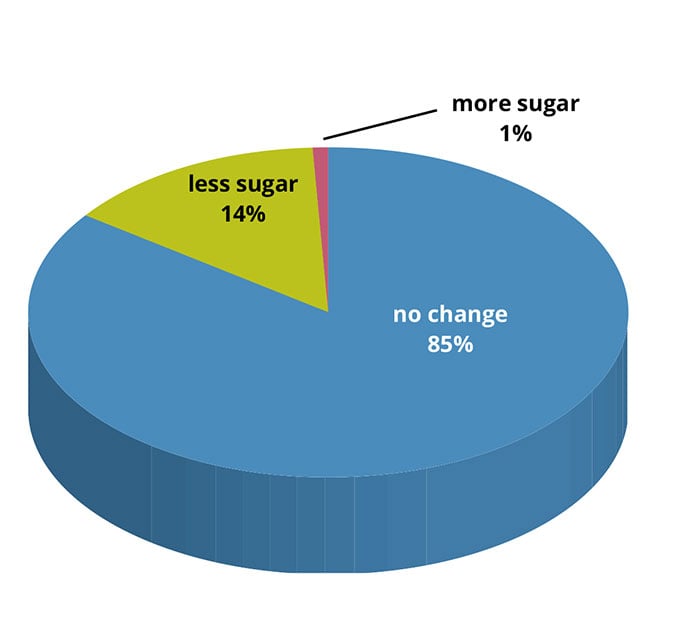 The most improved cereal in EWG's analysis – Post's Fruity Pebbles – reduced its sugar content very slightly, from 37 percent to 33 percent sugar. This decrease is similar to the results of the 2012 cereal market study by the Yale University Rudd Center researchers (Harris 2012). With 33 percent sugar content, children eating this cereal would still consume one spoonful of sugar for every three spoonfuls of cereal (Bachman 2012). But because this sugar amount is less than the industry's self-set bar of 10 grams per serving, cereal manufacturers can tout such cereals as "contributing to a healthy diet" and advertise them to children.
For the entire set of 77 cereals that EWG analyzed in 2011 and again in this study, the average sugar content dropped only an average of one-twentieth of a teaspoon per serving – from 9.35 grams to 9.22 grams – minimal progress in light of the health effects associated with overconsumption of sugar.
Industry can and should do more
There has been some progress reducing sugar in children's cereals over the past three years, but the overwhelming majority of children's cereals are still too high in sugar, even though research has shown that children will happily eat low-sugar cereals. Progress is stalling under industry's voluntary measures. The Children's Food and Beverage Advertising Initiative should update its uniform nutrition criteria for cereals to lower the sugar limit per serving from 10 grams to the more appropriate limit of 6 grams.