An unprecedented environmental catastrophe is striking Florida's storied beaches, lakes and rivers this summer. Outbreaks of three separate strains of harmful algae are killing fish and other marine animals, threatening public health and devastating recreation and tourism.
Along southwest Florida's Gulf Coast, an outbreak of a type of toxic algae called red tide prompted Gov. Rick Scott's declaration of a state of emergency in seven counties this month. Lake Okeechobee and two rivers that are important sources of drinking water were hit with outbreaks of toxic blue-green algae that, in June, covered almost the entire lake, leading to another emergency declaration. And this week, the Gulf Coast was struck by another outbreak of bright-green algae feeding on the rotting fish killed by the red tide.
Algal outbreaks can occur naturally, but they are also triggered when chemical pollution runs off into waterways from farms and other sources. The outbreaks – technically not algae but photosynthetic bacteria, or cyanobacteria – can harm people's health and even kill pets. As EWG has reported, they're a growing problem across the U.S., probably because too much fertilizer and manure is washing off farm fields, combined with hotter weather caused by climate change.
Florida waterways have long been plagued by algae, but this year's outbreaks are some of the worst in history.  
The Lake Okeechobee outbreak began in June. By early July, 90 percent of the lake was covered with a smelly green blanket of cyanobacteria, making recreation almost impossible. The outbreak receded somewhat, but in early August still covered almost half of the lake. Over the summer, the algae spread to the Saint Lucie and Caloosahatchee rivers — both sources of drinking water for major South Florida cities.
These satellite images show the Lake Okeechobee outbreak from June through August.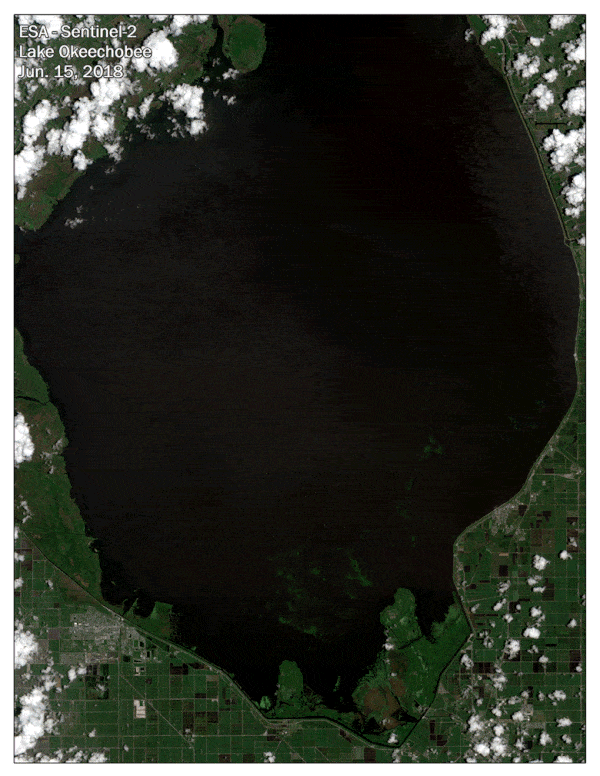 Lake Okeechobee, June 15-August 24. Satellite image from European Space Agency.
The algae outbreaks called red tide have been plaguing southwest Florida since last fall, but have recently grown to span 150 miles of the Gulf Coast. These algae are partially being fueled by the bacteria in the inland lakes and rivers. As the bacteria die, they provide nutrients that feed the red tide.
A third type of algae is a consequence of the red tide. The red tide has killed a massive number of fish this summer, and the decomposing fish are feeding the new bright-green algae. This outbreak is not toxic to humans or animals, but the floating mats of algae can block sunlight from reaching seagrasses and lower the levels of oxygen needed by animals and plants.
In mid-August, people in the coastal counties struck by the red tide reported dozens of cases of respiratory irritation. In June, water samples from the Caloosahatchee
River found levels of microcystin, a powerful toxin produced by cyanobacteria, that were hundreds of times higher than what the Environmental Protection Agency considers safe.
The red tide has killed over 2,000 tons of marine animals, including fish, turtles, sharks and manatees. By mid-August, there were 580 fish kills alone.
Tourism has taken a huge hit, with the counties most impacted by red tide losing $90 million in revenue. Some small businesses' revenues have been cut in half. Florida's economy depends in large part on tourism and recreation. In 2016, tourism generated $88 billion, or 10 percent,  of the state's gross domestic product.  
Chemicals like nitrogen and phosphorus are washed into bodies of water by rainstorms. As the water warms in summer, these nutrients produce eruptions of cyanobacteria. In Florida, these chemicals come from many sources, such as septic tanks and lawn fertilizers, but agricultural runoff is also a big factor.
Years of environmental deregulation under current state officials have made things worse. Gov. Scott's administration cut $700 million from water management districts, which included funding for red tide research.
To stem algal outbreaks in Florida and elsewhere, a major overhaul of farm practices and policy is needed. State and federal standards should require farmers to adopt simple, proven conservation techniques to reduce nutrient runoff. Voluntary efforts, where taxpayers pay farmers for conservation, are clearly not working.
It may take decades to turn the tide. But changes are necessary to return Florida's beaches and waterways to the residents, tourists and wildlife that depend on them.