Trouble in The Air
Senate Bill Grants Immunity To Asbestos Companies and Cuts Assistance To Terminally-Ill Asbestos Victims
Senate Bill Grants Immunity To Asbestos Companies and Cuts Assistance To Terminally-Ill Asbestos Victims
The U.S. Senate's latest scheme to limit the liability of asbestos makers would cut benefits dramatically to people dying of the fatal asbestos cancer, mesothelioma, and pre-empt laws in 12 states, and court customs in at least 8 more, that guarantee a speedy trial to terminally ill plaintiffs. Younger victims, who are more likely to have dependent children, huge medical bills, and substantial wage loss are hit hardest by the cuts in compensation. Everyone dying of mesothelioma, some 2,500 people in 2002, would have their cases thrown out of court and be forced to wait for nine months before they could restart their cases or file a claim with the national asbestos trust. Many hundreds of these people would die waiting.
W.R. Grace Company Indicted on Federal Criminal Charges
Read More
This harsh treatment of the people most brutally harmed by asbestos is critical to the financial solvency of the proposed $140 billion national asbestos trust fund. If mesothelioma victims were helped at the average level awarded through the current system of litigation and trusts, $2.2 million, taking care of mesothelioma victims alone would bankrupt the proposed $140 billion national asbestos trust fund, leaving no money to help the hundreds of thousands of additional people who will die of other asbestos cancers, or from the debilitating and often fatal asbestosis.
As the Senate moves to consider this legislation, a new EWG Action Fund analysis of the most recent available data from the Centers for Disease Control and Prevention shows that deaths from asbestos are increasing, as predicted in the March 2004 Action Fund report, Asbestos: Think Again.
In 2002, 3,939 people died form just two forms of asbestos disease, the signature asbestos cancer, mesothelioma and the often fatal non-cancer asbestos disease, asbestosis, with 2,578 and 1,467 reported deaths from mesothelioma and asbestosis respectively (for 106 individuals, both mesothelioma and asbestosis were listed as the cause of death). This represents an 8 percent increase from 1999, the first year that mesothelioma was officially recognized as a cause of death by federal authorities.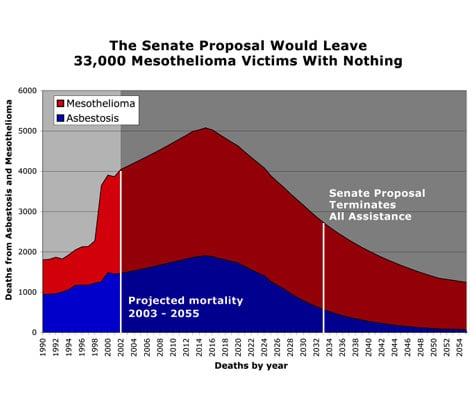 Source: EWG, compiled from National Center for Health Statistics, 2005.
For description of projections, see Methodology.
Asbestos will claim thousands of American lives annually for at least another 50 years. EWG Action Fund estimates about 113,000 mesothelioma deaths over the next five decades, and a greater number from lung cancer during that time. The Senate bill, which terminates the asbestos trust fund in 28 years (2033), will strand an estimated 33,000 people who will be diagnosed with fatal mesothelioma after that date, with no trust fund resources to aid them.
Tens of thousands more asbestos lung cancer victims will also be denied any help because they, too, will be diagnosed with their fatal disease after the date when the proposed trust fund will expire. Thousands of additional victims of serious non-cancer disease will be similarly denied assistance.
Bill Voids 12 State Laws
Bill voids 12 state laws guaranteeing speedy trials for the dying
State
Right to a speedy trial

Mesothelioma Victims - 2002

California
YES — Upon clear and convincing evidence that plaintiff will Not survive beyond 6 months; or, over 70 with significant health problems; trial date within 120 days. [Cal. Code Civ. P. 36]

244

Colorado
YES — Upon clear/convincing medical evidence plaintiff will Not survive beyond one year; trial date within 120 days. [C.R.S. A. 13-1-129]

29

Connecticut
YES — Living malignancies accelerated upon motion. [Oct. 9, 1997 Amendment to Pretrial Order, In Re: Bridgeport Asbestos, Sup. Crt., Judicial Dist. of Fairfield at Bridgeport]

36

Florida (Dade, Broward, and Palm Beach Counties asbestos dockets)
YES — Asbestos Litigation Omnibus Order provides for trial dates generally w/in 9 months but there is also a provision for expedited trials.

165

Georgia (Fulton Cty. asbestos docket)
YES — Living mesothelioma cases can be put on exigent docket. [Third Amendment to Standing Order No. 1, In Re: All Asbestos-Related Personal Injury or Death Cases Filed by Baron & Budd, P.C., in Fulton County Georgia, No. 1998CV02684, Sep. 20, 2002]

34

Illinois
YES — By statute, 735 ILCS 5/2-1007.1, expedited trials permitted for good cause; Madison County and Chicago asbestos dockets both provide expedited settings for mesothelioma cases.

126

Indiana
YES — In Marion Cty. (Indianapolis) all asbestos cases docketed in Superior Crt. #2, where Standing Orders have put mesothelioma and lung cancer cases into 8 month track.

53

Louisiana
YES — Preference given for plfs over age 70 or suffering from disease Not likely to survive beyond 6 months. [La. Code Civ. P. art. 1573]

38

New York
YES — Statewide procedural statute provides trial preference for terminally ill plaintiffs w/in certain ÒwindowÓ periods. [NY Civ. Prac. Law & Rule 3407]

159

Oregon
(Multnomah County)
YES — Living mesothelioma cases accorded priority trial settings ranging from 9 to 14 months.

30

Washington (State)
YES — State statute permits elderly and terminally ill (not expected to survive one year) preferential trial setting (usually w/in 6 months) [RCW 4.44.025].

84

West Virginia
YES — Exigent docket prioritizes living mesothelioma/lung cancer cases, followed by dec'd mesothelioma/lung cancer cases, placing in groups of 20 every four months. [In Re: Asbestos Personal Injury Litigation, No. 03-C-9600, Final Case Management Order, March 25, 2003]

26
SENATE BILL WOULD OVERRIDE CUSTOMARY PREFERENTIAL TREATMENT FOR MESOTHELIOMIA VICTIMS
| Jurisdiction | Permits Expedited/Preferential Setting? | Mesothelioma Deaths in 2002 |
| --- | --- | --- |
| Iowa | YES — Asbestos caseload Not significant but exigent cases generally able to get preferential setting. | 37 |
| Maryland | YES — Not by statute or rule but by practice, all mesothelioma cases are put on separate track and set for trial w/in 9-18 months. [95% of asbestos cases filed in Baltimore.] | 49 |
| Massachusetts | YES — Mesothelioma and other terminal cancers can be advanced for trial ahead of other cases. [Asbestos Pretrial Orders] | 77 |
| Minnesota | YES — Courts routinely grant motions to expedite living mesothelioma and other cancer cases but not pursuant to any particular statute or rule. | 49 |
| Missouri | YES — But no specific rule exists in state law or by local standing orders in either Jackson Cty (Kansas City) or St. Louis. | 56 |
| New Jersey | YES — By practice, not by rule, terminally ill plaintiffs given expedited trial dates. [Majority of litigation in Middlesex Cty.] | 133 |
| Ohio | YES — No formal rule but preferential settings for mesothelioma cases occurs. | 121 |
| Pennsylvania | YES — Not by rule but by judicial discretion. | 156 |
In one of its cruelest provisions, the Senate bill would override legal protections for the terminally ill in at least 12 states, and court customs in at least 8 more. While these laws vary from state to state, in general they guarantee a trial date for the terminally ill within three to six months of a medical certification of illness. These statutory protections are particularly relevant to victims of mesothelioma because half of all mesothelioma victims die within 14 months of diagnosis.
At least 1,700 people died of mesothelioma in these 19 states in 2002, according to the most recent data from the National Centers for Health Statistics of the Centers for Disease Control (NCHS 2005), 1024 in the 12 states with statutory protections and 678 in states with customary procedures. If the current bill were law at that time, these people would have had no access to the courts, but would have had to wait in limbo for the trust fund to get up and running before they could seek any assistance. Hundreds of them would have died waiting, due only to the unfortunate fact that they were diagnosed with fatal asbestos disease at the wrong time.
In 2003, the asbestos bill authored by Senator Orrin Hatch (R-UT), carried a crucial amendment, sponsored by Senator Feinstein and backed by some Republicans, that protected the rights of the terminally ill. Senator Feinstein convinced the committee that the amendment was essential for the bill to be fair. This time around, protections for terminally ill Californians have been eliminated from the bill released April 12 by Judiciary Committee Chairman Arlen Specter (R-PA).
Ensuring that the "truly sick" get speedy and priority resolution of their claims is an often-stated goal of trust fund advocates (U.S. Senate 2003). In 2003, Feinstein's amendment guaranteed that terminally-ill Californians would retain access to the courts during the interim period before the trust fund became operational. But if the current bill, hammered together by Judiciary Committee chairman Arlen Specter (R-PA) is passed, California asbestos victims with just months to live will have their cases thrown out of court and have to wait nine months for the Administrator of the fund to certify whether or not the fund is operational. During that time these terminally ill individuals may pursue a settlement under the fund, but defendants will have no incentive to engage them, and if settlement negotiations do occur, the dying person must rebuild and resubmit all the evidence supporting his or her claim via a process that is not yet established. If after nine months the Administrator fails to certify that the fund is operational, individuals dying of asbestos diseases could start over in the courts, but only until the fund is operational, when all claims in the court are terminated. Hundreds of people with mesothelioma will die waiting for this process to work itself out.
Bill Punishes Young Victims
To avoid running out of money before 2033, the proposed fund reduces the average award to fatal mesothelioma victims by more than half, from $2.2 million currently awarded by the courts and trusts, to the $1.1 million proposed in the fund (Peterson 2004). Assistance is similarly cut to people with asbestos caused lung cancer, other cancers, and asbestosis.
Young mesothelioma victims are hit hardest. The bill's compensation schedule treats young mesothelioma victims who have enormous medical bills, substantial wage loss and dependent children the same way that it treats mesothelioma victims who are well past retirement age without any financial dependents. Data from the CDC show that in the past 25 years at least 4,323 people in their fifties or younger have died of mesothelioma. These people and their families will be devasted financially by the Senate bill.
Senate Bill Cuts Assistance to the Most Seriously Harmed
| | Courts/Trusts | Senate Proposal |
| --- | --- | --- |
| Mesothelioma | $2,200,000 | $1,100,000 |
| Lung Cancer | $400,000 | $220,000 |
| Other cancer | $160,000 | $75,000 |
| Asbestosis | $95,000 | $25,000 |
Source: (Peterson 2004)
Senate Bill Comes Up Short
Proposed Asbestos Trust Fund Will Leave Tens of Thousands With Nothing
A fund designed to take care of all the victims of asbestos would not terminate arbitrarily after 28 years, would not cap assistance at a predetermined amount, and would be supported by a serious effort to find all people injured by asbestos. This fund would recognize the medical fact that asbestos diseases will continue for at least another 5 decades, a provide a funding mechanism that would last as long as people wiere harmed by the fiber.
A fund sufficient to take care of all asbestos disease that will arise over the next 50 years will cost at least $200 billion — far more than the amount proposed by the Senate. If assistance matched current levels in the courts and trusts, and truly reached all those injured or killed by asbestos, the total cost could reach well above $400 billion, as much as three times the amount proposed by Senate Specter.
Slashing assistance to people dying of mesothelioma
In 2002, nearly 2,600 mesothelioma deaths and more than 1,400 asbestosis fatalities were reported to the federal government. These numbers, particularly for mesothelioma, almost certainly underestimate actual mortality. In addition, the number of deaths from both of these diseases appears to be increasing, a trend that is supported by data from the National Center for Health Statistics and two epidemiological studies in Great Britain and Australia that show increases in mesothelioma mortality that are not expected to peak until around 2020 (Treasure 2004, Leigh 2003).
Assuming a slight increase in mesothelioma rates for the next decade and then a steady decline in incidence for the subsequent 40 years, we estimate 113,000 mesothelioma deaths in the United States over the next 50 years. Nearly 80,000 of these cases will occur over the 28-year life of the proposed fund; at least 33,000 will occur after the fund terminates. These 33,000 individuals will all die from mesothelioma, but receive no financial help from the government or asbestos companies.
At the current average award value in the courts of $2.2 million, the nearly 80,000 mesothelioma cases likely to occur over the next 28 years would consume all of the $140 billion in the proposed trust fund. Either mesothelioma victims receive just half of what they currently receive on average in the courts, or, if they are compensated at the current average rate, hundreds of thousands of other people with asbestos disease, including tens of thousands of who would die from it, would receive nothing from the national trust fund.
Projecting the next 50 years of mortality at the current $2.2 million average assistance level, the fund would need $240 billion, or $100 billion more than the entire amount in the current proposal just to take care of mesothelioma victims.
Other Asbestos Diseases
Mesothelioma represents just a small portion of all asbestos mortality and disease. An additional 4,800 people currently each year die from asbestos caused lung cancer, more than 1,400 from non-cancer asbestosis, and 1,200 more from gastro-intestinal cancers caused by asbestos. About ten times more than the total of all cancer deaths are expected to be diagnosed with non-fatal, but debilitating and typically progressive asbestosis over the next 30 years, according to the CBO (CBO 2003).
Lung cancer
Lung cancer is the number one cause of asbestos mortality, yet little is done to identify victims or to ensure that they receive a fair measure of assistance. Currently there are about twice as many cases of asbestos-caused lung cancer as mesothelioma, at nearly 5,000 and 2,500 deaths per year respectively (Peterson 2003 Insurers Study, NCHS 2003, Nicholson 1982).
Assuming that lung cancer incidence approximates the same trend as mesothelioma, we expect a slight increase in lung cancer cases over the next ten years and then a steady decline over the next 40 years, for a total of about 220,000 asbestos lung cancers over the next 50-year period. If these individuals are awarded what they currently receive through the courts, about $400,000, the Senate Bill would need to provide $88 billion for these individuals over the next 50 years.
Non cancer
Court awards for non-cancer asbestos disease average about $100,000. Non-malignant asbestos disease, or asbestosis, runs the range from severely disabling and even fatal, where awards are much higher than the $100,000 average, to ILO category 1 asbestosis cases, the least severe form of the disease, where awards are often lower.
The number of future non-malignant claims to the trust is not certain, but estimates range from 7 to 17 times the number of cancer claims. The CBO estimated non-cancer claims at 10 times the number of malignant claims over the 27-year life of the proposed trust fund. At that ratio we would expect to see 2.5 million non-cancer claims over the 50-year period where asbestos cancers were still occurring.
Non-cancer claims, however, may decline more rapidly than cancer claims, because they typically require heavy occupational exposure to asbestos to occur, whereas asbestos cancers can be caused by the relatively short term exposures that were more common in recent decades and that include environmental exposures. Given current rates of mesothelioma and asbestos lung cancer, a ratio of 10 non-cancer cases to one cancer case for the first two decades of the fund would produce about 1.2 million non cancer cases in the first 20 years of the fund, and close to 2 million over the life of a 50 year fund.
A realistic estimate of compensation for non-cancer claims that does not shortchange future victims relative to what the average person currently receives in court, yields a range of 1 to 2 million non-cancer cases that will be compensated at about $95,000 each. This would require between $95 and $195 billion over the life of the fund. Over the course of a 50 year fund, there could easily be close to 2 million people who are legitimately sick from asbestos.
Conclusions and Recommendations
The most disturbing aspect of the asbestos debate in Congress is it's profound disconnection from the real costs of living with and dying of asbestos disease. While many legislative attempts have been made to limit the costs to industry of caring for people injured or killed by asbestos, no legislative proposal to date has addressed the personal and public health costs of asbestos in any meaningful way.
At least 10,000 people die each year from asbestos diseases, and that number is on the rise. These deaths are not limited to workers, but include their family members and people with no obvious occupational connection with asbestos, indicating that asbestos in the environment is sufficient to cause fatal disease in some individuals. In addition:
There is continued asbestos exposure to thousands of people each year through poorly supervised remediation efforts, ongoing occupational exposure, and the presence of decades old crumbling asbestos in hundreds of thousands of buildings nationwide.
Some 40,000,000 workers were occupationally exposed to asbestos through about 1990. If just half of these workers are alive today, and ten percent of those contract asbestos disease, some 2 million people will need assistance. Yet to date, there has been no effort to identify these people, or screen them for signs of asbestos disease. Indeed, to a great degree, the financial solvency of the trust fund depends on not trying to identify all of people inured or killed by asbestos.
Asbestos is still not banned, and asbestos exposures today will produce fatal asbestos cancers as far down the road as 50 years from now.
For the third straight year, Asbestos Trust Fund legislation is a top priority of the U.S. Senate, and this year it even became a top priority for President Bush. While some modifications have been made to the current bill when compared to the previous year's failed proposals, the bill retains a cap on the total dollar amount and an arbitrary termination date for the fund, ensuring that tens of thousands of people will die from asbestos disease with no trust fund available to help them.
Recommendations
Taking care of asbestos victims is a cost of doing business in the asbestos industry, and like all other costs, will not end at a specified date in the future. A national trust fund must acknowledge that fact, and not award less to people than is currently awarded in the courts, or deny care to people with fatal or debilitating asbestos diseases just because they are diagnosed after an arbitrarily established date.
Any national asbestos fund established by the Congress must meet basic standards of fairness and equity. At a minimum, such a fund must:
Not terminate assistance to people killed or injured by asbestos disease at an arbitrary future date.
Not be capped at a specific payout amount, but instead contain a funding mechanism that provides for adequate and equitable assistance to all asbestos victims, particularly those most severely injured, as long as these injuries continue to occur.
Not reduce the amount of assistance provided to asbestos victims below the amounts awarded currently via the courts and the asbestos trust system.
Not delay payment to individuals who already have been awarded assistance through the courts of from asbestos trusts.
The $140 billion dollar compromise asbestos fund in the Senate would fail all of these tests, and with each failure, work to the advantage of asbestos companies and their insurers, while leaving tens of thousands of those most grievously harmed by asbestos with little or no financial assistance and no viable recourse for a remedy.
Methodology:
In March 2004, EWG published estimates of 10,000 deaths from asbestos disease per year, with projected increases in this total for about the next decade. This estimate was based on two peer-reviewed estimates of mesothelioma mortality in Great Britain, and Australia (Treasure 2004, Leigh 2003), countries with similar asbestos use and regulatory histories as the United States, combined with EWG's analysis of data from the National Center for Health Statistics on asbestos mortality that showed a clear upward trend in death over the past ten years from the two signature asbestos diseases, asbestosis and metothelioma.
To estimate future mortality, EWG, at that time, assumed a modest growth rate in asbestosis and mesothelioma mortality over the next ten years that was just half the rate of increase observed from 1990-1998. Projecting this growth rate over the next ten years we estimate 46,600 deaths from asbestosis and mesothelioma from 2005 through 2014, with 1,903 asbestosis deaths and 3,170 mesothelioma fatalities in 2015.
Experts agree that there will be tens of thousands of mesothelioma deaths over the 28 year life of the proposed national asbestos trust fund. Testifying before the United States Senate in the summer of 2003, one specialist predicted between 43,000 to 70,000 mesothelioma deaths over the 28 year life of the proposed federal asbestos trust fund, as well as up to 240,000 total cancer cases, and up to 1.6 million compensated non-cancer claims (Peterson, 2003).
No one has suggested that 28 years after the creation of the fund mesothelioma cases will suddenly stop. Clearly these deaths will continue, particularly given the fact that asbestos is still legal and that remediation efforts continue to be conducted in an extremely hazardous fashion, exposing thousands of workers a year to large amounts of asbestos dust.
Few, however, have made mortality estimates beyond the termination date of the proposed fund, even though medical experts agree that mesothelioma has a latency period in some individuals of 50 years or more, and exposure that begins today can produce these cancers multiple decades into the future.
The estimate here of 113,000 mesothelioma cases over the next 50 years is built directly on the analysis published in March 2004. We assume that the peak of mortality is reached in 2015, ten years from now, that that there is a steady decline therafter for the next 40 years.
The rates in our projections are as follows:
2003 through 2013 — An increase at 50 percent the rate seen from 1990 through 1998, or 1.75 percent per year.
2014 - 2015 — An increase of 0.8 percent
2016 — A decrease of 0.8 percent
2017 through 2030 — A decrease of 2% per year
2032 through 2055 — A decrease of 3% per year
Different assumptions will yield different results. It is not credible, however, to assume that mesothelioma deaths will stop 27 years after enactment of this legislation given the 50 year latency of the disease and the ongoing exposure to asbestos through remediation efforts and its presence in the built environment.
References:
Gardner, Amanda. "Asbestos Remains Key Public Health Threat: 10,000 deaths expected annually for next 2 decades, report contends." HealthDay March 5, 2004.
Greenberg, M. and T. A. Davies (1974). "Mesothelioma register 1967-68." Br J Ind Med 31(2): 91-104.
Leigh, J. and T. Driscoll (2003). "Malignant mesothelioma in Australia, 1945-2002." Int J Occup Environ Health 9(3): 206-17.
Lieben, J. and H. Pistawka (1967). "Mesothelioma and asbestos exposure." Arch Environ Health 14(4): 559-63.
Lilienfeld, D. E., J. S. Mandel, et al. (1988). "Projection of asbestos related diseases in the United States, 1985-2009. I. Cancer." Br J Ind Med 45(5): 283-91.
National Center for Health Statistics (NCHS) (2003). "Multiple Cause of Death files, 1985-1999."
Nicholson, W. J., G. Perkel, et al. (1982). "Occupational exposure to asbestos: population at risk and projected mortality--1980-2030." Am J Ind Med 3(3): 259-311.
Peterson, M. A. (2003). "Forecasting the Costs of S.1125 As Amended on July 10, 2003." Prepared for Caplin and Drysdale, September 8, 2003.
Peterson, Mark. (2004). Memo to Elihu Inselbuch: Compensation of Asbestos Victims. March 17, 2004.
Peterson, Mark. Undated. Analysis of Asbestos Victim's Compensation in Today's Civil Justice System. Legal Systems Analysis.
Rogers, Paul. "Warning issued for plants' neighbors." San Jose Mercury News April 8, 2004.
Treasure, T., D. Waller, et al. (2004). "Radical Surgery for Mesothelioma: The epidemic is still to peak and we need more research to manage it." British Medical Journal 328: 237-8.
U.S. Congressional Budget Office. Cost Estimate for S. 1125 Fairness in Asbestos Injury Resolution Act of 2003. 108th Cong., 1st Sess. S. 1125. October 2, 2003.
U.S. Dept. of Health and Human Services. Centers for Disease Control and Prevention. Morbidity and Mortality Weekly Report. Vol. 53, No. 28. Washington: GPO, July 23, 2004.
U.S. Senate. The Fairness in Asbestos Injury Resolution Act of 2003, S. 1125, 108th Cong., 1st Sess. (2003).
Wagner, J. C., G. Berry, et al. (1974). "The effects of the inhalation of asbestos in rats." Br J Cancer 29(3): 252-69.