Lettuce grown during the winter months may contain higher levels of toxic rocket fuel
Lettuce grown in the fall and winter months in Southern California or Arizona may contain higher levels of toxic rocket fuel than is considered safe by the U.S. Environmental Protection Agency, according to independent laboratory tests commissioned by Environmental Working Group (EWG).
In the first-ever tests of perchlorate in supermarket produce, 18 percent of lettuce samples contained detectable levels of perchlorate, and an average serving of these contaminated samples contained 4 times more than the EPA says is safe in drinking water. EWG estimates that by eating lettuce, 1.6 million American women of childbearing age are exposed daily during the winter months to more perchlorate than the EPA's recommended safe dose. EWG's findings of perchlorate in retail produce confirm previous tests on greenhouse-grown lettuce seedlings by the EPA and field-grown vegetables by a San Bernardino, Calif. farm whose irrigation water supplies were contaminated by defense contractor Lockheed Martin's abandoned rocket-testing facility.
Winter Lettuce Growing Region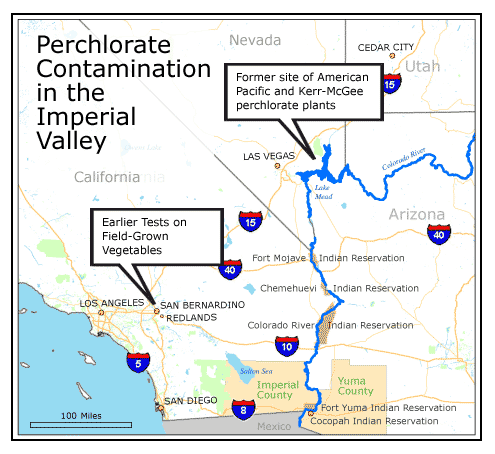 Perchlorate, the explosive component of rocket and missile fuel, can affect the thyroid gland's ability to make essential hormones. For fetuses, infants and children, disruptions in thyroid hormone levels can cause lowered IQ, mental retardation, loss of hearing and speech, and motor skill deficits. Currently there are no enforceable perchlorate safety standards but EWG argues that a national safety standard should be no higher than one-tenth the EPA's currently recommended level.
Press-Enterprise:
California newspaper's lettuce tests also find perchlorate.
Perchlorate contaminates more than 500 drinking water sources in 20 states, serving well over 20 million people. Among contaminated sources is the Colorado River, which not only provides drinking water for Los Angeles, Phoenix, Las Vegas and other cities, but also irrigates 70 percent of the nation's lettuce grown from October to March.
Recommendations
Perchlorate contamination of Lake Mead and the Colorado River must be cleaned up.
The Food and Drug Administration and U.S. Department of Agriculture must move quickly to conduct a definitive study of perchlorate contamination in the American food supply, and make all results public.
All future drinking water standards must adequately reflect the potential for exposure through food.
Farmers and landowners must be fully compensated for lost profits and property values.
Irrigation water sources — not just drinking water sources — must be tested for perchlorate.
The Bush Administration's current proposal to exempt Department of Defense sites from environmental regulations, including perchlorate cleanup, must not go forward.
View and Download the report here: Suspect Salads