Wednesday, April 20, 2005
Smoggy air costs Californians more than $521 million a year — a price paid in hundreds of trips to the emergency room, thousands of hospital admissions and millions of missed school days, according to an Environmental Working Group analysis of state data. Smog is also responsible for the deaths of hundreds of Californians of all ages each year and other permanent impacts to children's health. But many of those lives, and much of the cost, would be saved by reducing statewide smog levels to the tougher standards under consideration by the California Air Resources Board (ARB).
Smog is a health risk to all Californians, but the burden is disproportionately borne by asthma patients and children. Air Resources Board scientists estimate that meeting the proposed tougher smog standards would, each year, avert 300 emergency room visits for asthma attacks, 4,000 hospital admissions for treatment of asthma and other respiratory diseases, and 3.3 million school absences. In Los Angeles County alone, schools would see more than 1 million fewer absences a year. Since state support of local schools is based on attendance, the cost of smog-related absences to California school districts totals $82 million a year — and the cost to parents of the affected children is three times that.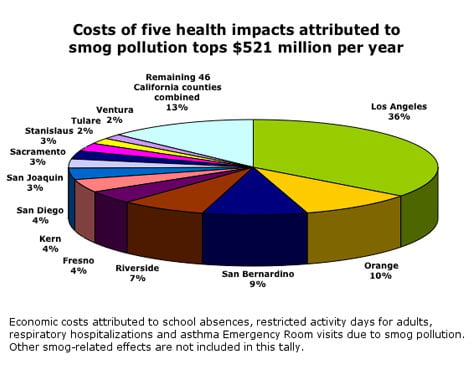 Smog is primarily caused by ozone air pollution. High levels of ozone, like those found in the Los Angeles air basin and throughout the Central Valley, irritate lung passages, causing coughing, wheezing, chest tightness and shortness of breath. People with pre-existing lung disease are particularly affected. African-Americans suffer the highest rates of asthma. People of color also have more severe asthma symptoms, with double or more the rate of asthma-related hospitalization and death. Poorer families have higher rates of asthma and less access to medical care, meaning that they are unduly impacted by air pollution.
When smog levels peak, the state advises schools to keep children from playing outdoors. EWG obtained data for the Air Resources Board ozone monitors closest to almost 12,000 public and private schools and found that from 2000 to 2003, approximately 2,800 California schools serving 1.7 million students experienced ozone levels high enough to trigger an outdoor activity warning on at least one occasion. The worst schools, attended by more than 300,000 students, had on average five or more outdoor activity warnings each year. Achieving the proposed health-based ozone standards will alleviate the need to restrict outdoor activity and will protect California children's right to a healthy life.
Find an air quality report card for a California school.
California's smog problem is severe. The state is home to 7 of the 10 smoggiest cities in the United States. In recent decades, great progress has been achieved toward cleaner air: Scientists calculate that efforts to reduce ozone pollution in Southern California have already prevented more than 3 million school absences a year and provided an economic benefit of more than $245 million. But additional improvements are urgently needed and possible. In an era of budget crises, the state's educational and health care systems should not bear the burden of millions of dollars in costs that are largely preventable.
Three years ago, the Air Resources Board demonstrated California's public health leadership, and rejected the lobbying efforts of automakers and major industrial air polluters, by adopting the world's strictest standards for airborne dust and soot, or particulate air pollution. At the time, EWG estimated that meeting the tougher soot standards would save the state $580 million a year.
It's time now to take a stand on the other major component of air pollution: smog. By adopting the staff scientists' recommendations for new ozone standards, the Air Resources Board will not only help children, asthmatics, and indeed all Californians breathe easier, but also recognize that cleaner air has major economic benefits.