Smoggy air costs Californians more than $521 million a year — a price paid in hundreds of trips to the emergency room, thousands of hospital admissions and millions of missed school days, according to an Environmental Working Group analysis of state data. Smog is also responsible for the deaths of hundreds of Californians of all ages each year and other permanent impacts to children's health. But many of those lives, and much of the cost, would be saved by reducing statewide smog levels to the tougher standards under consideration by the California Air Resources Board (ARB).
Smog is a health risk to all Californians, but the burden is disproportionately borne by asthma patients and children. Air Resources Board scientists estimate that meeting the proposed tougher smog standards would, each year, avert 300 emergency room visits for asthma attacks, 4,000 hospital admissions for treatment of asthma and other respiratory diseases, and 3.3 million school absences. In Los Angeles County alone, schools would see more than 1 million fewer absences a year. Since state support of local schools is based on attendance, the cost of smog-related absences to California school districts totals $82 million a year — and the cost to parents of the affected children is three times that.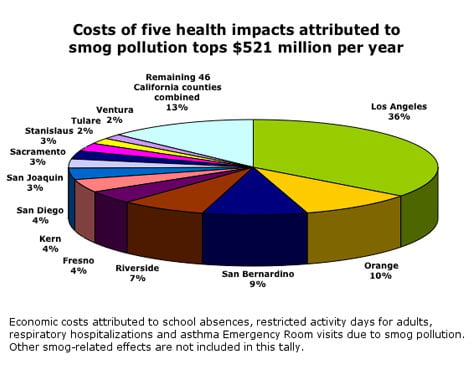 Smog is primarily caused by ozone air pollution. High levels of ozone, like those found in the Los Angeles air basin and throughout the Central Valley, irritate lung passages, causing coughing, wheezing, chest tightness and shortness of breath. People with pre-existing lung disease are particularly affected. African-Americans suffer the highest rates of asthma. People of color also have more severe asthma symptoms, with double or more the rate of asthma-related hospitalization and death. Poorer families have higher rates of asthma and less access to medical care, meaning that they are unduly impacted by air pollution.
When smog levels peak, the state advises schools to keep children from playing outdoors. EWG obtained data for the Air Resources Board ozone monitors closest to almost 12,000 public and private schools and found that from 2000 to 2003, approximately 2,800 California schools serving 1.7 million students experienced ozone levels high enough to trigger an outdoor activity warning on at least one occasion. The worst schools, attended by more than 300,000 students, had on average five or more outdoor activity warnings each year. Achieving the proposed health-based ozone standards will alleviate the need to restrict outdoor activity and will protect California children's right to a healthy life.
California's smog problem is severe. The state is home to 7 of the 10 smoggiest cities in the United States. In recent decades, great progress has been achieved toward cleaner air: Scientists calculate that efforts to reduce ozone pollution in Southern California have already prevented more than 3 million school absences a year and provided an economic benefit of more than $245 million. But additional improvements are urgently needed and possible. In an era of budget crises, the state's educational and health care systems should not bear the burden of millions of dollars in costs that are largely preventable.
Three years ago, the Air Resources Board demonstrated California's public health leadership, and rejected the lobbying efforts of automakers and major industrial air polluters, by adopting the world's strictest standards for airborne dust and soot, or particulate air pollution. At the time, EWG estimated that meeting the tougher soot standards would save the state $580 million a year.
It's time now to take a stand on the other major component of air pollution: smog. By adopting the staff scientists' recommendations for new ozone standards, the Air Resources Board will not only help children, asthmatics, and indeed all Californians breathe easier, but also recognize that cleaner air has major economic benefits.
Intro: Proposed Protective Standard
California has the worst and most widespread ozone pollution in the United States. Seven metropolitan areas —Los Angeles, Visalia-Porterville, Bakersfield, Fresno, Merced, Sacramento and Hanford—rank among the ten smoggiest in the country. [American Lung Association 2004] Preliminary data from 2004 indicate that the San Joaquin Valley and the Los Angeles region both violated the current hourly ozone standard — no more than 90 parts per billion (ppb) in outdoor air — on more than 100 days in 2004. [ARB(1) 2005]
While ozone is vital in the upper atmosphere, ozone at the ground level is an unwanted air pollutant, commonly known as smog. Ozone is a powerful respiratory irritant. It can increase airway hyper-reactivity and airway inflammation, two triggers of asthma in sensitive individuals. It also increases symptoms of respiratory illness in people who are otherwise healthy. Ozone irritates lung passages and causes chest tightness, coughing, wheezing and shortness of breath.
Asthmatics and children are more sensitive to the harmful effects of ozone than healthy adults. [Scannell 1996, McBride 1994] Most asthmatics already suffer from chronic lung tissue inflammation. One in 10 California asthmatics have respiratory symptoms daily, and they experience a heightened response to ozone pollution compared to healthy individuals. [UCLA 2003] When smog levels rise asthmatics use more medication, have more respiratory illnesses, and visit the doctor, emergency room or hospital more frequently.
Both the prevalence and the severity of asthma have increased dramatically since the 1980s without a clear explanation. The rate of asthma and intensity of symptoms are both much higher in poorer families and for people of color. Therefore air pollution creates environmental inequity as some groups suffer disproportionately from the effects of ozone and other air pollutants.
Medications and efforts to reduce exposure to allergens that trigger asthma attacks can help stabilize many patients. But unlike interventions that burden families stricken by asthma—requiring them to keep their children indoors and pay for costly medication or improvement to their homes—improvements to air quality are permanent, economical, benefit everyone, and place the burden of change on polluters rather than California's families.
In addition to asthmatics, adults with other lung or heart disease, and people who work or exercise outdoors are at heightened risk for the ill effects of ozone pollution. [ARB(1) 2005] One in eight Californians have been diagnosed with asthma [UCLA 2003] and almost one in four adults have heart disease, meaning that a large portion of the state's residents find themselves in this 'high-risk' group.
A bold proposal to strengthen California's ozone standards
In addition to complying with federal smog rules, California has the authority to set its own standards for ozone. The current state rules require that the highest hourly concentration of smog on any given day not exceed 90 ppb, while the daily (maximum 8-hour) average should not exceed the federal standard of 80 ppb. In 1999, the California Legislature passed SB25 (Escutia), a groundbreaking law that obliged state scientists to assess air quality standards in light of new evidence of the effect of air pollution on children. [California Senate 1999]
The law charged the state with determining whether or not existing standards for hazardous air pollutants adequately protect children's health, and revising the standards that failed to do so. In 2002, after reviewing and tightening standards for airborne soot and dust, or particulate matter, ARB scientists turned their attention to smog. Following an exhaustive review, they reported substantial evidence that the existing ozone standard must be strengthened in order to fully protect children from smog, by adding a daily standard to the existing hourly standard.
Regulators determined that daily concentrations of 80 ppb were associated with lung function decrements, increased respiratory symptoms, increased airway reactivity and inflammation in healthy adults. They added an additional margin of safety to account for unusual vulnerability of children and people with lung disease, and proposed that smog measurement should not exceed an average value of 70 ppb over any 8-hour period.
The proposed California standard tightens up some administrative aspects of smog regulation. Both the current state hourly, and federal daily standards grant leeway for measurement that are within 5 parts per billion of the standard, meaning that a day is not in violation with the standard unless smog levels average 95 ppb for an hour or 85 ppb for an 8-hour period. The Federal standard also allows three violation days per year, and averages measurements over a three-year period. Neither of these practices are included in the proposed standard.
The proposed new standards would not trigger a regulatory crackdown — far from it. California smog and soot standards are meant to define clean air. They set a goal that the state's regional and local air districts are obliged to make steady progress toward them 'as expeditiously as possible.' The proposed new standards are a modest but essential step toward air that is better for the state's people and its economy.
California air quality routinely violates state and federal smog standards
 
Daily standard (maximum 8-hr average)
Hourly standard (maximum hour of day)
Ozone Standard
70 ppb
80 (85#) ppb
90 (95#) ppb
Regulatory agency
Proposed California
Current Federal*
Current California
Proportion of counties with an air quality monitor that exceeded the air standard at least once between 2000-2003
92%
70%
76%
# while the standards are set at 80 and 90 ppb, smog levels are not considered to be a violation until they exceed 85 or 95 ppb.
* The current national daily standard is currently being reevaluated by EPA.
Forty of California's 58 counties have been declared to be out of compliance with California's one-hour ozone standard of 90 ppb. Health officials estimate that 84 percent of the state's population, or 30 million people, live in areas where peak ozone levels exceed the current hourly guidelines during some part of the year. [ARB(1) 2005] However, the proposed daily ozone standard is tougher. Between 2000 and 2003, almost 80 percent of the state's ozone monitors reported at least one violation of the hourly ozone standard and 92 percent violated the proposed daily standard. [ARB(2) 2005]
The California "ozone season" runs from May to September. During the 2000-2003 period seven counties—Fresno, Tulare, Merced, Kern, Riverside, San Bernardino and Kings—violated the proposed daily smog standard on about half of all days during this period. These counties also violated the hourly smog standard on 25 percent to 35 percent of the days in smog season. Complete data from 2004 is not currently available.
      Ozone monitoring data by county, for the 20 counties with the worst long- and short-term ozone measurements, 2000-2003
| County# | Average number of days per year with ozone levels >70 ppb | Average number of days per year with ozone levels >85 ppb | Average number of days per year with hourly ozone levels >95 ppb | Average daily smog level during ozone season* 2000-03(ppb) | Average of the peak hour smog level during ozone season* 2000-03 (ppb) | Maximum daily value 2000-03 (ppb) | Maximum hourly value 2000-03 (ppb) |
| --- | --- | --- | --- | --- | --- | --- | --- |
| Fresno | 90 | 42 | 51 | 75 | 86 | 132 | 165 |
| Tulare | 93 | 42 | 44 | 76 | 85 | 117 | 140 |
| Merced | 92 | 40 | 38 | 74 | 83 | 125 | 138 |
| Kern | 89 | 37 | 39 | 74 | 83 | 127 | 156 |
| Riverside | 75 | 34 | 49 | 72 | 85 | 146 | 169 |
| San Bernardino | 65 | 26 | 37 | 69 | 82 | 153 | 184 |
| Kings | 74 | 24 | 27 | 70 | 79 | 110 | 127 |
| El Dorado | 35 | 11 | 14 | 61 | 68 | 137 | 156 |
| Calaveras | 49 | 11 | 14 | 64 | 72 | 108 | 134 |
| Madera | 50 | 10 | 13 | 65 | 73 | 110 | 141 |
| Placer | 34 | 10 | 15 | 59 | 69 | 115 | 142 |
| Nevada | 43 | 10 | 10 | 61 | 68 | 113 | 130 |
| Los Angeles | 26 | 10 | 20 | 53 | 67 | 152 | 194 |
| Stanislaus | 35 | 9 | 14 | 59 | 70 | 113 | 135 |
| Tuolumne | 53 | 9 | 8 | 65 | 72 | 104 | 132 |
| Mariposa | 50 | 9 | 6 | 63 | 69 | 103 | 135 |
| Sacramento | 27 | 8 | 13 | 56 | 67 | 120 | 142 |
| Amador | 33 | 4 | 9 | 61 | 69 | 102 | 121 |
| Ventura | 27 | 6 | 9 | 56 | 65 | 114 | 132 |
| Butte | 28 | 4 | 3 | 58 | 65 | 101 | 112 |
# Smog levels vary by county. In most urban counties there are multiple pollutant monitors in each county. We report the average value for each county between 2000 and 2003.

* Ozone season is May 1st through September 30th of each year.
Science panel upholds proposed standard
As with the reevaluation of the particulate standard in 2002, the major opponents of the proposed smog standards are big automakers, agriculture and the petroleum industry. Smog is formed by the reaction of nitrogen oxides (NOx) and volatile hydrocarbons (VOCs) in the atmosphere. Engine emissions from vehicles, boats, trains, and other mobile sources emit the majority of smog-forming chemicals in California. Engines release 80 percent of smog-forming NOx emissions, and 53 percent of VOCs in the state. Local air districts have enacted carpool lanes, clean car technologies, fleet restrictions and vehicle buy-backs as ways to reduce vehicle emissions.
Pesticides are another major source of smog. In San Joaquin Valley pesticides are the 6th largest source of VOCs behind livestock, two classes of vehicles, prescribed burning and oil and gas production. Air quality managers have estimated that each source will need to be reduced by 30 percent in order to achieve the hourly ozone standard. [Segawa 2005] The Department of Pesticide Regulation is considering reformulating pesticides, changing application methods, and reduced use as ways to curb smog-forming emissions.
Consumer products are the least commonly recognized smog source. In the Los Angeles area ordinary household products such as cleansers, cosmetics and paints are the second-leading source of air pollution, after auto tailpipe emissions. [Polakovic 2003]
The Alliance of Automobile Manufacturers, the American Petroleum Association, the Western States Petroleum Association and Engine Manufacturers Association all submitted comments critical of the state's draft ozone report, and testified against it to the independent committee of scientists charged with reviewing the standard.
In public comments, industry groups and their representatives claimed that the standard was unsupported and unenforceable. The Western States Automobile Association hired a physician, Dr. Nathan Rabinovitch, to testify that there was inadequate evidence of the special susceptibility of children, the elderly and infirm to ozone in controlled studies. [ARB(3) 2005] Actually, the suspected vulnerability of these groups makes it unethical to subject them to potentially dangerous exposures in controlled studies.
Dr. Rabinovitch has also come under scrutiny for his recent research that found no relationship between poor air quality and asthma-related illness in children with moderate-to-severe asthma. [Rabinovitch 2004] Dr. Rabinovitch claimed that while he initially found a relationship between pollution and health problems, the association "disappeared" when he adjusted for upper respiratory illness in study children. [Augé 2004] However, the state's review makes it clear that upper respiratory illness is strongly associated with air pollutants. [ARB(1) 2005] By claiming that parents stop worrying about air pollution and "focus on triggers that are really important" Dr. Rabinovitch is clearly swimming against the tide of thousands of air quality studies showing that asthmatics suffer from air pollution.
Another concern raised by the industry was that the proposed standard was too close to the maximum "natural" ozone concentrations, and therefore the standard would be unenforceable. They also argued that only one standard was needed, not hourly and daily standards. State scientists countered that the proposed standard was sufficiently above the maximum background concentration of 40 ppb, and that a daily standard was needed to reduce ozone concentrations outside of the Los Angeles area. Several agricultural groups—the California Citrus Mutual, California Cotton Ginners Association, California Cotton Growers Association, California Farm Bureau Federation, California League of Food Processors and Nisei Farmers League—have also signed on to criticism of the proposed standard, despite the fact that ozone is estimated to cause millions of dollars of damages to agricultural crops in the state. [ARB(1) 2005]
However, an expert review panel composed of nine leading air quality researchers from California universities unanimously rejected the industry's arguments and determined that the recommendations were "well supported" by scientific evidence. [ARB(4) 2005] They recommended that the Air Resources Board adopt the proposed standards, and reopen the standards for review if new research indicates additional risks for the developing baby or young child. [ARB(4) 2005]
Smoggy Schools
Smog has major impacts on both asthmatic and healthy children. Smog causes millions of respiratory illnesses that keep children from attending school each year. It can also trigger respiratory symptoms during exercise and aggravate asthma symptoms. Since children spend most of their day at schools, and often remain in the afternoon to play or participate in a sports league, schools are a major opportunity to establish healthy activity patterns for children, especially those who are at high risk for pollution-related illness.
Asthma has skyrocketed over the past decade, and schools play an increasing role in helping students cope with their condition. Reducing asthma triggers in schools, modifying physical education for asthmatics, and monitoring the use of maintenance medications are increasingly a responsibility of school staff. These activities protect the health of asthmatic students by guaranteeing that they can participate fully in school activities, concentrate on lessons and even attend classes regularly.
Children are much more sensitive to the effects of smog than adults, particularly when they are exercising. Schools need to do more to protect asthmatic and healthy children on especially smoggy days. When ozone levels are severe—more than double the proposed daily safe level—the state advises schools to keep children from playing outdoors. EWG analysis of ozone levels at schools found that 2,800 California schools, serving 1.7 million students, experienced ozone levels this high between 2000 and 2003.
Children not only inhale more air than adults, but they also extract more ozone from the air they breathe. According to the state's review of ozone pollution, ". . . up to eight times the amount of ozone reaches and reacts with target regions of the deep lung in infants compared to adults." [ARB(1) 2005] Ozone levels typically peak during warm days, and in the afternoons, precisely when children spend time playing or exercising outdoors.
The symptoms of exercise-induced asthma may be observable — wheezing, shortness of breath and chest tightness—or they may be more subtle: a cough, congested lungs, or a child who tires easily during exercise. Most asthmatics have difficulty breathing during exercise. However, up to 10 percent of children who have not been diagnosed with asthma also develop breathing problems with vigorous exercise. [Núñez 2005]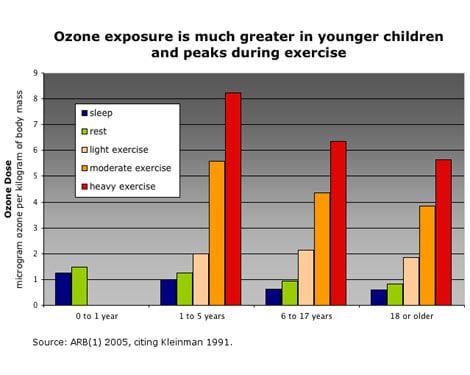 Playing safely
Given elevated ozone concentrations, particularly in greater Los Angeles and the San Joaquin Valley, school administrators, teachers, school nurses, coaches, day care staff and day camp operators need to take immediate precautions to protect children's health when smog levels peak. Many children will be able to play safely outdoors despite moderate levels of ozone pollution, but it is difficult to identify the children who will be more sensitive to pollution. Adult involvement is needed to limit the duration or intensity of outdoor exercise for some or all children on especially smoggy days.
When ozone levels exceed 150 ppb, schools are advised to limit children's "sustained rigorous exercise" lasting more than an hour. [Vance 2005] Nine counties had ozone levels this high between 2000 and 2003. EWG analyzed air pollution records and addresses for about 12,000 California schools [California Department of Education(1) 2005] and found 1.7 million students attending 2,800 schools where this concentration was exceeded between 2000 and 2003.
Statewide, more than 300,000 students attended schools where smog levels reached the 'exercise warning' level an average of 5 or more times each year. All of the schools were in San Bernardino County. These schools have more non-white students than other schools. There were 20 percent more Hispanic students and 64 percent more African-American students in the 307 public schools with the worst smog levels compared to the other California public schools with a nearby air monitor. [California Department of Education(2) 2005]†1 Two hundred schools that were hit hardest were located in areas where there were 12 warning days in 2003.
Smog levels typically peak on warm days and during the afternoon when children enjoy recess, sports or outdoor play. They may have occurred during a weekend or summer vacation. But summer school, sports leagues and year-round schools guarantee that a fraction of the children will still be at school sites during weekend or summer days. In a handful of cases the average at a California monitor was 150 ppb for the entire day, indicating that pollution concentrations were severe for hours on end.
To estimate smog levels at schools, we matched each school address to the nearest ozone monitor within the same air district, and used the daily or hourly ozone measurements as a proxy for the air quality at each school. Because ozone levels do not vary significantly over a several mile radius, this method gives a reasonable approximation of smog levels at the school site. Three-quarters of schools were within 10 miles of a functioning air monitor. Less than 3 percent of schools (375 schools total) were further than 30 miles from an air quality monitor. Most were excluded from this analysis, except for 85 schools that were included because the nearest ozone monitor was specifically designed to monitor smog concentrations over a regional scale (a 50 to 150 mile radius). [Pan 2005]
Summary of schools where smog exceeded exercise warning levels by county
| County | Number of Schools with at least one warning day | Average number of days between 2000-03 with smog levels greater than 150 ppb | Total number of days at the schools with the worst smog |
| --- | --- | --- | --- |
| Alameda | 48 | 2 | 2 |
| Contra Costa | 1 | 2 | 2 |
| El Dorado | 6 | 1 | 1 |
| Fresno | 80 | 4.6 | 5 |
| Imperial | 13 | 2.4 | 3 |
| Kern | 15 | 3 | 3 |
| Los Angeles | 1229 | 1.7 | 3 |
| Madera | 13 | 2 | 2 |
| Orange | 222 | 1 | 3 |
| Placer | 2 | 1 | 1 |
| Riverside | 424 | 6.3 | 19 |
| San Bernardino | 507 | 14.8 | 23 |
It is difficult to gauge the degree to which the air districts' guidance to limit recess and outdoor activity is being implemented by California schools. Southern California school districts are increasingly attuned to daily air quality forecasts, faxed daily by the South Coast Air Quality Management District to local school administrators, providing information to guide scheduling decisions about sports games and recess when levels of smog or other pollutants rise. [Cassmassi 2004] SB25 also required the South Coast Air District to begin informing Los Angeles-area day care centers where practicable.
Efforts to protect children from peak smog levels are hampered in regions where there is inadequate monitoring information to predict daily smog levels. The Latino Issues Forum recently reported that there is no monitoring for the western portion of the San Joaquin Valley, a rural region with predominantly Latino communities. Not a single monitor has been placed between Tracy and Taft, a distance of 230 miles. [Latino Issues Forum 2005]
The price of inactivity
School administrators and coaches must carefully weigh the risks of unhealthy air against another pressing public health issue, the threat that childhood inactivity leads to obesity. They must also consider new evidence of a relationship between obesity and the development of asthma. Researchers in Southern California found that being overweight and obesity were both associated with increased risk of asthma diagnosis. Overweight and clinically obese children had a 52 and 60 percent increased risk of asthma diagnosis, respectively. [Peters 2004] With three-quarters of California's middle-school students unable to meet the minimum physical fitness standards, assessing the risks and benefits of outdoor exercise on smoggy days is a devil's bargain. In the meantime, children are paying a substantial price for smoggy air.
The sheer number of bad ozone days in California communities means that restricting physical activity for young children, while a necessary first step, is no workable long-term solution to protect children's health. Educators and parents must make smart choices about the benefits and risks of children's activity on peak pollution days, but the state must do its part by adopting the proposed long-term ozone standard and making rapid reductions to smog levels a top priority.
Lower-level smog exposures also harm kids
The long-term impacts of less dramatic concentrations of smog pollution also trigger both respiratory illness that causes school absences, and other long-term effects on respiratory health. The proposed standard would require ozone levels to average 70 ppb or lower over an 8-hour period, and would be much more protective of health. Over the four study years California schools have, on average, 23 days where the air quality violates the proposed standard. However, smog levels are not equally distributed over the state. Children in greater Los Angeles and the San Joaquin Valley have much greater daily exposures to ozone than children in other regions. For more than 300,000 children who attend the 416 schools with the worst air quality, their schools have experienced 123 violations of the proposed daily standard each year.
School absences
Another dramatic impact of smog on children's well-being can be measured by school absences attributable to smog pollution. A six-month study of fourth graders in 12 Southern California communities found an 83 percent increase in respiratory-related absences when daytime ozone levels increase by 20 ppb. [Gilliland 2001]. The daytime average ozone level ranged from 31 to 65 ppb in study communities, and occasionally exceeded the proposed standard of 70 ppb over an eight-hour period. This is similar to the average ozone levels in 17 California counties with the worst ozone pollution between 2000 and 2003. Changes in other common air pollutants were not associated with an increase in school absences.
Scientists calculate that past efforts to reduce ozone pollution in Southern California have already prevented more than 3 million school absences, and provided an economic benefit of more than $245 million. [Hall 2003] But further improvements are still possible and necessary. Excessive ozone currently causes 3.3 million school absences each year for California's kids. [ARB(1) 2005] Averting 3 million additional ozone-related school absences each year would have remarkable benefits for California families and schools. Absent children suffer the most, losing chances to learn during the day and play outdoors in the afternoon. The direct economic consequences are measured as the sum of parents' lost wages and lost revenue of school districts who are only paid for students who attend classes.
Projected number of school absences due to excess smog
| County | Estimated number fewer absences when proposed smog standard is met | Estimated annual cost savings |
| --- | --- | --- |
| Los Angeles | 1,147,760 | $114,776,000 |
| Orange | 331,500 | $33,150,000 |
| San Bernardino | 298,740 | $29,874,000 |
| Riverside | 245,940 | $24,594,000 |
| Fresno | 158,600 | $15,860,000 |
| Kern | 153,510 | $15,351,000 |
| San Diego | 120,000 | $12,000,000 |
| San Joaquin | 114,400 | $11,440,000 |
| Sacramento | 87,890 | $8,789,000 |
| Stanislaus | 92,950 | $9,295,000 |
| Tulare | 74,750 | $7,475,000 |
| Ventura | 51,604 | $5,160,400 |
| Remaining 46 California counties combined | 415,529 | $41,552,900 |
Asthmatic children suffer unduly from air pollution and bear the brunt of smog-related school absences. Asthma is one of the leading causes of school absences for children. Asthmatic children miss on average 4 school days per year because of asthma symptoms. [CAFA 2005] Within the Southern California school study, children who had been previously diagnosed with asthma had two-thirds more respiratory illnesses than non-asthmatic children. [Gilliland 2001] Nationally, asthma is the leading cause of missed school days, accounting for one-third of all absences. [USEPA 1991]
Does exercise in smoggy areas cause asthma in healthy children?
The unique characteristics of ozone pollution, children's lungs and exercise combine to create an exceptional risk for athletic children in smoggy areas. Researchers from the Southern California Children's Health Study surveyed 3,535 children living in Southern California communities. They found that children playing 3 or more outdoor sports in smoggier communities had a 3-fold increase in the risk of being diagnosed with asthma, compared to children in the same communities who did not play outdoor sports. [McConnell 2002] The degree of athletic intensity of the sport was also related to the risk of asthma diagnosis. This research contradicts the long-standing belief that air pollution exacerbated but did not cause asthma. This finding must be replicated in order to confirm this unexpected conclusion. However, it points to the dangerous relationship between smog and exercise for both healthy and asthmatic children.
Traffic and schools
The prevalence of traffic-related pollution at schools leads to another school-specific concern for children's health. Many of California's schools are located near freeways and other high traffic streets. Idling school buses and long lines of parents dropping off or picking up children make schools a hot spot for vehicle pollution. One study found that 1 in 8 California students (721,363 children) attends a school with more than 25,000 vehicle trips per day on adjacent roads. [Green 2003] A smaller group, 150,000 students, attend schools near streets with more than 50,000 vehicle trips each year. [Green 2003] Nearby roads were determined to be those within 500 feet of the school site. Poorer students, and Latino and African-American children are more likely to attend schools choked with traffic pollution. [Green 2003]
Traffic pollution is strongly associated with ozone and also asthma hospitalizations. During the 17 days of the Atlanta Summer Olympics in 1996, the city took extraordinary measures to limit vehicle traffic, decreasing vehicle trips by 22.5 percent. Scientists found that the daily ozone concentrations dropped from 81 to 59 ppb, a decrease of 28 percent. Asthmatics benefited widely from this improvement. There were 40 percent fewer Medicaid claims filed for asthma and HMO visits. The number of asthma-related emergency room visits dropped by 11 percent and asthma hospital admissions dropped 19 percent. [Frideman 2001] Controlling vehicle and other engine emissions is the most important way of reducing smog in California.
Footnote
†1 This statistic compares the proportion of American Indian, Filipino, Asian, Pacific Islander, Hispanic and African American students with the proportion of white students. We used enrollment and demographic information available from the California Department of Education. Racial-ethnic data was only available for public schools in California. The comparison group only includes public school students attending a school with a nearby air monitor.
Health Impacts & Economic Costs
The state's existing daily standard was determined primarily from studies that exposed participants to measured amounts of smog and measured physiological changes to lung function. After determining the level at which smog would not unduly impact human health, state scientists assessed the health benefits of smog abatement. These benefits are not required to justify the decision of air quality experts, rather they are used to illustrate the contribution of smog to common respiratory ailments.
To calculate health benefits, state scientists examined epidemiological studies that linked region-wide smog measurements with health outcomes like respiratory illness and hospital visits. For each outcome they determined a fixed relationship between a change in smog levels and rates of five health outcomes. They then determined the amount that smog must be reduced for each region to come into compliance with both the existing hourly and proposed daily standards. State officials project millions fewer missed school days for children and minor restricted activity days for adults when both the short-term and daily ozone standards are met throughout the State. They also estimate almost 4,000 fewer hospital admissions due to respiratory illness and several hundred fewer premature deaths and emergency room visits for asthma. [ARB(1) 2005]
To further illustrate the health-benefits of smog abatement, EWG used commonly reported economic costs of four health impacts—school absences, restricted activity days, hospitalizations and emergency room visits—to tally the economic burden of ozone-related illness for these outcomes. [Abt 2003, Wong EY 2004, Hubbel 2005] We found the price tag for excessive ozone to be $521 million annually, not including a price tag for premature mortality. In addition to these well-studied outcomes we also urge the Air Resources Board to consider several recent studies linking smog exposure with important but less quantifiable outcomes. These include studies suggesting that long-term smog exposure causes permanent deficits to children's lung development and is linked to the development of asthma in healthy children.
Economic costs of four preventable smog-related illnesses
Health Outcome
Annual number of adverse events averted when ozone standard is achieved
Annual economic toll
Missed school days
3,294,693
$329,469,300
Minor restricted activity days
2,999,163
$151,607,690
Hospital admissions for respiratory diseases
3,995
$40,204,000
Emergency Room visits due to asthma
635
Total economic costs =
$521 million
The total costs of ozone pollution are represented by two distinct factors. The first is the direct medical cost to treat pollution-related illness—estimating the cost of each hospital bill, doctor's prescription, and the wages lost each day a parent misses work to tend to a sick child. For health conditions without a medical price tag, economists can estimate the disruption that smog-caused diseases have, often as the amount a person is theoretically willing to pay to avoid the situation (willingness to pay). We used commonly reported economic cost estimates for asthma Emergency Room visits, respiratory admissions to hospitals, missed school days, and willingness to pay to estimate the impact of minor restricted activity days. The cost of premature mortality varies widely between economists and we chose not to include it in this financial tally, though it is discussed in greater detail below.
EWG calculates the overall economic price tag of five smog-related diseases in California to be $521 million annually. Although smog levels are highest in San Bernardino County and the San Joaquin Valley, the economic costs are concentrated in the most populated regions of the state. The lion's share of the economic impacts—62 percent of the price tag—is attributed to Los Angeles, Orange, Riverside and San Bernardino counties alone.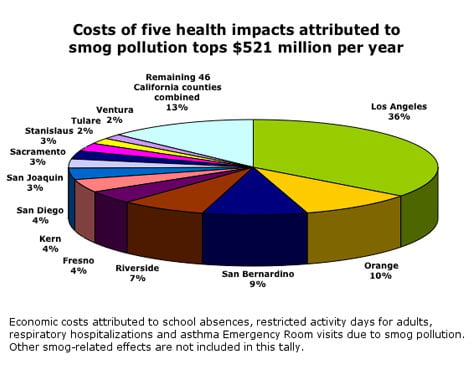 School absences
The state calculates that meeting the hourly and daily ozone standards will alleviate 3.3 million school absences each year for California's kids. Reducing school absences by 3 million days per year would have remarkable benefits for California families and schools. The primary losses are borne by children, who suffer missed opportunities to learn and play. However, economists estimate that in addition to lost learning time, each absence costs parents on average $75 per day in lost wages when they stay home to tend to their sick children. This is more for parents who earn a higher wage, and less for families where one parent is home during school hours. The price of a parent's lost wages alone equates to an annual $247 million price tag for families. Of course, these impacts are less sizable in families where one parent is home during the day, and more dramatic in families where parents exhaust their own paid sick leave because of their child suffers from chronic respiratory illness.
Schools also lose out on funding from the state. The average per capita payment to schools is $25 per child each day. School districts are only paid for children who attend class, and reducing absenteeism is a major goal for districts struggling to improve their cash flow. Using the $25 per day estimate, the price tag for California schools tops $82 million each year in lost reimbursement. Added to the figure for parents' lost wages, EWG calculates the direct economic costs of ozone pollution on education to be almost $330 million.
Restricted activity days
The state represents the more subtle health effects of excessive ozone pollution for adults under the catchall category of "minor restricted activity days." These are days when smog pollution causes adults to feel unwell and reduce their normal activities, while still going to work. Combining six studies, state scientists calculate a 2.94 percent increase in these symptoms for each 10 ppb increase in the daily ozone level. [ARB(1) 2005] They estimate 3 million days in which a California adult restricts his or her normal activity due to smog pollution. The cost of this restricted activity is commonly figured to be $50.55 per day in terms of an adult's willingness to pay to avoid a wide range of smog-related health impacts. [Hubbel 2005, Abt 2003] These impacts range from minor eye irritation to restrictions that almost cause a person to miss a day of work. Minor restrictions to the activities of healthy adults cost Californians $151 million annually. The cost of lost workdays due to adult illness was not estimated.
Hospitalizations for respiratory diseases
Public health officials predict 4,000 fewer hospital admissions for asthma, bronchitis, and other respiratory symptoms each year due to excessive ozone pollution. State scientists calculate that for each 10-ppb decrease in hourly maximum ozone levels, hospital admissions for respiratory illnesses drop by 1.64 percent. [ARB(1) 2005] This formula represents risks for all ages, not just the elderly. But it doesn't account for the fact that certain subgroups are more affected by ozone pollution than others. People with chronic bronchitis or emphysema (chronic obstructive pulmonary disease or COPD) have 24 percent higher respiratory hospitalization rates due to changes in hourly maximum ozone concentrations. [Anderson 1997] Although they make up a smaller share of hospitalizations, children age 2 and younger were 4-times more affected by a 10 ppb increase in ozone than other age groups. [Burnett 2001]
The cost of a hospital visit depends on the patient's insurance, the hospital and the severity of their symptoms. A review of the national benefits of smog reductions estimated the costs of respiratory hospital admissions to be $18,353 for people ages 65 and older, and $7,741 for children 0 to 2 years old. [Agency for Healthcare Research and Quality 2000] The rate of respiratory hospitalization rises steadily with age and the elderly spend longer in the hospital with each hospitalization. We use a ballpark estimate of $10,000 per hospital visit, which is a very conservative estimate of the average cost of respiratory admission.
Emergency room visits for childhood asthma
Children are commonly treated at hospital emergency rooms during severe asthma attacks. Twenty-eight percent of asthmatic children in Los Angeles County went to the emergency room at least once in 2002, and half went more than once per year. [Los Angeles DHS 2004] To estimate the reductions in asthma, the state drew from five studies linking ozone and asthma emergency room visits. Combining these studies the Air Resources Board estimates a 2.37 percent increase in asthma emergency room visits per 10 ppb increase in short-term ozone. [ARB(1) 2005] Using this formula the state calculates 635 fewer emergency room visits for children due to ozone with achievement of the daily and hourly ozone standards.
Medicaid reimbursement for an asthma-related emergency room visit is $443. [USEPA 1991] People who don't have health insurance are typically charged more than Medicaid rates for their visit. Several studies have estimated the cost of an emergency room visit for asthma to be less than $400 [Abt 2003], but these studies were published in the mid-1990s and are likely to be out of date. We used an average cost of $400 per emergency room visit to calculate a $254,000 annual price tag for asthma emergency room visits. This estimate is solely the medical bill from the visits. It doesn't represent the anxiety of a trip to the emergency room with an asthmatic child, just the bill that follows.
Less quantifiable impacts of smog exposure
The state's health benefits assessment rightfully focused on impacts on health effects with sufficient evidence to quantify the number of cases that will be averted with better smog controls. However these just include the most-researched health effects, not the only demonstrated effects of smog on health. We urge the Air Resources Board to also consider the unquantifiable, but still significant impacts of several additional health effects when deciding whether to adopt a new, more stringent ozone standard.
Less quantifiable impacts of smog pollution
| Health Outcome | Annual number of adverse events averted when current and proposed ozone standards are achieved | Estimated cost per adverse event |
| --- | --- | --- |
| Premature mortality | 591 | ~$6.5 million |
| New cases of asthma | Unknown | Lifetime cost ~$50,000 average patient, $200,000 severe asthma |
| Permanent deficits in lung development | Unknown | Unquantifiable |
| Cardiac birth defects | Unknown | Unquantifiable |
| Lower birth weight | Unknown | $18,000 over lifetime |
Ozone and mortality
Numerous studies link short-term changes in smog levels with premature mortality. These effects are not limited to the elderly. These studies generally control for other factors that influence death rates—weather, season, day of the week and the effect of other air pollutants. The most recent and robust study included 95 large cities in the United States, home to 40 percent of the population. [Bell 2004] California cities included San Diego, Los Angeles, Stockton, Oakland, Fresno, San Jose, Riverside and Modesto. The study found that a 10-ppb increase in the previous week's ozone was associated with a 0.52 percent increase in daily mortality and 0.64 percent increase in cardiovascular and respiratory mortality.
State scientists combined several studies in a single estimate, revealing an association of a 10 ppb increase in ozone concentration over a 24-hour period with a 0.5 — 1.5 percent increase in mortality rates. [ARB(1) 2005] They applied this formula to existing ozone concentrations, and calculated that approximately 590 deaths will be averted when current ozone concentrations are reduced to meet both the proposed daily and current hourly standard. The range of possible effects varies from 290 to 870 pre-mature deaths per year.
Many economists have estimated the economic impact associated with premature mortality using a theoretical patient's willingness to pay to avoid dying of ozone pollution. USEPA's assessment of the national burden caused by smog pollution places the cost at $6.5 million per life. [Hubbel 2005] This draws from the mid-range of 26 value-of-life studies in the US Environmental Protection Agency's assessment of the costs of air pollution. [USEPA 1991] The studies determined a dollar value for life using a mix of willingness to pay and lost income estimates.
We did not include a calculation of the cost of this outcome due to the range of reported values. Using the widely accepted $6.5 million figure would add an additional $3.8 billion to the annual impact of smog pollution on premature mortality. This estimate is 7.4 times higher than the estimated costs of missed school days for children, hospital admissions due to respiratory illness, emergency room visits, and minor restricted activity days for adults combined.
In-utero exposures
Ozone's effects on children begin before they are even born. A study of Southern California mothers found that a woman's exposure to ozone was significantly related to the risk of heart artery and valve defects in her offspring. [Ritz 2001] Pollutant exposures during the second month of pregnancy—when the heart forms in the fetus—were most strongly linked to heart defects, with a 2.7-fold increase in risk for the high exposure group. [Ritz 2001]
Only one study has linked ozone exposure with lower birth weight babies, and is pending final analysis. As part of the Southern California Children's Health Study, researchers found that a mother's exposure to ozone during her second and third trimesters of pregnancy is associated with increased odds of having a lower birth weight child. [Peters 2004] Many factors affect infant birth weight. This study adjusted for common sociodemographic and pregnancy characteristics known to affect birth weight, as well as maternal smoking. Researchers compared birth weights between the 25th and 75th percentiles for ozone exposure and found a 47- and 35-gram reduction in birth weight for higher-end exposures during the second and third trimesters respectively. Ozone was a more significant factor in baby birth weight than particulate (soot) pollution.
Further studies are needed to confirm this finding, and calculate the exact relationship between ozone and birth weight. However, two observations indicate a need for caution. Children born prematurely or with low birth weight appear to be more susceptible to poor air quality later in life. [Mortimer 2002] Also, the U.S. Environmental Protection Agency estimates the additional lifetime costs of health care for an infant born with low birth weight to be $18,000. [Wong EY 2004, citing USEPA 1999]
New cases of asthma
The current ozone concentrations in some regions appear to be sufficient to trigger asthma in previously healthy individuals. Following 3,535 healthy, athletic children, researchers found that those who participated in 3 or more sports per year had a 3.3-fold increase in the likelihood of being diagnosed with asthma when compared to less active children in the same community. [McConell 2002] The average daily ozone concentrations in the communities ranged from 56 to 70 ppb between January and June. There was less of an effect of outdoor sports for a comparison group of children living in communities with lower ozone levels. [Peters 2004] The effect was more dramatic for children playing high-activity outdoor sports than lower-activity sports, and less dramatic in a second group of communities with cleaner air. The lifelong impact of asthma diagnosis is another price paid by California children for dirty air.
The lifetime cost of treating asthma varies widely depending on the severity of illness. Twenty percent of asthmatics in the United States are responsible for 80 percent of the health care services and associated costs. [Agency for Healthcare Research and Quality 2000] The EPA estimated that the average asthmatic will require about $50,000 worth of medical care throughout his or her lifetime. [USEPA 1991] A patient whose suffers from severe illness or lacks proper routine care will suffer from more frequent trips to the hospital and will require upwards of $220,000 in services throughout their life. [EPA cost of illness]
The Agency for Healthcare Research and Quality estimates the cost for treating children to be $437 per month or $5,000 per year, [Chan 2002] much higher than the EPA's lifetime estimates for children, which range between $761 - $905 per year. [USEPA 1991] Economists also pin a price tag on the psychological impact of asthma, as the price people would be willing to pay to avoid being diagnosed with asthma in the first place. This figure, roughly $31,000 per case, is an attempt to represent the lifetime costs of missed opportunities to participate fully in an active life.
The difficulty in assessing a person's personal exposure to ozone and the role of individual susceptibility make it difficult, if not impossible, to estimate the number of Californians who develop asthma as a result of ozone pollution. But the fact that the relationship between outdoor exercise and asthma was not observed in less smoggy communities suggests that any asthma that develops due to smog will be dramatically reduced as ozone levels fall.
Lung function deficits
Even when they don't cause asthma, children's exposure to smog has life-long effects on lung development. Animal studies indicate that ozone exposure during lung development causes long-term inflammation, disrupts growth factors, and creates fibrosis and alters lung architecture. [ARB(1) 2005 citing Barr 1990, Schelegle 2003] These findings have recently been confirmed in studies of young adults. Researchers examined lung capacity of first-year students at U.C. Berkeley and Yale University. They report noticeable reduction in the lung capacity of students who grew up in polluted regions compared to those who were raised in areas with cleaner air. [Kunzli 1997, Tager 1998, Galizia 1999] The Yale students who spent at least 4 years in regions where summertime ozone levels exceeded 80 ppb had significantly worse lungs than their peers. [Galizia 1999, Kinney 1998]
Since lungs form throughout childhood they are susceptible to damages during the entire period. By the early 20s lungs are fully formed and it is unlikely that pollution-related impacts measured in 18 year-olds will be repaired during adulthood. College students with lung damage already reported more respiratory illness as young adults, and these impacts will lead to more serious respiratory disease as they age. Lung function is also a major determinant in life expectancy in the elderly.
Conclusion
Will the proposed standard fully protect childrens's health?
California health officials were charged with evaluating the protectiveness of existing air quality standards for infants and children. They were asked to pay special attention to the interaction of multiple pollutants known to target the same body systems, and to assure an adequate margin of safety that considers people who are the most sensitive to smog. The state's proposal for a more protective daily ozone standard of 70 ppb is an important first step toward protecting the health of children, the elderly and people with respiratory diseases who are more susceptible to smog.
We applaud this effort but caution that even the new standard might not fully protect sensitive groups from long-term effects of smog exposure. California lacks a strong enforcement mechanism to enforce their air quality standards for stationary sources. The state has authority to regulate consumer products and engine emissions, two major sources of future smog reduction. Local air quality managers are obligated to reduce emissions from industrial facilities inorder to meet the standards 'as expeditiously as possible.' However, the state should have the authority to levy fiscal penalties for regions that don't make a timely effort to reduce smog. Without this authority efforts to control smog are less protected from the political whims of state or local governments.
Additionally, dozens of epidemiological and direct human exposure studies find low-level effects at or below 80 ppb leaving little or no margin of safety for those at special risk. Consider the evidence:
A study of Southern California schoolchildren with asthma showed significant associations between asthma symptoms and hourly and daily ozone concentrations below the current and proposed standards. Children with the least frequent asthma symptoms had a 2-fold increase in symptoms when short-term ozone exceeded 58 ppb and daily concentrations exceeded 46 ppb—both measurements significantly below the current and proposed California standards. Within this group the children who weren't taking asthma maintenance medications had an even more dramatic response to ozone. [Delphino 1998]
Southern California studies associating ozone levels with new asthma diagnoses and respiratory absences from school both took place in regions where the air quality was not considerably higher than the proposed daily standard. The average daily ozone level in these 'smoggier' communities where children were 3-times more likely to develop asthma, was only 60 ppb between January and June. [Peters 2004] The study of school absences took place in a community where the daytime average ozone level ranged from 31 to 65 ppb. [Gilliland 2001]
At ozone concentration of just 63 ppb, asthmatic children using maintenance medications experienced significantly more chest tightness and shortness of breath than they did at lower ozone levels. [Gent 2003]
Controlled studies exposing healthy adult men to 80 ppb ozone for a 6.6-hour study found that one-quarter of the participants had a 20 to 40 percent reduction of their lung capacity, indicating a significant, negative effects on their health. [Folinsbee 1991] Indeed the State's report acknowledges that "(I)ncreased respiratory symptoms, including hyperreactivity of the airways and increased inflammation have also been noted at concentrations below 80 ppb." [ARB(1) 2005]
Significant reductions in exercise performance have been reported for healthy adults when exposed to 60 ppb ozone for less than 2-hours. [ARB(1) 2005 citing Linder 1988]
Human studies have shown that some people are much more affected by smog than others. It is nearly impossible to predict who will be most sensitive—age, gender, diet and genes don't seem to determine sensitivity. [ARB(1) 2005] The State's own assessment acknowledges that they cannot assure that everyone will be protected by the new ozone standard. "Given the current state of the science . . . it is not possible to set standards for ozone that absolutely protect all individuals." [ARB(1) 2005]
The academic review committee that evaluated the standard cautioned that little information existed to evaluate the sensitivity of children with chronic lung diseases. They caution that children with "bronchopulmonary dysplasia, asthma and cystic fibrosis could be at special risk but, with the possible exception of asthma, there has been little research effort in these areas." [ARB(4) 2005] In conclusion, the academic review committee, "is concerned that the proposed standards, although an improvement over current status, can still allow effects in susceptible populations," [ARB(4) 2005] and listed the chamber studies showing long-term effects at 80 ppb, as well as the lack of studies that 70 ppb ozone is indeed without effect. [ARB(4) 2005] The committee also asked ARB to justify why they felt comfortable extrapolating studies subjecting participants to a 6.6-hour exposure into an 8-hour standard. They suggested the state consider a 6.6-hour standard, which would be more protective than a longer standard.
We urge further research into the effects of ozone on the developing fetus and child. Particular care should be given to studying the risks of ozone exposure for people with asthma or other pre-existing illnesses that would exacerbate the effects of ozone pollution.
Questions to ask school officials
Does your school have a nurse? Does the nurse know which students have asthma?
Does the school allow students to carry inhalers with them in case they have an asthma attack?
Does the school have the American Lung Association's Open Airways program designed to teach third-graders how to manage their asthma better?
Does every asthmatic student in your school have an asthma action plan that spells out the types of things and activities that might trigger an attack? Has that plan been distributed to teachers and coaches?
Do your school's teachers and administrators know how to spot the warning signs of an asthma attack? Do they have an emergency plan?
Do coaches reschedule or cancel sports practices and games when pollution levels peak?
Read more about the American Lung Association® Asthma-Friendly Schools Initiative (AFSI) http://www.lungusa.org/site/apps/s/
content.asp?c=dvLUK9O0E&b=34706&ct=67480#toolkit
About This Report
Principal author: Sonya Lunder
Editor: Bill Walker
Website, design and graphics: T.C. Greenleaf
This report was made possible by the support of the Nathan Cummings Foundation, the Clarence E. Heller Charitable Foundation and the David B. Gold Foundation. Opinions and conclusions in this report are those of the author and editor, who are responsible for any errors.