More than a decade since the health hazards of perfluroinated chemicals, or PFCs, became known, many fast food chains still use food wrappers, bags and boxes coated with the grease-resistant compounds, according to nationwide tests reported in a new peer-reviewed study.[*] Some of the test samples detected traces of a notorious PFC, formerly used to make DuPont's Teflon, that was taken off the market after it was linked to cancer, and reproductive and developmental harm. 
Scientists from nonprofit research organizations including EWG, federal and state regulatory agencies and academic institutions[†] collaborated to test samples of sandwich and pastry wrappers, french fry bags, pizza boxes, and other paper and paperboard from 27 fast food chains and several local restaurants in five regions of the U.S. They found that of the 327 samples used to serve food, collected in 2014 and 2015, 40 percent tested positive for fluorine.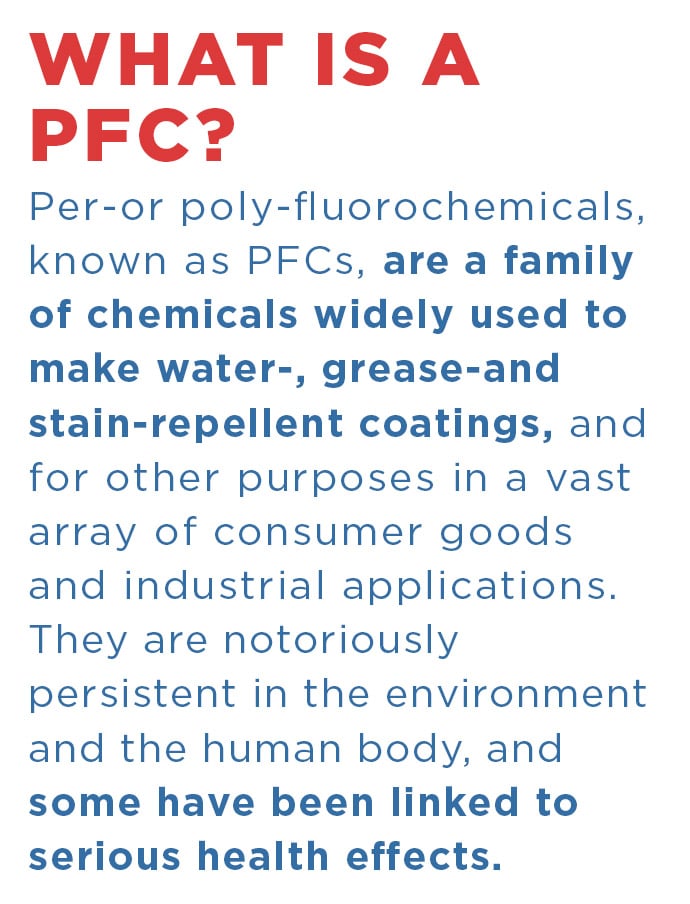 The presence of fluorine does not automatically indicate the presence of PFCs. But authors of the study include an Environmental Protection Agency expert who, in further tests of a smaller number of samples, found that the vast majority of materials he tested contained known PFCs. He also found that some samples showed traces of the former Teflon chemical PFOA, which, the most current research shows, is harmful at extraordinarily small doses.
PFOA is a type of PFC the Food and Drug Administration has banned from food contact papers, while continuing to allow the use of newer chemicals with a slightly different chemical structure. Manufacturers claim the next-generation chemicals are less hazardous because they are built on a chain of six or fewer carbon atoms rather than eight, so they pass from the human body faster. But manufacturers lack evidence that they are really much, if at all, safer.
The FDA has approved 20 next-generation PFCs specifically for coating paper and paperboard used to serve food. These chemicals have not been adequately tested for safety, and trade secrecy laws mean that, in some cases, the limited safety data submitted to the EPA does not publicly disclose the identity of the specific chemicals or even the companies submitting them for approval. But what little information manufacturers have provided to regulators is troubling.
In documents filed with the EPA, DuPont reported that a next-generation chemical used to produce food contact paper, called GenX, could pose a "substantial risk of injury," including cancerous tumors in the pancreas and testicles, liver damage, kidney disease and reproductive harm.[1] In an investigation by the nonprofit news site The Intercept, retired EPA toxicologist and senior risk assessor Deborah Rice said GenX has "the same constellation of [health] effects you see with PFOA. There's no way you can call this a safe substitute."[2]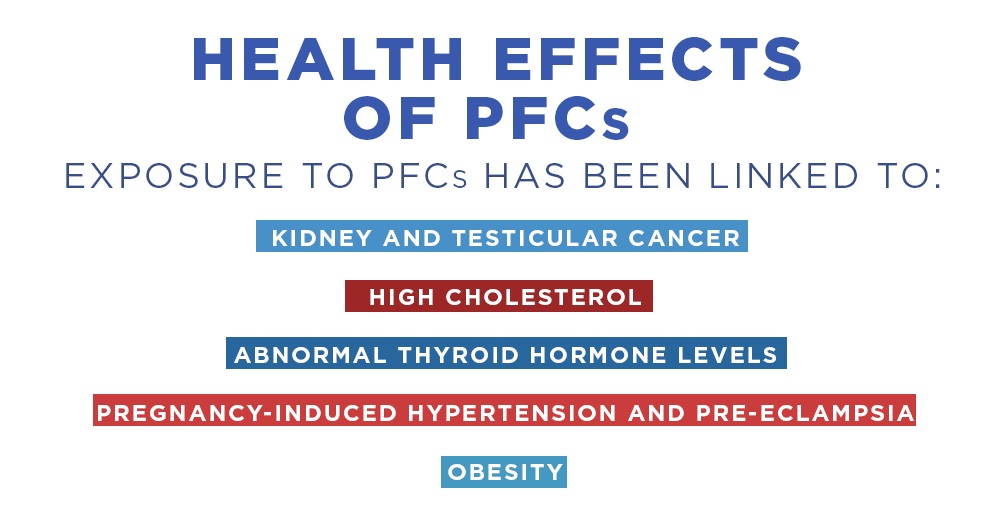 PFC-free paper is readily available, as shown by the fact that the tests detected no fluorine in more than half of the paper samples. Depending on location, individual fast food restaurants or regional franchise groups in the same chain may get their wrappers and containers from different suppliers. So parent corporations may not know if outlets are using PFC-coated paper or if suppliers are accurately disclosing whether their paper contains such chemicals.
It is possible that some of the papers that tested positive were not intentionally coated with the chemicals, but were made partly from recycled paper with PFCs. The paper with traces of the banned chemical, PFOA, may have been contaminated during manufacturing or by contact with other materials coated with the compound, which was used to make many consumer and industrial products. PFOA is no longer made in the U.S., but production continues apace in China.
Table 1 shows the test results for food contact paper and paperboard from 27 fast food chains. Paper or paperboard from all chains for which six or more samples were collected tested positive for evidence of PFCs. The peer-reviewed paper also reports results for some restaurants that were not part of chains and for some paper items, such as cups, other than those used to serve food.
---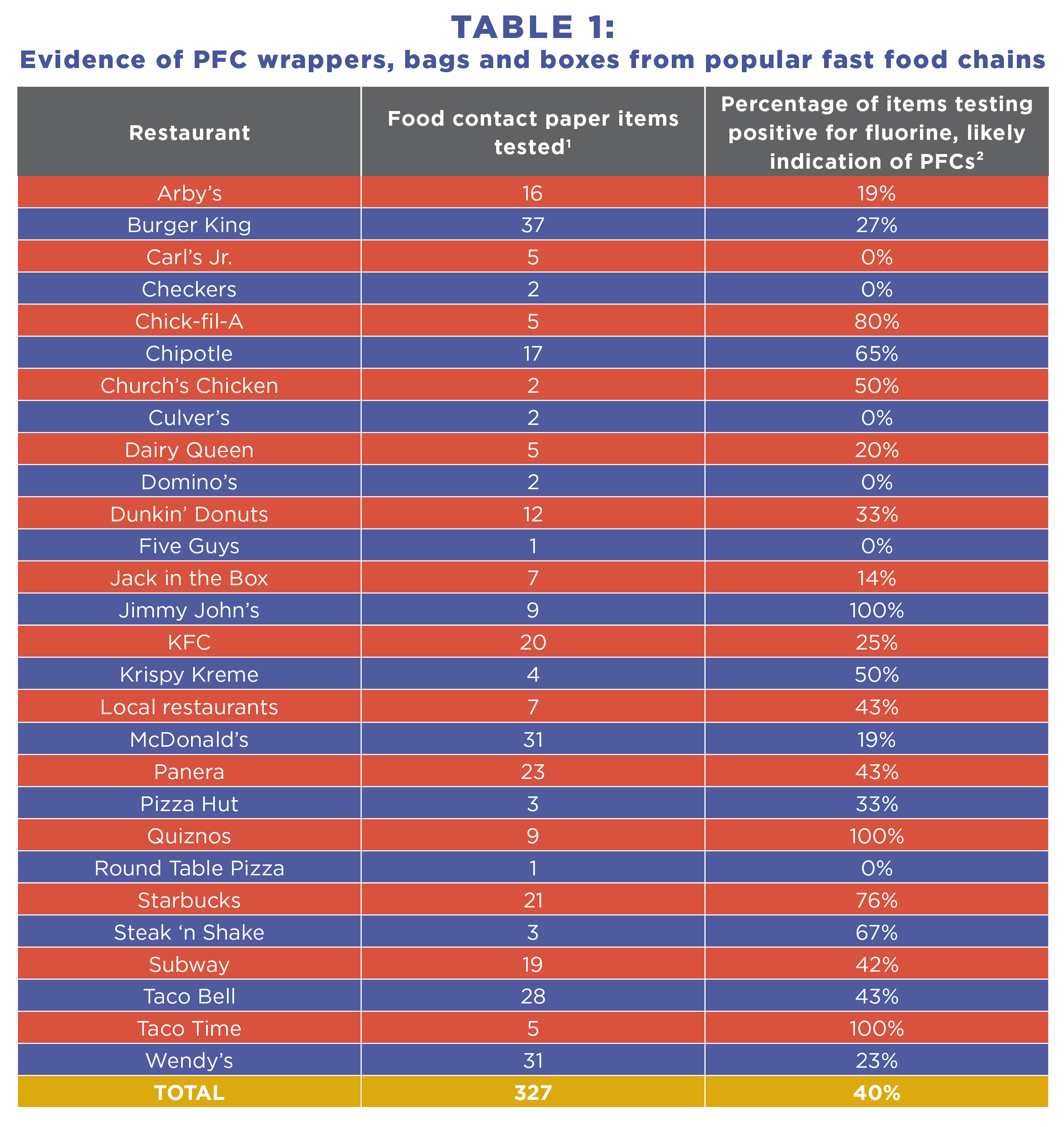 Source: EWG, from L. Schaider et al., Fluorinated Compounds in U.S. Fast Food Packaging.
Environmental Science and Technology Letters, February 2017.
1 Includes wrappers for sandwiches, burritos, etc.; bags for fried foods, chips and pastries; pizza and chicken boxes; and other paper items used to serve food. Samples were collected from 2014 to 2015 from fast food outlets in and around Boston, San Francisco, Seattle, Washington, D.C., and Grand Rapids, Mich.
2 It is possible that some papers that tested positive were not intentionally coated with the chemicals, but were made partly from recycled paper containing PFCs or were contaminated during manufacture.
---
PFCs are a family of nonstick, waterproof, stain-resistant chemicals that DuPont and other companies have used since the 1950s in hundreds of consumer products and industrial applications. Other than Teflon, the best-known PFC-based product is 3M's Scotchgard. PFCs are extraordinarily persistent in the environment and have built up in the bodies of people and wildlife worldwide. The Centers for Disease Control and Prevention have found PFCs in the blood of virtually all Americans,[3] and in 2005, tests commissioned by EWG were the first to show they are passed from mother to child through the umbilical cord and breast milk.[4]
The health hazards of PFCs came to light in a class-action lawsuit filed in 2001 on behalf of residents near DuPont's Teflon plant in Parkersburg, W.Va., whose drinking water was contaminated with PFOA. 3M had already stopped producing its Scotchgard chemical after admitting to the EPA it withheld decades of damning internal studies on PFCs' health hazards. Court documents in the West Virginia case revealed that DuPont had also covered up studies and continued to do so even after 3M stopped production. In 2006, the EPA fined DuPont a record $16.5 million and the company agreed to phase out PFOA by 2015.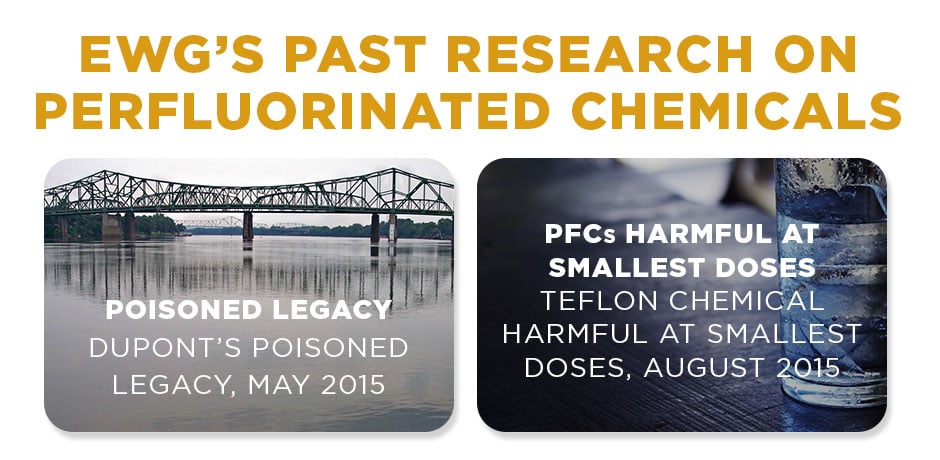 Also in 2006, an EPA Science Advisory Board said PFOA is "likely to be carcinogenic to humans."[5] In 2012, an independent science panel funded by DuPont as part of the settlement in the West Virginia case reported "probable links" between PFOA exposure and testicular and kidney cancer, thyroid disease, pregnancy-induced hypertension and preeclampsia, ulcerative colitis and high cholesterol.[6] The most recent research finds that even the smallest doses of PFOA or PFOS are harmful,[7] and that because of the levels already polluting Americans' blood, no further exposure can be considered safe.[8]
PFC-based coatings are applied to food wrappers, bags and boxes to stop grease from dripping through. But the hot, often fatty foods served in those papers pick up the chemicals, and when the food is consumed, so are the chemicals. A 2008 FDA study found that "fluorochemical paper additives do migrate to food during actual package use," and oil and grease "can significantly enhance migration of a fluorochemical from paper."[9] A 2009 EPA study identified food contact paper as a key pathway for PFCs to enter the body.[10]
In 2003 EWG wrote to the CEOs of nine national fast food chains,[‡] urging them to get rid of PFC-coated paper "to protect the health of your customers and reduce contamination of the biosphere with these toxic, indestructible pollutants."[11] The Wall Street Journal reported that Burger King stopped using paper coated with any fluorinated chemicals in 2002 and McDonald's pledged to move to PFOA-free coatings.[12]
PFOA production by DuPont and seven other companies in the U.S. ended ahead of schedule in 2011, but the FDA did not finally ban the use of three PFOA-based chemicals for food contact papers until January 2016. Even then, the ban came only in response to a petition from EWG and eight other public interest groups.[§] The FDA also banned the use of two PFOS-based chemicals in food contact papers in November 2016, but only after a petition from 3M indicating that production ended almost 15 years earlier.[13]
But the newly reported tests show that the paper used by some fast food outlets is still tainted with PFOA or PFOS related chemicals – and that, knowingly or not, outlets of many chains are using papers coated with next-generation PFCs.
The paper samples were collected from restaurants in and around Boston, San Francisco, Seattle, Washington, D.C., and Grand Rapids, Mich. Traditionally, testing paper for PFCs has been a long and expensive process, which is why there have been few studies of how widely they are used. However, one of the new study's authors, Graham Peaslee of the University of Notre Dame, recently developed an innovative application of a test method called particle-induced gamma ray emission, which can quickly detect the presence of fluorine.
This method does not detect whether the fluorine came from PFCs, or what specific PFC chemicals are present, so some samples were tested more extensively using the established longer methods. The follow-up tests were conducted at the EPA's National Exposure Research Laboratory by agency chemist Mark Strynar. He confirmed the presence of specific PFCs in 10 of 14 samples that tested positive for fluorine, although the source of fluorine in the other four samples was not specifically identified.
Fluorinated chemicals have been used to coat food contact papers since at least 1968, when 3M filed a food additive petition, which was subsequently approved by the FDA.[14] Since then, the agency has allowed more than 90 fluorine-based chemicals and polymers for use in contact with food, and EWG's review found that 20 PFCs are permitted for use specifically on food contact paper. But that doesn't mean they were tested and found safe.
Companies may add food and food contact additives by petitioning the FDA, or by taking advantage of a regulatory loophole that allows companies to self-certify that their chemicals are "generally recognized as safe," or GRAS. There is no legal obligation to notify the agency of this determination.[15] The same rule applies to "substances generally recognized as safe for their intended use in paper and paperboard products used in food packaging."[16] Because of the lack of mandatory FDA notification, we don't know to what extent companies may be using the GRAS loophole to self-certify the safety of new PFC coatings. But there is nothing stopping them.
The 22 PFCs currently approved for food contact papers are made by Archroma Management, Asahi Glass Company or AGC Chemicals Americas, The Chemours Company (a spinoff of DuPont), Daikin America, Hercules Incorporated and Solvay Specialty Polymers. Most of the companies market their coatings as "sustainable," "safer" or "healthier."[17] They also say the paper can be composted, because current compost standards do not consider the use of PFCs, even though studies show they do not degrade, can leach into the soil and be taken up by plants.[18]
Grease-resistant food contact paper and paperboard free of PFCs and other fluorinated chemicals has been available for at least 10 years. Manufacturers of fluorine-free papers or coatings include Twin Rivers Paper Company of Madawasaka, Maine; Akzo Nobel of the Netherlands, one of the 20 largest chemical companies in the world; and Imerys, a French multinational. And innovation continues: In Denmark, the country's largest retailer yanked microwave popcorn off the shelves of more 1,000 stores because the bags used fluorinated coatings. Months later, microwave popcorn was back on the shelves when a supplier came up with a stronger bag that achieved grease resistance simply by boiling the paper cellulose longer.[19]
Recommendations:
Fast food companies should stop using PFCs or other fluorinated compounds in sandwich or pastry wrappers, fried food containers, pizza boxes or anywhere else where they may come into contact with food. Parent companies should exercise more oversight over their supply chains and the paper sources of their franchises. 


The FDA should further restrict the use of fluorinated chemicals in food or food contact materials. The FDA should close the loophole that allows companies to self-certify chemicals as Generally Recognized as Safe.


For consumers, exposure to PFCs in food wrappers can be reduced by eating fresh foods and preparing meals at home. Avoid the use of paper tableware and microwave popcorn. For more tips on how to keep these chemicals out of your body and your home, see EWG's Guide to Avoiding PFCs.
---
* PFCs are also known as PFAS chemicals, for per- and polyfluoroalkyl substances, the term used in the new study.
† Silent Spring Institute, California Department of Toxic Substances Control, Green Science Policy Institute, University of California at Berkeley, EWG, EPA, Hope College, the University of Notre Dame and the Department of Energy's Oak Ridge Institute for Science and Education.
‡ Burger King, KFC, Krispy Kreme, McDonald's, Pizza Hut, Starbucks, Subway, Taco Bell and Wendy's.
§ The Breast Cancer Fund, Center for Environmental Health, Center for Food Safety, Children's Environmental Health Network, Clean Water Action, Center for Science in the Public Interest, Children's Environmental Health Network, EWG, Improving Kids' Environment and Natural Resources Defense Council.