The Environmental Working Group and ActionAid have collaborated to create an interactive world map highlighting countries at highest risk of a food crisis due to the recent food price hikes. Biofuels policies have contributed to increased demand for crops like soybeans and corn which, in turn, has put pressure on prices of these and other major food staples. Data was compiled from the Food and Agriculture Organization (FAO), the International Food Policy Research Institute (IFPRI) and the World Bank. Please click on the three categories below to see where citizens are suffering the most in response to near-record prices for commodities (corn, soybeans, wheat and rice) which these countries rely on as basic food staples.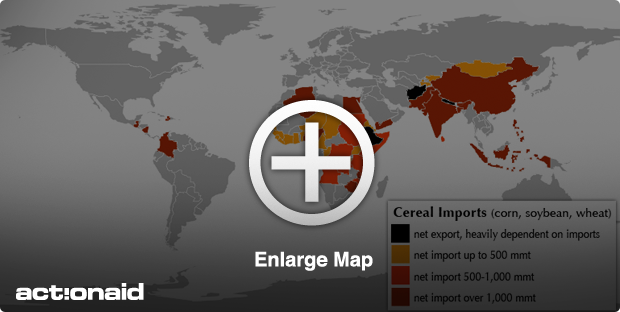 Map Notes
Categories include: (1) Countries heavily dependent on imported cereals (IFPRI); (2) countries where food prices (wheat or rice) have been increasing recently (percent change from 2010 to 2011; FAO); and (3) vulnerable economies with limited fiscal space (limited borrowing capabilities) and high rates of hunger (ActionAid; IFPRI)
MMT = million metric tons
For corn, soybean and wheat imports/exports and childhood malnutrition, Haiti is categorized with Caribbean countries as a whole; Cambodia and Laos are categorized as Southeast Asia; Yemen is categorized with the Gulf states; Nicaragua and Guatemala are categorized with Central America.
Giving A Face to Food Price Hikes: Fueling Hunger?
The recent political unrest in Egypt, Tunisia and Yemen illustrates that food price spikes are more than a blip on the Chicago Board of Trade. The ripple effects start small but quickly grow. Rising prices in the markets mean families can buy only cups of grains instead of kilos. Mothers start skipping meals. People go hungry. Children stop growing for months at a time, if they survive at all.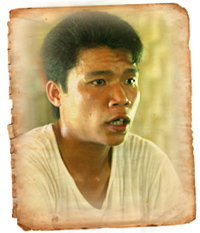 Take 28 year-old Ban Van Tuan in Vietnam. He has a wife and two daughters, ages eight and four. They farm a small piece of land in Hoa Binh province. When the 2008 global food crisis hit, Mr. Tuan's family had to start skipping a meal each day.
The 2008 crisis was devastating for millions of poor people and reversed years of development gains in developing countries. The number of people living in extreme poverty rose by 25 million, and the number who were left hungry rose by 115 million – to a record 1.02 billion in 2009. Food prices eventually fell again, but many people who had been pushed into poverty still have not recovered.
Mr. Tuan explained to ActionAid International's Asia Regional Office, "I feel that price hikes have really shattered our hopes and put us in a difficult situation. We have to borrow, borrow and borrow… but, how long? Even my brothers will refuse one day as we have no means to repay loans."
In the last quarter of 2010 and the first month of 2011, global food prices have once again risen alarmingly – at a much faster pace than in 2007/8. Prices of wheat and corn are about 50 percent and 45 percent higher, respectively, than a year ago. Corn and soybean stocks are the second tightest since the Great Depression. Although the prices of global exports and domestic food in poor countries are not always closely correlated, the cost has been rising considerably in many poor countries. This has been especially true for wheat. Brazil, Afghanistan, Sudan, Pakistan, Bolivia, Yemen, Algeria and Egypt have all seen significant rises in domestic prices.
The 2011 price hikes have already led to food riots as seen in Algeria and India. They feed deeper discontent about economic inequalities and hunger and help give rise to revolutions that can topple governments, as in Tunisia and Egypt. From the World Economic Forum in Davos to the World Social Forum in Dakar, political, economic and social leaders are discussing how another global food crisis could derail global economic recoveries in wealthy countries, spark political instability and worsen hunger problems in impoverished places. If world leaders don't address the core challenges of global hunger and the food system, price spikes will happen again and again with increasing intensity.
This interactive map identifies the countries that are at the greatest risk of a food crisis if food and energy prices continue to rise. Some are at risk because, like Algeria and Egypt, they are heavy importers of cereals. Others, like Yemen, have limited financial resources and little ability to borrow. Mozambique and Indonesia, among others, have already seen domestic prices increase sharply over the last couple of months.
By clicking through this map you can get a sense of the scope of the problem and the human needs of each of the 52 most at-risk countries. It focuses on corn, wheat and soybeans because these are the three crops for which the U.S. is a primary exporter. Countries highlighted on the map import an average of 613 million tons of corn, 979 million tons of wheat and 14 million tons of soybeans.
Imagine being one of the 750 million currently undernourished people living in these countries around the world. If you exclude Brazil, Yemen and Argentina, which are middle-income countries with a great disparity between the wealthy and the poor, the average income is just $2.06 per day. Since citizens of developing countries spend around 55 percent of their income on food, they are left with just a dollar a day to purchase food. It's easy to see how U.S. policies that affect these crops can have a direct impact on local budgets and family incomes.
Why are prices rising again?
This year there is a range of reasons, including climate-related production shortfalls, export restrictions, rising oil and fertilizer prices, worsening soil and water constraints, growing demand for food in Asia, biofuels policies that shift crops from food to fuel, dollar depreciation against a basket of currencies and commodity speculation. Several of these factors are directly linked to U.S. policies, but in the view of ActionAid and the Environmental Working Group, there is one policy change in particular that could have an enormous impact without a large public investment.
What the U.S. Can Do: Break Up with Biofuels
President Obama has hailed biofuels as an answer to energy dependence. As oil prices rise, the temptation is to believe that biofuels are the answer to energy independence. However, to replace 90 percent of U.S. gasoline with ethanol as some ethanol lobbying groups have suggested, farmers would have to plant four times the current corn crop and use every bushel for corn ethanol fuel.
The ethanol industry already has a triple incentive to produce corn for fuel – a $6 billion annual tax credit, protective tariffs and a production mandate set out in the federal Renewable Fuel Standard (RFS). This mature industry does not need all this support, especially in light of the fact that biofuels have shown that they are not the environmentally-sustainable answer to energy security and rural development that some once hoped.
As a result, U.S. farmers have diverted 40 percent of corn production from food and feed to fuel, and land once used for soybean production has been converted to corn to meet the demand for biofuels set out in the federal RFS. Seven times as much corn is sent to ethanol plants than is being kept in our national stockpiles. Over the last two years, the amount of corn fed to livestock fell by 3 million metric tons, while corn shipments to ethanol producers grew by 33 million tons. These shifts put pressure on food stocks until they cross a tipping point, driving prices up.
Spending scarce taxpayer dollars to shift crops from food to biofuels at the expense of hungry people and already stressed resources like soil, water and air is unsustainable. Shifting land to biofuels production only creates unintended consequences like contributing to rising food prices and unrest around the world.
Budget cuts are inevitable in the new Congress. But the answer is not to cut things like foreign aid, slashing funding for programs that enable farmers like Mr. Tuan to feed themselves while another global food crisis unfolds. Instead, we can save money right away by not reinstating the ethanol tax credit or agreeing to other giveaways like funding for ethanol infrastructure. We can also help relieve pressure on record commodity and food prices by freezing the corn ethanol mandate.
No one wants a rerun of the 2008 global food crisis in 2011. But one thing is certain: if we don't address the true causes of food crises, history is destined to repeat itself. The recent political unrest in Egypt, Tunisia and Yemen shows us once again that food price spikes are a threat to already impoverished citizens, economic recovery and political stability worldwide.
Acknowledgements
Sean Gray, senior analyst at EWG, map illustrator; Marie Brill, senior policy analyst at ActionAid; and Sheila Karpf, legislative and policy analyst at EWG