Gas Gouge Calculator
Find out how much more you'll pay for gas this year
Find out how much more you'll pay for gas this year
Americans in 50 metro areas will pay $83 billion more for gasoline this year at $3 per gallon, compared to the prices they paid in February 2003 — and even more if prices continue to rise as expected, says a new Environmental Working Group (EWG) analysis that calculates the increased cost of gasoline per family in the 50 largest metro areas.
Gas Prices Climbing: How Much More Are You Going To Pay For Gas?
| | |
| --- | --- |
| $1,774 | The average two-car family will pay $1,774 more for gas each year at current prices, compared to pre-Iraq War prices.* |
| $100 | How much Congress thinks you deserve in light of recent gas price trends |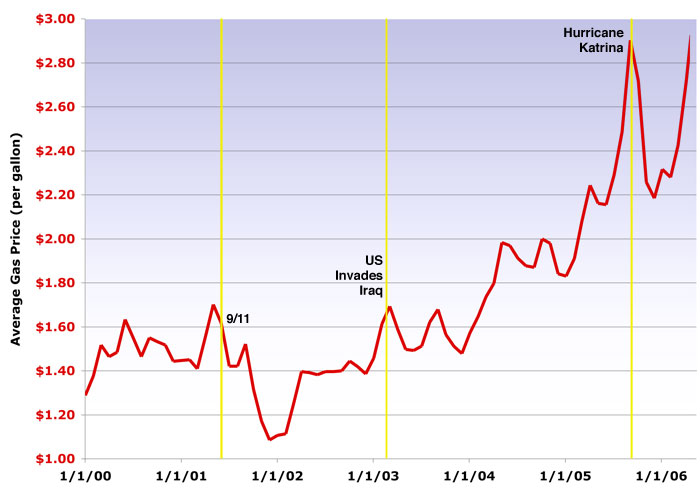 *Source: EWG -- Compiled from Department of Energy and Department of Transportation Data. Based on national average gas mileage (20.3 MPG), average miles driven per year (13,750), and average national gas price.
What About For Big Industry?
For the oil, gas, and automobile industries, however...
Handed out multi-billion dollar tax breaks, even in light of record-breaking profits
Royalty relief (drilling on your public lands, for free!)
Rolled back environmental protections
Blocked improved vehicle mileage standards
Undermined initiatives to develop alternate energy sources
Sponsored massive expansion of oil and gas drilling at the expense of pristine Western lands
Attempted to kill Amtrak
Continued to fund massive highway projects while starving public transit systems
Family Gas Expenditures Soaring