Getting more bang for the buck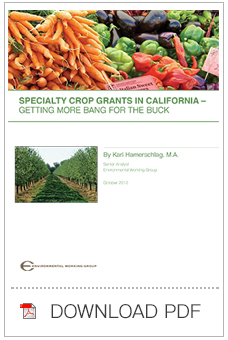 View and Download the report here: Specialty Crop Grants
The federal Specialty Crop Block Grant (SCBG) program, though tiny compared to the billions that flow to growers of commodity crops such as corn and soy, is one of the government's most important efforts to promote cultivation and sale of fruits, nuts and vegetables. The funding is especially important to California, which grows nearly half of the nation's fruit and vegetable crops and gets roughly $17 million a year in these block grants. California received more than 30 percent of the $55 million total paid out nationally in these block grants in 2011. 
The program is funded under the federal farm bill to increase "the competitiveness of the specialty crop sector" and is overseen by the U.S. Department of Agriculture (USDA). The California Department of Food and Agriculture (CDFA) manages the grant-making process and defines the program's priorities in the Notice of Funding Availability (hereafter referred to as the "technical guidance document"), which fall in three broad categories: Research, Marketing and Nutrition. In 2009, grant requests in California totaled $65 million, nearly four times the amount of funding available to the state. The SCBG Program is among the most important sources of support for food and agriculture projects in California.
Environmental Working Group reviewed the program's performance over the past three years to assess whether its funding priorities and decision-making process are in line with CDFA's top priorities and strategies as defi ned by the California Agricultural Vision, a strategic plan for agriculture adopted by the agency in 2010 after a broad consultative process involving multiple stakeholders. CDFA cited the "Ag Vision" prominently in the plan it submitted to USDA for implementing the block grants, and CDFA Secretary Karen Ross refers often to the plan as a guiding document for the agency's priorities.
How the federal farm bill fails California agriculture