What food labels don't tell you about this artery-clogging synthetic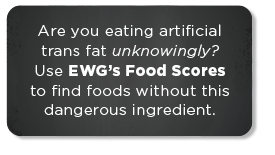 Did you know that artificial trans fat is an artery-clogging synthetic blamed for 20,000 heart attacks and 7,000 deaths yearly? Even worse, did you know that you could be eating it without even knowing it?
The U.S. Food and Drug Administration has just taken a major step forward by ordering food processors to stop using partially hydrogenated oils because they're responsible for most artificial trans fat in processed food. But don't expect grocery store shelves to be free of trans fat anytime soon. The FDA is giving food processors three years to reformulate. Besides, FDA rules allow manufacturers to label foods "zero trans fat" if they contain less than half a gram per serving.
How do you know which products are free of artificial trans fat? Check EWG's Food Scores database. We'll tell you the truth about trans fat in popular items. For instance, look at these categories:

There's more to do. By phasing out partially hydrogenated oils, the FDA has tackled a major source of the trans fat problem, but it hasn't barred other ingredients that contribute traces of trans fat, including refined oils, fully hydrogenated oils and some emulsifiers, flavors and colors.
Importantly, the FDA should close the loophole that allows food processors to round off less than half a gram per serving of trans fat to zero. Half a gram doesn't sound like much, but it adds up fast—especially for kids.