disGraceful
Senate bill helps Libby asbestos workers but denies help to many who processed Libby ore
Tuesday, January 31, 2006
Senate bill helps Libby asbestos workers but denies help to many who processed Libby ore
Newly uncovered, never-before-released documents from W.R. Grace show that workers in at least 14 W.R. Grace insulation factories around the country labored under inhumane conditions where the amount of lethal asbestos dust in the air was equal to or greater than the deadly levels recorded at the notorious Grace-owned Libby mine [Freeman v. W.R. Grace 1990].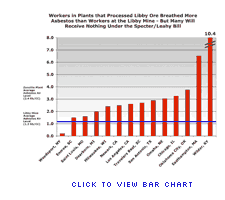 In spite of these heavy exposures, many, and perhaps most workers at these factories who develop asbestos disease will receive zero assistance under the Specter/Leahy asbestos trust fund bill that appears headed to the Senate floor as early as next week. The reason: many of these workers did not work long enough at these facilities to meet the "exposure" criteria in the legislation. In contrast, workers at the Libby mine are exempt from these exposure criteria, and will receive a minimum $400,000 for any confirmed asbestos disease, regardless of the length of their employment.
The Senate has rightly recognized the hazards of asbestos and waived all exposure criteria for workers and residents in Libby. While clearly justified, the waiver exposes the power and cruelty of these criteria as a mechanism to deny assistance to thousands of workers subjected to heavy asbestos exposure outside of Libby, Montana. The Specter/Leahy bill should be amended to eliminate all exposure criteria for all asbestos workers, not just those in Libby.
From 1948 to 1993, more than 5.8 million tons of asbestos-contaminated ore from Libby, MT, was shipped to 236 different addresses in 39 states [EWG 2004]. Most of this vermiculite ore was heated in furnaces and "popped" into insulation, which by some estimates is in the attics of about 30 million American homes. The largest of these insulation factories processed hundreds of thousands of tons of Libby ore.
Asbestos exposure in insulation factories was greater than the Libby mine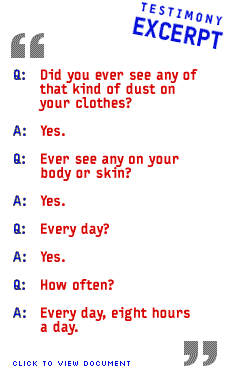 Documents and testimony from W.R. Grace litigation and worker's compensation hearings show that workers in at least 14 W.R. Grace factories around the country that processed Libby vermiculite were forced to work in extremely harsh conditions where the asbestos levels in the air were on average nearly 3 times greater than the levels recorded at the Libby mine.
According to sworn testimony from workers in these facilities, working conditions were abominable. Dust was everywhere, coating everything, and laborers were often forced to climb into unventilated furnace silos, sometimes five or six times a day, to knock caked ore off the inside of silo walls with a hammer. They had to bag, sweep, and haul the asbestos laden insulation and handle bales of raw ore, day after day, usually with no respiratory protection.
Libby miners get help, asbestos insulation factory workers don't
The Fairness in Asbestos Injury Resolution (FAIR) Act, provides a guaranteed award of $400,000 to employees of the Libby mine when they are diagnosed with asbestos disease as defined by the bill, regardless of how long they worked there (Sections 121(b)(4) and 121 (f)(8)(B)).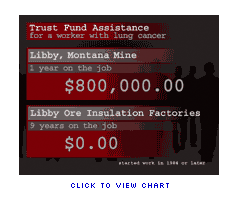 In contrast, workers in the asbestos mills that processed the same asbestos tainted ore from the Libby mine, are subject to newly-minted, byzantine exposure criteria to qualify for any assistance. The benchmarks, which are not supported by any independent medical experts or mainstream medical associations, require 5 to 15 "weighted" years of work at the asbestos facility to become eligible for any assistance under the fund.
For insulation workers at these factories, a calendar year of work equals four weighted years if it occured through 1975, two years if it occured from 1976 through 1986, and only 146 days if it occured after 1986.
These criteria create a clear double standard for workers at these factories compared to Libby workers who are exempt from them. Consider two employees, both non-smokers, both asbestos lung cancer victims. The first worked in the Libby mine for one year, the second put in nine years at the asbestos plant making insulation from Libby ore beginning in 1984. The worker in the mine will get $800,000 under the bill. The worker in the plant will get nothing because according to the bill he did not work long enough to qualify for any assistance at all (Section 121(c)(8)(A)(ii)(I).
The double standard
This discrimination against employees who worked with Libby ore at factories across the country stems from an ill-conceived effort to provide some measure of justice to both asbestos workers and residents of Libby, Montana where the risks of asbestos are beyond dispute.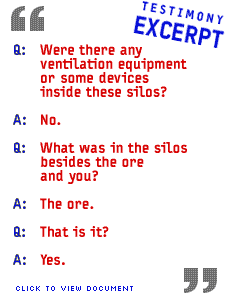 To help the people of Libby, the bill waives all of the mandatory minimum exposure, or length of employment requirements for residents and workers from Libby, but leaves them in place for anyone else seeking assistance under the bill.
The criteria establish novel, arbitrary, and completely unsubstantiated minimum exposure requirements for all asbestos disease categories. To receive any help under the bill, all non-cancer asbestos disease requires a minimum of 5 weighted years of exposure, and all cancers require from 8 to 15 weighted years. The bill allows that a calendar year of work at a more hazardous occupation counts as more than one exposure year under the bill's criteria, but then discounts every year of exposure after 1975, valuing all years after that as just one half year, and all employment that occurred after 1986 as one tenth of a year, or 36.5 days of work (Section 121 (a) 16 (E)).
There is no medical or scientific rationale for devaluing a year of work exposure to airborne asbestos by 50 percent if that exposure was between 1976 and 1986 and by 90 percent if exposure took place after 1986. Asbestos use peaked in the U.S. in 1974, at 1.4 billion pounds; use in 1976 was clearly over 1 billion pounds, and workplace safety standards recommended by the National Institute of Occupational Safety and Health (NIOSH) were not adopted by the Occupational Safety and Health Administration (OSHA) until 1994, a full 18 years after the bill begins to devalue a year's worth of work around asbestos [NIOSH 2002; EWG 2005].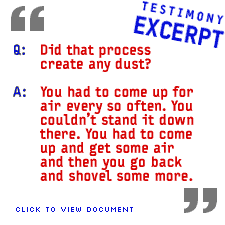 Even full compliance with the OSHA standard does not mean that workers are fully protected. The preamble to the OSHA standard estimates that one in every 300 workers will develop lung cancer from exposure to airborne asbestos fibers at the legal limit [OSHA 1986]. A more recent assessment concludes that one in every 200 workers will develop lung cancer if they are exposed to a career's worth of asbestos at the OSHA "safe" level.
W.R. Grace: The 2005 criminal indictment
One compelling reason to eliminate the double standard for workers who labored with asbestos outside of Libby, is the multi-count criminal indictment a federal grand jury handed down against Grace officials on Feb. 7, 2005. The prosecutor, William Mercer, called Grace's treatment of workers and residents of Libby "a human and environmental tragedy."
The indictment alleges that the company was aware of several studies documenting the dangers of asbestos exposure, but concealed this knowledge from EPA officials. These studies include a 1976 study which revealed a high incidence of asbestos-related lung problems in Libby employees; an animal study finding cancer in hamsters exposed to the asbestos fibers present at the mine; a 1981 health study of employees showing a high rate of asbestos-related lung problems; a 1982 mortality study showing a high incidence of respiratory cancers in Libby employees; and several specific case studies of employees with lung diseases [U.S. v. W.R. Grace 2005].
If Grace behaved in such a manner towards its employees and neighbors in Libby, it must be assumed the company would be likely to treat with a similar, calculating disregard the workers and surrounding communities of the "hotspot" facilities.