Biofuels and Bad Weather
America's Food-to-Fuel Gamble
America's Food-to-Fuel Gamble
When the Bush administration and Congress required gasoline refiners to blend in 15 billion gallons of corn-based ethanol by 2015, they made the impossibly rosy assumption that American farmers would always enjoy good weather. But as every farmer knows, years with perfect growing conditions are uncommon and getting more rare.
In early April, Environmental Working Group Founder Ken Cook warned that the government's food policy amounted to "hope for good weather." However, hope is not a policy. And it now seems likely that some of the worst weather since the historic 1993 floods will mar the 2008 growing season. With the potential for widespread corn production loss due to this spring's prolonged cold, heavy rains and flooding in the Corn Belt, and with crop and food prices soaring to new records almost every week, the disastrous cost of Washington's lack of commonsense is apparent.
Most experts agree that the corn ethanol mandate plays a key role in higher corn and soybean prices and inflated U.S. and global food prices. The Washington ethanol mandate to convert food to fuel, a key provision of the 2005 and 2007 federal energy bills, put the full weight of U.S. policy behind the corn ethanol boom. Add to the equation the extreme weather already inflicted on the Corn Belt, and the likelihood of summer heat and a fall freeze, and an even sharper food and fuel price spiral seems inevitable.
If this scenario plays out, inflation is likely to worsen throughout the foundering U.S. economy. And many experts predict that the pace of food price inflation is likely to quicken in 2009, in line with the ethanol mandate's climbing food-to-fuel targets.
Congress has only one recourse: re-open the debate on the ethanol mandate.
This week, Ron Litterer, president of the National Corn Growers Association (NCGA) has suggested his organization might support changes in the ethanol mandate if supply shortages cause "severe economic impact."
This report is the result of extensive interviews with agricultural economists and climatologists in the Corn Belt conducted in Spring 2008, and a May 29, 2008 EWG news briefing1 with four economic and weather experts describing the impact of bad weather on corn production, food prices and the ethanol mandate. The policy views expressed here are EWG's alone and are not the views of the participants in the interviews or the news briefing.
Examining The Food, Fuel, And Weather Connections
During the May 29th press call, Keith Collins, former Chief Economist for the USDA attributed the rise in food prices (which the World Bank estimates has been an 83 percent increase over the last three years - see the World Bank graph) to several factors, including "biofuels expansion, global income growth, the weakening dollar, high petroleum prices, and governments protecting their markets."
Another important factor is the weather-related crop failures worldwide that have drawn down global grain stocks for several years. All of these factors contribute to the increased demand for corn as both food and fuel stocks while recent weather disturbances in the Midwest now threaten reduced production for 2008 and even lower corn stocks.
Source: The World Bank. "Rising Food Prices: Policy Options and World Bank Response." 2008.
Also on the call, Dr. Elywnn Taylor, an Iowa State University climatologist, pointed out that the supply conditions this year due to inclement weather are approaching the poor supply conditions during the nation's historic 1988 drought, which cut the corn crop by 28 percent and created great volatility in the markets.
Making the problem worse, the new demand conditions (such as biofuels, the weak dollar which makes our exports attractive, and the rapidly growing middle class in Asia), may create even more volatility in the price of corn and the price of foods that depend on corn. Last year, 20 percent of the U.S. corn crop was diverted to fuel. One factor was the high price of oil that made ethanol competitive as a transportation fuel.
Another factor was the signal Washington's food-to-fuel ethanol mandate sent to investors to continue the rapid expansion of the industry. This year, 30 percent of the corn crop is expected to go into our gas tanks. 2 (See the EWG graph on corn uses). Ethanol and other food-crop based biofuels (like sugar cane, soybeans, canola oil, and palm oil) are a major new demand for cropland that would otherwise be growing food crops. Estimates for how much of the food price rise is due to biofuels ranges from 10 to 30 percent according to the UN's Food and Agriculture Organization3 and the International Food Policy Research Institute.4
Source: Environmental Working Group. Data compiled from the U.S. Department of Agriculture Economic Research Service, Feed Grain Tables 4 and 31.
The additional demand for corn as fuel has left very little cushion between the supply and the demand for corn. These problems are magnified in 2008 because the U.S. is predicted to plant eight percent less corn than in 20075 and problematic weather forecasts for 2008 may further reduce harvests and exacerbate the competition between food and fuel. To a disturbing degree, then, the critical assumption in the nation's "plan" for ensuring that ethanol policy does not dramatically disrupt the food economy, comes down to this: good weather. For climatologists and agricultural economists, the hope is that the current cold and wet weather conditions that have delayed corn planting and interfered with crop emergence do not continue. Unfortunately, comparisons between this year's weather events and two historic weather disasters are already occurring. The 1988 drought and the 1993 excess water events reduced corn production by 28 and 24 percent, respectively.
How Bad Has The Weather Been For Corn This Year?
Due to the La Niña weather phenomenoni this year, states across the Corn Belt (see USDA map showing top corn-producing states) experienced record-setting wet weather in the winter and spring while forecasts for a drought this summer remain troubling. Illinois, for example, the second largest corn-producing state in the country providing 17 percent of the nationwide total, had the third wettest winter on record6 and in February, received the second highest rainfall since 1895.7 The Mississippi River, which runs through the heart of the Corn Belt, saw its highest recorded flood level since 1973 this year in April.8 As of June 9th, farms in Iowa, Illinois, and Nebraska – the top three corn producing states providing 47 percent of the nationwide total - got as much as 12 inches of rain in the last 30 days - four times the normal amount for 30-day rainfall totals.9
In response to these weather and crop production reports from the Corn Belt, the USDA revised its forecasts for the national 2008 corn crop on June 10th announcing that yield projections were cut to 148.8 bushels per acre, down 5 bushels from last year and the lowest since 2005-2006. Reflecting the slow planting progress, slow crop emergence, and persistent heavy rainfall across the Corn Belt, the USDA announced that corn production would fall this year to 11.73 billion bushels, down 10.2 percent from last year's 13.07 billion bushels.10
In Iowa, the nation's number one corn-producing state, providing 19 percent of the total, the Des Moines River (a key tributary to the Mississippi River) is expected to come within 6 inches of its record height (by the second week of June) which it reached during the historic floods of 1993.11 Some fields in Iowa received more than 8 inches of rain in the first week of June, representing approximately one-third of the normal rainfall for the entire year.12 The effect of this extreme weather in Iowa is already being felt. According to the USDA, as of June 1st, about 74 percent of the Iowa corn crop had emerged from the ground, compared with 92 percent a year ago and the previous five-year average of 89 percent.13 As of June 8th, 89 percent of the crop emerged versus the previous five-year average of 98 percent emergence. The USDA expects that part of this crop will have to be replanted due to flooding.14 The USDA Crop Progress Report released June 16, 2008 rated corn conditions at only 49 percent good or excellent, down from 56 percent good or excellent on June 9th.15
As for Illinois, State Climatologist Dr. Jim Angel explains in his June 9th press statement:
"For the fifth time this year, the monthly statewide precipitation has been above average, resulting in the third wettest January – May since 1895... Average June rainfall is around 4 inches in central Illinois and many stations have already reached or exceeded that threshold... Not surprisingly all the heavy rains have led to saturated soils and water standing in many fields… Meanwhile, May statewide temperatures averaged 59 degrees, 4 degrees below average… This continued a pattern of below-average temperatures since February. This was the 18th coolest February-May on record at 44 degrees, 3 degrees below average." 16
Some crop experts in Illinois are suggesting that a 10 to 12 percent loss in corn yields is an optimistic figure at this point given the heavy rains taking their toll.17 A large number of farmers in Illinois were forced to replant hundreds of acres due to 5 inches of rain in the first week of June.18 Corn yields could be cut by as much as 50 percent in some areas. According to the USDA,19 as of June 8, 95 percent of the corn crop was planted, 88 percent had emerged, and the average height was 7 inches. In contrast, the five-year averages are 99 percent planted, 98 percent emerged, and 17 inch average height. As of the June 16 USDA Crop Progress report, the corn crop conditions were rated as 5 percent very poor, 12 percent poor, 35 percent fair, 43 percent good, and 5 percent excellent.20
Nebraska, the 3rd largest corn producing state in the country supplying 11 percent of the national total, experienced strong winds, excess rain, and hail which have been damaging crops and impeding the planting process. For the week ending June 8, temperatures ranged from highs in the lower 90s to low in the 40s. An average of over an inch of rain fell over the state of Nebraska, with the Central, East Central, and North Central districts averaging over three inches of rain. Some areas in Nebraska have received as much as 14 inches of rain in the three weeks preceding June 11. Some fields even experienced a 100 percent crop loss.21 Corn conditions in Nebraska were rated at 2 percent very poor, 6 percent poor, 27 percent fair, 56 percent good, and 9 percent excellent. This is significantly worse than last year, according to the Nebraska Field Office of the USDA's National Agricultural Statistics Service, when 75 percent of the corn crop had a good or excellent rating compared to this year's 65 percent.22 As of June 8, the USDA estimates that 95 percent of the Nebraska crop emerged versus the previous five-year average of 98 percent emergence at this time. 23
Notes
i As of February 2008, scientists at National Weather Service report that we are in a La Nina phase of the ENSO weather phenomenon given the sea surface temperatures around the equator were more than two degrees C cooler than average. The El Nino Southern Oscillation (ENSO) phenomenon occurs when sea surface temperatures are above or below normal. Half the time, there is neither El Nino nor La Nina in the Pacific Ocean. In the last 10 years, there have been five ENSO events: three El Nino and two La Nina events. The last La Nina was in 2000/1.
How Bad Weather Hurts Corn
Dr. Al Dutcher, State Climatologist for the University of Nebraska, in response to EWG questions about the possible impacts of the 2008 La Niña weather disturbances on the corn crop explained that bad weather can negatively affect corn at all stages of production and development during the spring, summer, and fall months. Bad weather such as too much rain, excessively soaked fields, and cold temperatures delayed corn planting in the Corn Belt this spring during the ideal planting months of April and May. In the months of May and June when the corn is supposed to be emerging from the ground, severe flooding is currently washing away many acres while standing water in fields has drowned many plants. These plants may not be able to be replanted if the fields don't dry up quickly enough to get a new corn crop in before the summer months. In addition, farmers may not be able to find corn seed to re-plant. As soon as the fields dry out, the crop will likely have to fight off moisture-related disease and pests like root worm that can further wipe out whole fields. By the time summer rolls around, key pollination stages of development called tasseling and silking are highly sensitive to drought conditions that would further hurt crop yields and lower crop acreage. And finally, in the fall, the delays from the spring might force the already weakened crop to withstand a fall frost before harvest. According to Mr. Dutcher, what's going on right now in the central states with excess rain and flooding is analogous to the history-making flooding events of 1993. Back in May 1993, there was excess soil moisture, high precipitation, and flooding in the upper Corn Belt states (Minnesota, Wisconsin, and northern Iowa). Yield reductions then (about 24 percent) due to the excess water were nearly identical in magnitude to losses from the historic 1988 drought (28 percent). Economist Bill Lapp said on the press call,
"Of all the years to worry about, this would be the king pin of those years. We're seeing a very volatile market right now. The big challenge will be to get through this growing season and then additional corn acres will need to be found in 2009."
Dr. Taylor pointed out on the press call that a lot of faith is put into the new hybrid corn varieties that are meant to withstand non-ideal weather conditions. He cautions, however, that "a bad year (in weather) will still cut the yield in half" despite these new technologies.
The Effects Of Poor Corn Production
The grain trading markets respond very quickly to news about bad weather interfering with crop production. On June 10th, the day the USDA released their weekly Crop Progress report, corn prices surged to a new record of $6.73 per bushel on the Chicago Board of Trade.24 In contrast, the average annual price of corn for 2007 was $3 per bushel. Previously, on April 1st, the day after the USDA released their annual planting intentions report announcing corn acres would fall 8 percent over 2007 levels, prices rose to a then historic high price of $5.88 per bushel.25 On the press call, former Chief Economist Collins warns,
"We're not in normal corn and soybean markets right now and the growth in biofuels ensures tight supplies and high prices for at least two years. There is no cushion if we have a weather-reduced crop."
Collins went on to explain that currently US corn exports are expected to be down 16 percent and feed use down 14 percent for the 2008 crop year. If the US has a poor crop, the domestic feed and fuel users will be highly vulnerable to financial consequences. Regarding the impact on the livestock industry, the affect is quick for poultry but slower for beef and hogs due to the inability of chickens and egg laying hens to tolerate substitutes to corn in their diet. Collins points out, "There's a substantial increase in beef cow slaughter going on now. Beef cows were 10 percent of total cattle slaughter in the first quarter, up from 8.5 percent (in this time period) in 2006, so liquidation of the herd is occurring and this will show up slowly in higher meat prices." Also on the press call, Economist Bill Lapp continued that,
"The impact on food inflation will be dramatic and I don't see how we can avoid it. As of April 2008, bread prices were up 14 percent, vegetable oil was up 12 percent, eggs were up 30 percent. Prices will probably rise even higher in 2009…You can't have the price of one commodity run away without the others moving in tandem. My theory is that with the global economic growth, the geopolitical uncertainty, the weak dollar, China's food demand, and food use as fuel is driving us to a new price plateau – wherein the prices of commodities and food jump up but don't come back down. My assessment is that from 2008 to 2012, the average annual rate of increase in the CPI will be 9 percent."
In recent years, the U.S. Consumer Price Index (CPI) for food, which tracks retail food prices, has increased around 2.5 percent per year but increased 4.0 percent in 2007 and is expected to be even higher in 2008. Overall, Collins concludes that the cold and wet weather conditions for corn production are pushing yields below trend and with little prospect for more acreage, "production is very likely to be well below demand."26
What Will The Weather Bring This Summer?
Mr. Dutcher warns that the delay in corn planting and crop emergence will push the remaining crop into a critically hot period in the summer and may interfere with the development of the kernel during its most important pollination stage. There is a 10 to 14 day window in the middle to the end of July when corn silks develop. Silks are the hollow tubes on corn cobs that capture pollen in order to germinate the kernel. If it's too hot or too dry, the development of the kernel is altered. On the press call, Mr. Dutcher warned,
"Given last year's season's temperatures and this year's delays, we may be at tasseling stage around the 18th of July and the silking stage at the 25th of July. Statistically, the hottest one week of the year falls within this 7 day period. If temperatures in June remain cooler than normal, this will push maturity farther and we may be able to get through the pollination period. (However), the corn will still be trying to mature before fall freeze. And if last year's fall temperatures replicate this year, there may be an early freeze this year. So it will take nearly perfect weather this point forward to recover."
According to Gary Drimmer27, agricultural economist, the prognosis for 2008 is quite bleak if history is any guide.
"La Niña years are highly correlated (70 percent) with below trend line yields in US corn production…It's been 19 years since the last major drought in the corn belt – which happens to be the historical average between droughts."
Fortunately, the chances of a major drought have diminished, according to estimates by Climatologist Elwynn Taylor. Taylor has lowered the probability of drought this summer from 33 percent (as of May 2nd) to 23 percent (as of June 13th).28 That is, there is a one in four chance – that a major drought could occur this summer. However, even if the Corn Belt avoids a major drought, delayed planting and crop emergence pushes the critical pollination period of corn crop into the hottest months of the year. Given that the nation relies on the top two corn-producing states, Iowa and Illinois, for over a third of the nation's corn (36 percent), Al Dutcher warns:
"The whole corn crop boils down to what Iowa and Illinois will do since much of the corn crop in these two states is not irrigated. If you have any problem with those two states, the market will explode…It's going to take extraordinary circumstances to get through this year without major interruptions in corn production… We've got a mess on our hands.29"
In other words, since 5 billion bushels of corn30 produced in Iowa and Illinois are not irrigated, nearly 40 percent of the corn crop is dependent on good weather. Since the Renewable Fuels Standard mandates that 9 billion gallons of corn ethanol be blended into US gasoline this year, the gasoline, corn and food markets are closely linked. Any major weather disturbance this year could have a serious impact on corn, food, and gasoline prices. A Wells Fargo & Co. vice president and agricultural economist went so far as to say,
"You might see a point where even the threat of a drought could cause gas prices to rise.31"
Darrin Newsome, an agricultural economist from DTN, a farm news organization observed,
"We could see a spike that would raise prices so much in so many places that it could tip the U.S. into a recession.32"
Revisiting Our Options
The rush to support corn ethanol via the ethanol mandate from Congress and the Bush Administration was so enthusiastic that even the experts were caught off guard by the rise of farm prices this year. According to Keith Collins,
"We did not anticipate these soaring prices. Long run projections from the Congressional Budget Office, USDA, and the International Food Policy Research Institute (a major economic think tank), none of them (predicted) prices like we're seeing now in the cash and futures markets. No one forecasted $5.50 to $6.30 per bushel corn prices. We were in the $3.70 per bushel range."
There was one group, however, that was warning of dire consequences when Congress was deliberating expanding the 2007 RFS mandate five-fold over the 2005 mandate. Livestock producers warned Congress that since they rely on over 50 percent of the US corn crop to feed their animals, a huge corn ethanol mandate would hurt them. In response, Congress easily defeated an amendment they supported that would have waived the mandate if the U.S. Stocks to Use Ratio (S/U) for corn dropped below 10 percent. The Stocks to Use Ratio (simply the measurement of the remaining carryover as a percentage of consumption) helps determine the price of corn. The livestock producers and agricultural economists know from experience, that when the S/U falls below 10 percent, the price of the stock will rise sharply. In the case of corn, it will become difficult for producers to keep buying corn for meat production. In 2007, the U.S. corn S/U ratio dropped to 9.5 percent, the lowest it's been in five years.33 (See the stocks to use ratio chart)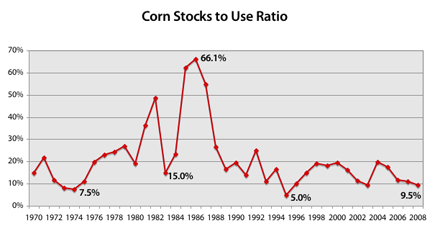 Source: Environmental Working Group. Data compiled from the U.S. Department of Agriculture Economic Research Service.
Senator Thune speaking at the American Coalition for Ethanol conference in August 2007 bragged about the successful defeat of a waiver to the RFS if corn S/U fell below 10 percent:
"The second amendment was an automatic waiver of the Renewable Fuels Standard if the corn stocks-to-use ratio fell below 10 percent. This ratio is a false indicator of corn demand and expected price. Weather conditions, export demand, feed production, and other market forces all play a role in determining the corn-stocks-to-use ratio. Such a waiver would suffocate investment in new ethanol plants, as investors would be forced to predict future corn-stocks-to-use ratios. Fortunately, the majority of U.S. Senators saw these amendments as misguided attempts to derail domestic biofuel production, and these amendments were soundly defeated on the Senate floor… the corn-stocks-to-use amendment was defeated 63 to 31. However, these amendments are an important reminder that Congress cannot rest on our laurels following the 2005 RFS and must continue to work hard on behalf of the American farmer, our ethanol producers, and consumers across the country who are tired of being held hostage by high gas prices and foreign oil dependency."
When asked on the press call how things might improve in the future, Collins said,
"We could achieve conversion to cellulosic ethanol and corn yields could improve. But we've got the foot on the accelerator in our current ethanol situation and there's little prospect to back off that. Nine billion gallons (of corn ethanol) are required (by the Renewable Fuels Standard mandate) in 2008 and 15 billion gallons are required in 2015 so there will be substantial increases in the demand for corn, and thus (there will be) pressure on prices and low stocks for the next few years."
If Congress were to remove the RFS, Collins notes that, "At least three studies have estimated that corn prices could fall by over 20 cents per bushel in the near term to up to 60 cents per bushel after several years." One such study was conducted by agricultural economist Bruce Babcock and Lihong Lu McPhail from Iowa State University.34 They estimated last March what would happen to corn prices if a major weather disturbance were to reduce the crop this year. Simulating the effect of a 1988-style drought (roughly a 28 percent shortfall from expectations) in 2008, the economists estimate corn prices could rise to $7.99 per bushel if the RFS remained binding. If the RFS mandate was lifted, prices may rise to $6.59 per bushel. With such high corn prices, the authors predict ethanol producers' operating margins will be squeezed, plants will not be able to break even let alone earn a profit, and therefore, they will shut down. The authors say the RFS mandate could be enforced if the government:
a) forces ethanol plants to produce at a loss,
b) forces ethanol-gasoline blenders to blend at a loss, or
c) increases the blenders credit to keep the ethanol plants running.
The method currently in place in the RFS would put the burden on ethanol blenders, but taxpayers could be forced to pick up the tab through increased or new tax credits or other efforts to keep ethanol plants open. U.S policy to promote the production of food crop-based biofuels is both short-sighted and dangerous. High corn prices will limit the contribution corn-based ethanol can make to our energy supplies, unless taxpayers are asked for more and more subsidies and credits to support the industry. The more corn diverted into fuel production in hopes of solving our energy problems, the greater the risk imposed on hungry people. The whole world, from average Americans to the poorest billion people on the planet, cannot rely on America's food-to-fuel gamble. We need to step back from our current policies and chart a new course to a more sustainable biofuels policy.
References:
1 Press Call hosted by EWG. Mulchblog. May 29, 2008 http://mulchblog.com
2 Glauber, Joseph. "Prospects for the U.S. Farm Economy in 2008." U.S. Department of Agriculture, 2008 Agricultural Outlook Forum. February 21, 2008. http://www.usda.gov/oce/forum/speeches.htm
3 Food and Agriculture Organization of the United Nations in Andrew Martin, "Backlash grows over use of biofuels as food prices climb." New York Times. April 15, 2008. http://iht.nytimes.com/articles/2008/04/15/business/food.php?scp=1&sq=
Backlash%20grows%20over%20use%20of%20biofuels%20as%20food%20prices%20
climb&st=cse
4 von Braun, Joachim. "The World Food Situation: New Driving Forces and Required Actions." International Food Policy Research Institute. December 2007. http://www.ifpri.org/pubs/fpr/pr18all.asp
5 US Department of Agriculture Annual Prospective Plantings and Grain Stocks Reports. March 31, 2008.
6 Illinois State Climatologist Office. Third wettest January-April on record for Illinois. May 2, 2008. http://www.sws.uiuc.edu/atmos/statecli/Events/April2008/index.htm
7 Illinois State Climatologist Office. Wettest February Ends Third Wettest Winter. March 4, 2008. http://www.sws.uiuc.edu/hilites/press/080304wetfeb.asp
8 U.S. Geological Survey. Highest Flood Recorded on Lower Mississippi River Since 1973. Released: 5/1/2008 2:09:19 PM http://www.usgs.gov/newsroom/article.asp?ID=1926
9 Jeff Wilson. Bloomberg. Corn Rises to Record, Soybeans Gain as Floods Hurt U.S. Crops. June 9, 2008. http://www.bloomberg.com/apps/news?pid=20601110&sid=abUVtsSXorFU
10 USDA. NASS. Crop Production. June 10, 2008.
11 Register Staff. Des Moines Register. Downtown DM residents should be ready to go, official says. June 11, 2008.
http://www.desmoinesregister.com/apps/pbcs.dll/article?AID=/20080611/NEWS/80611002
12 Jeff Wilson. Bloomberg. Corn Rises to Record, Soybeans Gain as Floods Hurt U.S. Crops. June 9, 2008.
13 Jeff Wilson. Bloomberg. Corn Rises to Record, Soybeans Gain as Floods Hurt U.S. Crops. June 9, 2008.
14 USDA. NASS. Crop Progress Report. June 9, 2008.
15 Jerry Perkins. Altoona Herald. 'Miracle' needed for good yields from wet fields. June 10, 2008.
http://www.altoonaherald.com/apps/pbcs.dll/article?AID=/20080610/BUSINESS01/806100382/-1/CONTACTS02
16 Jim Angel, state climatologist for Illinois. Third wettest January-May on record for Illinois. June 9, 2008.
17 David Mercer. Associated Press. Wet Weather starting to cut into Illinois corn. June 11, 2008. http://www.chicagotribune.com/news/chi-ap-il-illinoisflooding-,0,3847314.story.
18 Henry Jackson. Associated Press. Flooded fields leads to worries about corn crop. June 6, 2008. Flooded fields leads to worries about corn crop. http://www.chicagotribune.com/news/chi-ap-ia-corncrop-rain,0,6229514.story
19 USDA. NASS. Crop Progress Report. June 9, 2008.
20 Tim Landis. Gatehouse News Service. Flooding could cut yields in half in some areas. June 11, 2008. http://www.pjstar.com/business_news/x816776884/Flooding-a-two-edged-sword-for-farmers.
21 Robert Pore. The Grand Island Independent. Bad Weather takes toll on area crops; FSA director assesses damage. June 11, 2008. http://www.wickedlocal.com/ne-grandisland/news/x379965933/Bad-weather-takes-toll-on-area-crops-FSA-director-assesses-damage.
22 Pro Farm Editors. AgWeb. June 10, 2008. State Corn/Soybeans Weather Reports. (http://www.agweb.com/get_article.aspx?src=fssoy&pageid=143517)
23 USDA. NASS. Crop Progress Report. June 9, 2008.
24 Alan Bjerga, US Corn Crop May Drop 10% as Yields Fall, USDA Says. Bloomberg News. June 10.
25 US Department of Agriculture Annual Prospective Plantings and Grain Stocks Reports. March 31, 2008.
26 Press Call hosted by EWG. Mulchblog. May 29, 2008 http://mulchblog.com
27 Drimmer, Gary. "La Nina Threatens to Hurt Global 2008 Wheat, Corn and Soybean Crops," Nov 20, 2007. Gerson Lehrman Group. http://www.glgroup.com/News/La-Nina-Threatens-to-Hurt-Global-2008-Wheat-Corn-and-Soybean-Crops19245.html?obj=Search&Keyword=soybean
28 Dr. Elwynn Taylor, Iowa State University Climatologist, personal communication, June 13, 2008.
29 Dr. Al Dutcher, University of Nebraska State Climatologist, personal communication, April 1, 2008.
30 Hoskins, Tim. "Iowa agriculture producers remain national leaders in corn and soybean production." Tristate Neighbor. Feb 13, 2008. http://www.tristateneighbor.com/articles/2008/02/13/tri_state_news/production_news/news17.txt)
31 Swanson, Michael. Wells Fargo Vice President in Jerry Hirsh. "Corn is King." L.A. Times. Mar 2, 2008.
Darin Newsom, DTN in Jerry Hirsh. "Corn is King." L.A. Times. Mar 2, 2008.
32 U.S. Department of Agriculture Economic Research Service.
McPhail, Lihong Lu, and Bruce A. Babcock. Ethanol, Mandates, and Drought: Insights From a Stochatic Equlitbrim Model of the U.S. Corn Market. Center for Agricultural and Rural Development Iowa State University. Mar 2008.
33 U.S. Department of Agriculture Economic Research Service.
34 McPhail, Lihong Lu, and Bruce A. Babcock. Ethanol, Mandates, and Drought: Insights From a Stochatic Equlitbrim Model of the U.S. Corn Market. Center for Agricultural and Rural Development Iowa State University. Mar 2008.