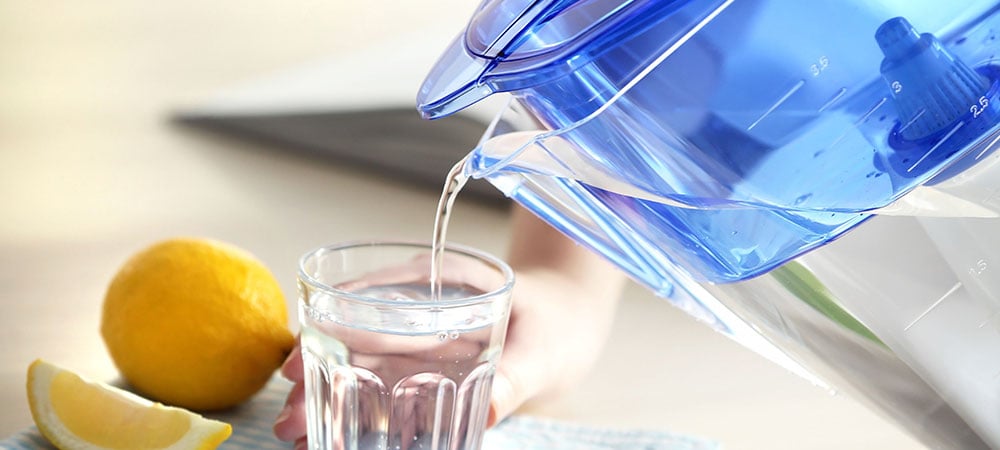 Maintaining Your Water Filter
The amount of money and effort that you'll need to spend in order to keep your water filter in top working order is an important consideration when making your purchase. Installing the filter is only the first step. All water filters require regular cartridge replacement and/or other maintenance in order to continue removing contaminants from your tap water.
Always consult the user manual before replacing a filter cartridge or cleaning your system. Here are four more things you need to know:
1. Filter cartridges have a lifespan.
Many types of water filters, particularly carbon filters, contain cartridges that must be replaced on a regular basis.
A filter cartridge's lifespan, also known as its capacity, is based on the amount of water that can flow through it before it no longer works effectively and must be replaced.
Most pitcher filters require their cartridges to be replaced more often than those for countertop, faucet-mounted and under-the-counter filtration systems.
Cartridge prices vary a lot. If you want to know how much your system will cost each year, consider both the number of cartridges you will go through and the cost of each.
Over time, a cheaper filtration system that requires more frequent cartridge replacement might end up costing you more than a system that is more expensive upfront.
2. When cartridges reach their capacity, you should replace them.
Filter cartridges contain a material, called the media, that traps contaminants and removes them as water flows through. The contaminants remain behind in the media.
Once the media in the cartridge is saturated with contaminants, the filter can no longer remove contaminants from your tap water.
If you don't change your cartridges often enough, bacteria can build up and your filter might do you more harm than good.
Check the label: A cartridge's capacity, listed in gallons, is usually found under the product description and specifications. You can also check the manufacturer's website.
Since most households do not track the amount of water they use, manufacturers also suggest how often cartridges should be replaced.
The lower the capacity, the more frequently you will need to change the cartridge and the more it will cost to keep your filter working well.
Some water filters include a gauge that alerts you when it's time to replace a cartridge. It's unclear how well these gauges work, so be proactive about filter maintenance.
3. Dirty or old cartridges might reduce your water flow rate.
Some filtration systems also use mechanical filtration to remove sediment and other particles from your water.
Too much trapped sediment can clog the system and lower the flow rate.
Sometimes this problem can be fixed simply by cleaning the filter. In other cases, you might have to install a new cartridge.
4. Reverse osmosis filters and water softeners require special maintenance.
Many reverse osmosis filters and water softeners require additional maintenance to keep them working properly. Be sure to follow your owner's manual.
Some filtration systems require maintenance by a professional, which can add to the expense.
Reverse osmosis systems have one or more cartridges that must be replaced periodically, and a special membrane that must be replaced every two to three years.
Water softeners based on ion-exchange technology use salt ions to remove excess calcium and magnesium from your water. Over time, the salt ions get used up and need to be replenished.
There are several different types of salt for ion-exchange water softeners. Be sure to buy the right kind of salt for your system.