Virtual Flood
Feds Promise Big Ag Water That Isn't There
Virtual Flood: CVP Water Is Heavily Subsidized
The current CVP water contracts have been providing farmers with heavily subsidized water for decades. In 2002, this taxpayer-funded subsidy was worth up to $416 million, according to an Environmental Working Group investigation. Although the new contracts will raise water rates slightly in some cases, the bulk of the subsidies will remain — and if the Bureau increases water deliveries as it has promised, these subsidies could actually increase to a value of as much as $640 million a year.
First authorized in 1936, the CVP now encompasses 20 dams and reservoirs, 1,437 miles of canals, 192 miles of drains, and an array of pumping and power generating facilities. This massive project came with a price tag of $3.6 billion, of which farmers are supposed to pay back $1 billion. As of 2002, however, irrigators had only paid back 11 percent of the tab. The reason? CVP recipients had signed 40-year contracts that granted farmers water at rates far below what was necessary to pay back the construction costs. [23]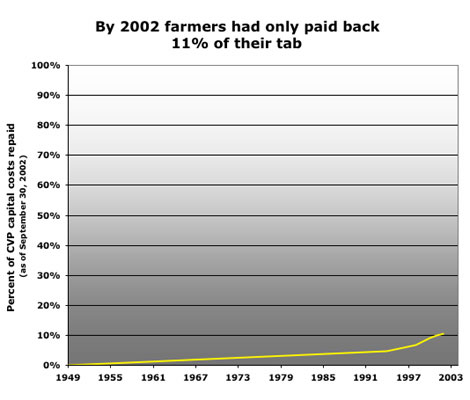 Source: [32]
Irrigators are not only failing to pay back what they owe, they are also receiving an additional subsidy: No interest. While municipal and industrial users of CVP water must pay back their tab plus interest, farmers get to pay theirs back interest-free. This policy dates to the turn of the 20th century, when the federal government was looking to develop water supplies and other incentives to settle the West. The Reclamation Act of 1902 stated that "charges shall be determined with a view of returning to the reclamation fund the estimated cost of construction of the project." The Bureau subsequently interpreted this to mean that irrigators would not be required to pay back interest — in effect granting farmers a huge subsidy. [27]
Other hidden subsidies
This isn't the only hidden subsidy farmers are getting. For instance, if the Bureau projects that some districts are unable to pay anything towards their allocated costs, the agency increases the rates for power users and applies this money towards the district's debts. As of 2002, 21 CVP contractors had received such "capital relief" totaling more than $21 million dollars, but had paid just $411,041 towards their CVP construction tab. [28] In addition, for decades the Bureau had a policy of extending the repayment period every time a new piece of the CVP was built. That is, instead of setting a fixed repayment date 50 years after the water started flowing to most farmers, the Bureau reset the repayment clock each time a new facility was added to the project allowing payments to be spread out over a much longer period. This policy, which has now ended, increased the farmer's subsidies even more. [27]
The bottom line is that farmers are getting CVP water at artificially cheap prices. According to EWG's analysis of the Bureau of Reclamation's records, in 2002 farmers in the CVP paid an average of $17.14 an acre-foot for their irrigation water. That's one cent for every 190 gallons. By contrast, if irrigators actually were to pay operation and maintenance charges, make payments towards capital costs, and pay interest on these costs (calculated from 1982), irrigators would be paying $38.93 per acre-foot on average according to the Bureau's figures. The Environmental Water Account pays much more for its water on the open market: an average of $129.48 per acre-foot for water in 2002-03. But this is even less than what the water is truly worth, for if the Bureau were to build a new dam on the San Joaquin River the absolute minimum amount this water would cost would be $170.42 an acre-foot and probably a lot more. [23]
The Bureau has repeatedly emphasized that the base contract rates will go up in the new contracts and that these new rates can be adjusted every year to ensure that the farmers pay back what they owe by 2030. Although it is true that in many cases the new contract rates are at least a bit higher than the old contract rates, the Bureau doesn't seem to be taking the massive debt all that seriously: CVP water rates actually decreased virtually across the board between 2004 and 2005 by 81 cents an acre-foot on average, and as much as $8.78 an acre-foot in some cases. [1]
Despite the fact that the CVP, like other federal water projects, was built explicitly to help small family farmers, it is large agribusiness operations that are reaping a windfall from taxpayer-subsidized cheap water. EWG analysis shows that in 2002, 10 percent of CVP farms got 67 percent of the irrigation water and an average subsidy worth up to $349,000 at the market rate for replacement water. The top 5 percent, or 341 farms, got 49 percent of the irrigation water and a subsidy worth up to $513,000. The 25 largest farms accounted for more than 13 percent of CVP irrigation water, receiving on average an estimated 11,900 acre-feet of water, for an average subsidy worth up to $1.7 million. †1 [23]
In 2002 the CVP delivered 3.3 million acre-feet of irrigation water, with an embedded water subsidy worth up to $419 million. But in 2030 the Bureau plans to deliver 5.1 million acre-feet — an increase of 53 percent. [1,2] If this much water had been delivered in 2002, the associated water subsidies could have been as much as $640 million. It is impossible to know what the actual value of the water subsidy will be in 2030 since water rates are likely to increase somewhat when the contracts are renewed and will be adjusted from year to year. However, even if water rates were to double they would still be far lower than market rates. In 2002 CVP contractors paid an average of about $17 an acre-foot for their water. The estimated cost for new supplies, on the other hand, was about $170 an acre-foot and the average rate paid by the state for environmental water in 2002 — 2003 was $129 an acre-foot. [23]
Environmental consequences
Defenders of federally subsidized water projects in the West argue that they "made the desert bloom" (another way of saying that they make it possible to grow crops that are neither economically nor environmentally sustainable). Farms in the CVP produce roughly $3 billion worth of crops a year. [29] But the original intent of federal water projects, set out in the Reclamation Act of 1902, was to encourage Western settlement by small family farms. Initially, no one could receive subsidized water for more than 160 acres, and they had to live on the land. [27] Today, artificially cheap irrigation water in the Central Valley has led to a host of problems besides the CVP-sized hole in the federal treasury. Among the most serious:
By allowing the planting of water-intensive crops such as rice, cotton and alfalfa in what is naturally a desert, it has discouraged the efficient use of water. While the average acre of U.S. farmland gets 2.48 acre-feet of water each year, the average acre in California gets 36 percent more, or 3.37 acre-feet. [30] In a state where water demand for all uses exceeds supply by 1.6 million acre-feet in normal years and 5.1 million acre-feet in drought years, this is irresponsible. [31]
As urban customers are often reminded, there's never enough water to waste. Inefficient use by agriculture means less water for wildlife and urban users. Wildlife in particular has paid the price. Of 29 fish species native to the Sacramento and San Joaquin Rivers and the Bay-Delta, two are extinct, six are endangered, five are rare, and nine others are declining. [29]
Cheap water has also made feasible the continued farming of land unsuited for irrigation because of serious drainage and toxicity problems. One of the worst environmental disasters in the state's history, the mass death of migratory birds at the Kesterson National Wildlife Refuge in Merced County, was the result of toxic salts in the soil carried downstream by irrigation runoff. [23]
It's one thing to ask taxpayers to subsidize farming with cheap water. It's another thing when those subsidies top $400 million a year and the great majority of the subsidies are going to the largest, wealthiest farms. It's still another when the Bureau is promising to increase water deliveries by almost 45 percent over the life of these contracts. Time is running out for an honest and fully informed debate about how the water needs of all Californians will be met in the 21st Century.
Footnote
†1 — Meanwhile, the average farm received only 350 acre-feet of water, for a median subsidy of $7,056. More than 90 percent of CVP farmers got less than 1,000 acre-feet of water in 2002. The average US household uses less than one half of one acre-foot each year.