SUVs - Suddenly Upside-down Vehicles: Too dangerous for professional test drivers, but safe enough for families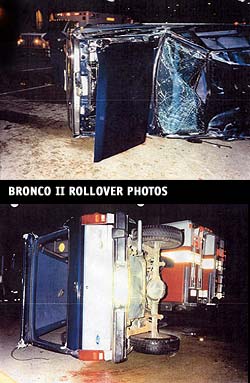 Automakers didn't just stumble onto the sport utility vehicle. They researched and studied its every detail, looking for the perfect combination of power, comfort, appeal and convenience. Market research helped Ford arrive at just the right look and feel for what became an extraordinary chapter in America's love affair with the automobile.
But at least one SUV manufacturer, Ford, had equally important information on the dangers of SUVs that company executives systematically and deliberately ignored. An Environmental Working Group review of internal Ford Motor Company documents obtained in a series of SUV rollover cases against Ford shows that:
3,826 people died in Bronco II and Explorer rollovers between 1983 and 2001.
In safety tests at speeds as slow as 30 miles per hour, the Bronco II repeatedly tipped up on its protective outriggers
The myth of safety versus fuel efficiency
The auto industry has a lot riding on the perceived safety of the SUV. More than just a sales point, the "safety" of SUVs has been an effective shield against increased federal fuel efficiency requirements.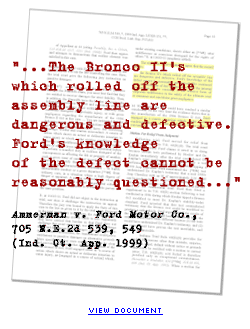 Because they are classified as light trucks — the Explorer, for example is built on Fords' light truck chassis — SUVs are subject to special, lower fuel efficiency standards. This loophole in the law has provided a significant economic benefit to car companies because it has allowed them to avoid investments in fuel efficiency in their entire SUV line.
Automakers aggressively defend the enormous waste of fuel caused by the surge in SUV popularity by arguing that SUVs are safer than more fuel-efficient cars — and that making vehicles more fuel efficient would endanger owners and their families. This strategy has been a success. Since 1974, the auto industry and its allies in Congress have fought legislation proposing any improvement in SUV gas mileage standards.
The Bronco II, with modest changes, went on to become the Explorer.
The underlying message is clear: Auto companies care about your safety. Supporters of increased fuel economy do not.
Nothing could be further from the truth.
At least one company, Ford, cannot be trusted to tell the truth about the safety of the SUV. The company engaged in a conspiracy to cover up known hazards of the vehicle, "lost" or perhaps destroyed 53 documents directly relevant to the issue, and paid an expert $5 million to lie about SUV safety in 30 different lawsuits.
All of this leads us to wonder, if Ford is willing to produce a product it knows will injure and perhaps kill a certain percentage of customers simply to maintain profit margins, does the company really have driver safety at heart when its lobbyists aggressively fight easily-achievable standards for higher corporate average fuel economy?