Smoggy Schools: Health Impacts & Economic Costs
The state's existing daily standard was determined primarily from studies that exposed participants to measured amounts of smog and measured physiological changes to lung function. After determining the level at which smog would not unduly impact human health, state scientists assessed the health benefits of smog abatement. These benefits are not required to justify the decision of air quality experts, rather they are used to illustrate the contribution of smog to common respiratory ailments.
To calculate health benefits, state scientists examined epidemiological studies that linked region-wide smog measurements with health outcomes like respiratory illness and hospital visits. For each outcome they determined a fixed relationship between a change in smog levels and rates of five health outcomes. They then determined the amount that smog must be reduced for each region to come into compliance with both the existing hourly and proposed daily standards. State officials project millions fewer missed school days for children and minor restricted activity days for adults when both the short-term and daily ozone standards are met throughout the State. They also estimate almost 4,000 fewer hospital admissions due to respiratory illness and several hundred fewer premature deaths and emergency room visits for asthma. [ARB(1) 2005]
To further illustrate the health-benefits of smog abatement, EWG used commonly reported economic costs of four health impacts—school absences, restricted activity days, hospitalizations and emergency room visits—to tally the economic burden of ozone-related illness for these outcomes. [Abt 2003, Wong EY 2004, Hubbel 2005] We found the price tag for excessive ozone to be $521 million annually, not including a price tag for premature mortality. In addition to these well-studied outcomes we also urge the Air Resources Board to consider several recent studies linking smog exposure with important but less quantifiable outcomes. These include studies suggesting that long-term smog exposure causes permanent deficits to children's lung development and is linked to the development of asthma in healthy children.
Economic costs of four preventable smog-related illnesses
Health Outcome
Annual number of adverse events averted when ozone standard is achieved
Annual economic toll
Missed school days
3,294,693
$329,469,300
Minor restricted activity days
2,999,163
$151,607,690
Hospital admissions for respiratory diseases
3,995
$40,204,000
Emergency Room visits due to asthma
635
Total economic costs =
$521 million
The total costs of ozone pollution are represented by two distinct factors. The first is the direct medical cost to treat pollution-related illness—estimating the cost of each hospital bill, doctor's prescription, and the wages lost each day a parent misses work to tend to a sick child. For health conditions without a medical price tag, economists can estimate the disruption that smog-caused diseases have, often as the amount a person is theoretically willing to pay to avoid the situation (willingness to pay). We used commonly reported economic cost estimates for asthma Emergency Room visits, respiratory admissions to hospitals, missed school days, and willingness to pay to estimate the impact of minor restricted activity days. The cost of premature mortality varies widely between economists and we chose not to include it in this financial tally, though it is discussed in greater detail below.
EWG calculates the overall economic price tag of five smog-related diseases in California to be $521 million annually. Although smog levels are highest in San Bernardino County and the San Joaquin Valley, the economic costs are concentrated in the most populated regions of the state. The lion's share of the economic impacts—62 percent of the price tag—is attributed to Los Angeles, Orange, Riverside and San Bernardino counties alone.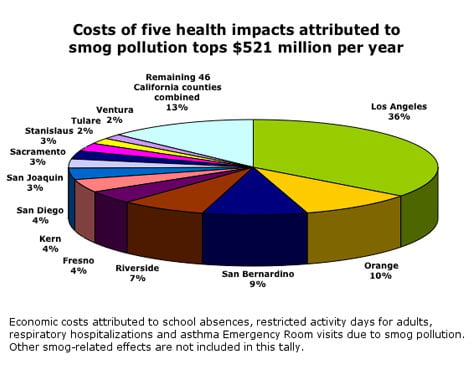 School absences
The state calculates that meeting the hourly and daily ozone standards will alleviate 3.3 million school absences each year for California's kids. Reducing school absences by 3 million days per year would have remarkable benefits for California families and schools. The primary losses are borne by children, who suffer missed opportunities to learn and play. However, economists estimate that in addition to lost learning time, each absence costs parents on average $75 per day in lost wages when they stay home to tend to their sick children. This is more for parents who earn a higher wage, and less for families where one parent is home during school hours. The price of a parent's lost wages alone equates to an annual $247 million price tag for families. Of course, these impacts are less sizable in families where one parent is home during the day, and more dramatic in families where parents exhaust their own paid sick leave because of their child suffers from chronic respiratory illness.
Schools also lose out on funding from the state. The average per capita payment to schools is $25 per child each day. School districts are only paid for children who attend class, and reducing absenteeism is a major goal for districts struggling to improve their cash flow. Using the $25 per day estimate, the price tag for California schools tops $82 million each year in lost reimbursement. Added to the figure for parents' lost wages, EWG calculates the direct economic costs of ozone pollution on education to be almost $330 million.
Restricted activity days
The state represents the more subtle health effects of excessive ozone pollution for adults under the catchall category of "minor restricted activity days." These are days when smog pollution causes adults to feel unwell and reduce their normal activities, while still going to work. Combining six studies, state scientists calculate a 2.94 percent increase in these symptoms for each 10 ppb increase in the daily ozone level. [ARB(1) 2005] They estimate 3 million days in which a California adult restricts his or her normal activity due to smog pollution. The cost of this restricted activity is commonly figured to be $50.55 per day in terms of an adult's willingness to pay to avoid a wide range of smog-related health impacts. [Hubbel 2005, Abt 2003] These impacts range from minor eye irritation to restrictions that almost cause a person to miss a day of work. Minor restrictions to the activities of healthy adults cost Californians $151 million annually. The cost of lost workdays due to adult illness was not estimated.
Hospitalizations for respiratory diseases
Public health officials predict 4,000 fewer hospital admissions for asthma, bronchitis, and other respiratory symptoms each year due to excessive ozone pollution. State scientists calculate that for each 10-ppb decrease in hourly maximum ozone levels, hospital admissions for respiratory illnesses drop by 1.64 percent. [ARB(1) 2005] This formula represents risks for all ages, not just the elderly. But it doesn't account for the fact that certain subgroups are more affected by ozone pollution than others. People with chronic bronchitis or emphysema (chronic obstructive pulmonary disease or COPD) have 24 percent higher respiratory hospitalization rates due to changes in hourly maximum ozone concentrations. [Anderson 1997] Although they make up a smaller share of hospitalizations, children age 2 and younger were 4-times more affected by a 10 ppb increase in ozone than other age groups. [Burnett 2001]
The cost of a hospital visit depends on the patient's insurance, the hospital and the severity of their symptoms. A review of the national benefits of smog reductions estimated the costs of respiratory hospital admissions to be $18,353 for people ages 65 and older, and $7,741 for children 0 to 2 years old. [Agency for Healthcare Research and Quality 2000] The rate of respiratory hospitalization rises steadily with age and the elderly spend longer in the hospital with each hospitalization. We use a ballpark estimate of $10,000 per hospital visit, which is a very conservative estimate of the average cost of respiratory admission.
Emergency room visits for childhood asthma
Children are commonly treated at hospital emergency rooms during severe asthma attacks. Twenty-eight percent of asthmatic children in Los Angeles County went to the emergency room at least once in 2002, and half went more than once per year. [Los Angeles DHS 2004] To estimate the reductions in asthma, the state drew from five studies linking ozone and asthma emergency room visits. Combining these studies the Air Resources Board estimates a 2.37 percent increase in asthma emergency room visits per 10 ppb increase in short-term ozone. [ARB(1) 2005] Using this formula the state calculates 635 fewer emergency room visits for children due to ozone with achievement of the daily and hourly ozone standards.
Medicaid reimbursement for an asthma-related emergency room visit is $443. [USEPA 1991] People who don't have health insurance are typically charged more than Medicaid rates for their visit. Several studies have estimated the cost of an emergency room visit for asthma to be less than $400 [Abt 2003], but these studies were published in the mid-1990s and are likely to be out of date. We used an average cost of $400 per emergency room visit to calculate a $254,000 annual price tag for asthma emergency room visits. This estimate is solely the medical bill from the visits. It doesn't represent the anxiety of a trip to the emergency room with an asthmatic child, just the bill that follows.
Less quantifiable impacts of smog exposure
The state's health benefits assessment rightfully focused on impacts on health effects with sufficient evidence to quantify the number of cases that will be averted with better smog controls. However these just include the most-researched health effects, not the only demonstrated effects of smog on health. We urge the Air Resources Board to also consider the unquantifiable, but still significant impacts of several additional health effects when deciding whether to adopt a new, more stringent ozone standard.
Less quantifiable impacts of smog pollution
| Health Outcome | Annual number of adverse events averted when current and proposed ozone standards are achieved | Estimated cost per adverse event |
| --- | --- | --- |
| Premature mortality | 591 | ~$6.5 million |
| New cases of asthma | Unknown | Lifetime cost ~$50,000 average patient, $200,000 severe asthma |
| Permanent deficits in lung development | Unknown | Unquantifiable |
| Cardiac birth defects | Unknown | Unquantifiable |
| Lower birth weight | Unknown | $18,000 over lifetime |
Ozone and mortality
Numerous studies link short-term changes in smog levels with premature mortality. These effects are not limited to the elderly. These studies generally control for other factors that influence death rates—weather, season, day of the week and the effect of other air pollutants. The most recent and robust study included 95 large cities in the United States, home to 40 percent of the population. [Bell 2004] California cities included San Diego, Los Angeles, Stockton, Oakland, Fresno, San Jose, Riverside and Modesto. The study found that a 10-ppb increase in the previous week's ozone was associated with a 0.52 percent increase in daily mortality and 0.64 percent increase in cardiovascular and respiratory mortality.
State scientists combined several studies in a single estimate, revealing an association of a 10 ppb increase in ozone concentration over a 24-hour period with a 0.5 — 1.5 percent increase in mortality rates. [ARB(1) 2005] They applied this formula to existing ozone concentrations, and calculated that approximately 590 deaths will be averted when current ozone concentrations are reduced to meet both the proposed daily and current hourly standard. The range of possible effects varies from 290 to 870 pre-mature deaths per year.
Many economists have estimated the economic impact associated with premature mortality using a theoretical patient's willingness to pay to avoid dying of ozone pollution. USEPA's assessment of the national burden caused by smog pollution places the cost at $6.5 million per life. [Hubbel 2005] This draws from the mid-range of 26 value-of-life studies in the US Environmental Protection Agency's assessment of the costs of air pollution. [USEPA 1991] The studies determined a dollar value for life using a mix of willingness to pay and lost income estimates.
We did not include a calculation of the cost of this outcome due to the range of reported values. Using the widely accepted $6.5 million figure would add an additional $3.8 billion to the annual impact of smog pollution on premature mortality. This estimate is 7.4 times higher than the estimated costs of missed school days for children, hospital admissions due to respiratory illness, emergency room visits, and minor restricted activity days for adults combined.
In-utero exposures
Ozone's effects on children begin before they are even born. A study of Southern California mothers found that a woman's exposure to ozone was significantly related to the risk of heart artery and valve defects in her offspring. [Ritz 2001] Pollutant exposures during the second month of pregnancy—when the heart forms in the fetus—were most strongly linked to heart defects, with a 2.7-fold increase in risk for the high exposure group. [Ritz 2001]
Only one study has linked ozone exposure with lower birth weight babies, and is pending final analysis. As part of the Southern California Children's Health Study, researchers found that a mother's exposure to ozone during her second and third trimesters of pregnancy is associated with increased odds of having a lower birth weight child. [Peters 2004] Many factors affect infant birth weight. This study adjusted for common sociodemographic and pregnancy characteristics known to affect birth weight, as well as maternal smoking. Researchers compared birth weights between the 25th and 75th percentiles for ozone exposure and found a 47- and 35-gram reduction in birth weight for higher-end exposures during the second and third trimesters respectively. Ozone was a more significant factor in baby birth weight than particulate (soot) pollution.
Further studies are needed to confirm this finding, and calculate the exact relationship between ozone and birth weight. However, two observations indicate a need for caution. Children born prematurely or with low birth weight appear to be more susceptible to poor air quality later in life. [Mortimer 2002] Also, the U.S. Environmental Protection Agency estimates the additional lifetime costs of health care for an infant born with low birth weight to be $18,000. [Wong EY 2004, citing USEPA 1999]
New cases of asthma
The current ozone concentrations in some regions appear to be sufficient to trigger asthma in previously healthy individuals. Following 3,535 healthy, athletic children, researchers found that those who participated in 3 or more sports per year had a 3.3-fold increase in the likelihood of being diagnosed with asthma when compared to less active children in the same community. [McConell 2002] The average daily ozone concentrations in the communities ranged from 56 to 70 ppb between January and June. There was less of an effect of outdoor sports for a comparison group of children living in communities with lower ozone levels. [Peters 2004] The effect was more dramatic for children playing high-activity outdoor sports than lower-activity sports, and less dramatic in a second group of communities with cleaner air. The lifelong impact of asthma diagnosis is another price paid by California children for dirty air.
The lifetime cost of treating asthma varies widely depending on the severity of illness. Twenty percent of asthmatics in the United States are responsible for 80 percent of the health care services and associated costs. [Agency for Healthcare Research and Quality 2000] The EPA estimated that the average asthmatic will require about $50,000 worth of medical care throughout his or her lifetime. [USEPA 1991] A patient whose suffers from severe illness or lacks proper routine care will suffer from more frequent trips to the hospital and will require upwards of $220,000 in services throughout their life. [EPA cost of illness]
The Agency for Healthcare Research and Quality estimates the cost for treating children to be $437 per month or $5,000 per year, [Chan 2002] much higher than the EPA's lifetime estimates for children, which range between $761 - $905 per year. [USEPA 1991] Economists also pin a price tag on the psychological impact of asthma, as the price people would be willing to pay to avoid being diagnosed with asthma in the first place. This figure, roughly $31,000 per case, is an attempt to represent the lifetime costs of missed opportunities to participate fully in an active life.
The difficulty in assessing a person's personal exposure to ozone and the role of individual susceptibility make it difficult, if not impossible, to estimate the number of Californians who develop asthma as a result of ozone pollution. But the fact that the relationship between outdoor exercise and asthma was not observed in less smoggy communities suggests that any asthma that develops due to smog will be dramatically reduced as ozone levels fall.
Lung function deficits
Even when they don't cause asthma, children's exposure to smog has life-long effects on lung development. Animal studies indicate that ozone exposure during lung development causes long-term inflammation, disrupts growth factors, and creates fibrosis and alters lung architecture. [ARB(1) 2005 citing Barr 1990, Schelegle 2003] These findings have recently been confirmed in studies of young adults. Researchers examined lung capacity of first-year students at U.C. Berkeley and Yale University. They report noticeable reduction in the lung capacity of students who grew up in polluted regions compared to those who were raised in areas with cleaner air. [Kunzli 1997, Tager 1998, Galizia 1999] The Yale students who spent at least 4 years in regions where summertime ozone levels exceeded 80 ppb had significantly worse lungs than their peers. [Galizia 1999, Kinney 1998]
Since lungs form throughout childhood they are susceptible to damages during the entire period. By the early 20s lungs are fully formed and it is unlikely that pollution-related impacts measured in 18 year-olds will be repaired during adulthood. College students with lung damage already reported more respiratory illness as young adults, and these impacts will lead to more serious respiratory disease as they age. Lung function is also a major determinant in life expectancy in the elderly.