Toxic 'Forever Chemicals' Likely Discharged Near Schools in 18 States
THURSDAY, SEPTEMBER 10, 2020
Suspected industrial dischargers of the toxic fluorinated chemicals known as PFAS are located less than a mile of 27 schools or childcare facilities that maintain their own water systems, an EWG analysis finds.
Schools or childcare facilities in 18 states, including Michigan, Oregon, Pennsylvania and Wisconsin, were located within 5,000 feet of manufacturers that are known or suspected of producing or using PFAS.
Schools Near Sites of Suspected Industrial PFAS Discharge
| School or Childcare Center | Location | Suspected Industrial Discharger Within 5,000 Feet of School |
| --- | --- | --- |
| | California | |
| Sierra View Junior Academy | Exeter | Waterman Industries LLC |
| | Connecticut | |
| Country Kids Club | Brookfield | Pharmco Products |
| First Steps Day Care & Learning Center | Southbury | Modern Metal Finishing, Inc. |
| | Florida | |
| Ami Kids Last Chance Ranch | Tampa | Nexeo Solutions LLC |
| | Illinois | |
| Quentin Road Bible Baptist School | Lake Zurich | Gere Marie Corporation |
| North Grove School Association | Sycamore | Seymour of Sycamore, Inc. |
| | Louisiana | |
| Conquering Word Christian Academy | Marrero | Vertex Refining La. LLC – Marrero Facility |
| | Michigan | |
| Morgan's Early Learning Center | Flint | Premiere Packaging, Inc. |
| Gilead Baptist Academy & Church | Owosso | Owosso Graphic Arts II, Inc. |
| | Minnesota | |
| New Horizon Academy | Maplewood | 3M Company |
| | Missouri | |
| Kidz World Daycare and Preschool | Farmington | SRGGI – Farmington |
| | Montana | |
| The Sunshine Academy | Laurel | Brenntag Pacific, Inc. Mossmain Ln. |
| | North Carolina | |
| Ballinger Academy | Greensboro | The Sherwin-Williams Company – Stage Coach Trail |
| | New Jersey | |
| Childrens Workshop | Hillsborough | Reckitt Benckiser |
| Our Little Schoolhouse | Middlesex | Covalence Adhesives |
| All Day Learning Center | Montgomery Township | Reckitt Benckiser |
| | New York | |
| Redemption Christian Academy | Troy | Lydall, Inc.* |
| | Ohio | |
| Children Care Development, Stow | Stow | Polystar, Inc. |
| | Oregon | |
| Lebanon High School | Lebanon | Entek International |
| | Pennsylvania | |
| Holy Sepulcher School | Butler | Vorteq Coil Finishers/Valencia Plt |
| Hillstreet Children's Center | Slatington | American Nickeloid Co. – Walnutport |
| | Virginia | |
| Stanleytown Baptist Church Children Center | Stanleytown | Cpfilms, Inc. – Plant 1 |
| | Wisconsin | |
| Wisconsin Academy Cafeteria | Fall River | Robbins Manufacturing, Inc. |
| Wisconsin Academy Main Campus | Fall River | Robbins Manufacturing, Inc. |
| Wausau School Forest | Mosinee | Wausau Chemical Corp. |
| Lakeview Elementary School | Neenah | Outlook Label Systems, Inc. |
| | West Virginia | |
| Huntington Christian Academy | Huntington | Fuchs Lubricants Co. |
In April, EWG used EPA and state data to identify 2,501 unique industrial sites that are known to produce or use PFAS, or that are suspected of using PFAS. We matched that list with the locations of schools nearby.
Under the Clean Water Act, there are no federal restrictions on industrial PFAS discharges. So far, only a few states have taken action to implement these types of policy changes. Michigan, for example, has adopted restrictions that reduce PFAS discharges to rivers and lakes. States can also impose restrictions on certain dischargers on a case-by-case basis, as North Carolina has done at a Chemours facility in Fayetteville.
Studies have shown that PFAS may suppress the immune system, including reduced response to vaccines, and are associated with cancer and reproductive and developmental harms, among other health problems.
Because PFAS are not yet regulated contaminants under the Safe Drinking Water Act, schools are not required by federal law to test for the presence of PFAS in tap water, nor are they required to filter it out. The EPA has proposed a regulatory determination, which, once finalized, would start the process of developing a national drinking water standard for PFOA and PFOS – the two most notorious and well-studied compounds in the PFAS family – but that standard could take many years to finalize. The House and Senate have proposed giving the EPA a two-year deadline to complete its work.
Drinking water in schools comes from either municipal community water systems or the school's own on-site drinking water source, such as wells. About 8,000 schools and childcare facilities maintain their own water systems, which are subject to federal drinking water regulations, according to the EPA. The rest – about 98,000 public schools and 500,000 childcare facilities across the country – obtain drinking water from local community water systems. In such cases, schools are not required to conduct any additional tests of the water they receive from the community water system.
PFAS chemicals are currently unregulated under the Safe Drinking Water Act, but from 2013 to 2015, the EPA required one-time tests for six PFAS chemicals under a monitoring rule for unregulated contaminants. However, only large municipal systems or schools serving more than 10,000 people and a sample of smaller systems were required to test.
Many schools that have their own water systems serve fewer than 10,000 people, or are served by community systems serving fewer than 10,000 people. As a result, test data for PFAS is not readily available for those schools. Regardless of the source, schools are not currently required to test for PFAS chemicals in their drinking water, because PFAS remain an unregulated contaminant.
Some states – including Colorado, New Hampshire, Michigan, Ohio and Vermont – and school districts have tested for PFAS in school tap water, and schools in each state had positive PFAS detections. Results at other schools in each of those states showed levels above EWG's health guideline for PFAS chemicals of 1 part per trillion. Additionally, some states have developed state drinking water standards that apply to schools. Some schools with high PFAS levels in water are offering students bottled water, although this is not a long-term solution.
To further combat this problem, two major steps must be taken:
Get the App
EWG's Skin Deep® Mobile App
Download EWG's Healthy Living App Today! Ratings for more than 120,000 food and personal care products, now at your fingertips.

Download EWG's Healthy Living App Today! Ratings for more than 120,000 food and personal care products, now at your fingertips.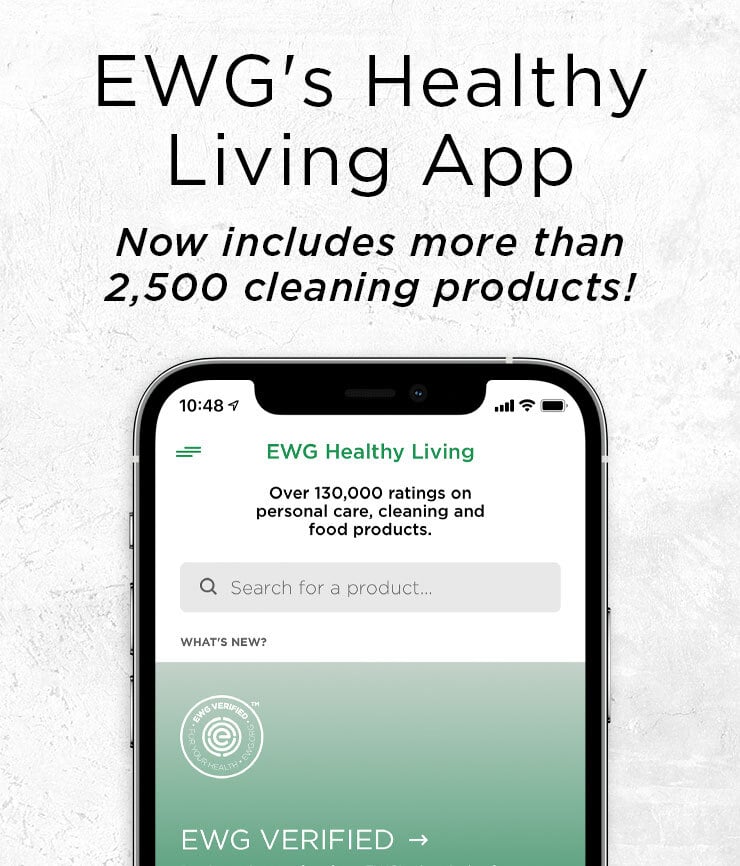 Download App
Other EWG Resources