PCBs in Farmed Salmon: Farmed salmon consumption is up
Farmed salmon consumption is up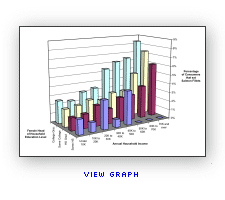 According to a farmed salmon industry source, 22 percent of all retail-seafood-counter dollars comes from farmed salmon (Redmayne, 2000). From a market dominated by wild salmon just ten years ago, now six of every ten salmon fillets sold in stores and restaurants are from fish raised in high-density pens in the ocean, managed and marketed by the salmon farming industry.
Based on our analysis of state-of-the-art fish consumption data derived from 20,000 adults over the twelve-year period from 1990 through 2002, we find:
All told, one-quarter of all adults eat salmon at least occasionally. About 23.1 million people eat salmon more often than once a month, 1.3 million people eat salmon at least once a week, and an estimated 180,000 people eat salmon more often than twice a week.
Salmon is more likely to be eaten by the rich and the well-educated. Salmon consumption correlates strongly with both household income and the education level of the woman who heads the household. For instance, adults from households with at least a $70,000 yearly income, and headed by a woman with a college degree, are 3.7 times as likely to eat salmon as are households with $30,000 yearly incomes headed by women who hold a high school diploma but not a college degree (Figure).
References
Redmayne, Peter. 2000. Farmed salmon. As world harvests approach 1 million tons, the industry consolidates to keep up with spiraling demand. SeaFood Business. August 2000.