PCBs in Farmed Salmon: Bought versus caught
Bought versus caught
Both the Food and Drug Administration and the Environmental Protection Agency have set health-based standards or guidance levels for PCBs in fish. EPA's health guidance for PCBs, revised in 1999, applies to recreationally-caught fish (EPA 1999). Commercially-sold fish such as farmed salmon must instead comply with FDA's 1984 PCB standard (FR 1984), which allows 500 times more PCB exposure than EPA's current health-based guidance.
FDA's standard, called a "tolerance," legalizes the sale of salmon with PCB levels as high as 2 parts per million, a concentration that would trigger a strict warning to eat none of the fish were they caught in the wild and regulated by states that follow EPA's guidance.
By comparing the PCB levels in our retail fish samples with the health standards published by the EPA, we found that, if caught recreationally, consumption of the seven most contaminated farmed salmon we bought and tested would be restricted to no more than one meal a month. But because farmed salmon are bought, not caught, consumption is not restricted in any way.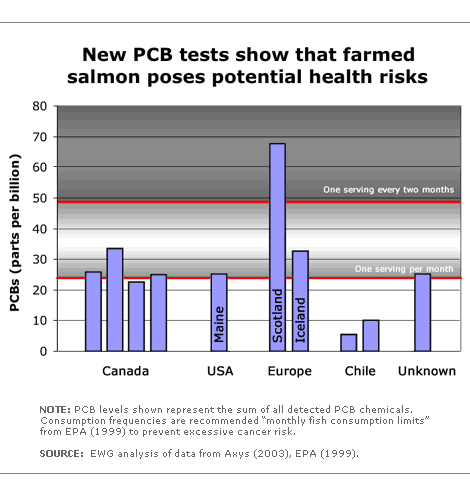 Six of the farmed salmon we tested came from factory-scale farms in Canada, the U.S. (Maine), and Iceland. For one other salmon sample we tested, the supplier was unable to ascertain the country of origin. All told, six of these seven were polluted with PCBs at levels that would be safe to eat no more than once a month, according to EPA health standards. About 23 million Americans eat salmon more than once a month, the majority of it farmed salmon. One salmon imported from Scotland contained PCBs at levels so high that EPA would restrict consumption to no more than 6 meals a year, if the salmon were caught, not bought.
EPA's health standards are derived to protect the public from cancer risks in excess of 1 in 100,000, meaning that normal, expected exposures to the carcinogen would result in no more than one additional incidence of cancer per 100,000 people in the population. Our cancer risk analyses show that 10.4 million adults exceed this risk threshold by consuming PCB-laden farmed salmon, and that 800,000 adults exceed this risk level by 10-fold.
References
Axys Analytical Services Ltd. 2003. Environmental Working Group. PCB congeners analysis; Tissue samples; Axys method: MLA-010 Rev04. Data Package: 4226 L5841-1 to -10. Report from Axys Analytical Services Ltd. to Environmental Working Group. July 2003.
Environmental Protection Agency (EPA). 1999. Polychlorinated biphenyls (PCBs) update: Impact on fish advisories. EPA-823-F-99-019. Accessed online July 21 2003 at http://www.epa.gov/waterscience/fish/reports.html.
Federal Register (FR). 1984. 49 FR 21514-21529.