USDA Undermines Historic Civil Rights Settlement with Black Farmers
A new investigation by Environmental Working Group (EWG) and the National Black Farmers' Association (NBFA) finds that the United States Department of Agriculture (USDA) willfully obstructed justice by deliberately undermining the terms of a 1999 landmark civil rights settlement with African American farmers. As a result, the vast majority of African American farmers have been denied compensation that the court, in approving the settlement, described as "automatic." For the 81,000 farmers denied compensation, there is no future opportunity to obtain relief. Even though USDA has admitted to civil rights abuses, it withheld some three quarters of the $2.3 billion that the settlement was worth. Without intervention by the United States Congress, these farmers will never receive the compensation they so clearly deserve. [Document: Pigford v. Veneman Opinion]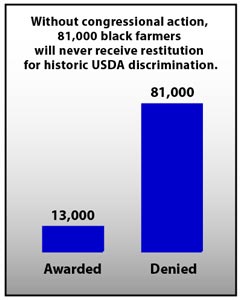 Specifically we found that:
• Nearly nine out of ten denied restitution. USDA denied payment to 86 percent, or 81,000 out of 94,000, African American farmers who came forward seeking restitution.

• 56,000 hours spent fighting farmers. USDA aggressively fought claims by African American farmers, contracting with United States Department of Justice lawyers who spent at least 56,000 staff hours and $12 million contesting individual farmer claims for compensation.
The 81,000 denials took two forms:
• Deadline barred 64,000 claims, despite lack of notice. The settlement-funded arbitrator rejected 64,000 farmers who came forward with claims during the late claims process established by the court. The farmers' attorneys, whose representation was characterized by the court as "bordering on legal malpractice," were responsible for properly notifying the farmers of the original deadline for application. The settlement-funded arbitrator rejected these 64,000 farmers simply on the basis of their tardiness for the original deadline, even though all 64,000 rejected claims were submitted within the court established late claims period. An additional 7,800 farmers failed to file before the late claims deadline expired and were also denied entry to the class.




Top 10 States: Farmers seeking entry under court-mandated extension

State
Rejected
Granted
Total
Mississippi
18,983
286
19,269
Alabama
14,268
294
14,562
Tennessee
4,642
24
4,666
North Carolina
2,448
1,012
3,460
Oklahoma
3,309
51
3,360
Georgia
3,228
81
3,309
Illinois
2,864
29
2,893
Louisiana
2,312
21
2,333
South Carolina
1,826
70
1,896
California
1,495
30
1,525

---

National Total
63,816
2,131
65,947

See data for all 50 states

Note: Data in this table is based upon information received from the Office of the Monitor on April 26, 2004.

• 9,000 denied "automatic" award. Of the 22,000 farmers granted access to the class, in what the court referred to as "automatic" payment status, USDA denied payment to 40 percent, or 9,000 farmers. Entry to the class was not guaranteed, but depended on a farmer proving that he/she applied for a USDA loan between 1981 and 1996, that USDA's response was racially discriminatory, and that the individual filed a discrimination complaint arising from USDA's treatment of the application. All of the 9,000 farmers denied payment by USDA met these criteria, but received nothing.
Nearly 9,000 Black farmers were denied "Automatic" payments by USDA — Top 10 States
State
Number Eligible
Receiving
"Automatic"
Awards
Denied
"Automatic"
Awards
Number
Percent
Number
Percent
Alabama
4,511
3,096
69%
1,415
31%
Mississippi
4,373
2,643
60%
1,730
40%
Georgia
2,960
1,757
59%
1,203
41%
North Carolina
1,989
910
46%
1,079
54%
Arkansas
1,986
1,293
65%
693
35%
South Carolina
1,274
793
62%
481
38%
Louisiana
991
478
48%
513
52%
Oklahoma
794
541
68%
253
32%
Tennessee
663
407
61%
256
39%
Florida
472
248
53%
224
48%

---

National Total*
22,181
13,411
61%
8,770
40%
* Note: Information in this table is based upon data received from the Office of the Monitor on 4/26/2004. The 7/12/2004 report from the Office of the Monitor states that the total number of awards received is now 13,429.
"I've talked to more people that haven't even heard anything at all, and more people that got denied, than I have talked to people who got the $50K and a partial debt write-off. And now the USDA seems to be just sitting still."

— Alan Diggs,
Southampton, VA farmer
In this historic civil rights case, known as Pigford v. Veneman, USDA promised to pay billions to African American farmers who claimed that the USDA had systematically discriminated against them for decades, denying them access to essential crop loans that were made readily available to "similarly situated" white farmers in their communities. The settlement was largely based on USDA's own admission of discrimination in its 1997 civil rights study, and the Reagan Administration elimination of the USDA's Office of Civil Rights in 1983, effectively denying African American farmers any recourse for claims of discrimination from 1983 through 1996, when the Office was reestablished. In part due to lack of equal access to USDA loans, the number of farms operated by African Americans has declined dramatically over the past 20 years, plummeting from 54,367 in 1982 to just 29,090 in 2002.
Recommendations
This willful obstruction of justice by the USDA demands immediate action on the part of the U.S. Congress. Only the Congress can make whole the farmers who were denied restitution arbitrarily, after the USDA had agreed, in settling the case, that their discrimination claims were valid.
EWG and NBFA recommend that USDA and the U.S. Congress immediately take action to remedy these inequities by taking the following measures:
(1) Congress should order USDA to provide full compensation to the nearly 9,000 farmers who were denied relief after being accepted into the settlement class;

(2) Congress should order USDA to re-evaluate the merits of the nearly 64,000 farmers' claims that were shut out due to lack of notice of the settlement. All African American farmers who meet the preliminary requirements to qualify as a member of the Pigford class should receive the $50,000 payment and debt relief provided by the settlement;

(3) Congress should direct the USDA to institute accountability measures to monitor and enforce civil rights standards throughout the Agency, requiring that in the future the USDA shall exert best efforts to ensure compliance with all applicable statutes and regulations prohibiting discrimination; and

(4) Congress should ensure the full implementation of outreach and financial assistance programs that support minority farmers.