Lead Astray in Ohio: HMOs get paid for tests not done
Nearly half (48 percent) of children under age six in Ohio are eligible for Medicaid. The state of Ohio pays six managed care plans, commonly known as HMOs, to provide Medicaid services to families in fifteen counties. HMOs currently servicing Medicaid recipients in Ohio include Buckeye Community Health Plan, CareSource, MediPlan, Paramount, QualChoice and SummaCare (OHPb 2004). Data compiled by the Ohio Department of Job and Family Services shows that Medicaid-contracting HMOs failed to test 64% of one-year-old and 79% of two-year-old Medicaid-enrolled children (OHP 2003). EWG's analysis of state lead poisoning rates shows that through this failure to test, HMOs did not identify at least 5,300 lead-poisoned children across the state. The failure to test Medicaid children for lead poisoning is a clear violation of federal and state law.
LINK: HMO Contract with lead testing requirement (PDF file)
Ohio HMOs Conducted Less than One Third of the Lead Tests For Which They Were Paid
Data for 2 Year-Olds in 2000, 2001, and 2002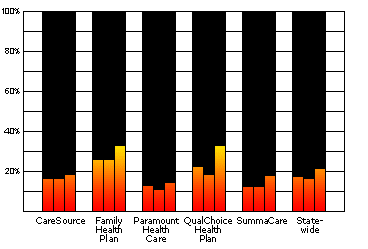 View Data and Further Details
A young child who receives Medicaid is three times more likely to have elevated levels of lead in their blood than a young child who is not enrolled in Medicaid (CDC 2000). Children enrolled in Medicaid account for 60% of children found with elevated blood lead levels of concern, those greater than 10 µg/dL, and 83% of children with elevated blood lead levels greater than 20 mg/dL (CDC 2000). Screening this vulnerable population is vital to identifying and treating those suffering from this childhood epidemic.
Federal and state Medicaid law mandates universal screening for all children who are enrolled in Medicaid programs at 12 and 24 months, and up to 6 years of age. The Medicaid Act, administered by the federal government, provides financial assistance to states in order to furnish medial care to individuals who lack the financial means to obtain necessary health care (42 U.S.C. § 1396). Participation in the Medicaid program is voluntary, but state Medicaid medical care providers must comply with the requirements imposed by the Act and its accompanying regulations (42 U.S.C. at 1396a, Wilder, et al. v. Virginia Hosp. Ass'n, 496 U.S. 498, 502 (1990)). The Medicaid Act dictates that providers conduct a comprehensive battery of screening services known as early and periodic screening, diagnostic, and treatment services or EPSDT, which include a "blood lead level assessment" (42 U.S.C. § 1396d(r)). The implementing regulations also require medical care providers to inform all eligible recipients of the availability of screening, offer transportation, and provide scheduling assistance to facilitate delivery of the screening services (42 C.F.R. § 441.56).
The Centers for Medicare and Medicaid Services, or CMS, the division of Health and Human Services responsible for administering Medicaid, publishes the State Medicaid Manual, which provides authoritative guidance for the delivery of EPSDT screening services. The Manual dictates that universal blood lead screening is mandatory at ages 12 and 24 months, and up to 6 years of age for all Medicaid recipients:
Lead Toxicity Screening. — All children are considered at risk and must be screened for lead poisoning. [CMS] requires that all children receive a screening blood lead test at 12 months and 24 months of age. Children between the ages of 36 months and 72 months of age must receive a screening blood lead test if they have not been previously screened for lead poisoning.

(State Medicaid Manual § 5123.2(D)(1)).
The State of Ohio has incorporated federal Medicaid standards in full, and has developed a program called Healthchek, which is "the early and periodic screening, diagnosis, and treatment program, a component of the medical assistance program under ... the 'Social Security Act'" (Ohio Rev. Code Ann. § 3313.714). Ohio's state Medicaid Program also mandates universal screening:
[a]ll children are at risk for lead poisoning and must be screened ... at twelve months and twenty-four months of age ... [c]hildren between the ages of thirty-six months and seventy-two moths of age must receive a screening lead blood test if they have not been previously screened for lead poisoning.

(OAC § 5101:3-14-03(H)).
Ohio contracts with managed care providers, the legal term for Health Maintenance Organizations or HMO's, to "provide ... health care services to medical assistance recipients" (Ohio Rev. Code Ann. § 5111.17(B)). As such, Medicaid contracting HMO's are required to "provide all early and periodic screening, diagnosis, and treatment (EPSDT) services, also known as healthchek services" (OAC 5101:3-26-03(I)(9)). According to the contract between Ohio HMO's for the delivery of Medicaid services, HMO's "must ensure that members have access to medically necessary services ... including Early Periodic Screening, Diagnosis, and Treatment (EPSDT/HealthChek)" (ODJFS 2004-05). The contract incorporates new lead screening-specific goals effective as of 2005. The new provisions set a minimum performance standard of a 10% improvement towards a goal of an 80% screening rate overall. The contract also provides for notification of noncompliance as well as plans for improvement, supervised by Ohio's Department of Jobs and Family Services.
Ohio HMOs are paid a lump sum fee, in advance, for delivery of Medicaid services. This lump sum, called a "capitated" payment, is calculated based on the estimated cost of covered services and the number of enrollees (Mercer 2003). The system is intended to facilitate treatment and limit the potential for defrauding the state through overbilling. Despite this intent, researchers at the Government Accounting Office found that the system creates "an incentive to underserve or even deny beneficiaries access to needed care since plans ... can profit from not delivering services" (GAO 1997).
This incentive is particularly powerful where a "bundle" of services, such as the battery of tests that the blood lead screening falls under, the EPSDT, is involved. The HMO can receive payment for providing a series of tests, and when it fails to provide the test, it can add the savings to its profits. With the cost of a blood lead lab test at approximately $60.00 per test, and approximately 141,000 one and two year-olds on Medicaid in Ohio (ODJFS 2003), this could amount to a profit of $8.5 million per year. Some 47,000 Medicaid-eligible children are born in Ohio each year (OHPa 2004). Considering this profit incentive not to screen, it is not surprising that in Ohio, the blood lead screening rate for one and two year-olds has yet to exceed 40% despite the requirement for HMOs to screen 100% of these children.
HMOs have already begun to face potential legal liability for their failure to screen children enrolled in Medicaid. In Ohio, a parent of a lead poisoned child sued an Ohio Medicaid HMO, QualChoice health plan, for failure to provide lead screening to her son, who was first diagnosed with lead poisoning at 26 months of age (Moran 2000). In Missouri, the Attorney General filed suit against two HMOs alleging breach of contract for failure to screen children for lead poisoning that was guaranteed by Medicaid. One suit settled for $1.1 million, the other case is pending (Missouri ex rel. Nixon v. Prudential Health Care Plan, Inc.).
References
Centers for Disease Control and Prevention, Recommendations for Blood Lead Screening of Young Children Enrolled in Medicaid: Targeting a Group at High Risk, December 8, 2000, at p. 3.
General Accounting Office (GAO), Medicaid Managed Care: Challenge of Holding Plans Accountable Requires Greater State Effort, HEHS-97-86, May 1997.
Mercer Government Human Services Consulting, July 1, 2003-December 31, 2004 Capitation Rate Final Certification, November 11, 2003.
Office of Ohio Health Plans (OHP), Bureau of Managed Health Care, Ohio Medicaid Managed Health Care Clinical Performance Measures State Fiscal Year 2002, May 2003.
Office of Ohio Health Plans (OHPb), Bureau of Managed Health Care, Managed Care Plan Membership, April 1, 2004.
Office of Ohio Health Plans (OHPa), Ohio Medicaid Report January 2004 Update, January 2004.
Ohio Department of Jobs and Family Services (ODJFS) Medicaid-Contracting Managed Care Plans Provider Agreement State Fiscal Year 2004-2005 at Appendix G.
Ohio Department of Jobs and Family Services (ODJFS) Performance Center Management Meeting, Lead Screening Rates for Children Ages One and Two, May 29, 2003.
Mark Moran, Parent Sues HMO in Lead Poisoning Case, WebMD Medical News, Aug. 10, 2000.