Pesticide Industry Propaganda: The Real Story
The Real Story Behind the Myths
Pesticide Industry Propaganda: The Real Story: Myth 3: Cancer rates are decreasing
Myth #3: Cancer rates are decreasing, or: "We're winning the war on cancer".
Cancer incidence in the American population has skyrocketed--up 48% from 1950 through 1990, according to National Cancer Institute statistics. These statistics are adjusted for an aging population and exclude lung and stomach cancers where the causes are generally well-understood. (See Note 2).
Those who say cancer rates are decreasing focus on cancer death rates because the cancer death rate overall is stable, despite increasing incidence. While cancer kills the same percentage of people that it always has, far more people are getting the disease. See Table 1.
Table 1: Cancer incidence in the American population has increased by 48 percent since 1950 (excluding cancers of the lung and stomach and adjusted for an aging population).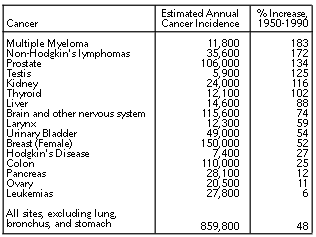 Source: National Cancer Institute. SEER Cancer Statistics Review (Miller, et al. 1994).
Framing the debate in terms of death rates is particularly cold-hearted toward children. It intentionally obscures the fact that a greater percentage of children get cancer than ever before in our history. The incidence of childhood brain cancer and childhood leukemia has increased 33 percent since 1973 (Ries et al. 1993). Cancer kills more children under the age of 14 than any other disease.
Focusing on childhood death rates further minimizes the pain and suffering of these children, the higher incidence of subsequent cancers that these people face as adults, and the costs of maintaining a growing number of childhood cancer wards.
Since 1950, cancer rates for the general population (excluding lung and stomach cancer) have risen at a rate of about 1.2 percent per year, with extraordinary increases in certain cancers, including cancers of male and female sexual organs, notably the breast (up 52%), prostate (up 134%), and testis (up 125%) (Miller et al. 1993).
Other organs exhibiting huge cancer increases during the past 40 years -- which are also shown in lab tests to be prone to tumors from carcinogenic chemicals--are the kidney (up 116%), liver (up 88%), brain (up 74%), and thyroid (up 102%), as well as non-Hodgkin's lymphomas (up 172%) and multiple myelomas (up 183%) (Miller et al. 1993). Farmers, otherwise healthier than the average population, have elevated rates of several types of cancer that are associated with chemical exposure (see farmer reference, Appendix 2). Although some of these higher cancer rates could be due to better detection, detection alone does not account for such enormous increases (Miller et al. 1993).
Notes
2. Most of the increase in lung cancer is due to smoking. Most of the decrease in stomach cancer is due to improved diet, made possible by refrigeration.