EWG's Healthy Home Tips
Tip 16 - 5 Tips for School Lunch
EWG's Healthy Home Tips: Tip 16 - 5 Tips for School Lunch
What our kids eat is critically important -- especially in the middle of the school day, when good nourishment is key to learning. But it's a tall order to prepare a meal that's healthy, tastes great hours after you make it, appeals to your children and isn't bad for the environment. Especially for busy parents on a weekday morning!
Try these smart, doable steps to pack eco-healthy school lunches for your kids: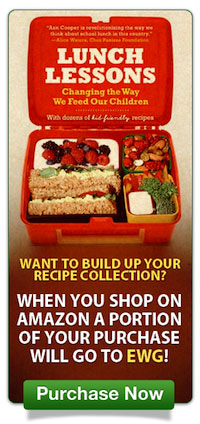 1. Stockpile healthy recipes that work. Before you can think about what to put in the lunchbox, why not consult the experts? Collect a bunch of healthy, kid-popular ideas that you can rely on for those busy weekday mornings. When healthy ideas and ingredients are on hand, they're far more likely to land in the lunchbox! We often turn to these resources:
Lunch Lessons: Changing the Way We Feed Our Children, by Ann Cooper (aka The Renegade Lunch Lady) and Lisa M. Holmes. This gem includes great recipes as well as solid information on kids' nutritional needs and suggestions (from personal experience) for improving school lunch programs. Buy Lunch Lessons on Amazon.com, and a portion of your purchase will be donated to EWG at no extra cost to you.
The Earthbound Cook: 250 Recipes for Delicious Food and a Healthy Planet, by Myra Goodman. Though this cookbook is not specifically about school lunch recipes, we love it because the author focuses on food that's good for our health and the environment. Of course, a great school lunch can come from any cookbook on your shelf, and leftovers from a popular dinner can help you reduce food waste and save money and time. Order your copy today.
The Unhealthy Truth, by Robyn O'Brien. This book has recipes sprinkled all through it, but its focus is on O'Brien's personal quest to serve her family healthy food -- and the unsavory truths about our food system that she discovered along the way. Find it on Amazon. Rather watch than read? Catch her impressive TEDx talk.
2. Send less and better meat. Not all meat is created equal. Your kids should eat small portions of the healthier, low-impact options. Why small portions? On average, Americans eat far more protein than they need -- kids get a whopping three to four times the recommended amount. Here are a few ways to pack meat-smart lunches:
Skip processed meats -- sliced lunch meats, chicken nuggets, hot dogs, sausage and the like -- even though they're easy to stick in a lunchbox.
Avoid meats treated with antibiotics or hormones (look for a "no" message on the label or buy organic).
Stick with chicken and turkey; they're low-impact and low-fat.
Try alternative proteins such as hummus, nuts and whole grains.
Learn more in EWG's Meat Eater's Guide -- you'll find a label decoder for meat and dairy products, tips for smarter shopping (get our wallet card!) and helpful resources, including cookbooks and online recipes.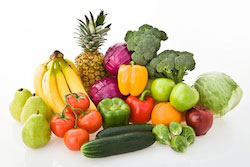 3. Pack more fruits and veggies, with minimal pesticides. The government's new "My Plate" nutrition guidelines recommend that half your plate (or lunchbox, in this case!) consist of fruits and vegetables. Pineapple, mango, cantaloupe, watermelon chunks or kiwi slices are great additions to kid-friendly lunches. Sweet corn and frozen peas make for a great hands-on lunch and have the lowest levels of pesticide residues. Conventional carrots are also lower in pesticides than conventional celery. EWG recommends buying organic whenever possible -- especially for kids. Their neurological systems are still developing, and they eat more fruits and vegetables than adults relative to their body weight. Recent studies of organophosphate pesticides used on some fruits and vegetables have found that children with high exposures are at risk of impaired intelligence and neurological problems. 
However, we know that organic produce isn't accessible or affordable for everyone, so we created our Shopper's Guide to Pesticides in Produce to help people make the healthiest choices given their circumstances. You can substantially lower your pesticide intake by avoiding the 12 most contaminated fruits and vegetables and eating produce with the least pesticide residues.
Eating fruits and vegetables, even conventionally grown, is healthier than eating processed foods and other less healthy alternatives.
4. Junk juice. Instead of sugary juice, soda or bottled water, send your child to school with filtered water or organic, low-fat milk in a stainless steel bottle. You'll use less plastic and save money! It's easy to find kid-size reusable water bottles these days - we recommend Klean Kanteen's stainless steel.
For tips on filtering your tap water at home (a good idea in most places, depending on your local water quality), check EWG's Safe Drinking Water Tips pdf. School water is often unfiltered. Getting a filter added is a great green team project.
5. Reduce lunchtime waste. School lunches can generate lots of garbage, like any out-of-the-home meal. Go easier on the local landfill by sending lunch and snacks in reusable packaging and skip single-serve items. Some simple steps to limit your waste:
Find non-toxic, reusable containers, like stainless steel lunch boxes. If you choose plastic containers, pick them carefully (plastics marked with a #1, 2, 4 or 5 don't contain BPA and may be better options. Check our plastics tips) and wash them by hand -- the dishwasher's extreme heat can cause chemicals to leach. Try to avoid soft-sided plastic lunchboxes.
Send tableware from home.
Skip the straws -- or go reusable if you must.
Just say no to juice boxes.
Get inspired and learn more at Waste Free Lunches.org.
Here are some examples of school lunches our staff put together for their own kids:
Almond butter and jam on whole wheat
Organic cherry tomatoes
Organic watermelon wedges and blueberries
Fruit leather -- look for natural brands or make your own
Brown rice and bean chili in a thermos
Organic sliced carrots
Tortilla chips and fresh tomato salsa
Organic Apple slices
Peanut butter and jelly on whole wheat
Handful of cashews
Organic sweet corn
Organic peach
Tomato soup in a thermos
Small chicken or turkey wrap or sliced cooked chicken
Organic cucumber slices with lime and salt
Organic grapes mixed with carrot slices
We chat a lot about food, safe products, and the policies that affect them on EWG's Facebook page. Join us to learn more and share.