Feeding the world
Without GMOs
EWG.org
Without GMOs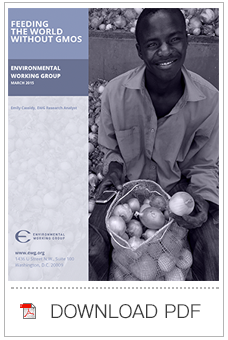 Growing food takes a major toll on the environment, one that will grow worse in the coming decades as humanity faces the challenge of feeding a burgeoning population.
Biotech companies and proponents of industrial agriculture tout genetically engineered crops (often called GE or GMOs) as the key to "feeding the world," but recent evidence shows that this promise has fallen flat. Here are some key facts:
GE crops – primarily corn and soybeans – have not substantially contributed to global food security and are primarily used to feed animals and cars, not people.
Studies show that GE crops in the US are not more productive than non-GE crops in western Europe.
A recent case study in Africa found that crops that were crossbred for drought tolerance using traditional techniques improved yields 30 percent more than GE varieties.
Instead of counting on the still unfilled hopes for GE crops, it makes sense to implement common-sense strategies that could increase food supplies with minimal environmental impact. Among them are:
Taken together, smarter resource use, improving the livelihoods and resources available to small farmers, changing biofuels policies, reducing food waste and changing diets could double calorie availability and reduce the environmental burden of food production.