Exposing the Cosmetics Cover-up
EWG's Investigative Series on the Cosmetics Industry and Products
Thursday, October 10, 2013
Exposing the Cosmetics Cover-up
EWG's Investigative Series on the Cosmetics Industry and Products
At EWG, we know how much you care about the safety of personal care products. Over the next several weeks we will delve deeper into some of the crucial issues surrounding these products. EWG's investigative series, "Exposing the Cosmetics Cover-Up," will take on a wide range of topics that should be on the minds of everyone who uses a personal care product. As EWG has long known — and as leading medical specialists recently underscored -- many cosmetics and personal care products contain potentially toxic ingredients. Major cosmetics companies have not publicly committed themselves to removing harmful ingredients. We'll look at deceptive claims made by some popular anti-aging products. And we'll help you sort out cosmetics safety facts from myths.
Don't forget to search EWG's Skin Deep database for answers to your questions about the products you buy.
We hope you'll check back frequently as EWG digs deep into the cosmetics cover-up.
December 22, 2013
If a claim sounds too good to be true, it probably is. If it's a claim made by a company trying to sell you a wrinkle cream, the federal Food and Drug Administration probably isn't checking it out.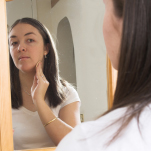 November 12, 2013
Sharpen your pencils for a quick cosmetics quiz
November 8, 2013
This morning, millions of Americans needlessly exposed themselves to harmful chemicals in their personal care products. Why? Because two cosmetic industry giants refuse to stop putting preservatives in products that have been linked to cancer and reproductive health problems.
October 29, 2013
People will go to great lengths to be "beautiful," and cosmetics companies know it. What consumers may not know is that they have long risked death and disfigurement for the sake of beauty.
October 16, 2013
Does a chemical that may cause cancer lurk in your cosmetics? Worse, in your kid's personal care items? Maybe. According to data from the federal Food and Drug Administration, nearly 1 in 5 cosmetic products contains a substance that generates formaldehyde, a known human carcinogen.
October 10, 2013
For years, obstetricians and gynecologists have warned pregnant women to avoid everything from tobacco and caffeine to high heels. Now, it appears, they will begin alerting them about something else: toxic chemicals in their cosmetics and other products.