Exposing the Cosmetics Cover-up
EWG's Investigative Series on the Cosmetics Industry and Products
Thursday, October 10, 2013
Exposing the Cosmetics Cover-up
EWG's Investigative Series on the Cosmetics Industry and Products
At EWG, we know how much you care about the safety of personal care products. Over the next several weeks we will delve deeper into some of the crucial issues surrounding these products. EWG's investigative series, "Exposing the Cosmetics Cover-Up," will take on a wide range of topics that should be on the minds of everyone who uses a personal care product. As EWG has long known — and as leading medical specialists recently underscored -- many cosmetics and personal care products contain potentially toxic ingredients. Major cosmetics companies have not publicly committed themselves to removing harmful ingredients. We'll look at deceptive claims made by some popular anti-aging products. And we'll help you sort out cosmetics safety facts from myths.
Don't forget to search EWG's Skin Deep database for answers to your questions about the products you buy.
We hope you'll check back frequently as EWG digs deep into the cosmetics cover-up.
December 22, 2013
If a claim sounds too good to be true, it probably is. If it's a claim made by a company trying to sell you a wrinkle cream, the federal Food and Drug Administration probably isn't checking it out.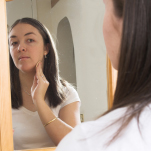 November 12, 2013
Sharpen your pencils for a quick cosmetics quiz
November 8, 2013
This morning, millions of Americans needlessly exposed themselves to harmful chemicals in their personal care products. Why? Because two cosmetic industry giants refuse to stop putting preservatives in products that have been linked to cancer and reproductive health problems.
October 29, 2013
People will go to great lengths to be "beautiful," and cosmetics companies know it. What consumers may not know is that they have long risked death and disfigurement for the sake of beauty.
October 16, 2013
Does a chemical that may cause cancer lurk in your cosmetics? Worse, in your kid's personal care items? Maybe. According to data from the federal Food and Drug Administration, nearly 1 in 5 cosmetic products contains a substance that generates formaldehyde, a known human carcinogen.
October 10, 2013
For years, obstetricians and gynecologists have warned pregnant women to avoid everything from tobacco and caffeine to high heels. Now, it appears, they will begin alerting them about something else: toxic chemicals in their cosmetics and other products.
Mindblowing Facts about Cosmetics Safety
December 22, 2013
Sharpen your pencils for a quick cosmetics quiz:
1. Are cosmetics products approved by the federal Food and Drug Administration before they go on the market?
2. Must toxic and allergenic ingredients be listed on cosmetics ingredient labels?
3. Is the term "Dermatologist Tested" a good way to pick products that won't irritate your skin or cause allergic reactions?
No, no, and absolutely not.
EWG has been looking at the issue of cosmetic safety since 2002. We've been shocked to learn how little power the FDA exercises over the ingredients used in soaps, shampoos, sunscreens and makeup that people apply to their bodies daily.
EWG launched its Skin Deep database in 2004 to shine a light on problems created by FDA's lax oversight of cosmetics and personal care products. Seven years and more than 230 million searches of Skin Deep later, we have educated millions of consumers, helped develop a market for less toxic products and seen major companies shift away from some of the most troublesome ingredients.
Changes to the FDA's rules that govern cosmetic products are badly needed, but we haven't seen any of them happening.
As the agency puts it on its website, "FDA does not have the legal authority to approve cosmetics before they go on the market." As well, it acknowledges, "cosmetic companies may use almost any ingredient they choose." Worse yet, the agency lacks the authority to recall possibly unsafe products.
For example, advocates, scientists and FDA officials themselves have warned consumer against hair straightening products, known as "Brazilian" or "keratin treatments." In reality, they are based on formaldehyde, which the U.S. government and World Health Organization have categorized as a known human carcinogen.
The FDA launched an investigation of these formaldehyde hair straighteners in 2010 and has collected dozens of reports of serious hair damage and scalp burns by consumers using these products. The agency sent a warning letter to companies in 2011, but consumers continue to be exposed to these harmful products. Earlier this month, superstar Jennifer Anniston cut her famously straight hair short because, as she told ElleUK, "I did this thing called a Brazilian and my hair did not react really well to it."
Want to know how little is known about the products you buy? Want to find out what label terms "dermatologist tested" or "hypoallergenic" really mean? Need to know if you can avoid allergenic ingredients by reading product labels? You can sort out myths from facts about cosmetics safety with EWG's Skin Deep website.
Find out if you are a savvy cosmetics shopper by taking FDA's cosmetics safety quiz. http://www.accessdata.fda.gov/videos/cfsan/cosmeticsquiz/ While we may quibble with one or two of the answers here, we appreciate the agency's frank admission that it cannot do what's necessary to ensure the safety of personal care products.
Are Anti-Aging Products The Fountain Of Youth? Really?
November 12, 2013
By Thomas Cluderay, Former EWG General Counsel, and Tina Sigurdson, Former Stabile Law Fellow
If a claim sounds too good to be true, it probably is. If it's a claim made by a company trying to sell you a wrinkle cream, the federal Food and Drug Administration probably isn't checking it out.
The FDA routinely requires drugs to be tested before they are sold to consumers to ensure that they perform as promised and are safe. As the old saying goes, the cure can be worse than the ailment.
EWG has long sounded the alarm that the FDA does not subject cosmetics to similar premarket reviews for efficacy and safety. After you've read a few ads for anti-aging creams, you might be asking yourself, are these supposed miracle creams cosmetics or drugs? When do regulators insist on testing? Is there sufficient FDA oversight for anti-aging products?
The answer may give you worry lines. The FDA evaluates the claims a company makes about a product to determine whether it's a cosmetic or drug. If the label asserts that it will temporarily beautify a person's appearance, the agency treats it as a cosmetic. If it claims to treat or cure a disease or transform the body's structure or function, then the agency regards it as a drug. For example, if a deodorant's label says it will mask odor, it's a cosmetic. If that same deodorant is combined with an antiperspirant and advertises that it will inhibit the sweat glands' secretions, it qualifies as a drug, and the FDA generally requires health and safety testing before it is introduced to the marketplace.
So what about anti-aging products? Those that claim to improve the skin's appearance briefly are cosmetics. But those that promise to alter the way skin ages – in effect changing the skin's "structure and function" – should be classified as drugs.
Many makers try to straddle the line. Hoping to avoid the red tape of premarket review, they tell the FDA their formulations are cosmetics. Meanwhile, though, they try to convince customers that their anti-aging potions hold drug-like powers to turn back time and are worth every penny of the small fortune they charge.
All too often, the FDA does not step in when it should. Clarins says its Extra-Firming Day Wrinkle Lifting Cream "firms, lifts and tones – smoothing lines and wrinkles in just 4 weeks" – for $82 for a 1.7 fl. oz. jar. The company claims the cream contains a "powerful plant complex" that "rebuilds the bonds between collagen, elastin and cells, strengthening skin's architecture on every level." This most certainly is a promise to alter the structure and the function of the skin. And yet the FDA has not taken action to stop the marketing of this product.
To earn your trust, some companies go so far as to insinuate that their creams and serums are medicine. The cosmetics industry often refers to products that purport to have medicinal or drug-like benefits as "cosmeceuticals," although the term, which combines the concepts of "cosmetic" and "pharmaceutical," is meaningless under the Federal Food, Drug, and Cosmetic Act. Companies like Dermelect Cosmeceuticals® use this invented word in an attempt to exploit consumers' hopes that the cream will transform their skin in ways ordinary lotion will not. But makers of cosmeceuticals rarely submit their wares to the FDA for review as drugs.
Some companies promote their creams by citing "scientific" evidence or endorsements by medical professionals. On its website, DERMAdoctor praises a Dr. Kunin for conceiving and developing products that are "just what the skin doctor ordered" and a "prescription for beautiful skin." Physicians Formula® sells an "Aging Cosmeceutical Skin Care Kit." Sound like drugs, right? But there's no indication in FDA public records that either product has been tested as drugs.
Over the years, the FDA has warned a handful of companies – a fraction of the apparently large number of likely offenders – not to advertise their products as new drugs without requisite agency approval. However, regulators have not acted to require premarket drug review of most anti-aging products. In response to warnings, companies have simply tweaked the wording in their products or advertisements or have pulled products and replaced them with the next wonder creams. Which raises a critical question: if these products really do deliver on their promises of eternal youth, why do their makers duck tests that would prove their worth?
Here's the bottom line: if anyone promises you sips, or gulps, from the fountain of youth, beware. By buying pricey anti-aging products, you may be wasting money on concoctions that cannot live up to the hype. What's worse, you may be exposing yourself to toxic or hormone-disrupting chemicals. If you do choose to buy a "cosmeceutical," look up the product on the Skin Deep® database to learn about the hazards its ingredients pose. EWG has created Skin Deep®, which lists ingredients of more than 80,000 personal care products, to fill in where the FDA leaves off.
And now, you can download the Skin Deep® mobile app, so you can check products while you're shopping
Revlon and L'Oreal Should Follow J&J's Example
November 8, 2013
By Jason Rano
This morning, millions of Americans needlessly exposed themselves to harmful chemicals in their personal care products.
Why?
Because two cosmetic industry giants refuse to stop putting preservatives in products that have been linked to cancer and reproductive health problems.
Revlon and L'Oreal continue to use Quaternium-15 and DMDM hydantoin -- preservatives that slowly release formaldehyde. Health experts classify formaldehyde as a carcinogen when inhaled.
What's more, Revlon and L'Oreal continue to use long-chain parabens as preservatives as well. Some parabens are endocrine-disruptors—that is, they interfere with the hormones that regulate the development and growth of our reproductive system.
Last month, more than 100,000 of you joined a petition urging Revlon and L'Oreal to reformulate their productive to stop using formaldehyde-releasing preservative and endocrine disruptors like parabens. We'll be sharing your request with Revlon and L'Oreal soon.
We hope Revlon and L'Oreal will follow the example set by Johnson and Johnson, which has already promised you they would phase out some of these ingredients.
J&J announced last year that the company would phase out formaldehyde releasers like Quaternium-15 and DMDM hydantoin in all baby products and -- except for rare instances -- in adult products as well
J&J still has a ways to go to get potentially dangerous ingredients out of products many Americans use daily. Although the company committed to phase out some parabens, J&J will continue to use others that have been linked to negative health effects.
Why are consumers at the mercy of cosmetic giants like Revlon and L'Oreal?
Because some companies are blocking legislative reforms that would give FDA the power to ban or restrict the use of harmful ingredients in cosmetics.
Guess who? That's right. Revlon and L'Oreal, according to a recent report (http://online.wsj.com/news/articles/SB10001424052702304682504579153842632252528) by the Wall Street Journal.
True Horror Stories Of Cosmetic Dangers
October 29, 2013
By Tina Sigurdson, Former Stabile Fellow
People will go to great lengths to be "beautiful," and cosmetics companies know it. What consumers may not know is that they have long risked death and disfigurement for the sake of beauty.
In 1933, a woman was hospitalized with excruciating eye pain. Doctors watched in horror as her eyes were eaten away as though by acid. The culprit turned out to be an eyelash-darkening treatment called Lash Lure, which contained paraphenylenediamine, a toxic coal tar dye. [Image credit: FDA]

Koremlu, a depilatory that contained the rat poison thalium acetate, was also widely marketed throughout the 1930s. It sold at $10 a jar, a small fortune in those days, despite proof that it caused baldness, pain and paralysis.
In 1936, Ruth deForest Lamb's book American Chamber of Horrors, about the Food and Drug Administration's cautionary display of fraudulent and dangerous products, recounted the story of a woman who developed dark rings around her eyes and neck, followed by bluish black gums and loose teeth. She was found to be suffering from mercury poisoning caused by Gouraud's Oriental Cream. This "magic beautifier" had been on the market for decades, even though people knew it contained the mercury compound calomel.
1938 cosmetics bill grants FDA limited powers
The federal government had no power to ban cosmetics like Lash Lure, Koremlu and Gouraud's Oriental Cream, even though they caused horrifying – and preventable -- injuries to women. At the time, the Food and Drug Administration had jurisdiction only over food and drugs, not cosmetics. It was not until 1938 that Congress passed the Federal Food, Drug and Cosmetic Act, which enabled the FDA to initiate action in federal courts to seize Lash Lure and other dangerous products. The measure gave the FDA power to act against dangerous cosmetics through the Department of Justice and federal court system.
But the agency's ability to address unsavory beauty products was limited. The federal law required pharmaceutical companies to prove the safety of drugs before putting them on the market, but no pre-market testing was mandated for cosmetics. Only two pages of the Food, Drug and Cosmetic Act were dedicated to cosmetics — two pages that to this day give the FDA little authority to ensure that personal care products would not harm their users.
Investigative reporters, EWG weigh in
Because the FDA lacked legal authority and resources to police the market, many dangerous cosmetics products continued to injure the public. The field was left to consumer activists and investigative reporters like Toni Stabile. In 1970, Stabile's exposé, entitled Cosmetics: Trick or Treat, revealed how little had changed since 1938. She found that the market was flooded with eyeliner containing coal tar dye, banned in eye area cosmetics because of the Lash Lure scandal and linked to severe skin reactions and cancer. A neutralizing agent in home perm kits sent several women to the hospital with chemical burns to their eyes. A combination of synthetic resin and formaldehyde in nail polish base coats caused several hundred women pain in their fingernails, and often the nails fell out.
In 2004, EWG launched the Skin Deep cosmetics database, an online resource where EWG scientists have researched ingredients in popular cosmetics and personal care products. It aimed to fill in where industry and government left off. Today, Skin Deep lists more than 78,000 items. The Skin Deep mobile app is coming soon.
Mascara can still contain mercury
Today, cosmetics still plague us with sinister threats. Scary truth: even if your mascara doesn't burn your eyeballs like Lash Lure, it may not be free of toxic chemicals. FDA and European Union rules permit a small amount of mercury to be used as a preservative in mascara and other eye area cosmetics.
EWG has waged a long campaign to force cosmetics makers to stop using toxic and endocrine-disrupting chemicals such as phthalates, a group of plasticizers. Some dangerous substances are lumped together under the vague term "fragrance," meaning consumers can't even tell if they are being exposed to these chemicals.
As EWG reported in 2011, hair straighteners that contain large amounts of formaldehyde, a known human carcinogen and potent allergen, are being sold even though the FDA and Occupational Health and Safety Administration have warned salon workers and their clients that formaldehyde-laced straighteners have caused multiple injuries including dizziness, vomiting and hair loss. Yet the FDA has not removed these products from the market.
Toni Stabile passed away in March of this year, but her legacy lives on. She created a fellowship that enables Georgetown University Law graduates like me to work at the Environmental Working Group to improve personal care product safety. As I thank Stabile for her contributions and for giving me an opportunity to make cosmetics safer, I have to ask—why are cosmetics still so poorly regulated?
Why can't we be sure cosmetic products are safe before we put them on our bodies?
What's secret about fragrances?
We should be able to identify the ingredients in our cosmetics, including those currently listed only as "fragrance." Companies should be required to demonstrate that their cosmetics are safe before they sell them to us.
Let's make sure products like Lash Lure stay a story from FDA's grisly vault.
Is cancer-causing formaldehyde in your cosmetics?
October 16, 2013
By Johanna Congleton, Former EWG Senior Scientist
Does a chemical that may cause cancer lurk in your cosmetics? Worse, in your kid's personal care items?
Maybe. According to data from the federal Food and Drug Administration, nearly 1 in 5 cosmetic products contains a substance that generates formaldehyde, a known human carcinogen.
The product label won't tell you if formaldehyde is present, even though the manufacturer has made sure a small amount of it is inside in the jar or bottle, to prolong shelf life. As everybody who has ever dissected a frog in biology class knows, formaldehyde is an effective preservative.
But the U.S. government and World Health Organization have classified formaldehyde as carcinogenic when its fumes are inhaled. It is also a potent skin sensitizer and allergen. Cosmetics companies generally don't dump pure formaldehyde into their concoctions. Instead, they take a roundabout route by using what they call "preservative systems" that employ any one of several chemicals, called "formaldehyde releasers." These are chemicals that, when added to water, will decompose slowly over time to form molecules of formaldehyde. Some manufacturers favor this method because it acts like a time-release capsule, maintaining a fairly constant level of preservative in the mix. The reactions that generate formaldehyde occur silently as the products sit on shelves in stores or bathroom cabinets.
If you don't want a product that contains a formaldehyde-releasing chemical, you have to play detective and scrutinize the product label. Chemicals in this category include:
DMDM hydantoin
Imidazolidinyl urea
Diazolidinyl urea
Quaternium-15
Bronopol (2-bromo-2-nitropropane-1,3-diol )
5-Bromo-5-nitro-1,3-dioxane
Hydroxymethylglycinate
The FDA does not restrict the amount of formaldehyde that can be present in cosmetics sold in the U.S. But the American personal care industry's ingredient safety panel, the Cosmetic Ingredient Review, has issued voluntary guidelines that echo the European Union's legally enforceable directive, which bars more than 0.2 percent formaldehyde in personal care products.
The European Union's policies are better than the FDA's, but they do not completely protect people against cosmetic chemicals that may induce allergic reactions. The EU allows personal care products to contain up to 2,000 parts per million of free formaldehyde. That's more than enough free formaldehyde to cause dermatitis, an inflammation of he skin. Concentrations of formaldehyde as low as 200 to 300 parts per million have been shown to trigger dermatitis. Like formaldehyde itself, formaldehyde-releasing chemicals are allergens.
To be sure, the amount of formaldehyde in a cosmetic product at any given time is tiny. The cancer risks presented by a cosmetic could be considered slight -- but that product is not a person's only source of exposure. People are also exposed to formaldehyde by pressed-wood products, cigarette smoke, vehicle exhaust and unvented fuel-burning appliances such as gas stoves, wood-burning stoves and kerosene heaters according to the National Cancer Institute and the Environmental Protection Agency. Personal care products that contain formaldehyde make an unnecessary contribution to an individual's exposure to this chemical – particularly since research shows that cosmetic products can release small amounts of formaldehyde into the air shortly after they are applied. Formaldehyde is most dangerous when inhaled.
Cosmetics need preservatives to prevent the growth of bacteria. But formaldehyde releasers are not the only option. Last year Johnson & Johnson, one of the world's largest manufacturers of baby care and adult skin and hair care products, announced it would cease adding formaldehyde releasers to its products. There are safer substitutes such as sodium benzoate.
How can you avoid formaldehyde in your products? Check the label carefully, both for the ingredient formaldehyde itself and for the seven common formaldehyde releasers listed above. Or let EWG do the research for you. Check out the products in EWG's Skin Deep Cosmetics Database. It contains information on more than 77,000 products and their ingredients. The database, searched more than 200 million times by savvy consumers, highlights toxic substances like formaldehyde — and those insidious formaldehyde releasers.
And watch for the Skin Deep mobile app, coming soon!
Toxic Chemicals Threaten Healthy Births
October 10, 2013
By Scott Faber, Vice President of Government Affairs and Nneka Leiba, Deputy Director of Research
For years, obstetricians and gynecologists have warned pregnant women to avoid everything from tobacco and caffeine to high heels.
Now, it appears, they will begin alerting them about something else: toxic chemicals in their cosmetics and other products.
As EWG has reported for more than a decade, many chemicals found in personal care products have the potential to hinder people's ability to reproduce, to interfere with pregnancies and to cause birth defects.
And recently, citing scientific evidence accumulated over the last 15 years, the American College of Obstetricians and Gynecologists and the American Society for Reproductive Medicine have urged doctors to warn their patients that exposure to toxic chemicals before conception and during pregnancy can have significant and long-lasting effects on reproductive health.
The medical groups' conclusions align with EWG's research, which has determined that reproductive health problems linked to toxic chemicals in cosmetics and other personal care products include:
Infertility
Low birth weight
Preterm birth
Cancers
Birth defects
For example, in 2005, scientists at the University of Rochester reported that prenatal exposure to phthalates —plasticizers commonly used in personal care products — was linked to abnormal reproductive development in baby boys. Despite these findings phthalates are still used in cosmetic products, including some nail polishes and "fragrance" mixtures.
Another group of troublesome ingredients oftem found in personal care products from moisturizers to toothpaste are parabens. Studies indicate they can mimic the hormone estrogen and interfere with the normal function of the hormone system.
Although dangerous chemicals are sometimes found in food, pregnant women are more likely to smear chemicals on their bodies than on their bagels.
According to an EWG survey, an average woman uses about twelve personal care products each day, exposing herself to about 168 unique chemicals. These products don't always remain on the skin's surface. Many cosmetics ingredients penetrate the skin. Scientists have found ingredients such as phthalates and fragrance components in human tissues.
Most cosmetics are not subject to any meaningful regulation. EWG is trying to change that. But powerful cosmetics houses are fighting efforts to give the federal Food and Drug Administration the power to regulate chemicals in cosmetics. They say they conduct their own "safety" reviews, but they do not have to share them with the FDA. What's more, the FDA does not have the resources or legal authority to conduct its own safety reviews or to compel studies by cosmetic companies.
As the medical groups have pointed out in their joint statement, "Preconception and prenatal exposure to toxic environmental agents can have a profound and lasting effect on reproductive health across the life course…. Because of deficiencies in the current regulatory structure, unlike pharmaceuticals, most environmental chemicals have entered the marketplace without comprehensive and standardized information regarding their reproductive or other long-term toxic effect."
Among the major companies that persist in using potentially ingredients despite mounting evidence of their dangers are L'Oreal and Revlon. They produce and sell a number of personal care products made with hazardous parabens. For example, L'Oreal's Revitalift Cream Cleanser and Revlon's Colorsilk line of hair colors contain at least one paraben.
An industry-financed review system called the Cosmetic Ingredient Review has rubber-stamped thousands of chemicals and has rejected only 11 ingredients as unsafe for use in personal care products. By contrast, European regulators have banned hundreds of chemicals in cosmetics. Nevertheless, U.S. companies have been allowed to use Cosmetic Ingredient Review "studies" to substantiate the "safety" of their ingredients.
As EWG's Heather White pointed out in her recent article, "Don't Worry Your Pretty Little Heads," the American Chemistry Council has cynically attacked the doctors' statement on chemicals dangers, claiming it will sow "confusion and alarm among expectant mothers." Pregnant women need better than this condescending public relations tactic. They deserve to be confident that their personal care products won't endanger their reproductive health.