EWG Investigates: Pruitt's Toothless Poultry Law
EWG Investigates: Pruitt's Toothless Poultry Law: Methodology
Enacted on April 15, 2002, Oklahoma HB 2349 restricts the construction or expansion of poultry feeding operations within one mile of any designated scenic river area, as specified by the state Scenic Rivers Act, or outstanding resource waters, as designated by the state Water Resources Board. The law also limits expansion of existing poultry barns except under certain circumstances. However, the law also narrowly applies its restrictions to out-of-state corporations, significantly weakening its impact.
To examine the scope of the exemptions and the enforcement of the law, EWG conducted a proximity analysis within the Illinois River watershed of all poultry operations inside a one-mile radius of protected waterways. Among the waterways sampled were Ballard Creek, Barren Fork, Dennison Hollow, England Hollow, Evansville Creek, Flint Creek, Green Creek, Peach Eater Creek, Sager Creek, Scraper Hollow, Shell Branch, Tahlequah Creek, Tyner Creek and the Upper Illinois River.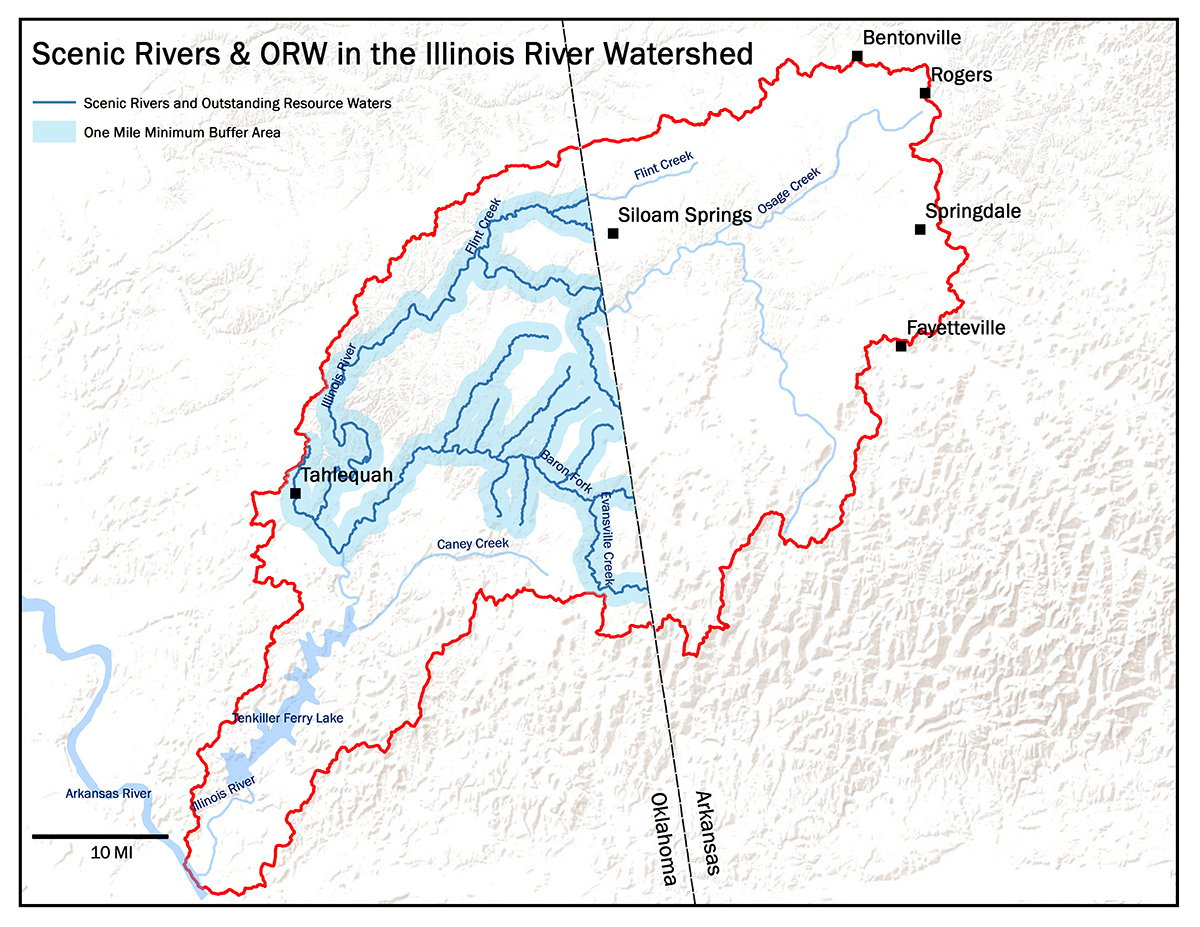 Scenic rivers, outstanding resource waters and one-mile minimum buffer areas.
Source: ORWB, EWG.
Data showing enforcement actions related to the location of poultry operations were only available from the state through an open records request. As inquiries were not immediately returned, analysts assessed aerial photos for the evidence of poultry facilities, typically represented by elongated buildings with steel roofs and feeder bins attached to one side. In the absence of ground verification, EWG is highly confident in its efforts to detect poultry barns with high resolution photography.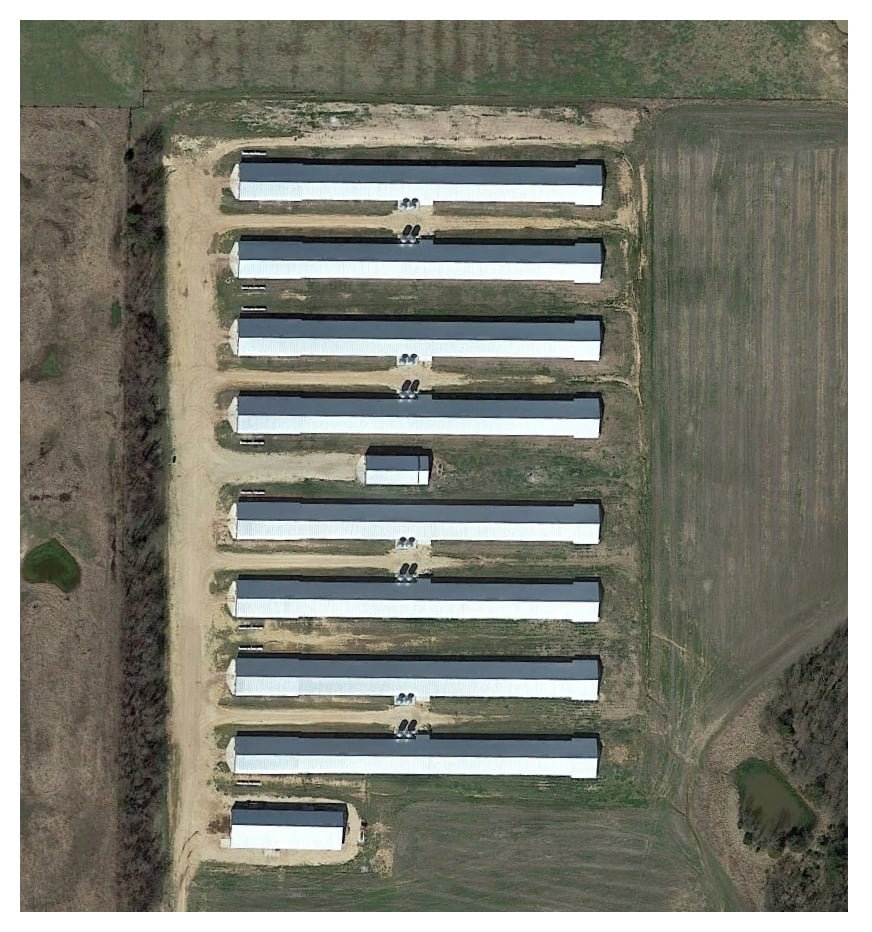 Eight barn poultry operations located in Adair County, Okla.
Source: Google Earth, 2016.
Analysts scanned over 1,600 square miles of Illinois River watershed imagery from 2016 and found 473 operations housing birds in 1,987 barns. Within Oklahoma there are 112 operations with 449 barns, and there are 361 operations with 1,538 barns in Arkansas.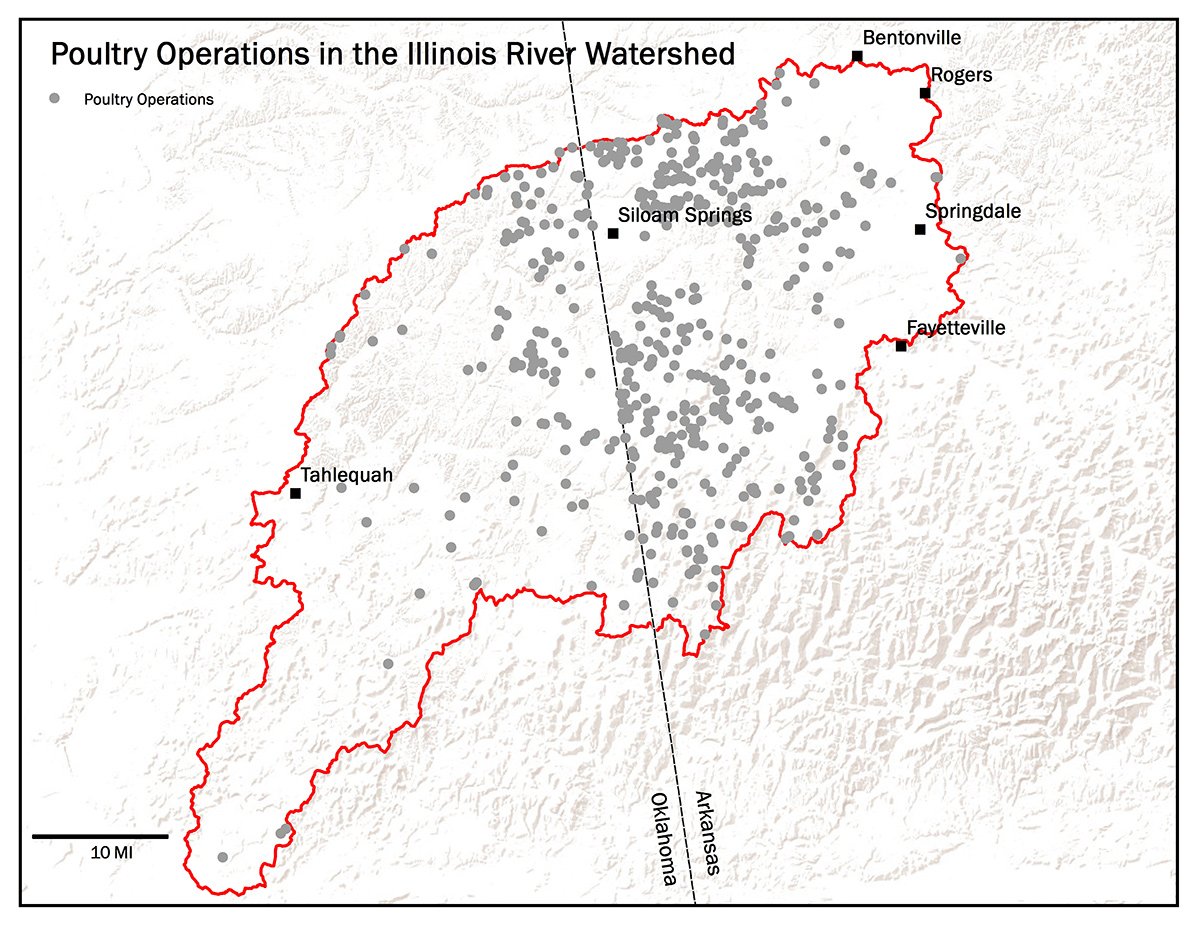 EWG detected over 470 poultry operations within the Illinois River watershed.
Once a presumed poultry operation was located, the 2016 imagery was compared to imagery from 2003 and 2013 to establish if the operation had previously existed, was newly created, or had expanded or contracted.
Operations were considered newly created if no poultry operation existed in 2003, but one was found in 2016. An operation was considered expanded if the number of poultry barns in 2016 was greater than the number of poultry barns in 2003. Operations were considered contracted if there were more poultry barns in 2003 than in 2016.
After creating a geographic location for all current poultry operation locations and associated barn counts, analysts tagged these locations if they were within one mile of rivers designated as scenic or outstanding resource waters. Geographic data representing the specified waterways was obtained from the Oklahoma Water Resources Board.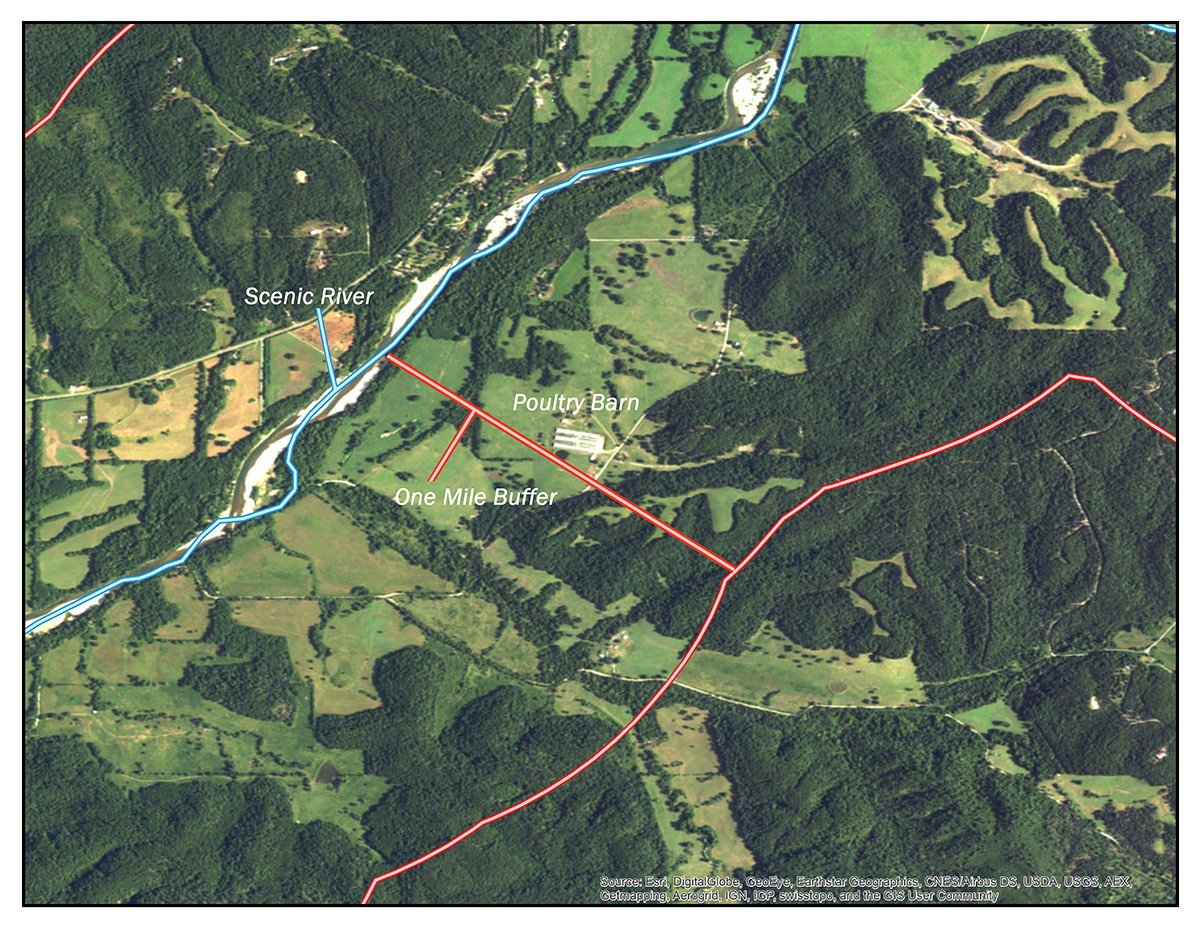 A poultry operation with three barns within one mile of the Upper Illinois River, an Oklahoma scenic river.