Crop Insurance
An Annual Disaster
Crop Insurance: Crop Insurance vs. Ad Hoc Disaster Payments
Defenders of the crop insurance program argue that crop insurance still costs less than disaster payments. In a May 2015 issue of Agweek [http://www.agweek.com/crops/3795089-ag-returns-fire-insurance-opponents], for example, Senator Pat Roberts, the Chairman of the Senate Committee on Agriculture, Nutrition and Forestry, acknowledged that the current crop insurance program is expensive, but claimed insurance is less expensive than the "old" ad hoc disaster programs.
The numbers do not bear him out.
EWG used USDA payment and cost data assembled in our Farm Subsidy Database to compare the cost of crop insurance and disaster programs. In this analysis, payments from disaster programs mostly consist of agriculture payments made through ad hoc disaster bills, and payments made through the SURE program starting in 2010. Disaster payments, crop insurance payouts and crop insurance costs were adjusted for inflation and are reported in 2012 dollars.
We looked at two measures of the cost of crop insurance: the payouts made to farmers and the net cost of the program to taxpayers. The crop insurance payouts are the total indemnities paid to farmers through the federal crop insurance program each year. The net cost of crop insurance subtracts the amount of premium paid by farmers and adds in other costs of running the program. The share of policy premiums paid by taxpayers – the premium subsidy – makes up most of the net cost of the crop insurance program.
Large ad hoc disaster programs were enacted in 1999, 2000, 2001, 2003, 2005 and 2008. In those six years, the crop insurance program sent out $26.8 billion in payouts compared to $15.4 billion in ad hoc disaster payments. Crop insurance payouts exceeded disaster payments in all of these years except 2005. The net cost of crop insurance, $19.9 billion, was almost a third larger than disaster payments.
Between 1999 and 2008 ad hoc disaster payments varied greatly from year to year, ranging from $105.2 million in 2006 to $3.3 billion in 2005. But crop insurance payouts went out year after year whether or not a disaster occurred. Crop insurance payouts never fell below $2.8 billion in any of those years, and peaked in 2008 at $9.3 billion, almost three times larger than the highest year for disaster payments. The net cost of insurance in any year never fell below $2 billion and was higher than disaster payments in every year except 1999 and 2005 (Figure 1).
Figure 1: Crop insurance cost far more than ad hoc disaster payments.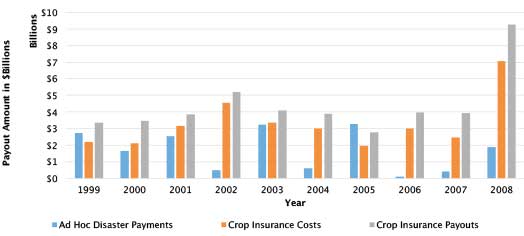 Source: EWG, from
2012 Farm Subsidy Database
Since major ad hoc disaster payments were no longer provided after the 2008 farm bill, crop insurance payouts and the net cost of the program to taxpayers have soared as crop prices boomed and producers took advantage of the big bump in premium subsidies Congress mandated in 2000. Ad hoc disaster payments and SURE program payments totaled $4.3 billion between 2009 and 2012. Ad hoc disaster bills were still passed to address some local disasters, such as drought in California, but no major bills were passed after 2008. For 2009-2012, total crop insurance payouts were $35.4 billion and the net cost to taxpayers of crop insurance was $26.1 billion.