City Slickers
How farm subsidy checks end up in big cities
City Slickers: Chapter 3. Findings
Beverly Hills, 90210
That's what we typed into the computer one evening in late November, 1994. And after months of computer tabulations and compilations, we were stunned to find that a "person" who is "actively engaged in farming," with a current mailing address in that most famous of zip codes, has received Federal farm subsidies 9 out of the past 10 years--68 checks totaling $412,666 dollars--from a farm in the Texas Panhandle. And this "farmer" was not alone.
It turns out that 47 Federal farm subsidy recipients--individuals, partnerships, corporations, joint ventures, and trusts--who have received a total of $1.27 million in payments since 1985, list Beverly Hills zip codes as their permanent mailing address at USDA. And their subsidy checks are earned by farms in 16 states in addition to California. Someone whose USDA mailing address is in Beverly Hills actually got a Federal farm subsidy check for five bucks for a farm in Louisiana.
American taxpayers are sending hundreds of millions of dollars in Federal farm subsidy checks every year to a handful of absentee owners, corporations and other "farmers" who live smack in the middle of the country's biggest cities. From Beverly Hills to Key West, EWG research shows that it is the rare, well-heeled suburb, urban enclave or resort spot in the United States that does not have at least one Federal farm subsidy recipient in residence.
Over a million checks to big city recipients
Over the past decade, taxpayers wrote 1.6 million agriculture subsidy checks worth more than $1.3 billion to "city slickers" whose permanent mailing address is in the heart of one of the 50 most populous urban areas in the United States. For a variety of reasons, even this substantial sum probably underestimates farm subsidy payments made to recipients in major U.S. cities.
An Environmental Working Group (EWG) analysis of 110 million USDA computer records of $106 billion-worth of farm subsidy payments made since 1985, found over 74,00 recipients whose current mailing address for agriculture department checks is in downtown New York City, Los Angeles, Chicago, Houston, Phoenix, Miami, St. Louis, Detroit, Dallas or other top U.S. cities (Table 1). When EWG analyzed major suburbs and satellite cities and towns in the greater metropolitan areas of just 28 of the 50 biggest cities, the number of "farmers" increased by 93 percent and total payments increased by $528 million to $1.8 million (Table 2)
Table 1: Summary of Federal farm subsidies for America's big cities.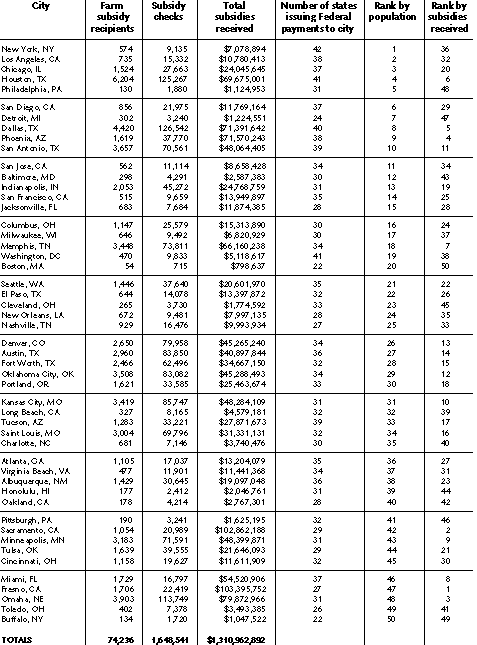 Source: Environmental Working Group. Compiled from USDA data.
Table 2: Suburbs of the top 50 cities receive significant Federal farm subsidies.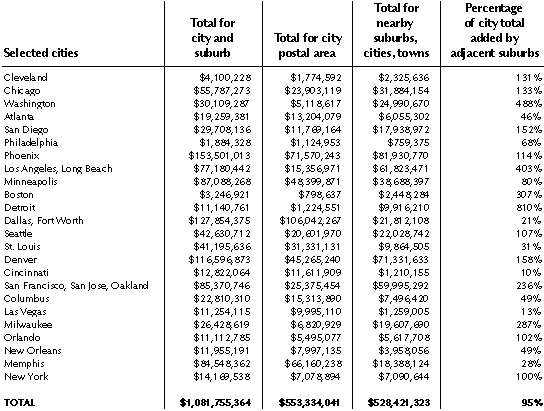 Source: Environmental Working Group. Compiled from USDA data.
Payments flow in from dozens of states
In every major U.S. city, farm subsidy checks pour in from farms located in dozens of states. Farms in 42 states pump government subsidies into New York City, 38 states send Federal farm dollars to Los Angeles, 37 states have farm program recipients in Chicago, and 41 states are sending agricultural assistance to "farmers" in Houston. In many big cities--New York City, Los Angeles, Chicago, and Tucson, for example--half or more of the subsidies come from farms located out of state.
Just a few city slickers get most of the subsidy payments
In big cities as in the countryside, a small number of individuals, partnerships, trusts and corporations collects the lion's share of Federal farm subsidies. Just 862 big-city subsidy recipients (1 percent) collected $388 million, nearly 30 percent of the total payments to the postal areas of the top 50 cities. The top recipients in the 50 biggest cities received 6,585 checks for $88.6 million (Table 3). At the other end of the spectrum are thousands of farm subsidy recipients who received very small amounts of money over the past 10 years. Overall, about 57 percent of the subsidy recipients received less than $5,000, totaling just 5 percent of the payments. Many recipients received just a few, small subsidy checks, in which case the program benefits may have been less than USDA's processing costs for the payments. Payments that went to cities were made under literally dozens of Federal programs that subsidize farmers, including commodity supports, conservation and disaster programs.
Table 3: The top recipients in the 50 biggest cities received 6,585 checks for $88.6 million in Federal farm subsidies.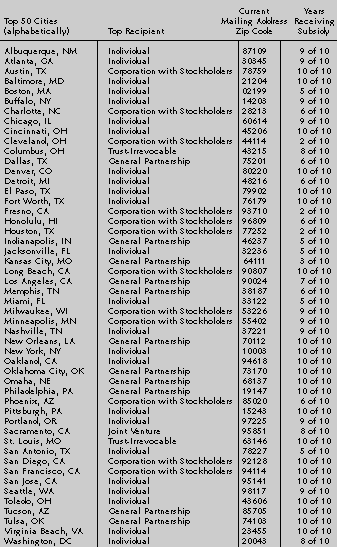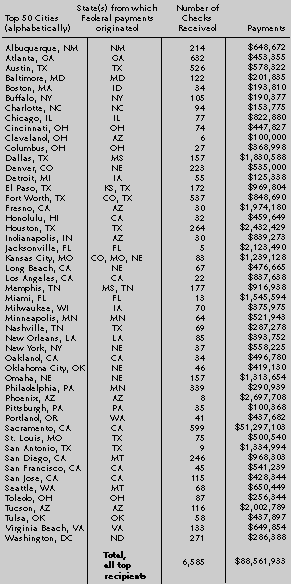 Source: Environmental Working Group. Compiled from USDA data.
Here in brief is the city slicker story for some of those top cities.
New York City
A total of 574 recipients with current USDA mailing addresses in New York City cashed 9,135 USDA checks, totaling more than $7 million. One resident of Manhattan zip code 10003 received 37 checks worth $558,225. Checks came every year since 1985, for a farm in Nebraska. The concentration of payments is dramatic: more than 92 percent of the cash ($6.4 million) went to just 208, or 36.2 percent, of recipients. Based on the source of payments, "farmers" from 42 states live among the largest urban populace in the nation, and they received 93.5 percent of their government payments for out-of-state farms.
Los Angeles
Between 1985 and 1994, 735 Federal farm subsidy recipients who currently have Los Angeles mailing addresses received 15,332 USDA checks, totaling more than $10.7 million. The top recipient in Los Angeles is a general partnership in zip code 90024 that received 22 checks over 7 of the last 10 years, worth more than $837,000. Checks sent to Los Angeles recipients came from farms in 38 states; 57 percent of payments were for farms not in California. Less than half of the L.A. recipients received nearly all of the payments--$10.1 million or 94.8 percent.
Chicago
A total of 1,524 "farmers" whose current mailing address with USDA is in the Chicago postal area received a total of 27,663 USDA checks worth $23.9 million. The most farm subsidy payments in Chicago went to an individual in zip code 60614, who collected 77 checks over 9 of the last 10 years, worth more than $822,000. Chicago ranks 20th among the 50 largest American cities for farm program payments. Although Illinois is a farming state, Chicago recipients drew Federal payments for farms in 37 states; 43 percent of payments were for out-of-state farms. Similar to the concentration in Los Angeles, 41.3 percent of recipients (630 residents) received $22.8 million (95.2 percent of payments).
Honolulu
Over the last 10 years, 2,412 USDA checks worth more than $2 million were sent to 177 farm program participants in Honolulu. The top-ranked recipient in Honolulu is a corporation with stockholders in zip code 96809. This corporation received 32 checks worth $459,649 in 6 of the last 10 years for a farm in California. Farms from 31 states generated Federal subsidy payments to recipients whose current address is Honolulu. A mere 14.9 percent of Federal farm subsidy payments sent to Honolulu were for Hawaiian farms.
Concentration is as expected: 44.6 percent of recipients (79 residents) got 92.3 percent of the subsidies, or $1.9 million.
Dallas
A general partnership in Dallas, Texas received 157 checks over 6 of the last 10 years totaling more than $1.8 million--from farms in two counties in Mississippi. The partners weren't alone: 4,420 residents of Dallas received more than $71.4 million from farms in 40 states. The payments were disbursed in 126,542 USDA checks between 1985 and 1994. Dallas ranks fifth among the largest 50 cities in the nation receiving Federal farm subsidies. Texas land barons may still reign: 66.5 percent of the payments to Dallas were for Texas farms, and 94 percent of the $71.4 million ($61.1 million) went to 41.8 percent, or 1,848 recipients.
Atlanta
A total of 632 checks were mailed over 9 of the last 10 years to the top recipient in Atlanta--an individual in zip code 30345--for a total of $453,355. In all, from 1985 through 1994, 1,105 residents of Atlanta collected 17,037 USDA checks worth more than $13.2 million. The city is home to "farmers" who receive USDA checks for land in 35 states. More than half of the farm subsidies paid to Atlantans came from farms out-of-state. As in all the cities we studied, concentration of payments is top-heavy: 91.6 percent of the farm subsidy cash ($12.4 million) went to 450 recipients, or 40.7 percent.
Washington, DC
The top "farmer" in Washington, DC received a total of 271 farm subsidy checks from North Dakota in 8 out of the past 10 years, totaling more than $286,000. More than $5.1 million, disbursed in 9,833 USDA checks went to 470 residents of the nation's capital from 1985 to 1994. Only 9 states failed to send Federal farm subsidy checks to recipients in Washington, DC. About 40 percent of Washingtonian recipients (186 residents) received most of the money: $4.7 million, or 92 percent of the payments.
The Biggest Payments Go to Partnerships, Joint Ventures and Corporations.
More than 63 percent ($825 million) of the total farm subsidies paid to big city recipients went to individuals, but on average individuals received just $13,000 per "person" over the entire 10-year period (Table 4). General partnerships brought in 12 percent ($150 million), averaging $72,000 over the 10 years. Corporations with stockholders collected 11 percent of total big-city subsidy payments ($138 million), averaging $58,000, and joint ventures collected $74 million (5.7 percent of the payments), but averaged over $200,000 each over the 10-year period. Subsidy payments also went to churches, county, state and city governments, public schools, and other recipients with big-city mailing addresses, including the Federal government itself.
Table 4: Subsidies by type of entity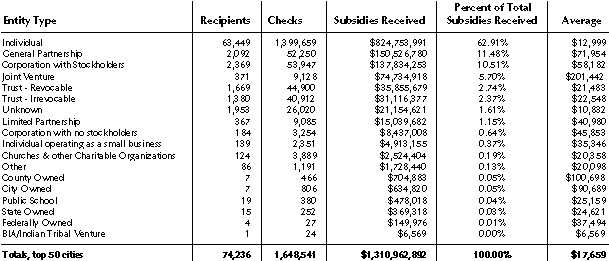 Source: Environmental Working Group. Compiled from USDA data.
On the beach or on the links, in the sun or in the snow, Federal farm subsidies are almost everywhere you go.
Using the EWG City Slickers database, we also briefly analyzed farm subsidy payments to recipients whose permanent mailing address for USDA benefits is in one of 50 assorted high-income residential areas and resort, vacation, or retirement spots (Table 5). Sun City, Arizona, for instance, is the current mailing address of 488 "farmers" who received over 16,000 checks, worth $11.36 million since 1985, from a total of 28 states. Brentwood, California is the permanent mailing address for 76 Federal farm subsidy recipients who collected nearly $3 million from 5 different states. Farm subsidy recipients also list mailing addresses with USDA in the ski resorts of Aspen, Vail, Snowmass and Winter Park, Colorado, and the sun spots of Naples, Boca Raton, Marco Island and Key West, Florida and South Padre Island, Texas.
Table 5: Payments going to high-income areas.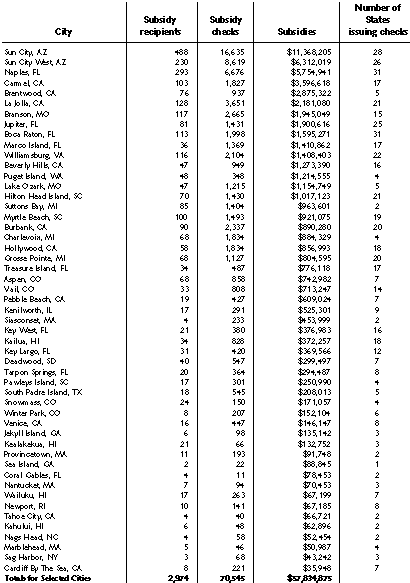 Source: Environmental Working Group. Compiled from USDA data.
Subsidy payments from states to cities;
Among America's fifty biggest cities, Fresno, California ranked first by amount of agriculture subsidies received--more than $103 million was sent to Fresno recipients over the past 10 years. Sacramento, ranked second with $102.7 million in subsidies received, followed by Omaha ($79.8 million), Dallas ($71 million), and Phoenix ($71 million). Boston, Massachusetts ranked last with nearly $800,000 going to subsidy recipients.
Among the states which transferred payments to recipients in the top fifty cities, Texas ranked first with $234 million, followed by California ($223 million), Nebraska ($80 million), Arizona ($64 million), and Kansas ($63 million). Four states--Kansas, Missouri, North Dakota, and Texas--sent some subsidy payments to recipients in each one of the top fifty cities in our analysis. On the other side of the spectrum, Alaska was the only state that did not send subsidy checks to at least one recipient living in one of the fifty largest cities. And Rhode Island sent the least amount to big city recipients: a mere $1,760 went to recipients in Manhattan and Boston.