Asbestos: Think Again: Millions were exposed — were you?
Millions Were Exposed — Were You?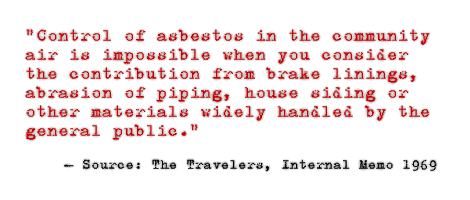 "Take home" exposure
Not all of the victims of asbestos are workers, particularly for mesothelioma, the signature and 100 percent fatal asbestos cancer. People hurt or killed by asbestos include the families of the men and women who work with asbestos, the communities that surround current and former asbestos mines, products factories and shipyards, and consumers who innocently exposed themselves and family members to asbestos through products like hair dryers, electric blankets, attic insulation, home siding and ceiling and floor tiles and many more.
Fatal mesothelioma in the families of asbestos workers is the most well-described and prevalent form of non-occupational asbestos mortality. Mesothelioma is unique among asbestos cancers in that it can be caused by very short-term exposures. In approximately three percent of cases, mesothelioma is diagnosed in workers with less than three months exposure; the shortest on record is 16 hours (Leigh 2003). A laboratory animal study published in 1974 also reported that a single high level exposure to at least one type of asbestos, amosite, may be enough to cause mesothelioma in rats (Wagner 1974). One review describes mesothelioma in a person who reported his total lifetime asbestos exposure as one day of sawing up asbestos cement sheets to build two sheds (Greenberg, 1974).
For profiles of mesothelioma victims see The Mesothelioma Applied Research Foundation.
A 1967 summary of 42 mesothelioma cases reported by 152 hospitals in southeastern Pennsylvania showed that 21 percent of cases occurred in people who either lived or worked near a plant that used asbestos, and 26 percent occurred where family members were asbestos workers (Lieben, 1967). An estimated 6.7 percent of mesothelioma cases reviewed in a 1966 survey in the United Kingdom (London, Belfast and Liverpool) were linked to take home and neighborhood exposures.
An EWG Action Fund analysis of government asbestos mortality data for mesothelioma found that from 1985 through 1999, "non-paid worker at own home" was the top ranked business classification on death certificates for mesothelioma. Presumably most of these cases were housewives and family members who died from mesothelioma after they were exposed to asbestos brought home by a parent, spouse, or family member who worked with it.
Hundreds of housewives and family members were killed by "take home" asbestos exposures
Business classification Reported
Mesothelioma
Deaths Non-paid worker or non worker at home 644 Construction 377 Elementary and secondary schools 137 Hospitals 87 General government, n.e.c. 74 Not specified manufacturing industries 61 Eating and drinking places 59 Ship and boat building and repairing 58 Agricultural production, crops 55 Railroads 54 Yarn, thread, and fabric mills 52 Industrial and miscellaneous chemicals 49 Trucking service 46 Electric light and power 41 Blast furnaces, steelworks, rolling and finishing mills 40
Source: EWG Action Fund. Compiled from Centers for Disease Control and Prevention (CDC), National Center for Health Statistics (NCHS), multiple cause of death file 1985-1999.
A business classification was assigned to just 3,603 of the 14,500 people who were estimated or reported to have died of mesothelioma between 1985 and 2001. If these 3,603 deaths represent the distribution of mesothelioma deaths across businesses represented by all 14,500 cases, then it would appear that about one quarter of all mesothelioma mortality occurs in people who did not work directly with asbestos, but instead worked in environments where asbestos was present, or lived with people who brought asbestos home with them.
A small number of family members of asbestos workers have successfully pursued compensation through the courts. Of the 107,000 client records received by EWG Action Fund from plaintiffs' attorneys, 882 individuals were exposed at home. Of this number, which accounts for less than one percent of total victims represented, 56 developed lung cancer, 77 developed mesothelioma, 672 developed asbestosis, and 77 had other diagnoses.
Passive workplace exposure — schools and hospitals
The same EWG Action Fund analysis of federal mortality data found that five of the ten most commonly recorded industries on death certificates do not have any well-established connection to occupational asbestos exposure. These cases are either due to passive asbestos exposure in the work environment, as with the teachers described above, or because of relatively brief occupational exposures decades ago. Death certificates do not reflect a person's work history. It is not uncommon for an office worker to contract mesothelioma, and only upon detailed questioning recall that decades earlier he or she worked around asbestos in some short-term employment.
Older public buildings where asbestos may be decaying and slowly drifting into indoor air is another major concern. The EPA estimated in 1982 that more than 720,000 public buildings had significant amounts of asbestos in them. Leaving aging asbestos in place is no guarantee of safety, and removing it can be highly dangerous if not done carefully. There is substantial evidence that much asbestos removal does not meet federal standards.
Links:
County: Homeless Removed Asbestos
Tampa Bay Online, Feb 8, 2004
http://news.tbo.com/news/MGASUSPFEQD.html
Laborers Face A Lifetime Of Health Worries
Long Island Newsday, February 7, 2004
http://www.nynewsday.com/news/local/crime/nyc-asbe0207,0,7804476.story
Father and Son Faked Removal of Asbestos, Workers Say
The New York Times, February 3, 2004
http://www.nytimes.com/2004/02/03/nyregion/03asbestos.html (registration required)
One key at-risk group is schoolteachers, who may have received significant exposure to asbestos from soundproofing and fireproofing of ceilings and walls. 'Elementary school teacher' was the eighth most frequently listed occupation on mesothelioma death certificates (NCHS, 2003). Elementary and secondary schools ranked third among all businesses reporting mesothelioma cases. Hospitals ranked fourth. In the late 1970s, it was estimated that two to six million school children and 100,000 to 300,000 teachers had been exposed to asbestos in schools (Nicholson, 1979). A 1991 review describes four teachers with fatal mesothelioma, "...who worked in schools that were insulated with asbestos and who had no other known exposure to this mineral" (Lilienfeld 1991).
A mesothelioma case report published in the journal Respiratory Medicine in 1989 describes a 54-year old woman whose only identifiable asbestos exposure occurred in the office. As explained by the study authors, the ceilings in the building where she worked for 14 years "were sprayed with an inch thick layer of soft asbestos covered by a layer of paint. This evidently deteriorated rapidly, since as a result of complaints about dust in the offices, the ceilings were sealed, repaired and repainted about eight years after the building was constructed" (Stein 1989).
In 1980, the Consumer Products Safety Commission removed similar asbestos ceiling material from its headquarters in Bethesda, Maryland. The agency described the associated risk this way:
"CPSC believes that any exposure to asbestos may involve some increase of risk; no safe level of exposure or so-called "threshold level" has been established. It is impossible to estimate with any precision the exact degree of risk associated with any low-level exposures."

[www.cpsc.gov/CPSCPUB/PREREL/prhtml80/80024.html]
Neighborhood exposure
Living near asbestos products factories can be as dangerous as having family members who work at the plant. A 1967 summary of 42 mesothelioma cases in southeastern Pennsylvania showed that 21 percent of cases occurred in people who either lived or worked near a plant that used asbestos, and 26 percent occurred where family members were asbestos workers (Lieben, 1967). An estimated 6.7% of mesothelioma cases reviewed in a 1966 survey in the United Kingdom (London, Belfast and Liverpool) were linked to take home and neighborhood exposures.
In Libby, Montana, the site of the notorious W.R. Grace vermiculite mine, entire families have been diagnosed with asbestos-related diseases, when just one family member, usually the father, worked at the mine and brought home asbestos dust on his clothes. Children in Libby have developed mesothelioma and asbestosis as adults from playing in vermiculite slag heaps scattered through the town.
The federal government has identified 28 former asbestos manufacturing sites as priority locations for community-wide evaluations of asbestos disease because these sites received approximately 80 percent of the asbestos in Libby from 1964 through 1990 [View maps]. EPA estimates that 30 million homes have asbestos (vermiculite) attic insulation made at processing plants all across the country.
Federal officials have expressed serious concern about the risks for community residents living near these facilities. "It's like a ticking time bomb inside your chest," said an official with the federal Agency for Toxic Substances and Disease Registry describing a priority vermiculite processing site in Beltsville, Maryland (Washington Post 10/3/03). Madelene Audia, who lives about 150 yards from a former vermiculite plant in Dearborn, Michigan, recalled dust wafting through the neighborhood in the 1960s and 1970s. It settled in homes and on the local ball field where her two children played almost every day. "It would get so bad you couldn't go outdoors," she said (Detroit Free Press 1/22/04).
In 1997, Dr. Michael Berry, a scientist at the New Jersey Department of Health and Senior Services, published a study that investigated mesothelioma incidence in people who lived in the same town (Manville, NJ) or county (Somerset) as the largest asbestos manufacturing plant in North America (Berry, 1997). When plant employees were removed from the analysis, male and female residents of Manville were 10.1 and 22.4 times more likely to develop mesothelioma than residents of New Jersey not living in Somerset county. In all, 24 cases of mesothelioma occurred between 1979-1990 when only 2 would have been expected. Men and women living in Somerset county as a whole were 1.9 and 2 times as likely to develop the disease, a statistically significant increase (58 cases were observed and approximately 30 were expected).
Consumer product exposure
Tens of millions of people were exposed to asbestos through hundreds of common consumer products including hair dryers, electric blankets, heat guns, molding clay, dry wall patch, attic insulation, pipe wrap insulation, fake fireplace logs and many more. Some of these products were banned by the Consumer Products Safety Commission (CPSC). Many were not. The most notorious asbestos product that was never banned by the CPSC is vermiculite (asbestos) attic insulation, from the vermiculite mine in Libby, Montana. Vermiculite, which is contaminated with one of the most potent forms of asbestos, tremolite, was shipped around the country and processed into attic insulation and other products through 1992. EPA estimates that 30 million homes have asbestos (vermiculite) attic insulation made at processing plants all across the country [View maps]. When disturbed through home renovation or other causes, this insulation will produce significant and hazardous asbestos exposures.
Consumer products containing asbestos present grave and lingering risks to the millions of people who used them, but in general had no idea they were being exposed to cancer causing asbestos in the process. In 1979, the Consumer Products Safety Commission characterized the risk this way:
Although worker exposure to asbestos fibers on the job is regulated by the Occupational Safety and Health Administration (OSHA), CPSC believes that asbestos fibers released from consumer products may pose unique problems in households. The household environment may harbor these fibers for long periods, and they may be repeatedly stirred up into the air after having settled to a surface. Infants and children in the home are likely to be exposed, and this environment, unlike the workplace, is not equipped with protective clothing or control systems for asbestos fibers.

(CPSC 8/31/79 Commission To Study Asbestos In Consumer Products)
www.cpsc.gov/CPSCPUB/PREREL/prhtml79/79045.html
Asbestos in blow dryers
Perhaps no consumer product better symbolizes the 1970s than the hand-held blow dryer. As it turns out, these hair dryers were not only puffing coifs, but also hurling asbestos fibers into the indoor environment. This extraordinary hazard was discovered entirely by accident, when a photographer using a blow dryer to dry negatives noticed tiny flecks of dust on his negatives. The revelation that this "dust" was actually asbestos led the CPSC to pressure manufacturers to voluntarily stop using asbestos in all hair dryers, though it was never officially banned. CPSC described the risk at the time as less than "many" occupational asbestos exposures, but by implication, presumably greater than others:
"While the risk to an individual from the intermittent use of an asbestos-emitting hair dryer is less than that from many current occupational asbestos exposures, the large number of individuals that may be exposed clearly calls for the elimination of the exposure."

[www.cpsc.gov/CPSCPUB/PREREL/prhtml79/79062.html]
An incredible array of products brought asbestos into the home in the not so distant past. Links to CPSC announcements of bans on selected asbestos-containing consumer products are listed below, followed by a partial list of asbestos-containing consumer products as of about 1980.
Crayons
www.cpsc.gov/CPSCPUB/PREREL/prhtml100/00123.html
Hair Dryers
www.cpsc.gov/CPSCPUB/PREREL/prhtml79/79062.html
Heat Guns (used by model airplane hobbyists)
www.cpsc.gov/CPSCPUB/PREREL/prhtml80/80014.html
Paper Mache
www.cpsc.gov/CPSCPUB/PREREL/prhtml83/83012.html
Artificial Fireplace Ash
www.cpsc.gov/CPSCPUB/PREREL/prhtml77/77076.html
Consumer Patching Compounds
(used to cover up holes and cracks on interior walls of houses)
www.cpsc.gov/CPSCPUB/PREREL/prhtml77/77076.html
Asbestos paper (used primarily to insulate ducts and pipes)
www.cpsc.gov/CPSCPUB/PREREL/prhtml80/80044.html
Other products:
Broilers
Barbecue fire starters (electric)
Deep Fryers
Frying pans and grills (electric)
Mixers (electric)
Popcorn poppers
Ranges and ovens
Slow cookers
Toaster
Clothes washers and dryers
Dishwashers
Refrigerators
Curling irons (electric)
Electric blankets
Heaters, portable electric
Texture paint
Asbestos paper (including asbestos paper tape) and millboard (i.e., in rolls or sheets) for consumer use, including but not limited to such uses as (This category does not include paper and millboard sold as a component of another product).
Wall protection behind heat-generating products
Floor protection under wood and coal stoves
Soldering and welding blocks or sheets
Pipe insulation
Airduct insulation
High-temperature wallboard
Iron rests and burner mats; barbecue mitts, pot holders and similar items
High-temperature gaskets for wood and coal stoves (including fireplace inserts)
Stovepipe rings
Safes, Kilns, safety boxes, filing cabinets, and incinerators
(All from www.cpsc.gov/CPSCPUB/PREREL/prhtml80/80021.html)
Asbestos is still not banned
Although the CPSC took action against the use of asbestos in many consumer products, asbestos is still not banned and is still used widely for certain applications. The 2001 Mineral Commodity Summary for Asbestos from the U.S. Geological Survey (USGS) reported 61% of the asbestos used in the United States (in 2000) was in roofing products, 19% in friction products, 13% in gaskets, and 7% was classified as 'other'.
www.ecy.wa.gov/programs/hwtr/demodebris/pages2/demowasteother.html
(EPA's main asbestos page is: www.epa.gov/asbestos/)
Even today, almost none of the products containing asbestos are labeled as such. This clearly makes it difficult for consumers to choose products that are asbestos-free. According to the CPSC, as of May 2003:
"The extent of current asbestos product labeling is limited. Except for products which are sold unwrapped, such as millboard; and asbestos-cement sheet, all products are labeled with the name of the manufacturer or distributor. Only asbestos paper and furnace cement are labeled as containing asbestos. Non-asbestos substitutes for all asbestos products are widely available to the public for household uses."

(CPSC May 28, 2003, CANCER HAZARD! CPSC Warns About Asbestos in Consumer Products: Safety Alert)www.cpsc.gov/CPSCPUB/PUBS/5080.html
A partial list of products that still contain asbestos can be found at:www.epa.gov/earth1r6/6pd/asbestos/asbmatl.htm
It is presented below as well.
"Asbestos Containing Materials: Sample List of Suspect Asbestos-Containing Materials"
Cement Pipes
Elevator Brake Shoes
Cement Wallboard
HVAC Duct Insulation
Cement Siding
Boiler Insulation
Asphalt Floor Tile
Breaching Insulation
Vinyl Floor Tile
Ductwork Flexible Fabric Connections
Vinyl Sheet Flooring
Cooling Towers
Flooring Backing
Pipe Insulation (corrugated air-cell, block, etc.)
Construction Mastics (floor tile, carpet, ceiling tile, etc.)
Heating and Electrical Ducts
Acoustical Plaster
Electrical Panel Partitions
Decorative Plaster
Electrical Cloth
Textured Paints/Coatings
Electric Wiring Insulation
Ceiling Tiles and Lay-in Panels
Chalkboards
Spray-Applied Insulation
Roofing Shingles
Blown-in Insulation
Roofing Felt
Fireproofing Materials
Base Flashing
Taping Compounds (thermal)
Thermal Paper Products
Packing Materials (for wall/floor penetrations)
Fire Doors
High Temperature Gaskets
Caulking/Putties
Laboratory Hoods/Table Tops
Adhesives
Laboratory Gloves
Wallboard
Fire Blankets
Joint Compounds
Fire Curtains
Vinyl Wall Coverings
Elevator Equipment Panels
Spackling Compounds
(Source: www.epa.gov/earth1r6/6pd/asbestos/asbmatl.htm)
REFERENCES
Berry, M. (1997). "Mesothelioma incidence and community asbestos exposure." Environ Res 75(1): 34-40.
Detroit Free Press. (1/22/04). "Dearborn factory spewed asbestos; U.S. is probing how widely the danger spread." by Hugh McDiarmid Jr.
Greenberg, M. and T. A. Davies (1974). "Mesothelioma register 1967-68." Br J Ind Med 31(2): 91-104.
Lieben, J. and H. Pistawka (1967). "Mesothelioma and asbestos exposure." Arch Environ Health 14(4): 559-63.
National Center for Health Statistics (NCHS) (2003). "Multiple Cause of Death files, 1985-1999."
National Institute for Occupational Safety and Health (NIOSH) (2002). "Work-related lung disease surveillance report." Division of Respiratory Disease Studies.
Nicholson, W. J., E. J. Swoszowski, Jr., et al. (1979). "Asbestos contamination in United States schools from use of asbestos surfacing materials." Ann N Y Acad Sci 330: 587-96.
Occupational Safety and Health Administration (2004). "Safety and Health Topics: Asbestos." Viewable on the web at:www.osha.gov/SLTC/asbestos/index.html
Stein, R.C., J.Y. Kitajewska, et al. (1989). "Pleural mesothelioma resulting from exposure to amosite asbestos in a building." Journal of Respiratory Medicine 83: 237-39.
The Washington Post. (10/3/03). "Md. Workers Are Warned About Asbestos; Former Beltsville Plant's Employees and Others Were Exposed to Toxic Material." by Avram Goldstein.