The end of summer marks the unofficial end of the algae outbreak season. Warmer states like California and Florida see outbreaks fouling lakes, rivers and other bodies of water year-round, but for most of the country, outbreaks stop when the weather turns colder.
Blue-green algae blooms are actually not algae, but microscopic organisms called cyanobacteria. Outbreaks are triggered when nitrogen and phosphorus from fertilizer and animal manure run off farm fields and get into bodies of water. Heat and sunlight cause blooms to grow, so higher summer temperatures caused by the climate crisis are leading to more frequent outbreaks. 
EWG tracks news reports of algae outbreaks going back to 2010 on our interactive map. Through Oct. 9, we found 409 algae outbreaks this year. In the same period last year, we found 516 reports.
The lower number of reported outbreaks this year does not necessarily mean there have been fewer outbreaks. The pandemic has caused some states, such as Utah, to reduce algae testing due to budget cuts. A bigger reason may be that news outlets have focused coverage on the pandemic, the economy, racial justice and the upcoming election, so they have fewer resources for reporting on algae blooms.
The majority of the news reports of algae blooms this year – 87 percent – have focused on their impact on recreation. The hazardous toxins that algae blooms can produce, such as microcystin, make it unsafe to swim, boat or even walk around an infected lake.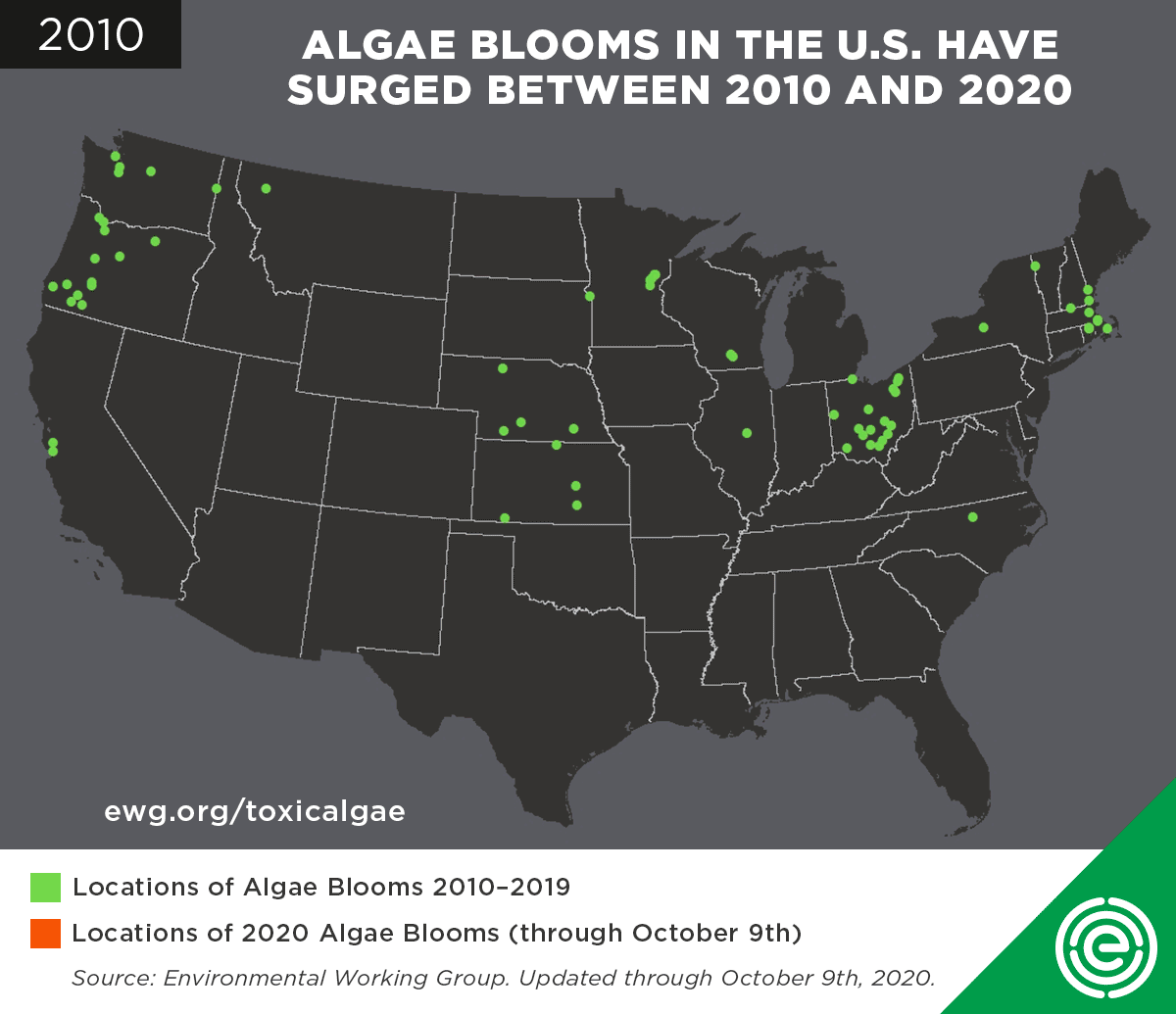 Nine stories reported on dogs that were killed by algae toxins, and one bloom in a central North Dakota pond killed cattle. Five of the stories reported on fish kills that were caused by the cyanobacteria.
Although blooms don't always release toxins, when they do it can be very dangerous to public health. People can be exposed through recreation, or from drinking water drawn from a utility whose source water is contaminated by an outbreak. Algae toxins can have short-term health impacts such as nausea, vomiting and respiratory problems, as well as long-term effects like liver failure and cancer.
Because it's easier to prevent algae blooms than to clean them up, policymakers should make it a priority to prevent them from forming in the first place. Farmers who contribute nitrogen and phosphorus to bodies of water should be required to implement conservation practices on their fields. Small changes, like planting cover crops before the winter or installing vegetative buffers between farm fields and streams, could go a long way toward reducing the farm pollution that creates algae blooms.