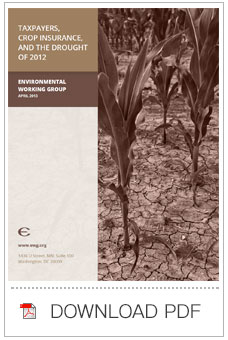 Washington, D.C. – A new analysis commissioned by the Environmental Working Group debunks the myth that federally-subsidized crop insurance will save taxpayers money and protect farmers from crippling losses when natural disasters occur.
The study, by agricultural economist Bruce Babcock of Iowa State University, has concluded that during last year's drought, crop insurance payouts will exceed $16 billion, almost 50 percent more than 2011. 
"Crop insurance as it is currently structured and marketed is a bloated, taxpayer-funded income support program that in many cases allows growers, particularly the industrial-scale operations that have been enjoying record profits, to make more money from insurance payouts than they would from a healthy harvest," Babcock writes.
He determined that corn and soybean farmers could have been compensated for their actual economic losses at a cost of around $6 billion.  Instead, taxpayers forked over $12.7 billion.   
His analysis shows that because of lavish taxpayer subsidies, farmers have extraordinary incentives to over-insure their crops and dramatically drive up the cost of crop insurance when disaster strikes. Farmers covered by the so-called Revenue Protection policy -- the most highly subsidized policy in the areas hardest hit by the drought – likely netted more revenue than they would have if the drought hadn't occurred.
"The point is not to argue that the drought did not seriously affect crop yields," Babcock writes. "Clearly it did. But given the high cost of the crop insurance program, it is reasonable to ask whether it makes any sense to entice farmers to buy Cadillac coverage with taxpayer dollars when a basic revenue guarantee is possible at much lower cost."
Taxpayers lose two ways.  They spend too much to buy crop insurance policies for farmers.  And they suffer from the skewed way underwriting gains and losses are shared between the federal government and private crop insurance companies. Since 2001, insurance companies have enjoyed $10.3 billion in underwriting gains – while taxpayers have suffered a net loss of $276 million.
"This analysis should be a wake-up call for taxpayers and the lawmakers in Washington under serious pressure to cut spending." said Craig Cox, EWG's senior vice president for agriculture and natural resources. "It adds to the large body of evidence that common sense reforms to the crop insurance program would save billions of dollars while still providing a solid safety net, cutting the deficit, and investing in programs that improve the environment and public health."
If the farm bills proposed by the Senate or House agriculture committees last year were to become law, taxpayers would be asked to pay even more for crop insurance.  At the same time, those proposals would slash funding for conservation and nutrition programs.  
"So far the subsidy lobby has managed to push Congress in the wrong direction," said Cox. "Congress should and could do far better as it takes up this critical food and farm legislation again this year."