Washington, D.C. – A new report commissioned by Environmental Working Group finds that the heavily subsidized crop insurance program over-compensated Corn Belt farmers by $7.8 billion during the 2012 drought and lays out ways to cut wasteful spending.
Insurance payouts of $6.2 billion would have been plenty to put a solid floor under corn and soybean farmers' revenue in that drought-plagued year, but actual payouts totaled $14 billion, according to calculations by Iowa State University economist Bruce Babcock.
Extending a series of earlier analyses done for EWG, Babcock concludes in his latest report, Cutting Waste in the Crop Insurance Program, that most, if not all, government support for the crop insurance program is wasteful because "it could be cut out with no harm to the public interest."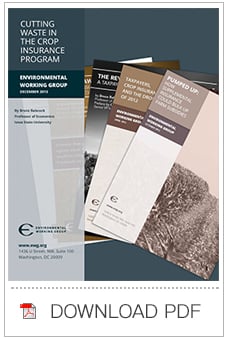 "Lawmakers finalizing a farm bill have a golden opportunity to cut wasteful spending while maintaining a strong safety net and erasing budget cuts that hurt hungry families and the environment," said Craig Cox, EWG's senior vice president for agriculture and natural resources. "There is still time to seize that opportunity."
The agriculture committees in Congress, however, are poised to do the exact opposite by proposing a suite of new crop insurance subsidies in exchange for ending direct cash payments to farmers. One, the Supplemental Coverage Option, would have increased 2012 payouts by another $6.5 billion, Babcock's analysis shows, bringing the total over-compensation that year to a whopping $14.3 billion.
A popular type of crop insurance policy known as Revenue Protection over-compensates farmers in bad years because it doesn't take into account the added revenue that farmers earn when they sell their crops at drought-inflated prices. Thanks to insurance payouts, most farmers who suffered a yield loss in 2012 actually ended up with more revenue than they anticipated when they planted.
"Making somebody more than whole after a loss clearly fails any test of efficient use of taxpayer funds," Babcock writes.
Moreover, taxpayers pay private insurance companies $1.3 billion a year to sell and service crop insurance companies and pick up most of the payouts when losses mount in a bad year. As a result, Babcock found, from 2002 to 2012 the companies enjoyed about $10 billion in underwriting gains while taxpayers suffered a net
loss of $700 million. In fact, taxpayers paid more to insurance companies than to farmers in six of the last 12 years.
The report details how Congress could dramatically reduce these subsidies to farmers and crop insurance companies without sacrificing agriculture's safety net. A cut in the subsidies would reduce the deficit and free up money for other farm bill programs that help farmers and provide a public benefit as well, Babcock said.
The report recommends two important and immediate steps to move toward a fiscally responsible farm safety net:
Eliminate proposed new crop insurance add-ons, such as the Supplemental Coverage Option, from the pending farm bill.
Scale back premium subsidies in the existing crop insurance program.
"Simply ending subsidies for the Revenue Protection policies that wildly inflate insurance payouts and reducing payments to companies by 30 percent would save enough money to fully fund SNAP and conservation programs," said Cox. "These simple changes would be a down payment on more far-reaching reforms."
EWG has long called on Congress to go even further by subjecting insurance subsidies to a means-testing and greater transparency so that taxpayers can know who benefits from the subsidies.