Wasted Food is a Major Source of Emissions
EWG's analysis found that discarded food accounts at least 20 percent on average of the emissions associated with producing, processing, transporting and consuming meat and dairy products. Reducing waste and buying only as much as you can eat is the easiest way to reduce greenhouse gas and other environmental impacts of food.
Most of the emissions attributed to waste come from producing food that is ultimately discarded – from fertilizer and pesticide production, growing feed, transportation, etc. Foods with higher waste rates such as farmed salmon (44 percent is thrown away by retailers and consumers) have much higher emissions during production since it takes a lot more salmon to produce the amount that is actually consumed. Some of the waste-related production emissions are unavoidable, such as moisture and fat loss during cooking. These must be accounted for in the lifecycle analysis, but there is very little consumers can do to minimize these losses. (See Figure 5.)
Figure 5. Production Emissions from Eaten and Wasted Meat, Eggs and Cheese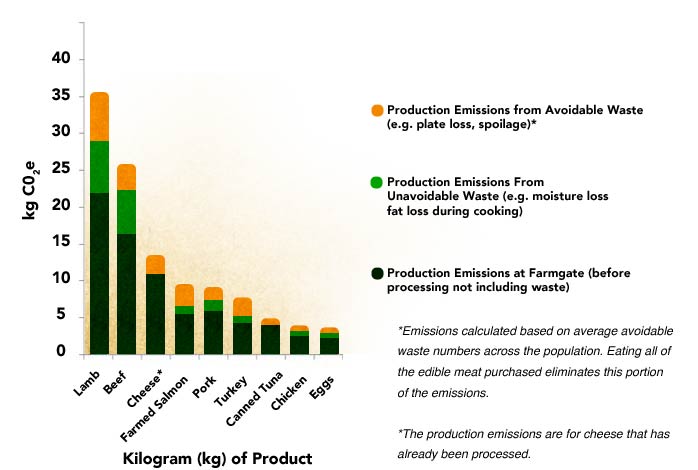 The amount of food consumers throw away varies considerably. Consumers throw out about 40 percent of the fresh and frozen fish they buy, but only 12 percent of the chicken, 16 percent of the beef, 25 percent of the pork, and 31 percent of turkey is discarded at home or in restaurants. On average, retailers throw out about 5 percent of the meat they sell.8
Waste disposal accounts for a small fraction of emissions from meat, a larger portion of emissions from plant food.
The source of these emissions is the methane produced during decomposition. In some landfills, a portion of these emissions are captured and used for energy. In EWG's model, less than 1 percent of beef, lamb and chicken, 2 percent of pork and 3 percent of turkey and salmon emissions are attributed to the waste disposal process.
Waste disposal accounts for roughly 22 percent of broccoli's total emissions, 20 percent of tomatoes' and 5 percent of potatoes'.
Composting meat (at home or through a service) reduces emissions by only small amounts: less than 0.01 percent for most meats. It has a bigger impact for vegetables: 10 percent in the case of broccoli and tomatoes.
Transportation: small portion of meat and dairy's emissions, more of vegetables' and plant proteins'
Although transportation-related emissions don't vary much among different kinds of food, transportation accounts for a much higher fraction of the overall footprint of vegetable proteins because they have much lower emissions overall. According to this analysis, buying locally can significantly reduce the climate impact of vegetable production (10-30 percent), but has a relatively smaller impact for meat (1-3 percent). Nevertheless, supporting local ranchers is important for other reasons.
EWG's analysis found that transporting animals, supplies and retail food products domestically to and from farms, slaughterhouses and stores produces only about 10 percent of meat's carbon footprint; transportation from the processor to retail generated just 1 percent of beef's footprint, 3 percent of pork's and 5 percent of chicken's and salmon's (including shipping in the case of salmon, since most salmon is imported by boat).
By contrast, transportation to retail generates 30 percent of tomatoes' footprint, 23 percent of broccoli's, 15 percent of lentils' and tofu's, 12 percent of nuts', 9 percent of potatoes' and 7 percent of eggs'.
Buying locally can reduce the overall footprint by as much as 20 percent for broccoli and 25 percent for tomatoes; local purchasing reduces meat's carbon footprint by just 1-3 percent.
Emissions are much higher for airfreighted food. Cheese imported by air has a 46 percent larger footprint than domestically produced cheese. Most imported meat and dairy products, however, are shipped by sea, adding less than 1 percent to their carbon footprint.
Emissions from meat processing, including freezing and packaging, vary considerably.
Processing accounts for just 5 percent of lamb and beef's overall carbon footprint, compared to 12 percent of pork's and 24 percent of chicken's.
Electricity to run the plants and pump huge quantities of wastewater is the main source of greenhouse gases from slaughterhouses. Emissions from chicken processing are relatively higher because it requires a high volume of water, and overall production emissions are lower.
Slaughterhouses dump millions of pounds of toxic pollutants – primarily nitrogen, phosphorus and ammonia – into waterways. Eight slaughterhouses are consistently among the nation's top 20 industrial polluters of surface water, responsible for discharging 13.6 million kilos (30 million lbs) of contaminants – primarily nitrates – in 2009 (EPA 2009). Nitrates are a significant source of drinking water contamination in agricultural communities nationwide. Excessive amounts of these pollutants lead to massive fish kills and oxygen-deprived "dead zones" where no marine life can survive.