Meat and your Health
There is no question that meat in moderation can be a good source of complete protein and key vitamins and nutrients such as iron, zinc and vitamins B-12, B-6 and niacin. For many, meat is an important aspect of their diets. At the same time, the scientific evidence is increasingly clear that eating too much meat – particularly red and processed meat – is associated with a wide variety of serious health problems.
Americans eat more meat than most other developed nations. In 2009, the U.S. produced 94 kilograms (208 lbs) of meat per person for domestic consumption, not including seafood. That's nearly 60 percent more than Europe produced (61 kg, or 134 lbs person), and nearly four times as much as developing countries (EWG analysis of 2009 FAO data).
Figure 6. 2009 Per Capita Meat* Production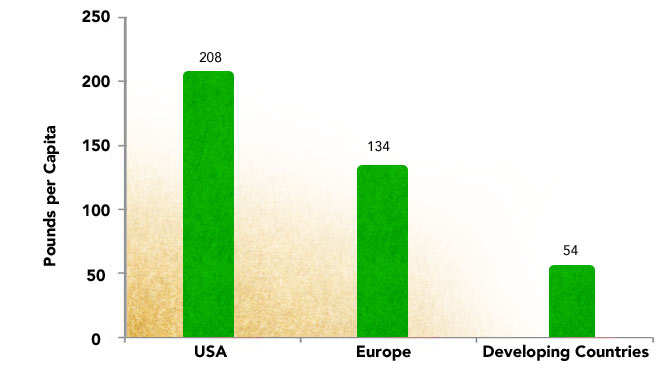 Source: FAO 2009; * not including fish
Recent research suggests that eating all this meat is contributing to the U.S. obesity epidemic. Several major epidemiological studies have found an association between high meat consumption levels and being overweight. A 2009 Johns Hopkins University study found that those who consumed the most meat consistently ate an average of 700 calories more per day and had a 27 percent greater likelihood of being obese than meat eaters who consumed the least (Wang 2009). Another large-scale European study found that men and women who ate the most meat consumed an average of 900 and 600 more calories per day, respectively, than those who ate the least. The study attributed weight gain to the high fat content and calories in many meats and concluded that "a decrease in meat consumption may improve weight management" (Vernaud 2010).
Some people may wonder whether they can reduce their meat intake and still get enough protein. The fact is that the protein intake for most age groups far exceeds the government's recommended dietary allowance (RDA) (CDC 2009). The RDA for men ages 19-70+ is 56 grams per day of protein, and the most recent National Health and Nutrition Examination Survey (NHANES) showed that men in this age group consumed almost twice this much on average: 88.3-109.2 grams per day (Fulgoni 2008). By contrast, only 1 percent of children and 4 percent of adults ate their recommended daily intake of fruits and vegetables (Kimmons 2009).
While vegetarian diets are not for everyone, some research suggests that eliminating all or most meat from one's diet may be good for health. A number of studies have found that people who eat vegetarian diets have lower rates of chronic disease and often live longer than those on predominantly meat-based diets (Fraser 2009, Jacobs 2009). The American Dietetic Association, the world's largest organization of nutrition experts, maintains that vegetarians have less obesity and lower rates of chronic medical conditions such as heart disease, diabetes and hypertension (Craig 2009).
Most Americans aren't going to give up meat entirely, of course, but it is not difficult to cut down a bit. Some research has shown that a diet abundant in plant foods partnered with servings of lean meats and seafood confers many of the health benefits of a purely vegetarian diet (Jacobs 2009).
Red and Processed Meats Linked to Chronic Disease
Red meat (beef, pork and lamb) and processed meats (such as bacon, sausage, salami, hot dogs, lunch meats) are some of the most popular types of meat. According to the United Nations' Food and Agriculture Organization and the National Cancer Institute, more than half of the meat Americans eat is red meat and nearly a quarter of it is processed (FAO 2009, Daniel 2010). Abundant scientific research now links consumption of these kinds of meats with a wide array of chronic diseases and serious health problems.
Figure 7. US Meat Consumption, 2009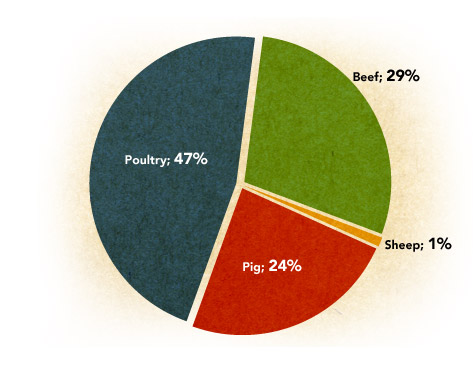 Source: FAO 2009
High consumption of red meat is also linked to increased mortality. A 2009 National Cancer Institute (NCI) study of 500,000 Americans found that people who ate the most red meat were 20 percent more likely to die of cancer and at least 27 percent more likely to die of heart disease than those who ate the least. In women who consumed the most meat, the risk of dying from cardiovascular disease was 50 percent higher (Sinha 2009).
The American Cancer Society (ACS) advises people to limit intake of processed meats and red meats in order to decrease risk of colon and prostate cancer. The American Institute for Cancer Research (AICR) and the American Dietetic Association recommend limiting red meat to l8 ounces (ADA 2010) a week. AICR further recommends cutting out all processed meat (ACS 2010, AICR 2010).
The study authors concluded that "11 percent of deaths in men and 16 percent of deaths in women could be prevented if people decreased their red meat consumption to the level of intake" of the group who ate the least. (Sinha 2009).
Similarly, a 10-year study by the Karolinska Institutet in Sweden found that women who consumed more than 3.6 ounces of red or processed meat a day were 42 percent more likely to suffer a stroke than those who ate less than one ounce (Larsson 2011).
Scientists at the University of Hawaii found that the risk of type-2 diabetes was 43 percent higher among men and 30 percent higher among women who consumed the most red meat, compared to those who ate the least. Men who ate the most processed meat had a 57 percent higher risk of developing type-2 diabetes, and women had a 45 percent higher risk, compared with those who ate the least (Steinbrecher 2010).
A separate seven-year study of almost 200,000 people conducted by the University of Hawaii found that those who ate the most processed meats had a 67 percent higher risk of pancreatic cancer than those who ate little or no processed meat (Nöthlings 2005). In a review of more than 7,000 clinical studies of the links between diet and cancer, the World Cancer Research Foundation (WCRF) found "convincing evidence" that red meats and processed meats are a cause of colorectal cancer (WCRF 2007).
This research is just the tip of the iceberg. In 2009 and 2010 alone, the National Cancer Institute published studies linking red and/or processed meat to esophageal, bladder, breast and lung cancer (Ferrucci 2009, 2010, Lam 2009, Cross 2010). The evidence linking red and processed meat to colon and prostate cancer is so strong that the American Cancer Society advises people to limit consumption of these meats.