Download as a PDF
Americans' appetite for meat and dairy – billions of pounds a year from billions of animals – takes a toll on our health, the environment, climate and animal welfare. Producing all this meat and dairy requires large amounts of pesticides, chemical fertilizer, fuel, feed and water. It also generates greenhouse gases and large amounts of toxic manure and wastewater that pollute groundwater, rivers, streams and, ultimately, the ocean. In addition, eating large quantities of beef and processed meats increases your exposure to toxins and is linked to higher rates of health problems, including heart disease, cancer and obesity.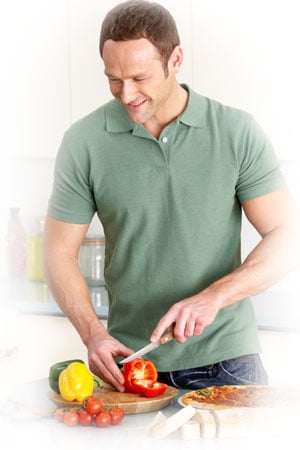 U.S. meat consumption has held steady for the past several years, but Americans consume 60 per cent more than Europeans (FAO 2009) and the global appetite for meat is exploding. From 1971 to 2010, worldwide production of meat tripled to around 600 billion pounds while global population grew by just 81 percent (US Census Bureau, International Data Base). At this rate, production will double by 2050 to approximately 1.2 trillion pounds of meat per year, requiring more water, land, fuel, pesticides and fertilizer and causing significant damage to the planet and global health (Elam 2006).
It doesn't have to be this way. You can do something about it. By eating and wasting less meat (especially red and processed meat) and cheese, you can simultaneously improve your health and reduce the climate and environmental impact of food production. And when you do choose to eat meat and cheese, go greener. There are many environmental, health and animal welfare reasons to choose meat and dairy products that come from organic, pasture-raised, grass-fed animals. It may cost more, but when you buy less meat overall, you can afford to go healthier and greener.
EWG's Meat Eater's Guide to Climate Change + Health can help you green your diet. It provides useful information about the climate, environmental and health impact of your protein choices. We hope it also inspires you to advocate for public policies that will make our food system healthier for our bodies and the planet, since improving our personal food choices is just one part of the solution.
WHAT WE DID: Lifecycle Assessments
To assess climate impacts, EWG partnered with CleanMetrics, an environmental analysis and consulting firm, to do lifecycle assessments of 20 popular types of meat (including fish), dairy and vegetable proteins. Unlike most studies that focus just on production emissions, our assessment calculates the full "cradle-to-grave" carbon footprint of each food item based on the greenhouse gas (GHG) emissions generated before and after the food leaves the farm – from the pesticides and fertilizer used to grow animal feed all the way through the grazing, animal raising, processing, transportation, cooking and, finally, disposal of unused food. The analysis also includes the emissions from producing food that never gets eaten, either because it's left on the plate or because of spoilage or fat and moisture loss during cooking. About 20 percent of edible meat just gets thrown out (EWG/CleanMetrics analysis of 2011 USDA data) (see EWG's Meateater's Guide Methodology and Results / PDF).
The lifecycle assessments are based on conventional rather than pasture-based or organic systems of food production. We focused on conventionally produced, grain-fed meat because that is mostly what Americans eat. Also, we were unable to identify definitive studies and widely accepted methodologies assessing greenhouse gas emissions from pasture-raised, organic or other meat production systems that make use of more environmentally sound management practices (such as cover cropping and intensive grazing). Because climate is just one of many factors to consider, our report also assesses other environmental and health impacts of all kinds of meat and dairy, including conventional, organic and pasture-raised. The analysis included salmon and tuna but focuses mostly on livestock and much less on seafood due to data and resource constraints.
WHAT WE FOUND: All Meat is Not Created Equal
Different meats and different production systems have varying health, climate and other environmental impacts.
Lamb, beef, cheese, pork and farmed salmon generate the most greenhouse gases. With the exception of salmon, they also tend to have the worst environmental impacts, because producing them requires the most resources – mainly chemical fertilizer, feed, fuel, pesticides and water – and pound for pound, they generate more polluting manure. On the health front, the scientific evidence is increasingly clear that eating too much of these greenhouse gas-intensive meats boosts exposure to toxins and increases the risk of a wide variety of serious health problems, including heart disease, certain cancers, obesity and, in some studies, diabetes.
Meat, eggs and dairy products that are certified organic, humane and/or grass-fed are generally the least environmentally damaging (although a few studies of the impact on climate show mixed results for grass-fed versus confined-feedlot meat) (Pelletier 2010, Gurian-Sherman 2011). Overall, these products are the least harmful, most ethical choices. In some cases, grass-fed and pasture-raised products have also been shown to be more nutritious and carry less risk of bacterial contamination.
Greenhouse gas emissions vary depending on the quantity of chemical fertilizers, fuel and other "production inputs" used, differences in soil conditions and production systems and the extent to which best practices (cover cropping, intensive grazing, manure management, etc.) are implemented along the entire supply chain. While best management practices can demonstrably reduce overall emissions and environmental harm, the most effective and efficient way to reduce greenhouse gas emissions and environmental impacts from livestock is simply to eat, waste and produce less meat and dairy.