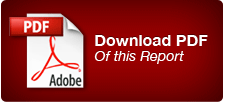 Twitter Updates

Aftermath of a Storm
EROSION ADDS UP
Looking at soil erosion and runoff storm-by-storm paints a troubling picture of the health of Iowa's soil, watersheds and waterways. The picture becomes even more disturbing when one studies the situation over a number of years (Figure 10). Agricultural land that escapes damaging erosion one year may well suffer badly the next. Over time, the amount of land that has managed to escape damaging storms gets smaller and smaller. Moreover, many townships appear at risk of severe erosion year after year. Agricultural land in 258 townships (5.9 million acres) likely suffered erosion of five tons per acre in four of the nine years from 2002 to 2010. Agricultural land in 27 townships (622,000 acres) suffered that rate of erosion in seven of those years.
Figure 10: Most Iowa farmland suffered damaging soil erosion between 2002 and 2010.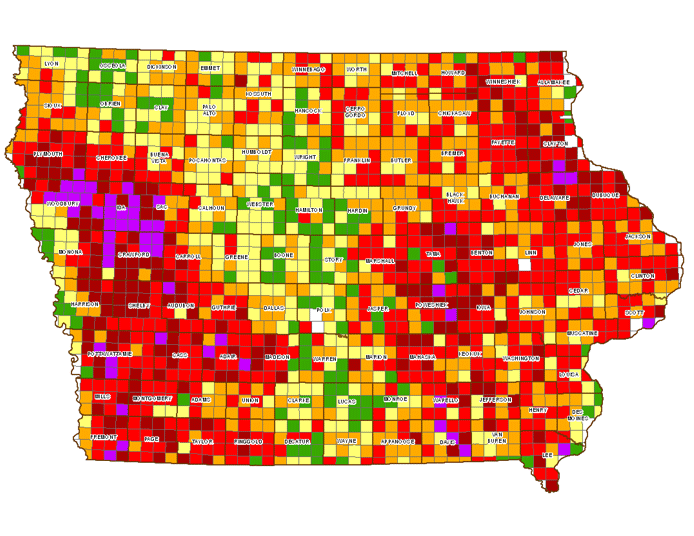 Total average erosion — summed over the nine years 2002 to 2010 — exceeded 20 tons per acre on agricultural land in 730 townships (16.8 million acres). Total average erosion exceeded 50 tons per acre in 257 townships (5.9 million acres) and 100 tons per acre in 61 townships (1.4 million acres). Average erosion of this magnitude means that highly vulnerable and poorly protected land must have suffered serious damage, perhaps on more than one occasion, over the nine years.
A Glass Half Full…or Half Empty
I've always anguished over a half-full glass. One day, as I drive across our state, the land looks good; the next day all I see are imperfections. I honestly think we're doing better today than we did when I started farming 35 years ago. The Upper Iowa River is running clearer, gullies are smaller, and the soil has more crop residue left on it at the end of the year. Most farmers don't plow as close to their streams as they once did, and it's not unusual to see well-positioned vegetative strips on contoured hillsides. Some farmers clearly know how to farm well and have the tools to do so.
But the age-old problem of poor farming persists. Drive down any back road in Iowa today and chances are good that within a few miles you'll see some of the finest conservation and then some of the worst.
With the intense rainstorms that have hit our state over the last couple of years, I'm convinced that we're getting more careless, assuming always that we'll have an average or better than average spring. Then, wham! We're hit with a gully-washer, and we all wring our hands and say it was nature's fault, not ours. In other words, we are conservation planning for averages, not extremes. But nature doesn't seem to work that way. We need to rethink and upgrade our standards.
In recent years, on large sloping fields, we're seeing more and more black stripes where there should be grassed waterways. Those stripes represent plowed-in gullies. Because we're usually more concerned about sheet and rill erosion, "waterway gullies" are often seen as a normal cost of doing business.
One of the saddest sights I've seen was during springtime in southeastern Iowa a couple years ago. Field after field had dozers working up and down hills to fill in the deep gullies formed by the unusually hard spring rains. Last year, I drove through the same area and saw precious few well-constructed waterways. It's as if the farmers have decided that their one-in-a-hundred-year flood was past and they don't have to worry for another 99 years.
Frankly, I don't think our soil erosion problems need to be what they are. Many farmers do well but are not praised for it. On the other hand, the careless ones and those who might be termed outright vandals no longer even get their knuckles rapped. Voluntary conservation works well, but only if it's proactive. Our compliance laws can still work, too, but they need to be universal—applied to all cropland—and enforced.
Paul W. Johnson, Farmer and Former Chief,
U.S. Department of Agriculture,
Natural Resources Conservation Service,
Decorah, Iowa