Published: April 2011

Twitter Updates
Flat-Out Risky — Executive Summary
Obama administration moves to curb toxic hair straighteners
Authors: David Andrews, Ph.D, Senior Scientist; Jane Houlihan, MSCE, Senior Vice President for Research; Thomas Cluderay, Staff Attorney and Stabile Law Fellow; Elaine Shannon, Editor-in-Chief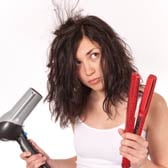 April 12, 2011. For the past four years, some celebrities and fashionistas with $250 to $600 to drop at a hair salon have raved about "Brazilian-style keratin" hair straighteners purported to transform frizzy, unmanageable hair into flat, silky-smooth locks.
In fact, those chemical concoctions are loaded with formaldehyde, which numerous prestigious health bodies, most recently, a National Academy of Sciences panel, have labeled a human carcinogen. Formaldehyde is also a potent allergen. It is especially hazardous when it reverts to its natural state, a gas, and is inhaled. Formaldehyde-based hair straighteners present a particular danger to salon workers who apply blow driers and 450-degree flatirons to chemical-coated hair.
Some salon clients and personnel have suffered severe allergic reactions, massive hair loss, neck and face rashes, blistered scalps and other serious health problems, according to an Environmental Working Group review of 47 previously unpublished "adverse event" reports filed with the U.S. Food and Drug Administration and obtained under the Freedom of Information Act.
EWG's comprehensive survey of 45 manufacturers of hair-straightening products has found that:
15 of 16 companies claim little to no formaldehyde but tests show their products contain substantial amounts – These include Brazilian Blowout, Cadiveu and other top brands. The hair straightener company Goleshlee admits on its website that its product contains formaldehyde but omits the toxic chemical from its online ingredient list.
Fumes in salon air – Tests of salon air conducted in 2010 found powerful formaldehyde fumes. Other tests have found that hair straighteners contain up to 11.8 percent formaldehyde. When vapors reach significant levels, and when products contain a formaldehyde solution of more than 1 percent, federal law requires salons to provide medical monitoring for workers with symptoms, quick-drench showers for immediate use if solution touches skin and emergency eyewash stations.
Most top salons deny risks – Only three of Elle magazine's 41 top-rated salons surveyed by EWG do not offer hair-straightening services because of health dangers. Nine salons claimed they used products free or nearly free of toxic chemicals. Yet test results compiled by EWG show the products are laden with formaldehyde. The salons' claims usually echoed the manufacturers' own misstatements about the chemistry and safety of the products. Among salons offering formaldehyde hair straighteners are the Andy Lecompte salon in Los Angeles, Whittenmore House Salon in New York and Metodo Rossano Ferretti Hair & Spa in Miami.
Inexplicably, government officials charged with protecting public health and worker safety have been slow to move against risky hair straighteners.
The U.S. Occupational Safety and Health Administration has belatedly issued a "hazard alert" to salon workers and owners, urging them to stop using formaldehyde-based hair straighteners. If they persisted in selling the service, the agency said, they must take extensive precautions, including air monitoring, installing ventilation, training workers and providing protective equipment such as gloves, chemical splash goggles, face shields and chemical resistant aprons. The agency disclosed that it is investigating a number of salons, importers, distributors and manufacturers of these products and already has issued some citations. "Workers have the right to know the risks associated with the chemicals with which they work, and how to protect themselves," OSHA chief David Michaels said on April 11, 2011, as he announced the agency's salon crack-down. "Employers need to know these risks in order to ensure the safety and health of their employees."
The California Attorney General's office has filed suit against the Los Angeles-based maker of Brazilian Blowout for deceptive advertising for claiming that its "Acai Professional Smoothing Solution" is "formaldehyde free," when lab tests show it contains the carcinogenic chemical and releases it as gas during salon processes. Oregon, Washington state, Connecticut and California officials responsible for worker safety have issued warnings. According to OSHA officials, many other states are conducting investigations of salon workers' exposure to dangerous formaldehyde fumes.
But far more aggressive actions by federal and state agencies are needed to protect unwitting consumers. Because of formaldehyde's long-recognized dangers, most hair straighteners that rely on this chemical disguise it under other names or deny its presence.
The FDA, responsible for cosmetic safety, does not limit amounts of formaldehyde in hair-straightening products and has not taken action against companies using formaldehyde. Hair straighteners based on formaldehyde have been recalled in six countries — Australia, Ireland, Canada, France, Germany and Cyprus — but are still widely used in American salons.
EWG has filed a citizen petition that asks FDA to draft regulations regarding formaldehyde in hair straighteners, to protect the health of salon workers and clients.

Petition to FDA

Exhibits filed with Petition
The U.S. Federal Trade Commission, whose mission is to protect the public from false and misleading advertising, has failed to take action against hair straightener companies that cover up their products' high formaldehyde content.
The American Chemistry Council, the leading U.S. chemical industry trade group, has taken the unusual step of aligning itself with government regulators and health advocates like Environmental Working Group in pressing for safety restrictions on formaldehyde-based hair straighteners. Last year, the ACC sided with the Oregon Occupational Safety and Health Administration and against the Brazilian Blowout maker, which was denying the state agency's tests that detected significant levels of formaldehyde in its products. The industry group effectively demolished Brazilian Blowout's legal argument – that its product's active ingredient, methylene glycol, a formaldehyde-water solution, was "completely different" from pure formaldehyde, a gas. The ACC said that the two chemicals were the same and "should be accounted for when measuring the formaldehyde content of a product." With the chemical industry, worker safety and public health communities arrayed against it, Brazilian Blowout's maker dropped its lawsuit against Oregon OSHA in late February.
The controversy over formaldehyde in hair straighteners and other beauty products is likely to escalate if, as reported, the Obama administration will soon designate formaldehyde a "known human carcinogen."
The FDA's website says it is "working… to determine whether the products or ingredients would be likely to cause health problems under the intended conditions of use." Meanwhile consumer complaints filed with FDA are mounting. For instance, in November 2010, a customer reported that after a Brazilian Blowout, "hair continued to fall off as she continued to rinse. Blisters also discovered on the back of head… Complainant developed severe stability problems (severe dizziness)… Physician examined and noted hair loss, blisters on scalp and ulcer formation in her mouth."
Our conclusion: if you opt for hair straighteners labeled "keratin" or a hair-smoothing session that promises to last longer than eight weeks, chances are you will be exposed to significant amounts of formaldehyde.
EWG's recommendations:
FDA should prohibit the use of formaldehyde and formaldehyde-releasing chemicals in hair straighteners.
The Federal Trade Commission should take action against companies engaged in false and misleading marketing about their products' formaldehyde content.
Consumers should avoid chemical hair straightening.
Salons should cease offering formaldehyde-based hair-straightening treatments.
Salons workers should report to FDA all adverse reactions to salon products and should notify OSHA of suspected violations of worker safety standards.
Companies should voluntarily recall their straightening products (FDA does not have this authority).
The Occupational Safety and Health Administration should enforce formaldehyde workplace standards in salons.
Congress should require labeling of ingredients on professional-use products and reform cosmetic law to ensure that consumers and salons alike can be assured that all personal-care products are safe.
Update (April 14, 2011)
Based on external test reports, EWG has updated formaldehyde percentages for the following brands: Brazilian Blowout (9.5% to 11.8%); Coppola (5.9% and 6.5% to 2.3%); Simply Smooth (0.9% to 0.93%); Marcia Teixeira (5.9% to 3.4%); and KeraGreen (1.5% to 1.6%). Updated numbers appear in our Top Salon Survey and the table that appears in the "Brands that hide formaldehyde" section.